The world of smartphone navigation apps can be confusing, with new options appearing constantly. Alex Roddie takes a look at seven of the best to help you find your way in the mountains.
Hiking apps, for many of us, are here to stay in the hills. Most smartphones are reliable, waterproof, and with a few simple tricks (such as activating Airplane Mode and carrying a backup power pack) battery life is more than good enough.
Digital mapping and navigation hiking apps occupy various positions along a spectrum of use. Many people prefer to navigate with map and compass and only want a hiking app as a last-resort backup.
Some like the convenience of route planning on hiking apps but still prefer a paper map for hill use. Others go all-in with digital navigation and the traditional nav kit remains in the pack as the backup system.
For the sufficiently experienced, each of these approaches is valid and can be done safely, so the first question is to ask yourself what role you'd like a mapping app to play in your mountain adventures.
There are several advantages to using a digital mapping tool. Planning routes is often significantly quicker and easier, and will automatically calculate distance, total ascent, and other data.
You can zoom in and out on the map, and carry maps for the entire world in your pocket. Locations of interest can be saved as waypoints.
Some hiking apps enable you to show a huge amount of data on the screen at once, such as multiple planned routes (often colour coded) and large sets of waypoints (such as all the Munros).
Google Maps will not cut – see why with our article on Google Maps for hiking. At a minimum, the hiking apps must offer detailed offline topographical mapping. Although several good options exist, for many years ViewRanger was commonly recommended as the best choice.
It offered worldwide mapping and robust planning tools, and had a reputation for stability. But in late 2019 ViewRanger was taken over by Outdooractive and there has been a gradual transfer of features to the newer hiking app.
In November 2021 it was announced that ViewRanger would be discontinued by the end of February 2022. Outdooractive works differently to ViewRanger; some users have been concerned that the newer app won't be as capable.
Many people are asking themselves where to turn now that ViewRanger is not long for this world – is Outdooractive the app for them, or will another one better suit their needs?
For this review I have aimed to answer that question. The review focuses on hiking apps that offer OS mapping for UK use, but also includes other apps of interest for the international trekker or multi-sport enthusiast.
We do not recommend that you rely solely on a smartphone app for mountain navigation. Always carry a paper map and compass and know how to use them.
Hiking app features to look out for
Maps
Look for detailed topo maps of the country you'll be walking in (OS or Harvey maps in the UK).
Offline use
The app must let you download maps and planned routes for use offline. You should be able to plan routes when offline too.
Planning
The best apps for route planning let you 'snap to path', automatically tracing the lines of paths on the map. This saves a lot of time!
Grid reference
Although not essential, a quick OS grid ref is very useful, especially if you also use paper maps.
Website
A companion website lets you plan routes on your computer and may even let you print maps to scale.
Recording
Most apps let you record your walk for future analysis (or save it as a route to follow again later).
Compass
A phone compass is rarely as accurate as a magnetic compass; use for general guidance only.
GPX import/export
Easily exchange routes with other apps thanks to the cross-platform GPX file format.
Community features
Some apps act like a social network, letting you share routes, see where others have been walking, and download new routes for instant use.
Cost
Most apps have a free trial, but to get the features you need you'll usually have to pay. A monthly or yearly subscription is now the norm.
Find out more in our guide on how to use GPS for hiking navigation.
---
 Best Hiking apps for digital mapping 2023 reviewed
Note: products are ranked in order – expert to casual user. 

Topo GPS
RECOMMENDED: Power user
Rating: 4/5
Likes: simple interface, reliability & speed, excellent planning tools, good range of international maps, colour coding, great for complex GPX files
Dislikes: no 1:50K OS mapping, international map costs can get expensive, no community features, no website planner
Costs: Basic use free (no topo maps); 1:25K OS maps available for £24.99/year subscription or £2.49 per 256km2 tile; other maps available with separate purchase |  Platforms: iPhone and Android | Maps: 1:25K OS maps, OpenStreetMap (world), topo maps for many countries | Features: route planning, OS grid ref, track recording, GPX import/export, geotagged photos | Offline? yes, download areas of map to device
Topo GPS is a relatively simple app, yet is deceptively powerful. The interface is minimal and devotes maximum screen space to the map, including a central crosshair. At the bottom there's a grid reference (this can be customised to OS Grid). In the UK, OS mapping is present, but you only get 1:250K overview or detailed 1:25K – no 1:50K at the time of writing. The subscription cost for OS mapping is reasonable although each map type worldwide has its own cost, which can make it expensive (for example, French IGN maps cost £17.99 a year).
Read more: Topo GPS review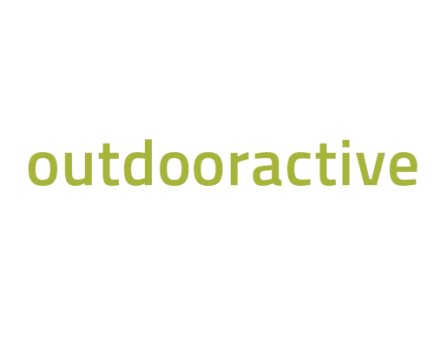 BEST BUY: Outdooractive
RECOMMENDED: All-rounder
Rating: 4.5/5
Likes: great range of worldwide maps, easy and fast route planning, community routes, website planner
Dislikes: learning curve for ViewRanger users and some features not present yet, OS grid reference not easy to use, minor bugs
Cost: basic use is free (no topo maps, ads); Pro is £2.23/month (OS & topo maps, no ads, offline); Pro+ is £4.45/month (Harvey & specialist Alpine maps, 3D planning). ViewRanger subscribers can get a matched Outdooractive subscription while their VR sub lasts | Platforms: iPhone, Android, web planner | Maps: OS, Harvey, excellent range of international topo maps | Features: route planning, OS grid ref, track recording, GPX import/export, community, augmented reality, 3D route preview | Offline? paid version only. Two modes: either download map areas or download all maps for a planned route
At the time of writing most of ViewRanger's features have now been added to the new app, although the interface is more complex and some features are more difficult to find. The main interface includes the map view, any planned routes or waypoints you've added to the special 'My Map' mode, and buttons for route discovery, planning, tracking, and 'My page' (your social profile on the app, including planned routes). To get a grid ref, you have to tap on a location, then tap through to 'Details' to get a list of coordinate formats (OS Grid listed near the bottom). This is much less convenient than ViewRanger's approach.
Read more: Outdooractive review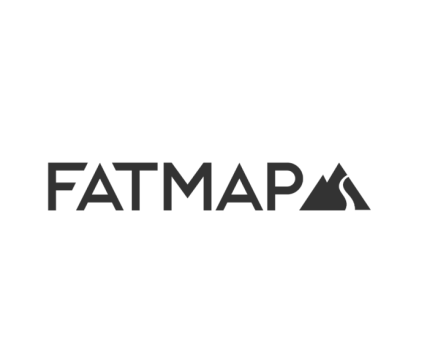 FATMAP
Rating: 3.5/5
Pros: good value, international map options, easy route plotting, innovative visualisation tools, integration with Strava and GPS watches
Cons: route planning requires internet, no OS grid reference, cluttered interface, can't display own routes on main map screen
Costs: basic use free but very limited; FATMAP Explore costs £24.99 a year | Platforms: iOS, Android, web | Maps: OSM-based "Global Topo" (free version); paid version gives OS maps and many international top maps | Features: route planning, track recording, GPX import/export, route discovery via community, avalanche prediction and avoidance tools, 3D map, integration with Garmin, Suunto and Strava | Offline?: yes, paid version only. Some functions don't work offline, such as route plotting
FATMAP is a community-oriented app focused on inspiration, route discovery, social tools, and innovative map features. The free version is basic, with a "Global Topo" base map derived from OpenStreetMap (OSM) data. If you plan to use the app in the mountains, or even for viewing detailed topo maps and planning your own routes, it is essential to get the paid version. The app's social network and route-discovery tools are great if you are looking for inspiration, but there is less emphasis on drawing your own routes. The route selected is shown clearly on the map, and data such as distance, ascent and descent, expected duration, and an elevation profile are displayed alongside a description and crowdsourced photos.
In addition to being able to download maps for specific routes, you can also download arbitrary regions of the map, but fine-grained support is limited. FATMAP is an app that provides a map view with layers, live snow, terrain visualisation, and 3D views. It can't display your location as an Ordnance Survey grid reference, but you can see the latitude and longitude for plotted waypoints. It also connects to popular GPS watches and Strava, making it easy to share routes and activities. FATMAP has an interesting mixture of features aimed at beginners and power users, but gaps in offline functionality and a cluttered main map screen make it fall short once you move beyond basic needs. For the casual user looking for inspiration and an easy-to-use app, or for the advanced user looking for specific additional tools, FATMAP is well worth a look.
Our full thoughts can be seen in the First look: FATMAP App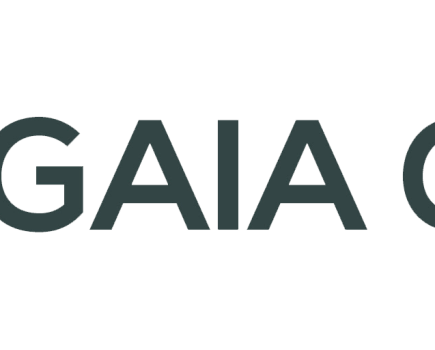 Gaia GPS
Rating: 4/5
Likes: great for international trekking, powerful route planner, advanced features
Dislikes: no OS maps or OS grid ref
Costs: free (basic use, no offline maps); $39.99/year (Premium, offline & worldwide topo map) | Platforms: iPhone, Android, web planner | Maps: Gaia Topo (worldwide), many international topo maps with Premium subscription | Features: route planning, track recording, GPX import/export, community, geotagged photos, area calculator | Offline? yes, download areas of map to device (large areas & multiple map types at once supported)
If you're going trekking abroad and you need a lot of functionality, Gaia GPS is the app to look at. The standard Gaia Topo map is based on OpenStreetMap data but is quite clear, with contours, paths and hill shading (no cliffs marked). Although there's no OS mapping, internationally Gaia GPS has most topo maps you could want, including USGS Topo (USA) and numerous European map sources. All can be downloaded for offline use (Premium only) and you can even overlay multiple map types with transparency (superb for border areas where two map types are needed).
Read more: Gaia GPS review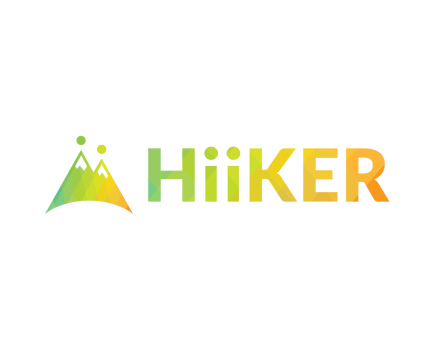 Hiiker
Rating: 4/5
Pros: clear and uncluttered main map screen, detailed Harvey maps, prominent grid reference and elevation, offline map downloads available to free users
Cons: grainy OS maps, route planning requires internet, can't display own routes on main map screen
Cost: Hiiker Pro+ is £41.99 a year or £5.99 a month | Platforms: iOS, Android, web | Maps: wide range of OSM-based free maps; paid version gives OS maps (including Ireland and Northern Ireland), Harvey maps, international topo maps, and various historical maps | Features: route planning, track recording, GPX import/export, OS grid reference, route discovery via community, stage-by-stage breakdown of longer trails, printable maps | Offline?: yes, both free and paid version. Some functions don't work offline, such as route planning.
Hiiker offers a combination of community/inspiration features and standalone functionality for map viewing and plotting. It has a simple and easy-to-understand interface, with route discovery and main map screen split into separate views. The app's "Home" tab gives a list of nearby trails, curated lists of walks, and hiking stories and tips. There is also an option to download a print map, which splits longer walks into day stages and generates a PDF with a map for each day. To download maps for offline use, you can either do it for a particular route or via a rectangular area on the map screen. Offline map downloads are free for all users, but Pro+ subscribers only get detailed topo maps.
The "Explore" tab provides a powerful way to search for nearby routes, but they are not shown directly on the map. The main map tab is clear and has a minimal interface with OS grid reference, buttons for map layers, GPS location, and "+". The layers function is powerful, allowing you to show many different map types on the screen at once and control their order and opacity. OS maps are somewhat grainy and with strange colours, but Hiiker is talking to OS to see what can be done about it. Route planning uses snap to path and direct routing, but without an internet connection, you can't save a route. GPX export is easy, but importing a GPX file is clunky, and you can't view your own planned routes on the main map.
Read more on Hiiker with our First look: Hiiker app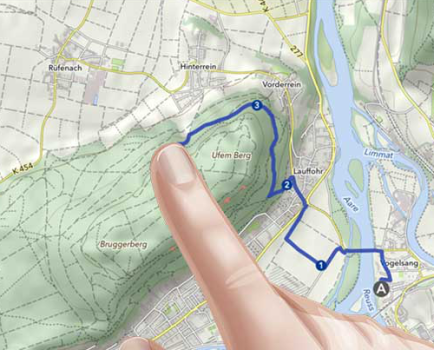 MapOut
Rating: 4/5
Likes: simple interface, fast and reliable, excellent route planner, great for organising complex libraries of routes
Dislikes: no OS maps or OS grid ref, no route sync
Costs: £4.49 one-off purchase | Platforms: iPhone only | Maps: worldwide basic topo map based on OpenStreetMap data | Features: route planning, track recording, GPX import/export | Offline? yes, download areas of map to device (large areas supported)
Due to its lack of support for OS mapping, MapOut won't be your only app for UK use, but it can be useful as a sidekick app. The map is based on OpenStreetMap and covers the entire world. You get contours, footpaths, and basic topographical features, but it isn't as detailed as a proper topo map and I wouldn't recommend navigating off-path in the mountains with it. Where MapOut excels is its simple interface and efficiency, making it perfect for getting an overview on a complicated route or set of routes.
Read more: MapOut review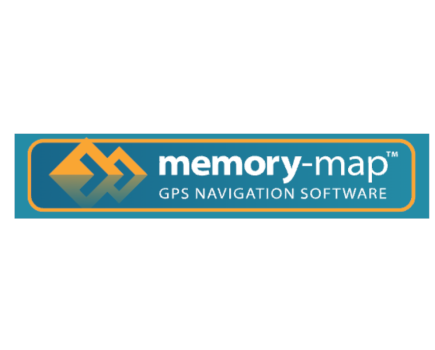 Memory-map for all

Rating: 4.5/5
Pros: excellent map screen, flexible for power users, high level of customisation
Cons: steep learning curve, route planning could be improved, no Harvey maps, missing many European topo maps
Cost: costs vary depending on mapping purchased; full OS mapping from £24.99/year | Platforms: iOS, Android, Mac, Windows | Maps: Europe Basemap and OS 1:250K Road Atlas (free); OS maps & small selection of international topo maps (paid) | Features: route planning, track recording, GPX import/export, OS grid reference, viewing routes & waypoints on main map screen, extensive customisation | Offline?: yes
Memory-Map has recently released a new app called Memory-Map for All (MM4A). It is all about two things: the map-viewing experience and creating and managing your own library of routes. There are no route recommendations or social features, and Cloud features are limited to syncing saved routes and purchased maps to your account. The app is built around several screens, with a large, uncluttered map view and a system of nested menus. OS maps require purchase or subscription, and Harvey maps can't be used.
Offline mapping is the best implementation of offline mapping of all apps tested. MM4A is a great app for OS mapping, with scroll and zoom quickly and a superb degree of clarity. The "List overlays" menu lets you control exactly what user data is shown on the map screen, and route planning is close to great, but falls short in one critical area. GPX file import and export are easy and reliable, and you can also control the exact appearance of routes.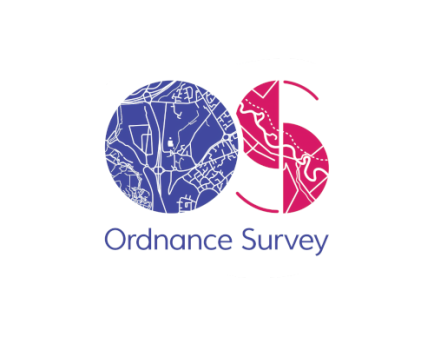 OS Maps
RECOMMENDED: Simple solution
Rating: 4/5
Likes: simple to use, excellent website planner with printable maps, good integration with paper maps
Dislikes: no waypoints, can't show multiple routes on the map at once, snap to path only works in national parks, offline mode a little cumbersome
Costs: £29.99/year (OS Maps Premium) | Platforms: iPhone, Android, web planner | Maps: 1:25K & 1:50K OS, 'standard' (basic maps with contours & paths) | Features: route planning, OS grid ref, track recording, GPX import/export, community, augmented reality | Offline? yes, download areas of map to device, download maps for planned route, or download purchased paper maps
This is the Ordnance Survey's official smartphone app. It has all of the basics for mountain use, including OS mapping, a clear interface, offline support, the ability to create and follow routes, and OS grid references. The app has improved recently and is now stable and reliable in general use, with smooth zooming between map scales.
Read more: OS Maps review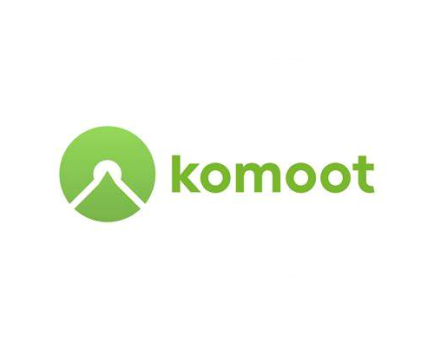 komoot
Rating: 4
Likes: great for route discovery and social community
Dislikes: no OS maps or OS grid ref, limited manual control over route planning
Costs: free (basic use, no offline maps); €4.99/month (Premium, offline maps and other features) | Platforms: iPhone, Android, web planner | Maps: worldwide komoot map based on OpenStreetMap data with hiking and cycling layers | Features: route planning, track recording, GPX import/export | Offline? yes, download entire regions for offline use
If you're into road cycling or mountain biking, or if you want an app that's both social platform and route planner combined, komoot is worth a look. Unlike most apps tested, the map screen is not front and centre here; the default page is 'Discover' (a social feed showing what your friends have been up to, plus selected route highlights you might be interested in). Click through to a route and it's displayed with photos, distance, expected time, ascent, a map, and terrain information.
Read more: komoot review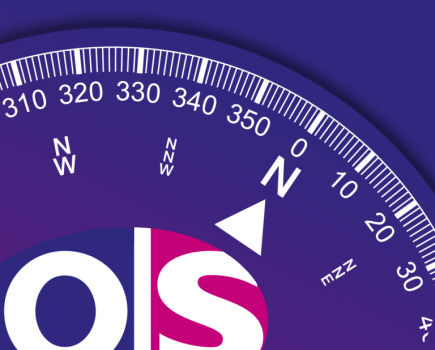 OS Locate
RECOMMENDED: Safety tool
Rating: 5
Likes: instant access to OS grid reference, simple and reliable
Dislikes: nothing
Costs: free | Platforms: iPhone, Android | Maps: none | Features: OS grid ref, virtual compass, integration with OS Maps | Offline? Yes
Navigation apps don't come simpler than the Ordnance Survey's OS Locate – a free app dedicated to giving your position and elevation. It does this perfectly and with minimal fuss, making it ideal as either a backup option or a digital companion to a traditional navigation system.
Read more: OS Locate review