Whether you're in need of lightweight options for backpacking or durable options for high-level day hikes, you'll find the right pair of hiking boots for you in this, our expert guide to the best three-season hiking boots
Three-season hiking boots are the walking footwear most of us wear for a large part of the year, so they are worth careful consideration, especially in relation to fit and expected terrain. Get the fit wrong in your walking boots and you'll feel uncomfortable or insecure and if your footwear is under or over-specified for the ground you'll cover, the simple act of walking will not be as straightforward as it should be.
The best pair of hiking boots for three-season walks will need to tick a number of boxes and strike certain balances. They'll need to have a sturdy sole that can cope with rocky terrain but there will also need to be a bit of flex to make the wearer comfortable when covering long distances. They'll need a sole that can grip reliably to a range of surfaces, from wet rock to muddy slopes, plus you'll want to look for padding and cushioning that will keep you comfortable but without causing overheating if you do need to wear the boots in warmer temperatures. You'll find more about what to look for when choosing a pair of hiking boots at the bottom of this article, or you might want to check out this in-depth hiking boot buyer's guide we compiled.
Do walking boots need to be waterproof?
The best hiking boots for hiking in cold and wet weather will be backed up with a waterproof membrane and this will often be in the form of Gore-Tex (though there are many other different fabrics are available). This membrane will block out water from puddles and wet vegetation while also allowing moisture vapour generated from your feet (aka sweat) to escape from the inside.
Related: Best trail shoes for hiking reviewed
Related: Best GPS watches reviewed
For hiking in conditions that are very likely to be very warm and very dry, you might want to consider walking boots that aren't lined with a waterproof membrane as this will limit the likelihood of your feet overheating and sweating.
Some hikers will favour non-lined walking boots even when hiking in wet conditions. This will generally be if they own quality, leather boots that have minimal seams and that are well maintained with water resistant wax. It's a traditional approach but one that many will swear by – check out our guide to re-waterproofing hiking boots and shoes for more info on that. Almost all of the options assessed in this round up have waterproof membranes, but you will find in some instances that brands will sell non-lined versions of them too.
Bear in mind, if your boots are a little old and broken, you could consider whether you can fix them up. This guide on how to repair hiking boots should help there.
The best hiking boots reviewed 2023: 10 options for walking and backpacking
Our experienced gear testers have assessed a broad range of options for this group test, with aspects such as performance, price, reliability and longevity all taken into consideration. The following list shows the hiking boots for men and women that have come out on top.
Inov-8 Roclite Pro G 400 – $245 / £200 – Best hiking boots for women tested
Oboz Bridger Mid B dry – $190 / £160 – Best hiking boots for men tested
Vasque St Elias FG GTX – $230 / £190
Salewa Mountain Trainer Mid 2 GTX – $290 / £220
Scarpa Rush Trek GTX – No U.S shipping / £185
Salomon X Ultra 4 Mid – $175 / £170
Hanwag Banks II GTX – $340 / £210
Keen Ridge Flex Mid WP – $190 / £160
Brandecosse Capriolo – £199 – U.S. shipping available
Craghoppers Adflex Boots – £150 / no U.S. shipping – Best value hiking boots
Haglöfs Duality AT1 – £240 / No U.S. shipping
How we tested them
These hiking boots were all tested extensively by outdoor industry professionals within our gear review team. In this instance, our testers were Peter Macfarlane, Kirsty Pallas, Fiona Russell, David Lintern and Will Renwick. They were all responsible for the testing and reviewing throughout the entire process and they carried out their assessments in mountainous locations throughout the UK, including in the Cairngorms, Inner Hebrides and the mountains of Snowdonia. The testing season ranged from spring through to autumn and involved short and long hikes over mix terrain. All shoes were assess for their breathability, performance in wet weather, grip, comfort and durability, all weighed up against the price.
Brandecosse Capriolo
Price: £199
Weight: 1 lb 16 oz | 980g
Pros: quality, durability
Cons: Quite narrow
Rating: 4.5/5
Materials: fully waterproof and breathable suede upper /  / leather upper / memory foam footbed  | Features: Vibram outsole, rubber toe cap, Sympatex waterproof membrane | Sizes: UK 4 to 12.
These hiking boots by Scottish brand Brandecosse feature a durable and breathable suede upper, with an impressive Sympatex waterproof membrane, robust Vibram outsole and traditional good looks. At 980g per pair, they're quite lightweight and offer good levels of comfort and protection.
The upper is made from soft but strong Italian suede, a highly breathable material that gives these boots their classic appearance. This, along with  waterproof lining, equates to a shoe that can regulate your temperature while simultaneously keeping you dry, which makes for an ideal piece of footwear for the warmer months.
In terms of features, the Capriolo has a tough rubber toecap to achieve the level of shielding required for summer missions in the backcountry. The comprehensive lacing system goes all the way from the ankle to the toe, in a similar way to the lacing on an approach shoe, giving you a customisable fit depending on the shape of your foot.
Available at: brandecosse.com
Inov-8 Roclite Pro G400 – Best women's walking boot tested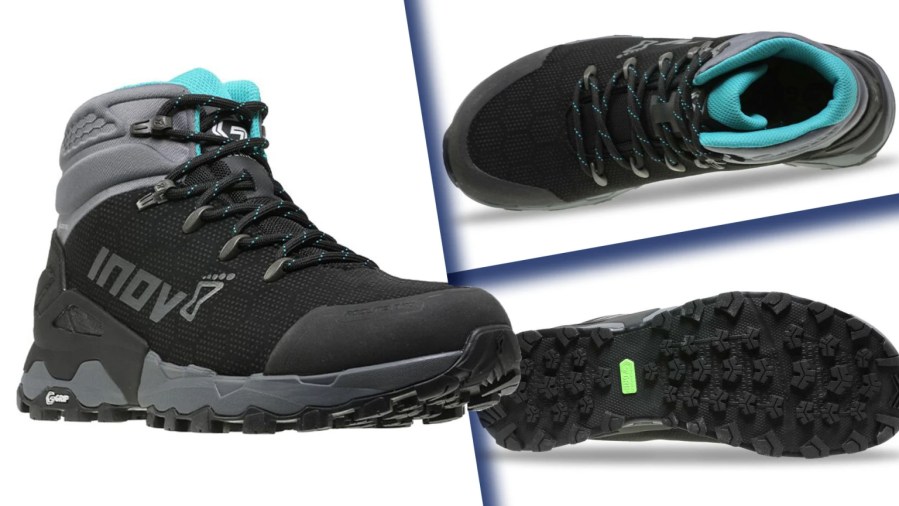 Price: $245 / £200
Weight: 1.87 lb. / 850g
Pros: Comfort, flexibility, grip
Cons: Price, limited larger sizes, weight quibble
Rating: 4.5/5
Materials: Schoeller ceramic-coated fabric upper,  Gore-Tex membrane, graphene-enhanced rubber soles | Features: sole with 'iconic'-shaped studs and water dispersion grooves, 'meta plate pro', external heel cage | Men's version: yes | Sizes: U.S. 5.5 to 11 / UK 3.5 to 8.5 (including half sizes)
Inov-8's main specialism lies in trail running and there's a big focus on lightweight performance throughout the brand that extends into their hiking collection. Case in point: the Roclite Pro G400. It's a light, versatile boot that fits like a slipper, with a narrow to mid-width female fit and a smooth but precise lacing system. The upper, which is made from synthetic mesh, is lined by a Gore-Tex waterproof membrane and there's light protection at the toe and at the heel where there's a stabilising external rubber structure.
Then there's the impressive outsole. This contains graphene, a substance that's commonly regarded as one of the toughest materials in the world. Inov-8 use this across most of their collection these days in order to increase the lifespan of their products. You'll find 6mm trail shoe-like lugs across the outsole too, making the Roclite Pro G400 ideal for muddy conditions. The grip is generally good except on wet rocks and tree roots, and the uppers are durable and resist abrasion. Sole rigidity is lacking, so look elsewhere if you prefer a stiffer sole.
Read our full inov-8 Roclite Pro G 400 Gore-Tex women's boot review
Available at: inov-8.com
Vasque St Elias FG GTX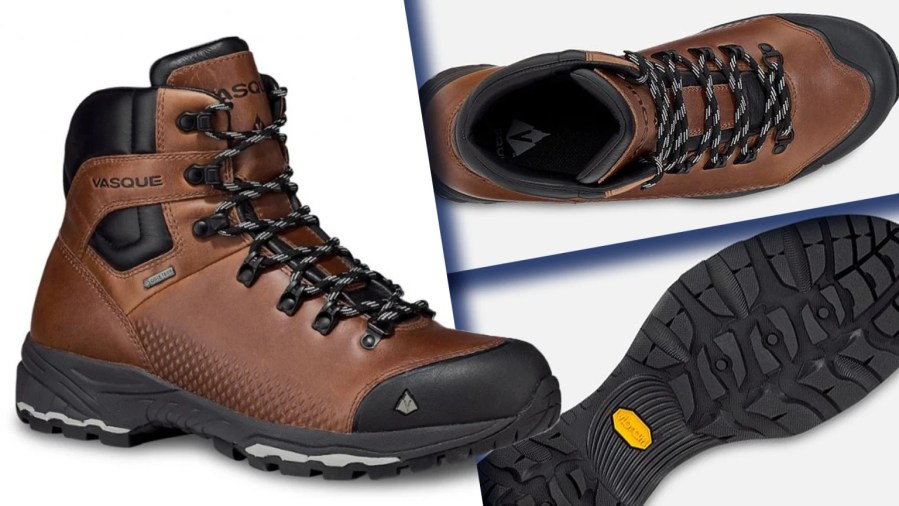 Price: $230 / £190
Weight: 2.93 lb. / 1332g
Pros: Waterproof, durable, good protection, 2 widths
Cons: Heavy, reduced breathability 
Rating: 4.5/5
Materials: upper: 2.2mm full-grain leather upper and Nappa leather cuff, Gore-Tex membrane; lining: moisture wicking textile, midsole: ATC (All-Terrain Compound), footbed: dual-density EVA compound; outsole: Vasque 'exclusive' Vibram Frontier | Features: midsole with EVA cushioning pods and TPU shank, rockered toe, positive lock heel pocket, rubber toecap, padded tongue, metal eyelets and hooks | Men's version: yes | Sizes: U.S. 6 to 11 /  UK 4 to 9 (including half sizes)
The St Elias FG GTX from U.S. brand Vasque is a solid, sturdy and stable walking boot with a supportive ankle design and three metal hooks for secure, reliable lacing. It has a Gore-Tex membrane for protection from wet weather, puddles, mud and rocks, as well as a rubber toecap and a double layer of leather at the heel. The insole and underfoot cushioning are in the middle range, and the outsole offers reasonable traction on varied terrain. From our tests, we found the lugs can become clogged with dirt – probably due to the fact that the lugs are placed quite close together. This is a boot that could be worn into winter, but in warmer summer weather it may feel a little heavy and warm.
Read our full Vasque St Elias FG GTX review
Salewa Mountain Trainer Mid 2 GTX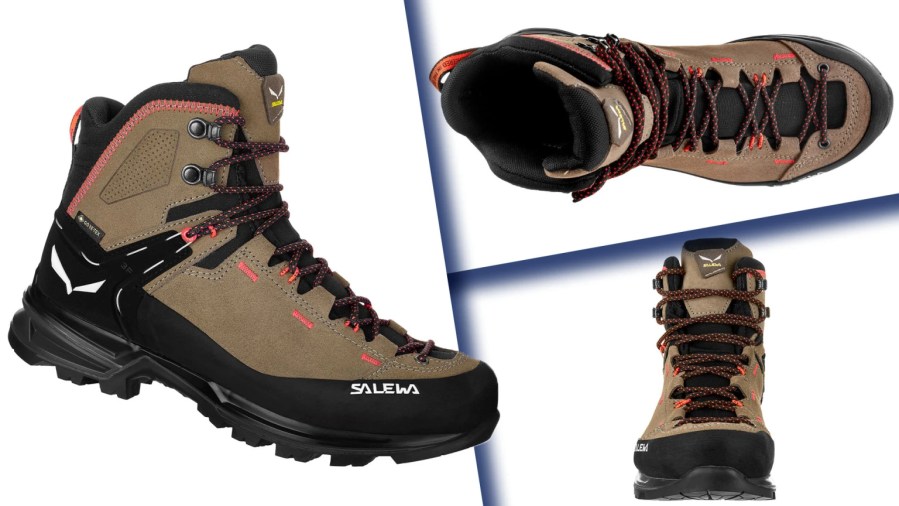 Price: $290 / £220
Weight: 2 lb. / 940g (pair, size 39)
Pros: Climbing lacing, climbing zone on the sole
Cons: Steel cable attachment issue on test sample
Rating: 4/5
Materials: suede | Features: Gore-Tex Performance Comfort lining, Vibram sole, multi fit footbed | Sizes: U.S. 5.5 to 11 / UK 3 to 9 | Men's version: yes
The Salewa Mountain Trainer Mid 2 GTX is a bit of a hybrid that's good for anything from hill and trail walking to scrambling and mountaineering.
The sole has enough flex to make this comfortable over long distances but then there's also dependability and performance on rocky, technical terrain too.
It's waterproof, thanks to its Gore-Tex membrane and the leather upper is very durable with plenty of reinforcement and padding in the right places.  Climbing lacing extends right down to the toes giving the potential for a good, close fit. 
At $290 (£220), it's not the cheapest of options but, given its versatility and multi-use performance, you are getting some bang for your buck here.
Read our full Salewa Mountain Trainer Mid 2 GTX review. 
Available at: alpinetrek.co.uk
Scarpa Rush Trek GTX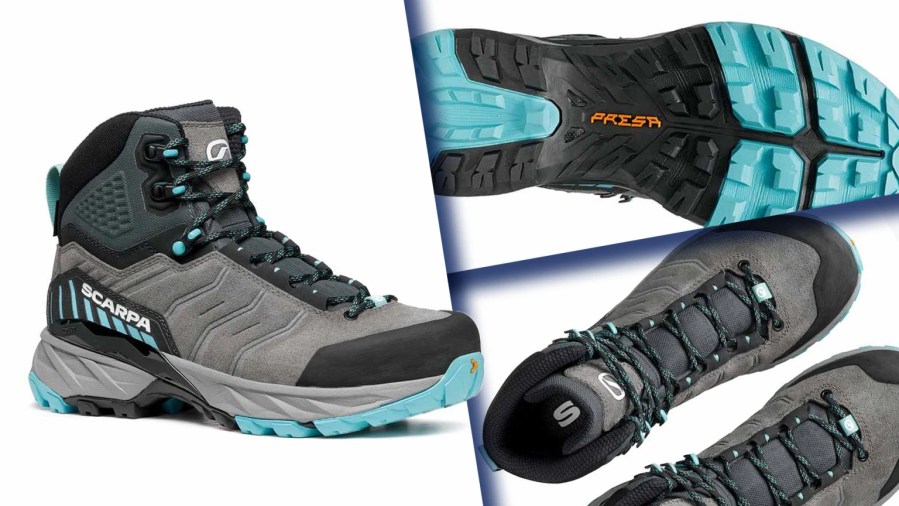 Price: No U.S shipping / £185
Weight: 2 lb. / 930g (pair, U.S. size 7.5)
Pros: Weight, breathability
Cons: Narrow fit
Rating: 4.5/5
Materials: suede and fabric | Features: Gore-Tex Extreme Comfort lining, Presa sole | Sizes: EU 36-42 / U.S. 4 to 16 (including half sizes) | Men's version: yes
Italian brand Scarpa are well known for producing great walking boots and they haven't dropped the ball here. It's a well-made reliable boot that's very versatile, comfortable and agile feeling. 
Scarpa have used their own Presa rubber for this boot and during a couple of days of testing on greasy granite our tester found it to be just as grippy as the more common Vibram rubber.
There is a good balance here between durability and weight and the Gore-Tex Extended Comfort lining brings excellent breathable wet weather protection. A comfortable ankle collar gives a nice flexibility, whilst still providing plenty of support on uneven surfaces.
We found that there is a little breaking in needed with this model with one of our testers struggling with the narrowness for a day on the hill. Its very comfortable once broken in though.
Read our full review on the Scarpa Rush TRK GTX
Salomon X Ultra 4 Mid GTX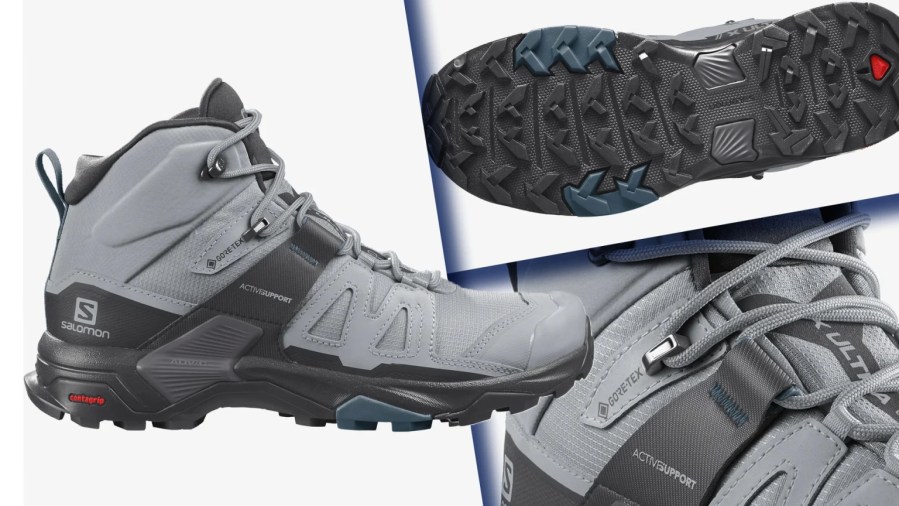 Price: $175 / £170
Weight: 1.81 lb / 824g
Pros: Comfort, durable, lots of sizes
Cons: Weight quibble
Rating: 4/5
Materials: textile /synthetic upper with PU-coated leather details, Gore-Tex membrane (free from PFCs of environmental concern), OrthoLite sock liner, rubber Contagrip outsole with 'Chevron' lugs, EVA foam midsole  with 'EnergyCell' | Features:  Advanced Chassis, PFC-free water repellency, SensiFit construction, protective mudguard | Men's version: yes | Sizes: U.S. 5 to 11 / UK 3.5-9.5 (including half sizes)
This has a robust synthetic upper with a high level of leather detailing at the toecap, heel and all the way around the rand of the boot. The fit is generous and would best suit a mid to wider foot, and the lacing system, which fabric eyelets, metal eyelets and a metal hook at the ankle, gives a comfortable, precise fit.
They are fairly lightweight at 1 lb / 412g each for the female U.S. size 10.5 (UK 8.5). The cushioning is medium, and grip is good in most conditions. The heel of the sole is shaped to dig into soft terrain when descending, making it a solid and stable boot with good levels of protection.
Read our full Salomon X Ultra 4 Mid Gore-Tex women's boot review
Available at: salomon.com
Oboz Bridger Mid B Dry – Best Men's Walking Boot Tested
Price: $190 / £160
Weight: 2.68 lb. / 1220g
Pros: Comfort, grip, wide range of use
Cons: Rounded heel
Rating: 4.5/5
Materials: nubuck leather upper, rubber toe and heel bumper, rubber outsole | Features: Oboz B DRY waterproof lining, O-FIT insole | Sizes: U.S. 7 to 15 and UK 8 to 13 including half sizes; regular and wide fit available | Women's version: yes
One of the most popular products in Oboz's collection, the Bridger is a reliable three-season boot that'll suit anything from hill and country walking to a multi-day hike along a national trail.
It has a snug heel with a regular forefoot and toe box and this allows for natural walking and comfort over long distances.
The outsole is Oboz's own proprietary design, with deep, aggressive lugs and a rounded heel area. The laces are chunky with easy-to-clean hardware and a padded tongue. The footbed is simple but effective and the ankle is high enough to provide a good level of support on uneven terrain. During tests, the B DRY waterproof liner remained waterproof through months of regular use
The uppers softened over the course of use, and they strike a good balance between protection on difficult rocky terrain and being flexible enough for comfortable hiking on lighter tracks.
Read our full Oboz Bridger Mid B Dry review
Hanwag Banks II GTX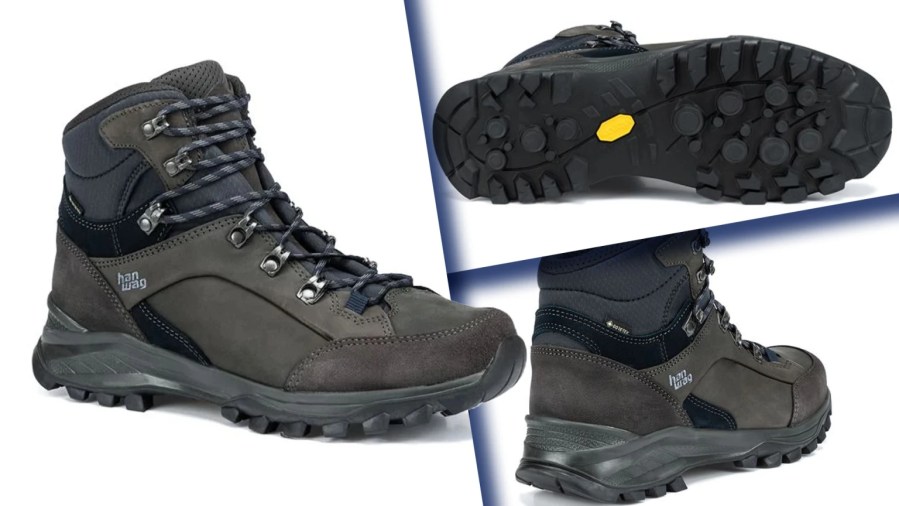 Price: $340 / £210
Weight: 3.15 lb / 1430g
Pros: Comfort, grip, lacing system
Cons: Weight, cost
Rating: 4/5
Materials: nubuck leather upper, Vibram rubber outsole | Features: Gore-Tex waterproof lining, extra midsole padding | Sizes: U.S. 8 to 14 / UK 6 to 14 including half sizes | Women's version: yes
German footwear specialists Hanwag have designed the Banks to provide durability, protection and comfort over long distances and over a variety of terrain. From our tests, we found it suitable for rocky trails, boggy moorland and steep inclines.
The upper is leather and suede, the ankle is high and flexible and there's plenty of padding around the cuff and across the tongue. The lacing system is excellent, the Vibram outsole is aggressively lugged and grips across a wide range of terrain, the Gore-Tex lining remained waterproof through months of testing and the leather upper should be re-proofable in the future using a product from the likes of Nikwax or Grangers. One slight downside is that the Banks is heavy, but the well-designed features offset that in use, and the high price comes partly from the fact it's manufactured in Europe.
Read our full Hanwag Banks II GTX review
Keen Ridge Flex Mid WP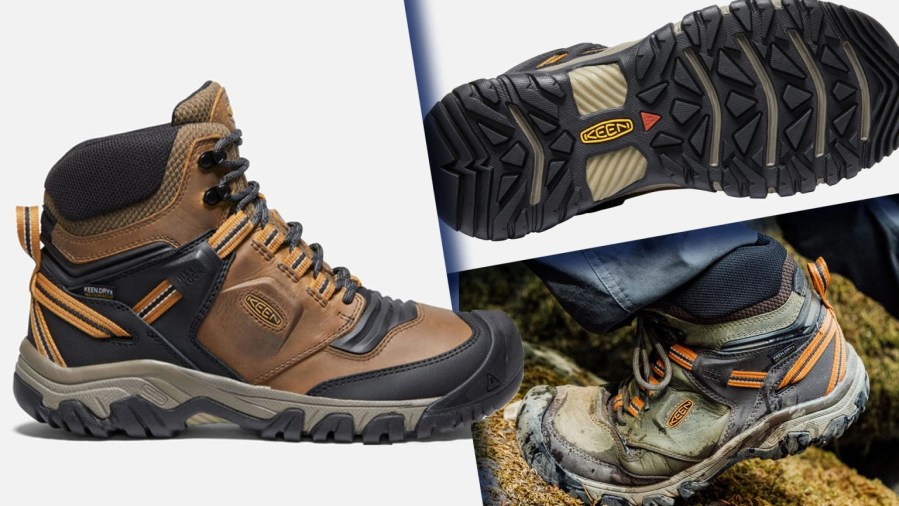 Price: $190 / £160
Weight: 2.61 lb. / 1185g
Pros: Weight, comfort, grip
Cons: Heel lock feature abrades socks, bellows feature can be felt on your foot
Rating: 3/5
Materials: leather upper, EVA midsole, rubber outsole | Features: ridge flex bellows, KEEN.DRY waterproof lining, moulded insole, heel lock feature | Sizes: U.S. 7 to 17 / UK 6-16 with half sizes up to 11 | Women's version:  yes
The Ridge Flex has an unusual and distinctive feature that is designed to make walking easier and to reduce wear and tear on the boot. It features a panel of synthetic material shaped into a series of ridges to act as a bellows, stretching and contracting as the whole boot flexes. One way to describe it is that it works in the same way that a flexi straw would.
The upper is made from leather with durable synthetic overlays at the heel and toe. The fit and comfort is impressive, with a wide forefoot to let the toes splay slightly and then a snug heel.
Related: Best waterproof jackets reviewed
Related: Best two-person tents reviewed
The outsole is Keen's proprietary design with reasonably deep lugs and the signature chunky Keen toe bumper that helps to protect the toes. The laces run over a padded tongue, and the webbing lace loops and metal hooks are designed to be easy to keep clean.
Read our full Keen Ridge Flex Mid WP review
Craghoppers Adflex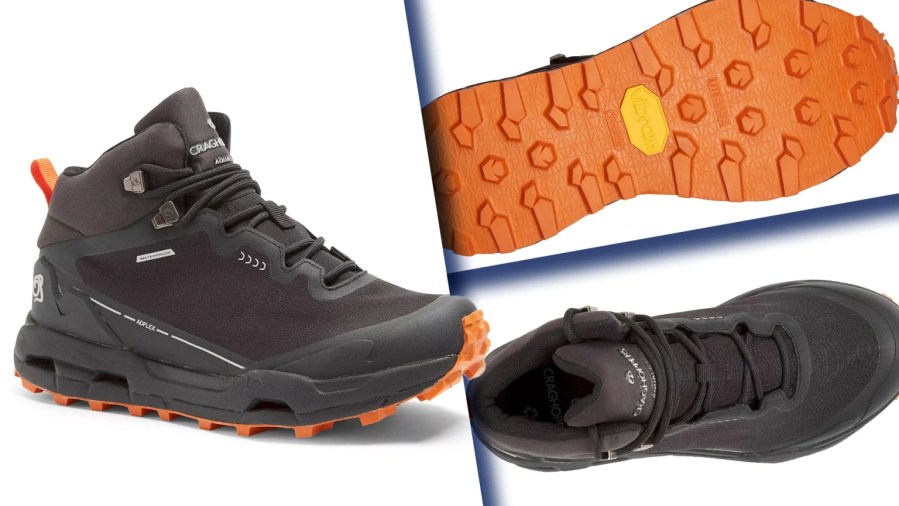 Price: £150 / no U.S. shipping
Weight: 1.98 lb / 902g (pair, U.S. 10 / UK size 9)

Pros: Comfortable, grippy sole, light

Cons: Nothing

Rating: 5/5
Materials: synthetic mesh upper, overlay and reinforcement, EVA midsole | Features: high percentage of recycled materials, ghillie lacing, Aquadry waterproof lining, Vibram outsole | Sizes: UK 6 to13 including 6.5 and 9.5 | Women's version: yes
The Adflex might look chunky and heavy but it's surprisingly quite lightweight. It has a thick midsole that's comfortable for longer hikes over rough ground and a breathable synthetic mesh and TPU reinforcements make up the upper. Initially the collar was quite stiff during our tests, but this quickly softened while in use. The waterproof membrane did its job and was excellent at keeping water out.
Overall, this is one of the better value options out there and it's a good option to consider if you prefer to hike in lighter, more breathable boots.
Read our full review on the Craghoppers Adflex Boots
Haglöfs Duality AT1 GTX Mid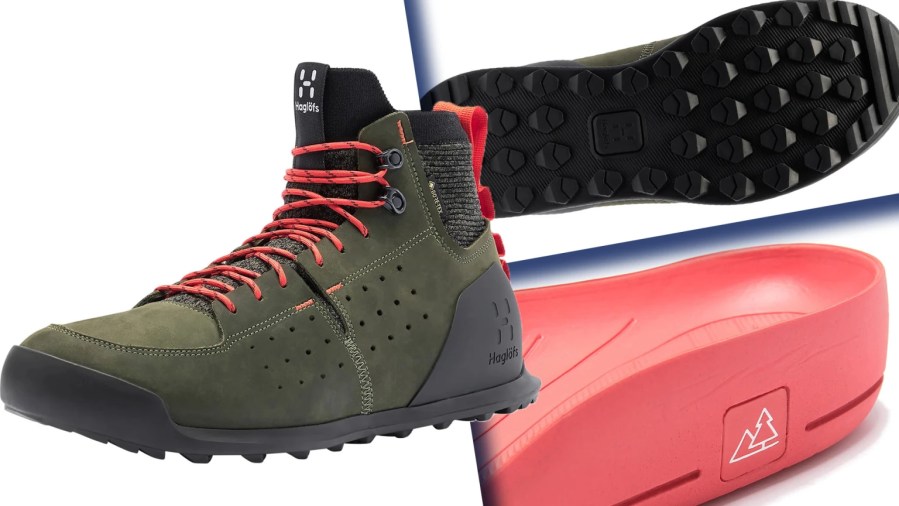 Price: £240 (no U.S. shipping)
Weight: 2.37 lb / 1078g
Pros: Comfortable, grip, adaptability
Cons: Weight, cost
Rating: 4/5
Materials: nubuck leather upper, polyester mesh, rubber sole | Features: Gore-tex waterproof lining, interchangeable insoles | Sizes: UK 6.5 to 12.5 including half sizes | Women's version: yes
This unique, lightweight boot has the ability to swap between two insoles, the intention being that you can adapt it to suit different types of hike. The insoles are colour-coded, with red being soft and flexible (good for casual use and light trails) and grey being stiffer and denser (good for rockier trails). The outsole is an excellent outsole with aggressive trail shoe-like levels of traction. The upper is made from perforated leather with plastic reinforcements and there's a sock-like knitted fabric around the ankle cuff. The laces run through holes in the leather with small metal eyelets higher up. The waterproof Gore-Tex lining has remained intact throughout our tests and there's been good breathability too.
Read our full review of the Haglöfs Duality AT1 GTX Mid
How to choose hiking boots: aspects to consider
Here are the key things to look at and to consider when you're looking to buy a new pair of hiking boots.
Sole
The sole perhaps the most important component of a hiking boot – it's what connects you to the ground. You could be wearing the best-fitting boots in the world, but without a good sole they won't do you any good.
The make of rubber will affect how grippy and hard-wearing it is, with Vibram and Michelin often being used for walking boots. Deep lugs help with grip on grass and moorland terrain, and some boots might have a smoother area at the toe – the climbing zone – which is useful for scrambling and climbing.
Midsole
This is the section between the sole and the footbed. The stiffness and flexibility of a boot depend on how, and with what materials, the midsole is constructed. A 'shank' will make the boot stiffer, which is required if you want to use crampons; but with less flex, walking on less challenging terrain may feel more tiring.
The drop between the heel and toes is also dependent on what the midsole is constructed of, with a minimalist or 'barefoot' style having little or no drop whilst providing less protection.
Upper
The materials used here make a difference to how breathable your boot is, and how long it will take to break in. Leather takes the longest to mould to your feet, and isn't as breathable or as light, but has some natural waterproof properties.
Suede is a little softer than full-grain leather and nubuck but is lighter and more breathable. Synthetic materials are the lightest and most breathable, but due to more external stitching they may not be as durable.
Waterproofing
Some models rely on the waterproof nature of leather, whilst others use a membrane as well, whether that is Gore-Tex or a brand's own. Regular waxing or other treatment will lengthen a boot's life and improves the chance of dry feet.
Ankle support
A leather boot can often feel more structured and sturdy, whilst a fabric or synthetic boot may provide more flex. Look for hooks, or cleats, that can be used to tighten the boot around your ankle. A drop at the back of the ankle collar will allow a bit more flexibility, albeit with compromises on the support given. 
Lacing
Lacing is a key way to tune the fit of your boots. Some lacing designs start near the toes, which is often better for wider feet. A locking cleat to keep the heel in place before lacing up the ankle can also be useful.
Footbed
This is the part your foot sits directly on. Different boots are designed with a wide or narrow forefoot, a narrow heel or arch support in mind.
Fit
The adage 'try before you buy' is critical with footwear. Ensure you don't feel hot spots or rubbing, to prevent blisters and corns later. It's worth wearing the boots around the house whilst they're new, and perfecting the fit to your feet, before venturing out for a full day on the hill.
Leather hiking boots or synthetic?
Leather and synthetic hiking boots have their own advantages and disadvantages when compared against each other and it's difficult to say which type is best as it depends on numerous factors. Here are some of the key differences between leather and synthetic hiking boots:
Durability: Leather hiking boots are generally more durable than their synthetic counterparts, as leather is a stronger and more resilient material.
Water Resistance: Leather hiking boots are naturally resistant to moisture, while synthetic boots require additional waterproofing treatments to provide adequate protection against water.
Breathability: Synthetic hiking boots are generally more breathable than leather boots, as synthetic materials tend to allow air to circulate better than leather.
Weight: Synthetic boots are generally lighter in weight than leather boots, making them a better choice for hikers who like to feel light-footed on the trail.
Cost: Leather hiking boots tend to be more expensive than synthetic boots. That's due to the higher cost of the materials and the additional labor required to construct them.
Maintenance: Leather needs to be regularly cleaned and conditioned to maintain its durability and water resistance, so it's fair to say that leather hiking boots require more maintenance.
You may also like:
Best winter mountaineering boots