Francesca Donovan reviews essential reading on women's experiences outdoors, In Her Nature: How Women Break Boundaries in the Great Outdoors by Rachel Hewitt.
In Her Nature: How Women Break Boundaries in the Great Outdoors is a book about loss. The erasure of women's voices throughout the history of the great outdoors examined within its pages is given a contemporaneous framing through the author's own catastrophic loss of five family members within a year. For Rachel, a professor and ultrarunner, recounting this trauma and her ensuing vulnerability also causes her to lose her sense of belonging outdoors, a safe place she'd previously relied upon during hardship from adolescence into adulthood.
After the death of her stepfather and subsequent estrangement from her mother, Rachel is bereft. The aggressions she experiences outdoors – many of which will be familiar to female readers – cut deeply in her bereaved state and she retreats inside.
Here, online and in libraries and the reading rooms of the Alpine Club, Rachel searches for alternative foremothers for guidance. She has been told over and over again that she won't find them in the mountaineering history books. What – or rather who – she discovers, however, is Lizzie Le Blond. In retelling Lizzie's lost mountain life, Rachel begins to question the narrative. Alongside Lizzie she learns of a lineage of adventurous women who sought respite from the shackles of their social status.
In her grieving and writing process, Rachel unearths their losses, too: the loss of their freedom outdoors with the obsessive patriarchal codification of sports in the 1900s, the loss of their autonomy under a male gaze threatened by their presence, the loss of their achievements to mountaineering history. In Her Nature mourns the loss of their voices and rights some wrongs in sharing the stories of suffragist mountaineers – but it's a cautionary tale.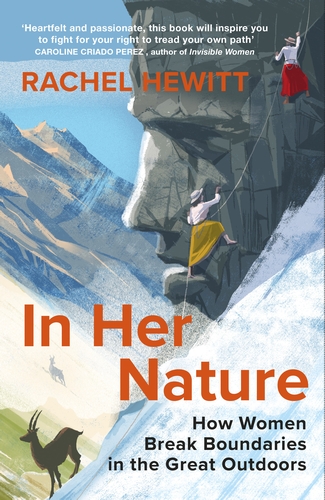 While these erasures belong to a different century, they are reflected in our current climate in which each woman must weigh her aspirations against the very real risk to her safety posed by other people when she ventures outdoors. Rachel wonders how these foremothers of mountaineering came to be pushed out – and whether it could happen (and indeed is) happening again at this very moment in time.
Hewitt's own experience is interwoven with timely research of the Women in the Hills Network and the voices of other outdoorswomen across eras to create informative, essential reading on women's mountaineering wrapped within a profoundly personal memoir.
There is joy amid the anger and hurt Rachel conveys on her journey of personal recovery through recovering the stories of her newfound outdoors foremothers. The author captures the motivations that pull women into the outdoors with empathy. I'm sure many women will feel seen in these pages, perhaps even deducing a dose of self-discovery.
In writing In Her Nature, Hewitt has given the gift of visibility to us and those who came before us. The peaks of joy, the lessons learned during the lows, and the rallying cry for our right to feel safe outdoors will stay with me as I ramble new routes, climb crags and scale mountains. This book has quickly become part of me; absorbed into my nature.
In Her Nature: How Women Break Boundaries in the Great Outdoors by Rachel Hewitt is published by Chatto & Windus (£25).