This season's 11 best waterproof jackets for hiking and backpacking, as chosen by our team of outdoor experts
A good-quality waterproof jacket is an essential item for hikers. They come in various forms, however, so choosing the right one for you can seem like a daunting process.
For any trips outside of winter, a three-season waterproof jacket will offer you the most versatility. This will protect the you from rain in the months of spring, summer and autumn when temperatures should be warmer and the weather kinder, compared to winter.
Some brands have designed minimalist, pared-down three-season jackets, featuring fewer pockets or a one-way zip, rather than two-way and hoods that are simpler with fewer adjusters and smaller peaks. The best three-season jacket, however, will be able to cope with downpours and strong winds and will come with numerous useful features. After all, walkers can experience fairly extreme weather in any month, especially if high in the mountains.
If you want to know how to stay dry when hiking in the rain, it's important to consider a jackets waterproofness and breathability. If the weather is wet and warm, the fabric needs to have the capacity to let the moisture created by sweat escape – otherwise you will end up damp inside the jacket. These days there are excellent waterproof and breathable membranes (which are also windproof). Most jackets also have a durable waterproof repellency (DWR) treatment added to the outer layer of fabric.
Typically, the best three-season waterproof jackets will be made with a lighter-weight fabric than a winter waterproof and many are easily packable so that they can bestowed in a rucksack when not being worn. Most of us will be carrying lighter loads in our rucksacks in the warmer months, so fabrics are not subject to the same level of abrasion (at hips and shoulders) as in winter. Even so, it is important that a three-season jacket is made to last.
Finally, colour choice may seem less important but a brighter shade will allow you to be more easily seen should you get into difficulty. Black, dark blues and greens blend in rather than stand out. Also, very light shades will show the dirt quickly.
The best waterproof jackets of 2023
This buyer's guide contains the 11 best hardshell jackets for 2023 according to our expert reviewers Chris Townsend, David Lintern and Fiona Russell. All of the items that made it into the list have been extensively tested and assessed for their performance, practicality, value and longevity.
How waterproofness and breathability are measured
The waterproofness of a jacket is measured by determining the height of a column of water that the fabric can withstand before it starts to leak through. The resulting figure is known as the hydrostatic head (HH) and this is expressed in millimetres – the higher the number, the more waterproof the jacket is considered to be.
The breathability of waterproof garments is determined by the "Moisture Vapor Transmission Rate" (MVTR). This test measures the amount of water vapor that can pass through the jacket's fabric over a given period of time. The unit of measurement used is typically grams per square meter per 24 hours (g/m²/24h). The higher the MVTR rating, the more breathable the jacket is considered to be. 
Some waterproof fabric examples and their ratings
Hydroshell (Berghaus) – HH: 15,000 mm | MVTR: 20,000 g/m²/24h (official)

Dermizax EV – HH: 25,000 mm | MVTR: 20,000 g/m²/24h (official)

Unbranded (Alpkit Balance) – HH: 20,000 mm | MVTR: 20,000 g/m²/24h (official)

Polartec Power Shield – HH: 20,000 mm | MVTR: 20,000 g/m²/24h (official)

Futurelight (The North Face) – HH: Unknown | MVTR: 75,000 g/m²/24h (official)
Pertex Shield – HH: 20,000 mm | MVTR: 20,000 g/m²/24h (estimated)
H2No (Patagonia) – HH: 10,000mm to 20,000 mm | MVTR: 12,000 – 15,000 g/m²/24h (estimated)

Omni-Tech (Columbia) – HH: 10,000 mm | MVTR: 10,000 g/m²/24h (estimated)

eVent – HH: 30,000 | MVTR: 15,000 to 25,000 g/m²/24h (estimated)

Gore-tex – HH: 28,000 mm | MVTR: 17,000 g/m²/24h (estimated)
Gore-tec Paclite – HH: 28,000 mm | MVTR:15,000 g/m²/24h (estimated)
Gore-tex Pro – HH 28,000 mm | MVTR: 25,000 g/m²/24h (estimated)

Key features to look for on a waterproof shell
A decent hood – large enough to cope with a helmet or ponytail.
An array of roomy pockets – large enough to be crammed with gloves, snacks and maps.
A good waterproof coating – This is measured via something called 'hydrostatic head'.
Roomy fit – The waterproof needs to be large enough to fit multiple layers underneath
Breathability – Measured in MVTR: 'moisture vapour transmission rate'. Zips under the arms can also help vent heat and moisture.
Environmental impact – Think about the materials and chemicals used in the manufacturing process. Getting the most out of clothing, through reproofing using appropriate products and repair, is the best thing we can do reduce the environmental impact of the products we buy.
Outdoor Research Helium AscentShell (Best buy – men's)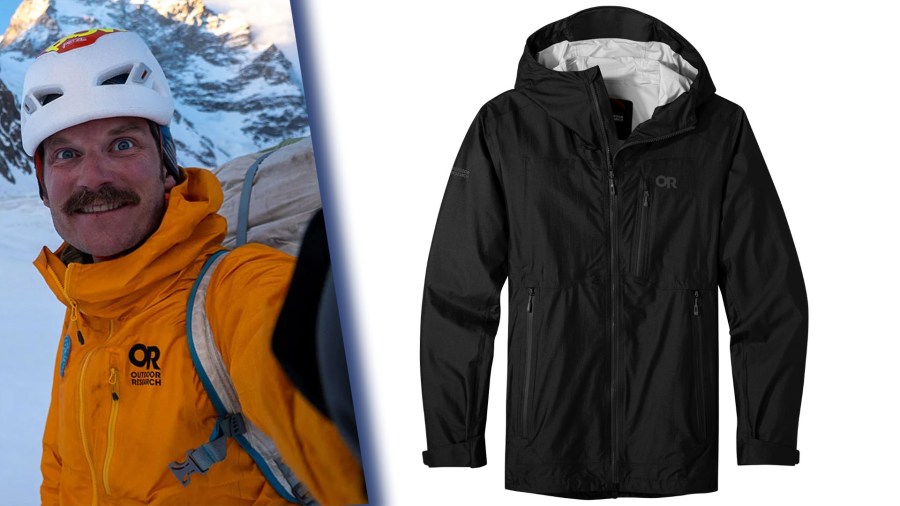 Rating: 4.5/5
Likes: low weight, breathability
Dislikes: expensive, front hood adjustment
Price: $449 |  £425 (Buy now from outdoorresearch.com US Only)
Weight: 330g (L)
Materials: bluesign-approved AscentShell and Pertex Shield Air Diamond Fuse 30D ripstop nylon | Hood: helmet-compatible, front and rear adjustment, stiffened and wired peak | Sizes: men S-XXL (no direct women's version; nearest equivalent is Women's MicroGravity AscentShell Jacket, £265) | Website: outdoorresearch.com
Chosen as the best men's jacket in our tests, the Outdoor Research Helium AscentShell was found to be lightweight, comfortable and tough.
One of the main aspects that impressed us was the AscentShell fabric and the integration of Pertex Diamond Fuse fibres. This creates a lightweight material that is highly abrasion-resistant. Outdoor Research use a method called electro spinning here; this is essentially where thousands of tiny fibres are all joined up together into a web, with gaps that are big enough to expel moisture vapour but small enough to block out moisture in liquid form. It's impressive stuff.
Adjusting the hood isn't that smooth, but when done correctly, it does at least offer excellent protection. Pockets-wise, there are inner and outer ones on the chest that will just about hold a medium-size smartphone and there are handwarmer pockets too – these are cut off by a hipbelt but most of them are still usable.
Expect a roomy fit. Our tester Chris found the size Large to be comfortable over fairly thick insulated tops.
Read our full Outdoor Research Helium Ascentshell review.
Helly Hansen Odin 1 World Infinity Shell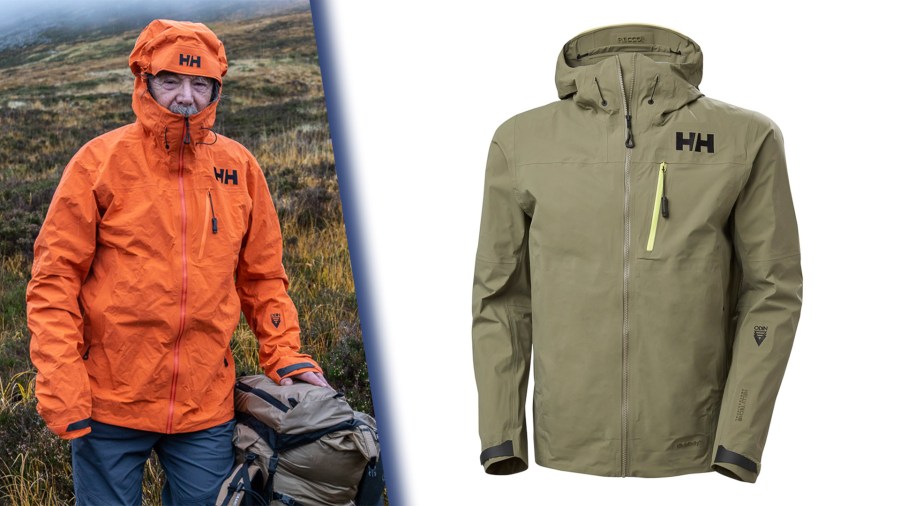 Rating: 4.5/5
Likes: lightweight, hood, pockets, evironmentally friendly fabrics
Dislikes: expensive
Price: $500 | £420 (buy now from hellyhansen.com)
Weight: 1 lb. | 455g (L)
Fabric: PFC-free recycled polyamide/ polypropylene membrane | Hood: front drawcord, rear volume adjuster, stiff peak, helmet compatible | Front closure: water-resistant zip, inner flap | Pockets: two zipped handwarmer, 1 zipped chest | Hem: drawcord | Cuffs: Velcro | Features: side ventilation zips, Recco transponder, emergency whistle in chest pocket | Sizes: men S-XXL, women XS-XXL
Given how protective its waterproof fabric, this is a good jacket to turn to when stormy weather is forecast. It's also got some excellent eco credentials as its 100% PFC and made using recycled materials.
The jacket has a protective hood and big pockets, the comfort is good as the fabric isn't as stiff or noisy as some heavy-duty ones and the breathability is also good, with the inside only getting a little damp with condensation during our tests. The zipped side vents helped here as did the wide cuffs, which allow ventilation to the sleeves.
Worn over just a light mid layer and a base layer the fit is quite loose, which creates freedom of movement and also allows for a thicker layer of insulation underneath in the colder months. 

Read our full Helly Hansen Odin 1 World Infinity review
Montane Phase Jacket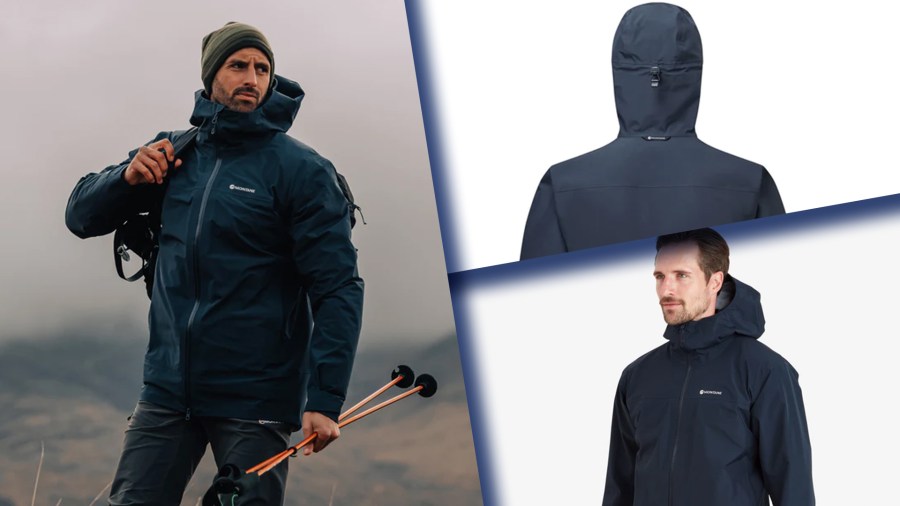 Rating: 4/5
Likes: breathability, tough fabric
Dislikes: front hood adjustment, no chest pockets
Price: $479 | £300 (Buy now from montane.com)
Weight: 460g (L)
Materials: 3-layer 40 Denier Gore-Tex Performance | Hood: front and rear adjustment, stiffened and wired peak | Front closure: YKK AquaGuard zip with internal flap | Underarm/side zips: no | Pockets: 2 handwarmer, 1 inner |  adjustable drawcord | Cuffs: Velcro | Sizes: men S-XXL (women 8-16).
This is a reasonably light jacket that performed well in wintry conditions thanks to its Gore-Tex performance fabric. The hydrostatic head rating (the measurement for waterproofness) is an impressive 28,000mm and it's also breathable too.
Then there's the fabric durability. Rated at 40D you can count on this jacket being able to stand up to any rough branches or an abrasive rock face when you're scrambling.
There are some nice features, including a climber-friendly two-way zip with a bottom popper to allow for quick ventilation, internal and external pockets and there's adjustment at the hem, cuffs and hood.
Our tester Chris found that the fit was on the slim side. The Large, he said, was comfortable over a medium fleece but nothing thicker.
Read our full Montane Phase review.
Patagonia Granite Crest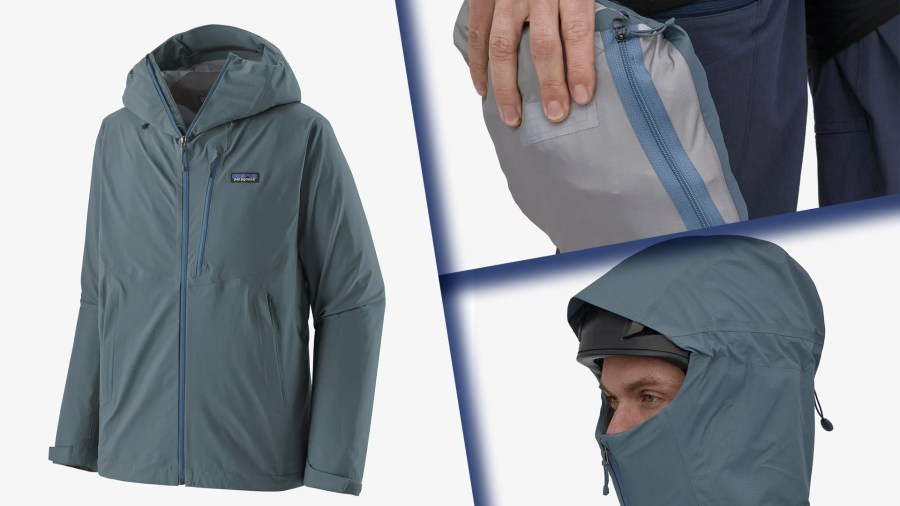 Rating: 4/5
Likes: lightweight, hood adjustment, recycled fabrics, underarm zips, cost
Dislikes: hood peak not very stiff
Price: RRP: £260 (Buy now from cotswoldoutdoor.com) 
Weight: 395g (M)
Materials: 3-layer H2No Performance Standard NetPlus post-consumer recycled nylon ripstop with PFC-free DWR | Hood: helmet-compatible, front and rear adjustment, stiffened peak | Front closure: watertight zip with inner flap | Underarm/side zips: two-way | Pockets: 2 handwarmer, 1 chest | Hem: adjustable drawcord | Cuffs: Velcro | Sizes: men XS-XXL (women XS-XL).
Not only is this jacket PFC-free but it also uses a fabric that's made from recycled fishing nets in order to help to reduce ocean plastic pollution. This fabric has a good quality feel to it too; it's soft to the touch and quiet and there's a slight stretch to it.
From our tests, we found it to be a great three-season option that would be excellent for day hiking and backpacking. It has a huge helmet-compatible hood that can be adjusted to give good protection whilst allowing visibility, the front drawcords are external ones and so are easily tightened with the jacket fully zipped up and it has a stiffened peak too – though this lacks structure and can distort in the wind.
Other features include large hand pockets, a fully sized chest pocket that can accommodate a map, and long underarm zips for ventilation.
Read our full Patagonia Granite Crest review.
Tierra Back Up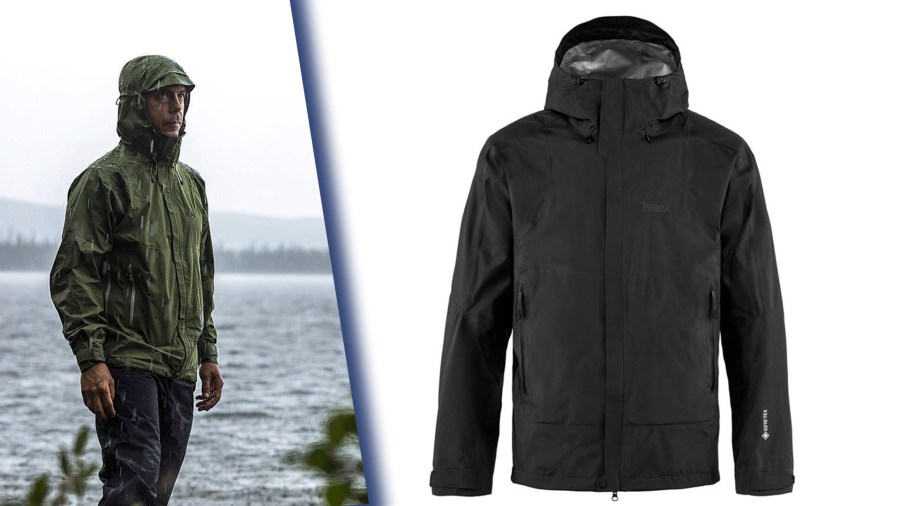 Rating: 4/5
Likes: lightweight, hood adjustment, breathability, cost, underarm zips, mosquito net
Dislikes: no chest pockets, hood peak not very stiff
Price: £260
Weight: 355g (L)
Materials: 50 denier Gore-Tex Paclite polyester with PFC-free DWR | Hood: front and rear adjustment, stiffened peak | Front closure: one-way zip with inner and outer flaps | Underarm/side zips: yes | Pockets: 2 handwarmer | Hem: adjustable drawcord | Cuffs: Velcro | Sizes: men S-XXL (women XS-XL).
Tierra are a Swedish company that specialise in wet weather gear – no less than the Swedish Alpine Mountain Rescue association are equipped with their kit.
This particular jacket, the Back Up, uses Gore-Tex Paclite. This has a hydrostatic head of 28,000mm, high levels of breathability and it's also lightweight and packable – all the right ingredients of a backpacking jacket then.
The Tierra Back Up hood fits well and has external front drawcords and cordlocks, making it easy to adjust. The hood isn't helmet-compatible, so there isn't masses of material to cinch down when you're not wearing one. The peak is small and it's not very stiff.
The pockets are roomy. Unfortunately they're cut off when wearing a backpack with a hipbelt but the top of them can still be used. There are no chest or inner pockets. 
One extra feature that will be useful in the summer months is a stuff sack that doubles as a midge net!
Read our full Tierra Back Up review.
Rab Arc Eco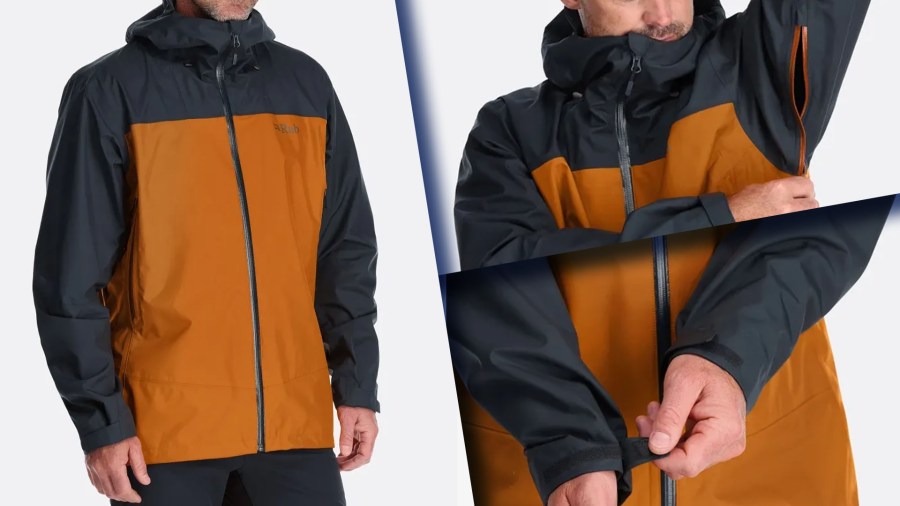 Rating: 4.5/5
Likes: Eco credentials, a great all-rounder, cost, weight.
Dislikes: Could use one more pocket.
Price: RRP: $235 | £200 (Buy now from amazon.co.uk)
Weight: 436g
Materials: 3-layer Pertex Shield recycled polyester 'Revolve', recycled inner, PFC-free DWR | Features: part-wired 3-way adjustable hood, 2 large pockets | Sizes: S-XXL | Women's version: yes | Website: rab.equipment
The Rab Arc Eco was given Gold in our TGO awards for sustainability and it has really stood out from the other men's waterproofs here too. On test since last autumn, the fully recycled fabric has so far resisted wear and tear, with the 20,000 hydrostatic head and 15,000 MVTR (breathability rating), continuing to keep us completely dry.
Our tester found the cut of the jacket is quite long, and perhaps overly roomy at the chest, but this does at least allow for layering. The sleeves are Velcro-adjusted, and the hem adjusted by two toggles. As for pockets, there are only two very large handwarmers, situated just high enough to be useable whilst wearing a rucksack.
Perhaps not a jacket for the depths of winter but it is a light, simple, cheap and more environmentally-friendly option for backpacking and hillwalking.
Read our full Rab Arc Eco review here
Páramo Velez
Rating: 4/5
Likes: breathability, hood function
Dislikes: weight
Price: RRP: $280 | £300
Weight: 605g | Materials: polyester Nikwax Analogy® fabrics | Features: two-way main zip/ zipped vents throughout/ adjustable and wire-molded hood/ harness, pack and helmet compatible/ reflective details/ valuables pocket/ scooped hem with draw-cord adjustment | Sizes: S-XXL | Women's version: yes | Website: paramo-clothing.com
The most important thing to know about this jacket from UK-based brand Páramo is that it's not technically waterproof. Don't let that put you off, however, because it still brings excellent protection with the added bonus of high breathability. The secret is in its Nikwax Analogy fabric which uses a Nikwax water resistant solution that works to push moisture away while allowing moisture vapour to escape from the inside.
The Velez was created by Páramo as a lighter alternative to the Alta III, bringing almost all the same qualities as that jacket (including that breathable Nikwax Analogy fabric) but at a lighter 600g.
Details on the Velez include a two-way main zip, zipped vents on the arms and venting hand pockets too (the one on the right also has a mini zipped pocket for valuables inside it). The hood is adjustable, can be worn over a helmet and has wire-moulded peak. The hem can also be adjusted via a toggle and there are Velcro tabs on the cuffs.
Read Will's full Páramo Velez review.
Arc'teryx Beta Jacket – Best buy women's jacket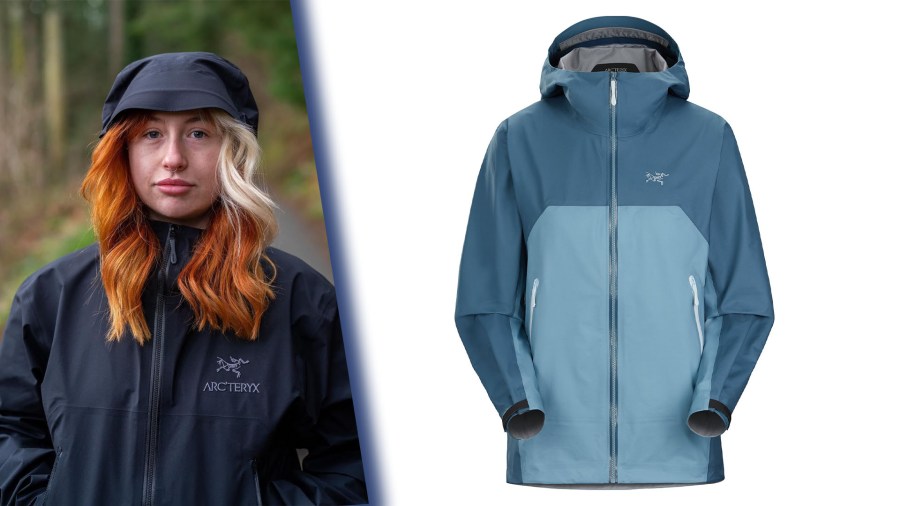 Rating: 4/5
Likes: lightweight, roomy
Dislikes: price, colours
Price: RRP: $450 | £350 (Buy now from ellis-brigham.com) 
Weight: 269g (S)
Materials: 3-layer Gore-Tex with Gore C-Knit backer | Hood: stiffened peak, single volume adjuster | Front closure: WaterTight Vislon front zip, internal storm flap | Underarm/side zips: no | Pockets: three: two zipped hand packets and a zipped internal pocket | Hem: drawcord, two toggle adjusters | Cuffs: Velcro | Sizes: XXS-XXL (men XS-XXL).
At £350, the Arc'teryx Beta is one of the more expensive options out there, but it is at least very high in quality.
It uses a three-layer Gore-tex fabric, including a light shell layer, the membrane underneath and then a C-knit backer which helps to wick moisture and to protect the membrane from abrasion and body oils (which can block up the membrane's pores).
The fabric has a durable feel to it, but the jacket is still lightweight and packable, so Arc'teryx have struck a really good balance here.
Features include a soft fabric chin guard, an adjustable helmet-friendly hood, Velcro cuffs and glove-friendly zip pulls. There are three zipped pockets, including two hand pockets at the right height for wearing with a rucksack, as well as an internal zipped laminated pocket that is big enough to accommodate a large smartphone.
Read our full Arc'teryx Beta jacket review.
Berghaus Paclite Dynak Gore-Tex – Best value waterproof jacket

Rating: 4/5
Likes: packable, price, climate-friendly
Dislikes: hood minimalist
Price: RRP: £170 (Buy now from berghaus.com) 
Weight: 292g (10)
Materials: 2-layer Gore-Tex Paclite, taped seams | Hood: stiffened, one adjuster | Front closure: YKK front zip, internal storm flap | Underarm/side zips: no | Pockets: two zipped hand pockets | Hem: drawcord, two toggle adjusters | Cuffs: Velcro | Sizes: women UK8-18 (men XS-XXL).
£170 is excellent value for a jacket of this calibre. It's light, it's durable, it's breathable and protective and it's well furnished with features – there's a lot to like here.
It's not quite as nice to wear as a 3-layer shell if you're forced to keep it on for extended periods but the inner face does at least have a built-in carbon backer instead of a clingy drop liner or printed 'half-layer' like many cheaper 2.5-layer PU-based shells and that means it provides reasonable comfort levels. We found that it only started to feel a bit clammy when really working hard uphill.
The one-way, water-resistant main zip has an internal storm flap and a comfortable microfibre chin guard. The two hand pockets are a decent size and are placed high enough to stay out of the way of a backpack hip belt. The pocket zips aren't watertight but they do have double storm flaps – so there's peace of mind there.
The overall fit is fairly relaxed, especially compared to trimmer fitting shells, with room for a layer or two underneath.
Read our full Berghaus Paclite Dynak Gore-Tex review.
Alpkit Balance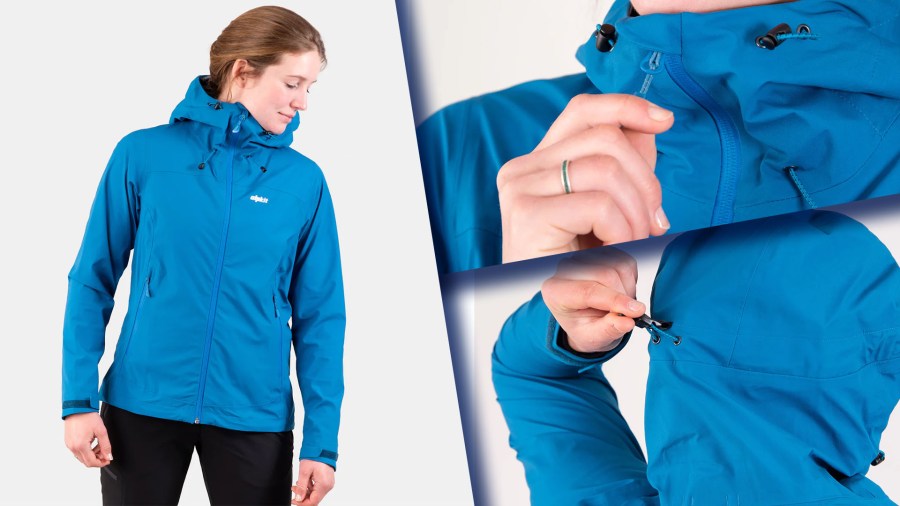 Rating: 4/5
Likes: stretch fabric, hood
Dislikes: weight, small sizing
Price: $259.99 | £200
Weight: 364g (10)
Materials: outer: 90% nylon/10% spandex, PU membrane; inner: polyester knit backer | Hood: wired, three hood adjusters | Front closure: one-way zip, internal storm flap | Underarm/side zips: no | Pockets: 2 zipped hand pockets | Hem: drawcord, 2 toggle adjusters | Cuffs: Velcro | Men's version: women UK6-20 (men XS-XXL).
Peak District-based brand Alpkit have made a name for themselves in recent years, producing functional kit that doesn't come at eye-watering prices.
This particular product from them, the Balance, is certainly reliable. It'll keep out wind and rain while providing a decent level of breathability too. Weight-wise, it's not the lightest of three-season shells, but it's not heavy either.
It was the hood that our tester liked the most about this jacket. In fact, she said it was the best hood out of the crop of jackets she tested. She was also impressed by some of the "thoughtful details" including its collar snap which allows you to open the front zip without the jacket flapping at the neck.
Read our full Alpkit Balance jacket review.
Mountain Equipment Makalu Jacket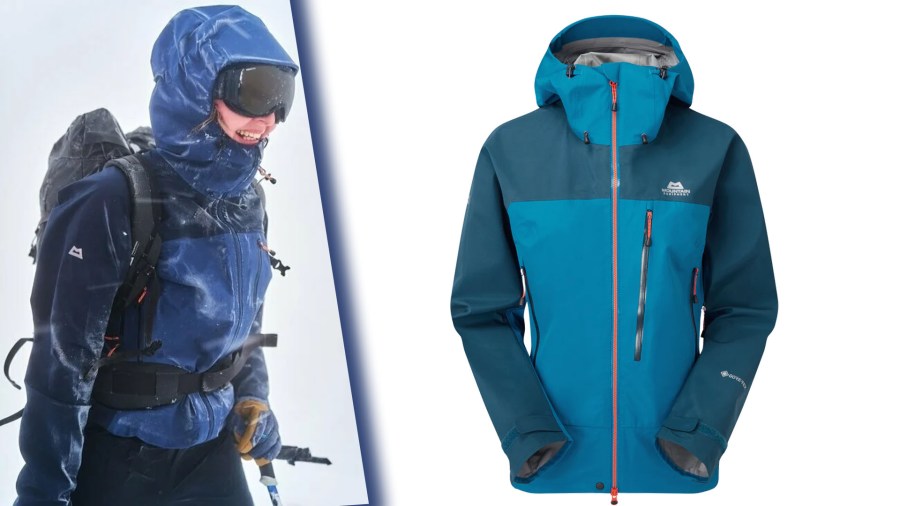 Rating: 4.5/5
Likes: Excellent hood, tough
Dislikes: No frills
Price: $374.95 | £270 (Buy now from cotswoldoutdoor.com)
Weight: 500g (M)
Materials: 3-layer 75D/recycled 50D Gore-Tex, PFC-free DWR | Features: internal and external chest pocket, torso pockets, pit zips | Sizes: UK8-16 | Men's version: Yes | Website: mountain-equipment.co.uk
The Makalu from Mountain Equipment went down well in our tests, mainly due to its tried-and-tested features and strong build quality. It's not the most expensive jacket in the test – although at £270 it's still quite a sizeable amount of money to part with. But for that you get a well-designed, robust and versatile waterproof that should last several seasons.
Its main body is 100% recycled 50 denier, with tougher 75 denier on the wear points. The entire shell has been treated with a PFC-free (less environmentally damaging) DWR to repel water.
A standard Gore-Tex waterproof membrane is employed here. It's not the top spec Gore-Tex Pro but the quality is still impressive.
Our tester's favourite aspect of this jacket is the hood. They found it roomy and adjustable and they liked that it has a stiffened brim and a wire peak.
See our full review of the Mountain Equipment Women's Makalu Jacket review.
How we tested them
These jackets were tested by Chris Townsend, Fiona Russell, David Lintern and Will Renwick. They were all used from spring through to autumn – and in winter, in some cases. They were all assessed for their ability to provide protection from wind and rain while also providing breathability, especially in mild temperatures. The majority of our testers are backpackers and the products were carried on multi-day trips. As such, weight and packability was an important consideration for our testers.
---
What makes a good waterproof jacket?
The type of fabric determines how 'breathable' a garment will be. More expensive fabrics are usually more breathable than cheaper ones. The thickness of a fabric affects durability. The thinnest ones are lighter in weight but less suitable for prolonged wear or rough usage.
Most waterproof fabrics have a durable water repellency (DWR) treatment that causes rain to bead up and run off the garment. Whilst no DWR is really durable the best for many years were fluorocarbons (PFCs). However, these have been found to be harmful to health and to persist a very long time in food chains and the environment, so they are being phased out and replaced with more environmentally friendly though usually less durable alternatives. Whatever the DWR it will wear off eventually, so the outer starts to soak up water. This doesn't mean the jacket is leaking but it does mean breathability will be reduced so condensation will occur more readily. The DWR can be replaced with various wash-in and spray-on treatments.
On the best waterproof jackets, hoods should be easily adjusted and ideally move with your head. A wired or stiffened peak is useful in wind driven rain. Helmet-compatible hoods should have volume adjusters so they can be reduced in size without affecting your vision for non-helmet wear.
Water-resistant zips are now standard in the best waterproof jackets. These are not fully waterproof all the time and should have an inner flap to repel any rain that gets through. A standard zip with external and internal flaps is more secure but found on few garments these days.
Underarm/side zips can be awkward to use but do allow good ventilation at a crucial place. They can often be used in rain when the front zip has to be fully closed. Zips that curve under the armpits are effective but the most difficult to adjust.  Pockets can be opened for ventilation too if they are mesh lined.
Cuffs that can be opened wide are good for ventilation in the arms. Elasticised and narrow cuffs can lead to sweaty wrists.
Whilst not essential, pockets that are accessible when wearing a rucksack hipbelt are useful for items like compass, phone, snacks, map (if large enough), hat and gloves and feature on many of the best waterproof jackets. Pockets can leak though so need water-resistant zips and/or covering flaps.
For the most efficient breathability, the best waterproof jackets should fit fairly closely. At the same time, they shouldn't be so tight that they restrict movement. And a jacket should fit comfortably over all the layers you might need to wear underneath it. Size labels should be taken as a guide only – they're not consistent between makes.
How to look after your waterproof jacket
Looking after waterproof jackets can be trickier than a normal piece of clothing; they require a certain amount of upkeep if they are to continue to keep you dry and perform well for a long time. Dirty jackets don't let body moisture through very well, so you get damp from condensation building up inside the jacket as you sweat quicker. The Durable Water Repellency (DWR) treatment on the outside of most waterproofs that causes rain to bead and run off rather than soak in can also wear off and need replacing over time. This also leads to condensation as the garment is then less breathable.
Related: Best walking boots for hiking
There are two main elements to waterproof jacket care: washing, and restoring the jacket's DWR treatment. Our guide on how to look after your waterproof jacket will further help you to understand common problems with hardshells and how to manage them.
---