Our round-up of the 10 best budget tents for 2023. We've selected two-person models, all from the likes of Sierra Designs, Alpkit, Vango, Big Agnes and more
Two-person tents come in all different shapes and sizes. They also come in a wide range of prices. A top end model, for instance, could potentially cost as much as a functioning car, while at the other end of the scale you can find options that are cheap but so flimsy that you wouldn't even want to use them as a wind shelter on the beach. In the middle of this scale there are plenty of budget tents for backpacking that manage to tick all of the right boxes. There's also our round up of the best one-person tents
The main thing to look for when you're choosing a tent is the balance between durability, reliability, packed size and weight. Some of the most high spec tents out there will be considerably lighter than other tents while also being much more reliable and, for this reason, they'll tend to come with large price tags. The best budget backpacking tents will strike all of these balances while coming at reasonable prices too. 
Other aspects to look at when you're looking to buy a good value tent include things like how easy it is to pitch, what features it has, how comfortable it is for living in and sleeping and, for some people the eco-friendliness might come into the equation too. You'll find more information on what to look for when you're searching for a tent at the bottom of this article. If you're looking for something smaller, there's our round up of the best one-person tents while if you're looking for something larger, we've compiled a complete round up of the best family tents too. 
Top 10 Best Budget Tents
Here's our pick of the 10 best budget tents; the models we think will offer comfort, reliability and practicality, all without breaking the bank. They are all two-person designs, though some are also available as three person or four-person models too. The selection we've chosen will be suited to three-season use and not for harsh winter conditions. 
Vango Banshee 200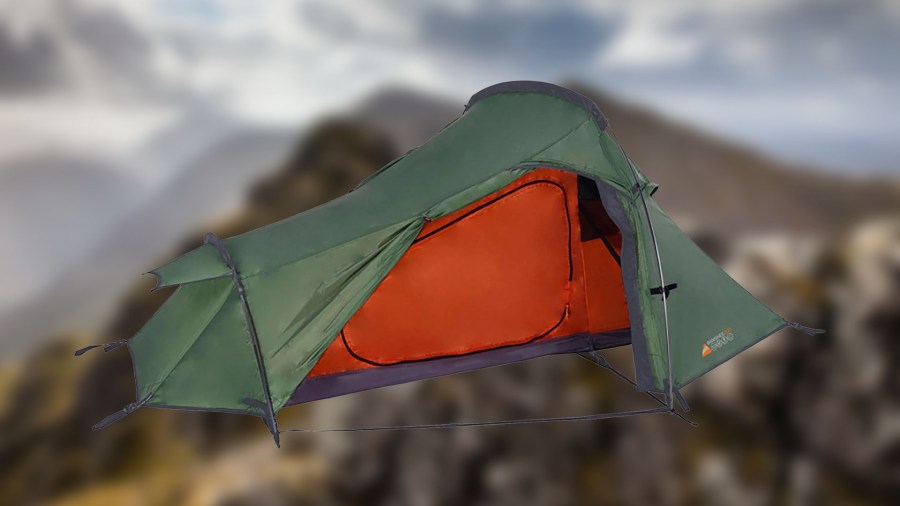 Price: £165
Weight: 2.4kg
First on list of budget tents is the incredibly popular tent, much-loved for its performance, comfort, reliability and it's overall value considering what it brings to the table. This is described by the brand as a two-person tent but it tends to get used by many backpackers as a spacious one-person design. 
It's a tunnel tent that can be pitched with the flysheet and inner together. The inner can also be removed first if you're packing up the tent when the flysheet is wet. One large pole forms the main canopy with its pre-bent design creating relatively steep sidewalls creating space to sit up comfortably. A second smaller pole then adds extra stability while creating clearance at the foot of the tent. 
It has two doors, one on each side. Only one of these doors has a porch, however, and that porch is quite small. It's just about big enough for two medium sized backpacks but without any room left over to give space for cooking. Handily, the door is designed so that it can be propped up with a trekking pole, so that does give the option to create a bit of extra space when it's required. It's also possible to purchase a tarp that's made specifically for the Banshee to expand its porch space. 
Fabrics: Protex 70D 5,000mm HH Polyester flysheet, 70 denier, 6000mm lightweight polyester groundsheet, polyester inner |  Poles: Vango PowerLite 7001-T6 alloy | Inner length: 225cm | Inner height: 90cm | Inner width: 120cm | Packed size: 47 x ø18cm | Doors: 2 | Porches: 1 
Available at: gooutdoors.co.uk
Berghaus Cheviot 2
Price: £160
Weight: 3.05kg
The semi-geodesic, freestanding design this has, with its three long poles that cross at three points, makes this a super sturdy budget tent that'll withstand strong wind and rain. What you get in stability you do pay for in weight however, as 3.05kg is on the heavy side. 
It's designed to sleep two people comfortably, providing plenty of sitting-up space and porch space for storing kit and cooking inside.
The flysheet and inner can be pitched together and the inner is removable – that's always a handy attribute when you're likely to be using the tent in some wet weather. 
Other details include multi-way zips, an inner tensioning strap for when the wind picks up and two vents – one at the front and one at the back.
Fabrics: 5000mm HH polyester ripstop flysheet, polyester mesh inner, bathtub groundsheet | Poles: alloy | Inner height: 90cm | Inner length: 215cm | Inner width: 135cm | Packed size: 50cm x 16cm x 16cm | Doors: 1 | Porches: 1.
Available at: blacks.co.uk
Alpkit Viso 2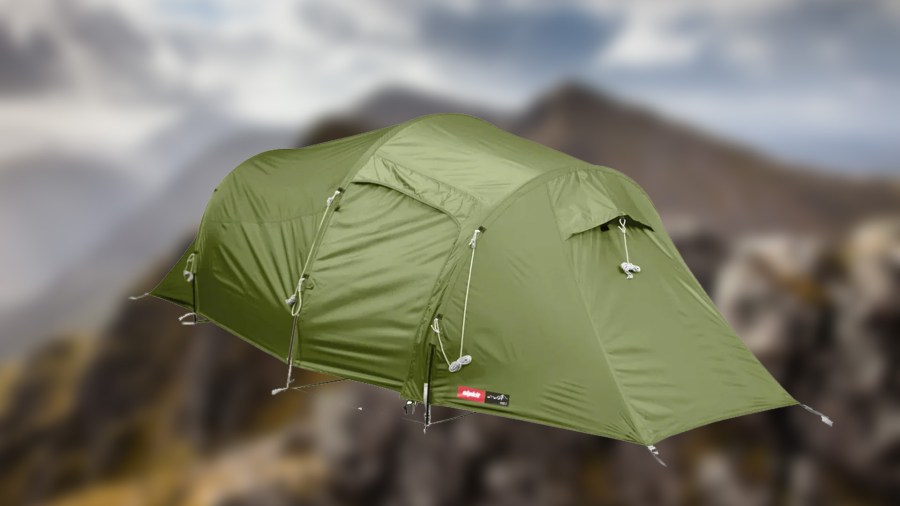 Price: $230 | £170
Weight: 7 lb 09 oz | 3.22kg 
Alpkit, who happened to be chosen as Brand of the Year in our publicly chosen TGO Awards last year, are a good port of call if you're looking for good quality kit at good prices.
This budget tent from them, the Viso 2, is a two-person design made for backpacking or bikepacking. At 3.22kg it's fairly hefty in weight and that's because it has a large footprint, with plenty of room for cooking, storing kit, or simply sheltering from the elements. Handily, its large porch has a groundsheet, so you and your kit can stay dry while  inside it. 
It's a three-pole tunnel tent design so you can expect this to be reliably sturdy in strong winds (so long as it's pitched with the narrow end facing into the wind).
This is an outer pitched first design which means the inner can be kept dry when pitching and packing up in wet weather. There's also the potential to use this a basic shelter by pitching this without the inner tent. 
Fabrics: 68D 190T Polyester honeycomb ripstop PU flysheet, 190T breathable polyester inner, 70D 190T polyester PU groundsheet | Poles: 7001-T6 alloy | Doors: 1 | Porches: 1 | Inner width: 95cm | Inner height: 110cm | Inner length: 214cm.
Available at: alpkit.com
OEX Rakoon II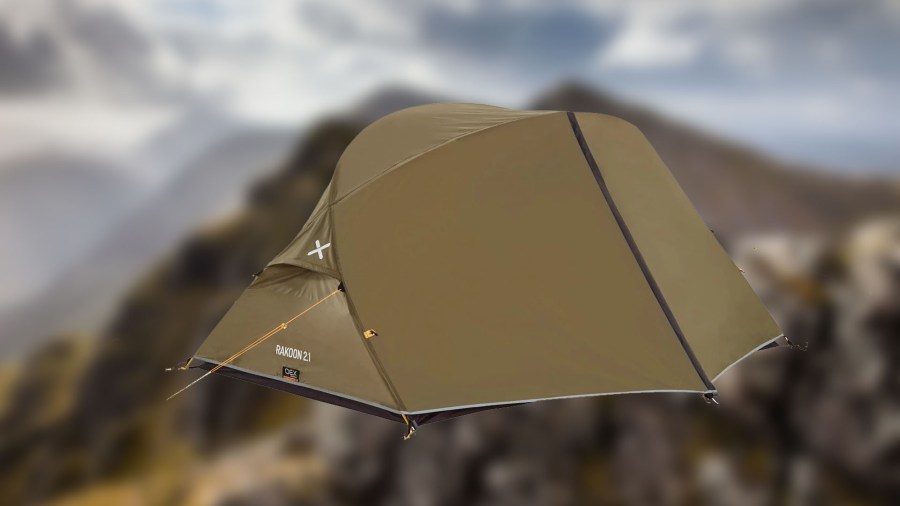 Price: £135
Weight: 2.76kg

This is another great budget tent, one that provides loads of space for two people to live and sleep alongside each other comfortably thanks to its steep sides walls, high ceiling and its doors and porches on either side.
It's a dome design, which tends to be one of the more popular types of structures for those spending extended periods on the trail. There are two poles, each of the same length, and these run the length of the tent, crossing each other at each of its ends, with multiple pegging points and guylines adding further stability. 
It's an inner pitched first design. That means that it will be tricky to avoid pitching or packing this away in the rain without the inner getting wet. On the flip side, inner pitched first tents give the option to pitch the tent without the fly on those mild and dry evenings where you might want to prioritise ventilation – or be able to stargaze. 
Handily, this tent comes with two waterproof carry bags, meaning you can easily split the weight with your partner. That'll equate to a load of 1.38kg each. 
Fabrics: 5000mm ripstop PVC flysheet, mesh inner, bathtub groundsheet | Poles: aluminium | Inner height: 105cm | Inner length: 215cm | Inner width: 130cm | Doors: 2 | Porches: 2
Available at: gooutdoors.co.uk
Kelty Wireless 2P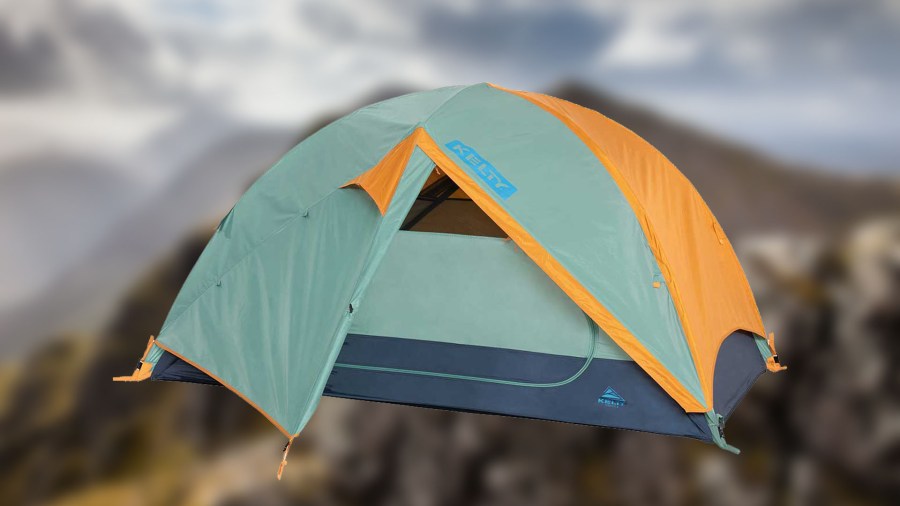 Price: $150 | £125
Weight: 7 lb 5 oz | 3.31kg
U.S. brand Kelty has a vast collection designed for those who want simple, reliable outdoor gear at reasonable prices. From budget tents, sleeping bags and sleeping mats, to lightweight camping chairs, cool boxes and more. They do it all.
This, the Kelty Wireless 2P, is a spacious two-person dome tent that has a door and large porch on either side of it. It also has a nice high ceiling and plenty of ventilation to help to prevent condensation build up.
As is often the case with U.S. brands, it's inner-pitched first so, like all inner first tents, it'll have its drawbacks when it's put to use in wetter parts of the world. 
Nice touches include the 'quick corners' which help to make pitching speedy, the wide mouth stuff sack which takes the stress out of packing up and a high bath tub floor to block out any splash back and to stop rain from being blown under the fly. A polyester fabric then adds a bit of privacy to the inner for when you're using the tent without its flysheet. 
Fabrics: 68D Poly 1200mm flysheet, 68D Polyester, 1200 mm groundsheet, 68D Poly 1200mm, 40D No-see-um mesh inner | Poles: fiberglass | Doors: 2 | Porches: 2 | Length: 22cm | Height: 109cm | Width: 224cm. 
Available at: kelty.com
Big Agnes Blacktail 2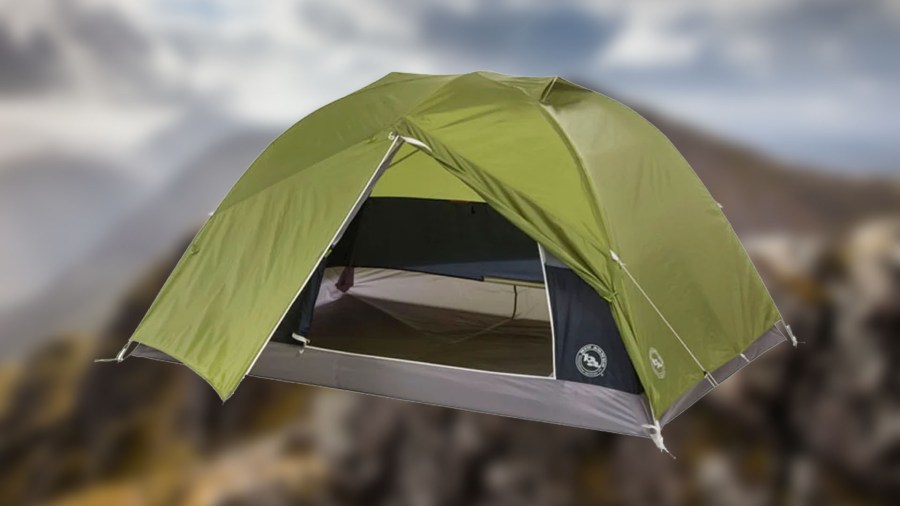 Price: $250
Weight: 4 lb 9 oz | 2.24k

Big Agnes are renowned for creating high spec, reliable tents with loads of bells and whistles designed to make life on the trail just that little bit more comfortable. And while that quality does tend to come with high price tags for many of their models, this, the Blacktail 2 is one of their budget tents that gives you many of the great Big Agnes design aspects but at a more reasonable price. 
It's another classic dome tent design that's freestanding and inner pitched first. It has a large door on either side and a decent sized porch on either side too. All that, along with the nice and high ceiling and steep walls, makes this a tent that has what you could call 'livability'. 
Nice touches include a cleverly-designed stash to keep the door out of the way when it's unzipped, neat pockets on the inside for storing small valuables and there are double zippers on the fly and inner mesh. Pitching is a breeze as well as both main poles are equal in length, so you don't need to match them up with the right sleeve. 
Fabrics: PU polyester 1500mm flysheet, mesh inner, polyester groundsheet | Poles: aluminum | Doors: 2 | Porches: 2 | Inner length: 229cm | Inner width: 132cm | Inner height: 107cm.
Available at: bigagnes.com
Forclaz Dome MT900 2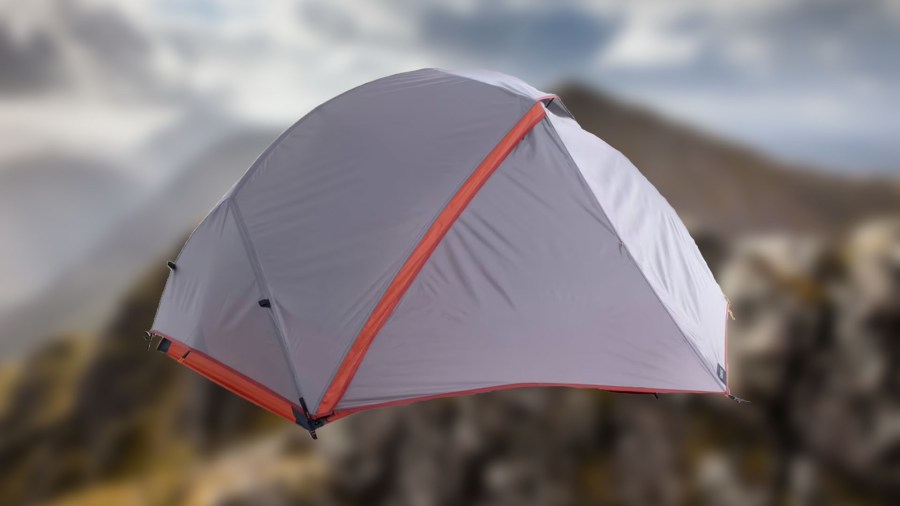 Price: £220
Weight: 4 lb 29 oz | 1.95kg
Sleeps: 2
With its free-standing double Y dome structure durable materials and multiple guylines and pegging points, this is a budget tent that'll make for a comfortable night's sleep during three-season camp outs. At 1.96kg it's also impressively light, which is quite surprising given the two large porches this offers.
Inside, it's easily big enough to fit two sleeping mats alongside each other and there's plenty of room to sit up. There are nice details as well, including mesh pockets for storage of small items and gear loops for hanging up kit. There's even a groundsheet in the porch to keep your backpack from getting wet and muddy. Two small closable vents allow moisture vapour to escape to prevent condensation build up. 
This is another inner-pitched-first tent, so it can be slept in without the flysheet when conditions allow. Finally, color-coded poles help to make pitching faster and easier. 
Fabrics: 2000mm polyester PU-coated flysheet, polyamide and polyester inner | Poles: aluminium | Doors: 2 | Porches: 2 | Packed size: 32 x 122 x 12cm | Inner height: 100cm | Inner width: 60cm.
Available at: decathlon.co.uk
Coleman Darwin 2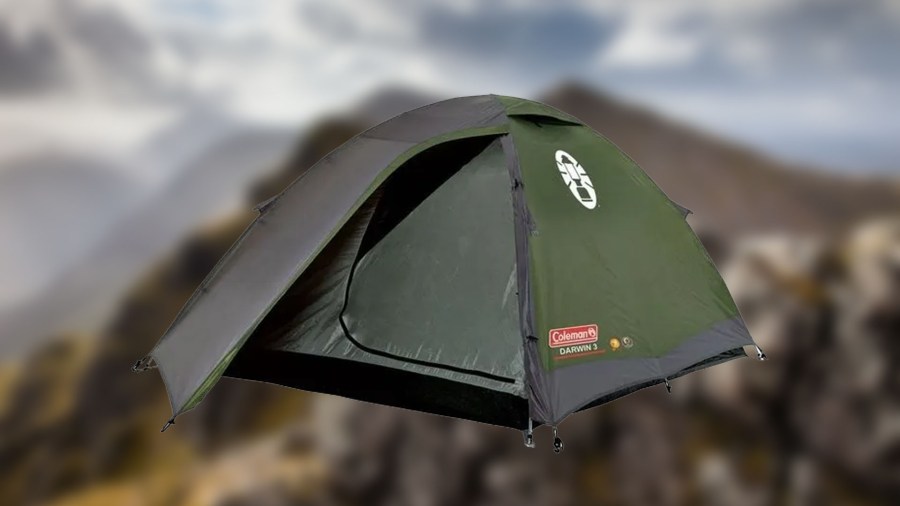 Price: £120
Weight: 6 lb 17 oz |  2.8kg
This is a simple, good value tent that provides plenty of space for two people to sleep and climb in and out comfortably and there's a decent porch for gear storage.
The materials aren't particularly high spec, but it's still reasonably light at 2.8kg – well, there are heavy two-person tents out there, put it that way. Its 3,000mm seam-sealed fabrics will capably block out the weather too. 
It's inner pitched first, so you can use it without the flysheet on warm and dry nights. It does, however, mean that pitching or packing this up in the rain will be tricky to do without leaving the inner tent exposed to the elements. 
Fabrics: WeatherTec  3000mm PU coated polyester flysheet, polyester mesh inner, PE welded groundsheet | Poles: fiberglass | Doors: 1 | Porches: 1 | Packed size: 46 x 15.5 x 15.5 cm | Dimensions: 210 x 140 x 100 cm.
Available at: colemanuk.co.uk
Robens Boulder 2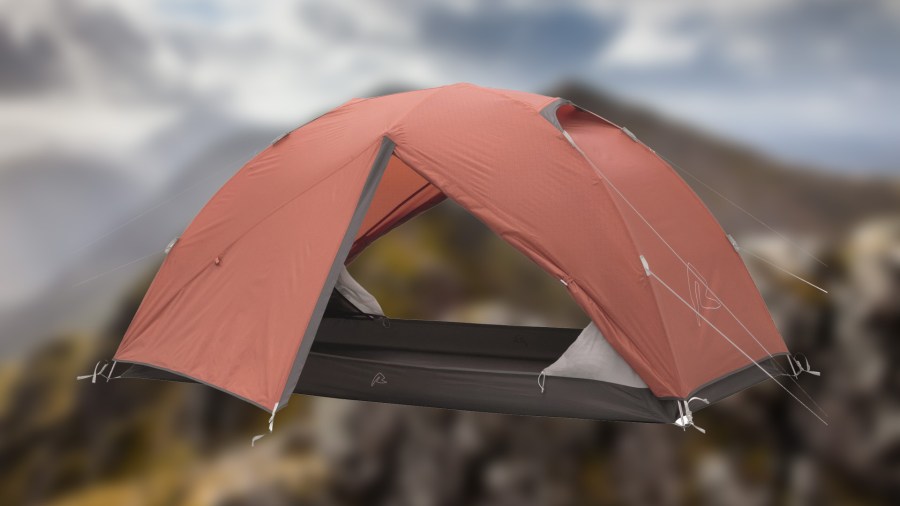 Price: £217
Weight: 5 lb 29 oz | 2.4kg

This might be slightly pricier compared to some of the budget tents here but that extra cost does seem justified. This is a tent with an excellent space-to-weight ratio, offering two doors, two large porches and a roomy sleeping area but all coming in at the light weight of just 2.4kg. 
It's a freestanding design with a ridge pole that creates that extra wide porch space on either side and, like many of the tents in this round up, it's inner-pitched-first so it can be used without the flysheet when conditions suit. 
Robens make some very high quality tents and you can see that they've carried over their craftsmanship into this tent. The materials are all good quality, it's a sturdy tried and tested tent structure and there are useful details throughout – things like hanging hooks, closable vents, pockets and two-way zips. 
Fabrics: HydroTex Core 75D polyester flysheet, 68D polyester inner, 75D polyester 6000 mm groundsheet | Poles: Aluminium, T6, 8.5 mm, anodised | Doors: 2 | Porches: 2 | Packed size: 42 x 17 cm | Inner height: 100cm | Inner width: 120cm | Inner length: 210cm.
Available at: robens.de
Sierra Designs Tabernash 2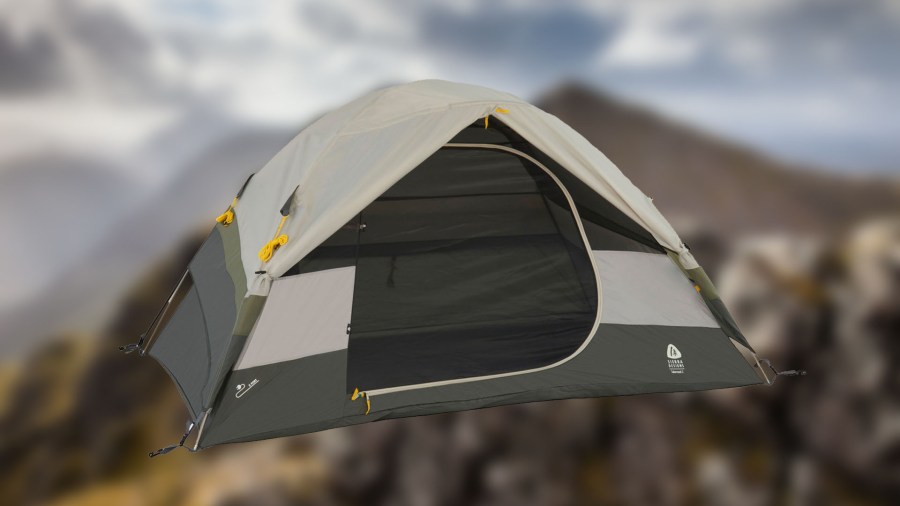 Price: $75
Weight: 6 lb 4 oz | 2.83 kg
Sleeps: 2
The Sierra Designs Tabernash 2 tent is a two-person shelter ideal for backpackers and campers. Its classic dome shape and freestanding design provide a sturdy and stable structure that can be pitched on sandy or hard surfaces where it might normally be tricky to pitch a tent that needs to be fully pegged down. It's only a simple two-pole set up so the porch isn't as large as some of the tents in this review but it's not small either. 
It has a spacious interior, measuring 88 inches long, 52 inches wide, and 42 inches tall. The color-coded poles and clips make setup easy, and the freestanding design allows for movement to find the perfect spot. 
It's an inner-pitched-first design so it can be used without the flysheet. With this in mind, the inner mesh is translucent up to about halfway up the tent, so the occupants can have privacy when the flysheet isn't in use. Nice details include the 'gear loft' storage option at the top of the inner tent and the 'Burrito bag' which, from our experience, makes packing the tent away quick and easy. 
Fabrics: 68D Polyester Taffeta, 1200mm flysheet; 15D Nylon inner, 68D Polyester Taffeta, 1200mm floor | Poles: Fiberglass | Doors: 1 | Porches: 1 | Dimensions: 213 137 x 112cm.
Available at: sierradesigns.com
What to look for when choosing a good value tent
When you're choosing a two-person tent our advice is to not simply look for the cheapest product. That's because really low budget tents can be, quite frankly, rubbish (they often end up as rubbish too, unfortunately), and when it comes to sleeping out in the elements, you're not going to want something you can't fully trust – you want to be able to sleep safe and sound.
So, some of the ket elements you should be looking at when assessing what tent to buy include capacity and size, durability, weather resistance, ease of setup, ventilation, and price. You then might also want to consider details including storage options, colour, stealth and the overall sustainability of its manufacture.
Capacity
The first thing to consider when buying a tent is its capacity. Tent capacity refers to the number of people the tent can accommodate. It is essential to choose a tent that is the right size for group and your trip. A tent that is too small can obviously be cramped and uncomfortable, while a tent that is too big can be difficult to heat and may not provide adequate weather protection. You also want to look at how your kit can be accommodated. Check what the porch space is like and consider whether it'll be big enough to store your kit while still giving you space to cook inside on any rainy days. In relation to this, check what the accessibility is like. If you're sharing the tent with another person, you want the access in and out to be nice and easy for both of you. Two door tents are very useful as they allow you to clamber out of the tent without having to climb over your tent buddy – but the drawback is that the extra door can often add a bit of extra weight to the tent.
Durability
The next factor to consider when buying a tent is its durability. A good value tent should be made of high-quality materials that are durable and long-lasting. The tent should be able to withstand wear and tear over time and hold up well to the elements. Look for tents that are made of sturdy materials such as ripstop nylon or polyester, with reinforced seams and sturdy zippers.
A good indicator of the durability is the denier rating of the fabric. The higher the number, the more durable the fabric, though it can also – though not in all cases – correlate with overall weight.
Consider the poles too. Plastic and fiberglass poles tend to be the least reliable materials for poles as they can break under pressure from wind or when the tent is in transit in your hiking backpack. Aluminum tends to be the most popular tent pole material, as it is lightweight, strong, and durable. It is also relatively affordable and can be used in a wide range of tent types. Carbon fiber and DAC Featherlite poles (a type of aluminum alloy) are more expensive than aluminum poles, but they are also more lightweight and can provide better performance in high winds.
Weather resistance
Tent structure is crucial when it comes to wind resistance. Geodesic tents, which have numerous poles that cross at various points, will tend to be the most reliable in strong winds, followed by semi-geodesic tents. Tunnel tents are also considered to be reliable in strong winds – so long as the narrow end of the tent is pitched into the wind and the wind direction doesn't switch.
Many of the tents in this round up are dome tents. Dome tents are generally designed to be stable in mild to moderate winds, but may struggle in extreme conditions. The rounded shape can make them more susceptible to wind than other types of tents, such as geodesic or tunnel tents.
In terms of rain protection, the hydrostatic head is a good indicator there – the higher the number, the more reliable the tent will be. The lowest hydrostatic head rating that is generally considered to be waterproof for a tent is 1000mm. Many tents have a higher rating, ranging from 1500mm to 3000mm or more, which provides extra protection against heavy rain or other wet conditions.
It's worth noting that the hydrostatic head rating is just one factor that contributes to a tent's overall waterproofness. Other factors, such as the quality of the tent seams and the design of the tent's rainfly, can also affect how well the tent keeps you dry in wet conditions.
Ease of setup
Tent setup can be a complicated process, so it's important to choose a tent that is easy to set up and take down. Look for tents that come with clear instructions and all the necessary hardware to make setup and takedown as simple as possible. Consider the type of tent poles, as some types are easier to set up than others. Tents with color-coded or pre-attached poles can make setup even more straightforward.
Ventilation
Good ventilation is essential in a tent to prevent condensation and keep the occupants comfortable. Look for tents that have adequate ventilation at the top and at the base of the tent to allow for airflow and prevent stuffiness and moisture build up inside.
Price
Finally, consider the price when buying a good value tent. A good value tent should be affordable while still offering the necessary features and durability to meet your needs. Consider your budget and compare prices and features to ensure you are getting the best possible value for your money.