David Lintern takes a look at a mixed selection of family tents for group backpacking and holidays.
Family camping tents come in a range of different sizes and styles and they can also be starkly different from each other in terms of performance. In this comparative review, we've picked six of the best family tents that we think are the best for groups who like to venture outside regularly. We've got almost everything but the kitchen sink here, from vintage style, A-frame units to the latest in air beam tech, which replaces the poles themselves with inflatable tubes.
First, we should address the main two categories when it comes to large tents – those being group shelters and family camping tents. What we want from a group shelter is likely to be quite different to family tents, but there are crossovers – we have at least two such units in this test. 
Related: Best waterproof jackets
A group shelter is likely to prioritise weight over comfort, since we're likely to be moving with it, be that by bike, foot, or perhaps by ski in the winter. It'll still need to be well-built for the conditions we expect, but extra features that increase weight and pack size unnecessarily will be of less use.
When sharing a living space, porches and doors are good regardless, as anyone who's had to cook in a downpour or climb over a sleeping partner at 3am will confirm, but the dimensions of these on a group shelter will likely be more modest.
A guide to choosing a family tent for camping
Family tents can be expensive and kids can be tough on kit, so it's wise to value durability as well as a few comfort-focused features in something that is too big and heavy to move day by day.
Components like poles, pegs, seams and zips may not need to be ultralight, but should be made for strength and longevity. It helps if there are darkened sleeping areas to enable rest, and, equally, enough porch space to set up a small table and camp chairs. A removable groundsheet in this space helps keep the mud on the outside and separates cooking, living and sleeping areas.
For something to be used on formal campsites, it's also really handy to have window blinds and more than one entrance in family tents as both of features aid privacy and can help manage a change in wind direction.
The ability to attach an awning is also a boon, especially in poor weather. For more on what to look for when buying, it's worth checking out our features to look for in family tents and group shelters. 
---
The best family tents 2023
This article highlights the results of our family tents and group shelters test. All of the items have been extensively tested by our review team and assessed for their performance, durability, features, convenience and lifespan.
Luxe Outdoor Octapeak F8A – Best family tent tested
---
Luxe Outdoor Octapeak F8A – Best buy family tent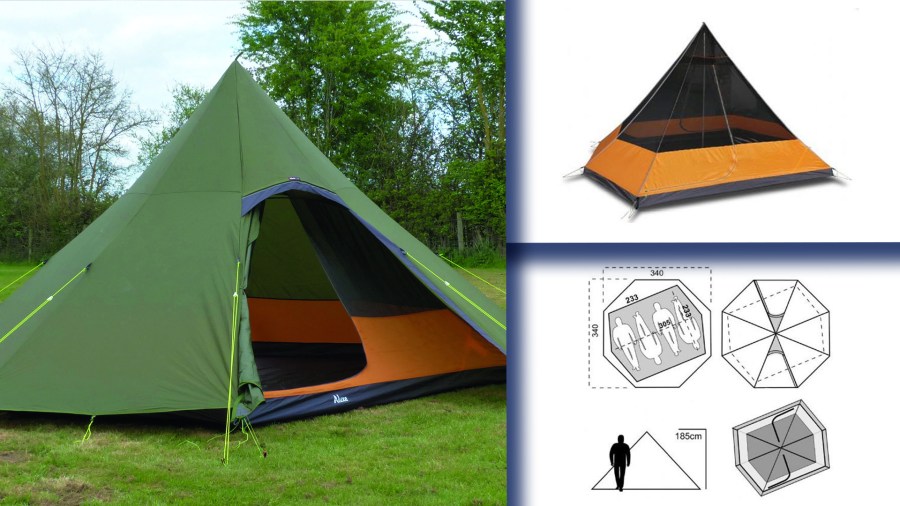 Flysheet: 40D / 260T nylon ripstop fabric with one side PU-coated and one side siliconised | Inner: high-density nylon mess | Groundsheet: 68D nylon taffeta (built in) PU 4000mm | Poles: not supplied, but the 'strong adjustable tarp pole 231X' is recommended | Pegs: 8 supplied (ours came with 16!), Y clamcleats | Porches: 2, 200x60cm approx | Inner: 300x230cm, height 197cm.
The Octapeak is a unique pyramid-style tent, when split between a group, can be feasibly used for backpacking longer distances. It can be pitched inner or outer-first and used with or without the inner. The central sleeping space is spacious and has a single pole hole for central support. There are two doors and two porches, giving ample space for storing gear and cooking in.
The shelter vents are above the doors and condensation wasn't an issue during tests. Though one slight disadvantage we found was that driving rain can enter the inner when the doors are fully open, so that's just something to be mindful of.
Overall, the Octapeak is a lightweight, flexible, and robust family tent that has withstood remote camps in all weathers on or below the treeline.
Read our full Luxe Outdoor Octapeak F8A review.
Outwell Dash 5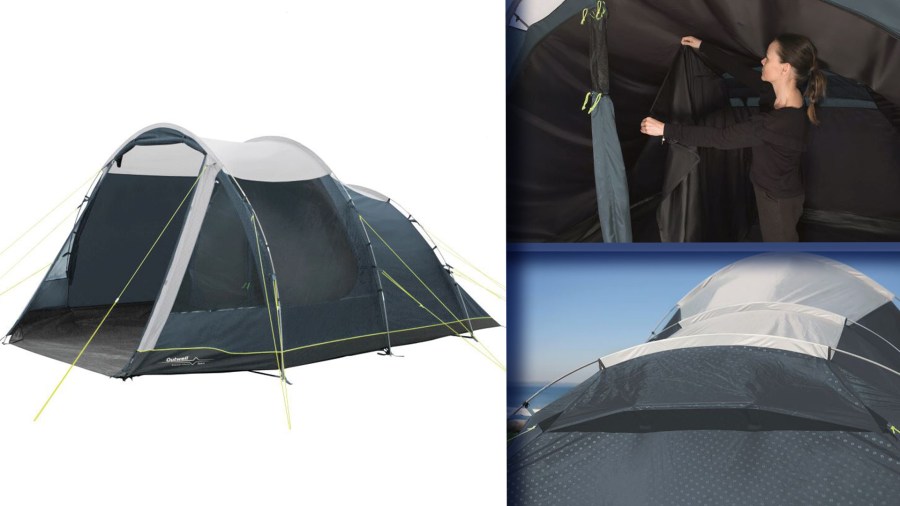 Flysheet: 100% polyester, 3000mm hydrostatic head | Inner: 100% breathable polyester | Groundsheet: 100% double-coated waterproof polyethylene | Poles: 3x fibreglass | Pegs: 23 round aluminium supplied | Porch: x1, 210x 280cm, 195cm height, optional groundsheet | Inner: x2 sleeping areas (removable partition): 1: 210x150cm, height 150cm, 2: 210x120cm, height 150cm
The Dash 5 is a traditional three-hooped pole, tunnel-style family tent that is designed for formal campsites and small families. It offers a darkened sleeping area that can be split into two, reasonable height and width, and three internal pockets in each berth. The porch has a single large front door and several windows, but a side door would have been preferable. Despite this, the porch is a good size and can accommodate a foldable table with chairs, a single chair, cooking gear, and a few hiking backpacks. The flysheet is waterproof and the single rear vent prevents dampness from condensation. The tent has 12 guying points that were effective in high winds, but stronger Y pegs are recommended over the cheaper aluminium ones that come with the tent.
Overall, the Dash 5 has the potential to be a good option for small families, but taller people may find the sleeping space a bit short, and it is more comfortable for three to four people rather than five.
Read our full Outwell Dash 5 review.
Wild Country Zonda 4EP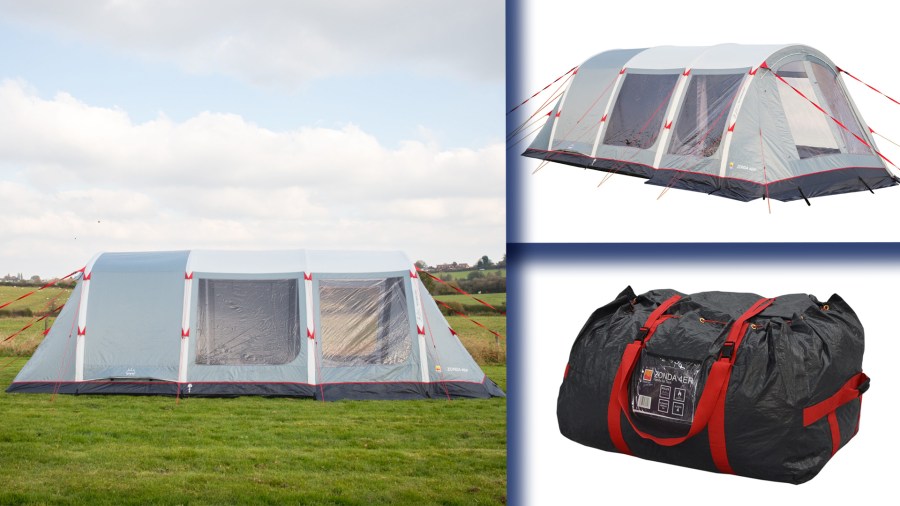 Flysheet: 150D PU-coated, polyester ripstop PU 6000mm, fire-retardant | Inner: 68D breathable polyester, fire-retardant | Groundsheet: 120g/m2 polyethylene, fire-retardant | Poles: 10cm diameter Air Flex poles | Pegs: supplied with 54 pegs, 3 types | Porches: x1, 240cm x 3m | Inner: 2 sleeping areas (removable partition): each 205cm long x 140cm wide, height 195cm | Living room area: 180cm x 3m, height 210cm; 1 cooking area/porch (supplied with removable groundsheet): 240cm x 3m, height 210cm.
The Zonda 4EP is a well-designed and well-made inflatable family tent that isn't suitable for backpacking due to its hefty weight of nearly 30kg – so it's more for formal campsites or car camping. It has a simple, rectangular shape and ample headroom with three living spaces, including a four-person sleeping area, a floored living space, and a larger porch.
It features dark fabric in the sleeping space, numerous pockets and lantern hanging spots, and multiple windows. It's secured with burly Dyneema pegging points, 13 guylines, and four 1in Dyneema storm straps, and is inflated using a pump to create four 10cm diameter chambers with a wind-resistant structure. There are also vents to prevent condensation.
Despite being heavy and expensive, the Zonda 4EP is a great option for young, active families as it is designed to be a fantastic base camp. The tent's hydrostatic head is sufficient to keep rain out, and the groundsheet is thick and durable.
Read our full Wild Country Zonda 4EP review.
Craghoppers NosiDefence Kiwi tent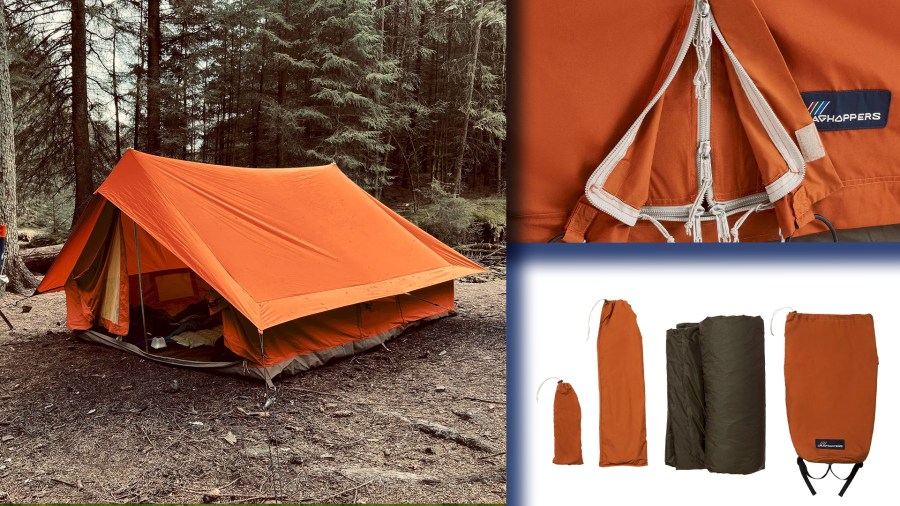 Flysheet: polycotton blend, (65/35) treated with PFC DWR and Eco Anti Mildew, 500mm hydrostatic head | Groundsheet: 420D recycled polyester with PU coating, 10,000mm hydrostatic head | Poles: 2x steel | Pegs: 20 steel | Porches: none | Inner: 1 living area, approx. 255x188cm, centre height 148cm, side height 42cm.
This classic-looking A-frame tent, which is made from polycotton material, provides a comfortable and breathable sleeping experience. Although it has a low hydrostatic head, cotton has a tendency to absorb and hold water and this kept the interior dry during our tests – though we'd say it's not too suitable for use in harsh weather conditions.
It has a single entrance, four big pockets, and eight pegging points with steel pegs and poles. The A-frame design makes it easy to pitch and wind-resistant and the carry weight is not too heavy. A polycotton rucksack is provided.
The build quality is robust, it's sustainably made and airy to sleep in, with none of the clamminess and condensation that can occur with plastic fabrics. Overall, the Kiwi tent is an enjoyable and unique camping option that provides a blast from the past.
Read our full Craghoppers NosiDefence Kiwi tent review.
MSR Habitude 4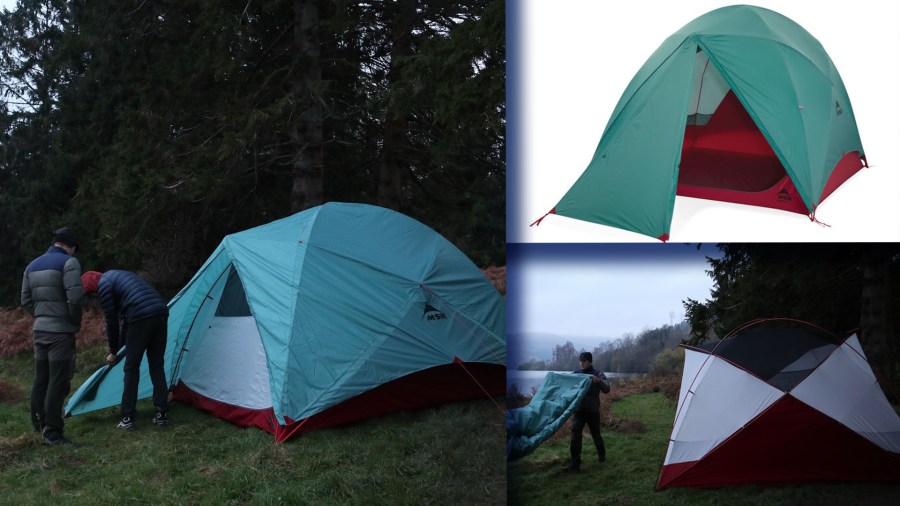 Flysheet: 68D ripstop polyester, 1500mm polyurethane & DWR | Inner: 68D taffeta polyester & DWR | Groundsheet: 68D taffeta polyester 10,000mm hydrostatic head polyurethane & DWR | Poles: 3 aluminium 7000 Series | Pegs: 9 supplied, a further 4 needed for extra guylines (not supplied) | Porches: x1 (unfloored), 140x125cm, sloping roof | Inner: 1 living area, approx. 233x233cm, height 185cm.
The Habitude is a freestanding tent that sleeps four. It has a compact rectangular footprint, ideal for smaller pitches and it pitches inner-first with three split poles to create a semi-geodesic structure that has a good sturdiness and wind resistance (for a family-sized tent). The quality of the materials, as we'd expect from an MSR product, is impressive.
The inner sleeping space has numerous stash pockets, mesh zones, and a high, bathtub style groundsheet, while the fly is cut high to improve ventilation.
It has a single door that leads to a porch for cooking and gear storage. The nine strong pegs and robust zips make the tent durable. While the tent is roomy and a reasonable weight for a group shelter, it is not recommended for extremely exposed sites.
Read our full MSR Habitude 4 review.
Robens Klondike
id="robens">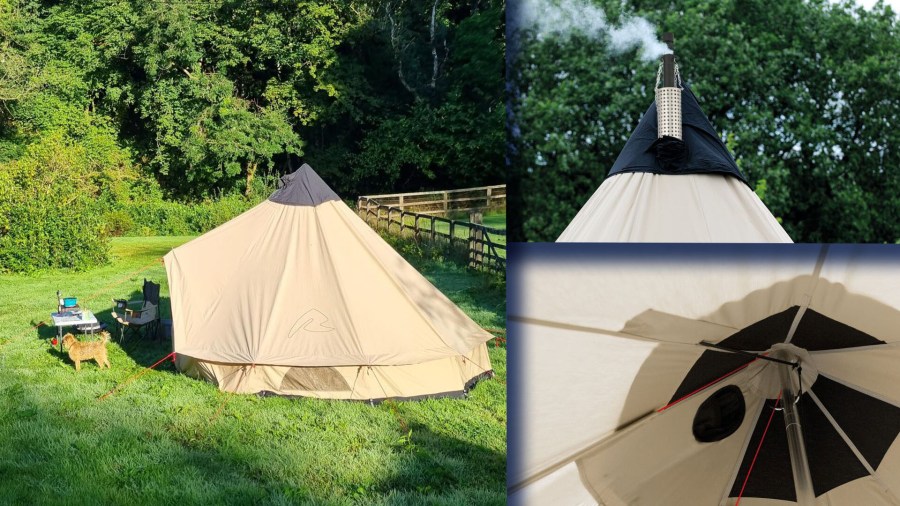 Sleeps: 6 | Flysheet: HydroTex Polycotton, 65% polyester / 35% cotton | Poles: Aluminium anodised 30.8-52 mm centre pole / 22 mm A-frame | Groundsheet: 210T Oxford polyester, 10.000 mm, 100% polyester | Pack size: 80 x 27 cm | Dimensions: 370 x 390 x 270cm.
This teepee tent might look fairly retro, but it has a lot of high-spec touches. Take for example, the main material, it's a special polycotton that's water resistant, relatively light (at least lighter than standard canvas) and very breathable. 
TGO tester Will used it on a very windy night at camp and said he slept soundly, with the multiple guylines and pegging points and the strong anodised aluminium poles making this a very sturdy and reliable structure.
A maximum of six people can sleep in here, though it wouldn't leave much room for your extra kit and supplies. It's absolutely perfect for two adults and two or three kids though. 
Details we like include the numerous mesh windows, the zip around the base that allows you to open the whole floor of the tent for ventilation and the gap at the peak that can accommodate a stove pipe when you're using this in the winter months. It's also worth looking at all of the useful modifications and accessories that Robens sell to go specifically with the Klondike.

Read our full Robens Klondike tent review.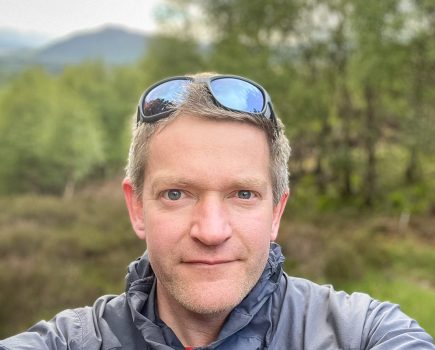 About the tester
David Lintern, our commissioning editor and a long-time contributor to the magazine, is based in the Cairngorms National Park. He enjoys cycling, swimming, packrafting and winter mountaineering as well as walking and backpacking.
Family camping tents buyer's guide: features to look for in family tents and group shelters
Flysheet and inner materials
Silicone-coated fabrics are light and durable, whilst PU coated nylon or polyester is heavier and less durable but cheaper. Cotton or canvas can be used, but may absorb water, making them heavy and slower to dry.
For inner materials, breathable nylon or polyester resists drips from condensation and keeps out breezes. Mesh inners are cooler and airier but not as warm, and condensation can drip through unless the mesh is very fine.
Groundsheets should be made from heavier fabrics than flysheets and have a higher 'hydrostatic head' (the measure of how much water pressure can be applied before a material leaks).
Inner dimensions
Just like in a one-person tent or a two-person backpacking tent, the inner should be long enough that sleeping bags do not touch the end. Allow room for multiple sleeping mats as well as gear.
Headroom is usually less of a problem in family tents, but consider how many people might want to sit, crouch or stand up at once.
Poles and pegs
Poles should be easy to attach. Tents with sleeves should slide in place without sticking. If the poles are different lengths, they and the attachment points should be colour-coded, for ease of use. Be sure to check the pegs before your first pitch. Be wary of cheaper aluminium pegs, carry spares and pack a rubber mallet for use on formal campsites when the ground may be hard-packed.
Guylines
The key to stability in high winds. Look for additional guyline attachment points and use them in poor weather – the larger surface area on a group or family tents can act as a sail.
Porches and doors
As a bare minimum, the porch should be big enough for safe cooking and for storing wet gear, hiking boots and packs. It's useful if at least part of the porch is unfloored.
On a shared tent, having more than one door is preferable. Components like zips, pulleys and toggles should be robust enough to survive the rough and tumble of family use.
Ventilation
Larger, shared spaces can build up a surprising amount of condensation. Look for rear and side vents, protected from rainfall, plus mesh 'windows' on doors.
Pitching
Some tents pitch inner-first, some flysheet-first, others as a unit. Pitching a larger, inner-first tent in rain is liable to result in a wet inner, simply because of the dimensions. We've compiled a useful guide on how to pitch a tent to help you with assembly but in most cases you'll find instructions within the packaging. 
Flysheet and unit pitching keeps the inner dry, but it can be harder to tension the inner.
---