Chris Townsend likes an environmentally waterproof jacket suitable for the worst winter weather
Helly Hansen's fast-wicking Lifa base layers have been popular for decades. Now the Norwegian company has used the same polypropylene technology to make a waterproof and breathable microporous membrane called Lifa Infinity. This is made without the use of chemical solvents, unlike many similar products. The Odin 1 jacket which has been included in our guide to the the best waterproof jackets, is combined with a shell fabric made from recycled materials that has a PFC-free water repellent treatment. This environmentally friendly fabric feels substantial. It has a slight rustle, but some other heavy duty fabrics are much noisier.
SQUIRREL_BUTTON_12863142
Helly Hansen calls the complete fabric Helly Tech Professional and says the Odin 1 is "built for professional mountaineers". To that end it's designed to cope with the worst weather and has a built-in Recco transponder for location in case of an avalanche accident and an emergency whistle attached to the chest pocket.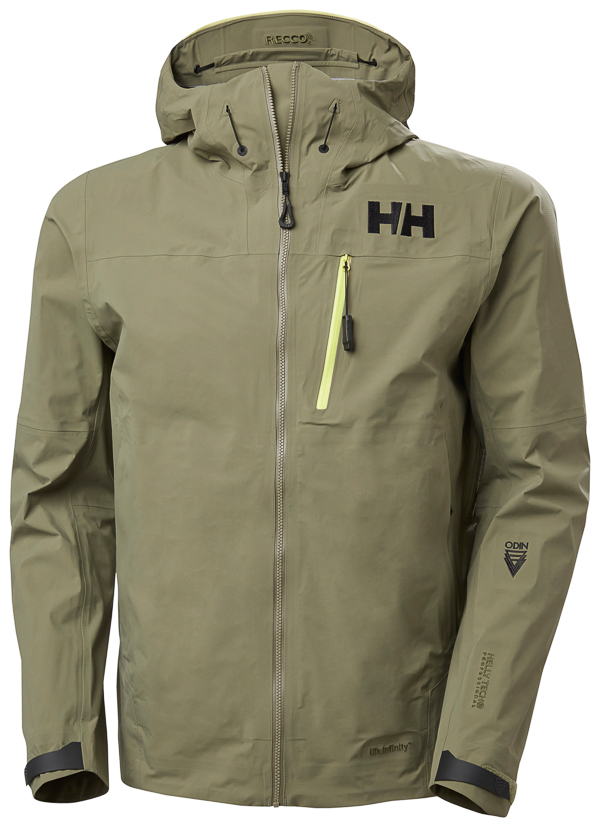 The hood is always key to a waterproof jacket's performance and the Odin 1's is pretty good. It is a huge helmet-compatible one, which makes sense in a mountaineering jacket, but it can be cinched down with the front and rear drawcords to fit over a hat or bare head without feeling tight or restricting vision. The hood has a big stiff peak that doesn't move in the wind and so gives good protection when walking into a storm.
There are three pockets. The base of the lower hand ones is cut off by a pack hipbelt but they are still usable. The chest one is big enough for a large smartphone or GPS unit but not a map. All the pockets are double Helly Tech fabric so if they do leak water won't reach the inside of the jacket.
Rather than pit zips that curve under the armpits the Odin 1 has side zips for ventilation. These are easier to use as they are straight and just as effective. I wish they had two-way zips though so they could be closed and opened from the bottom as this is easier to do. As it is you can only close them this way. The cuffs are quite wide, allowing some ventilation in the arms.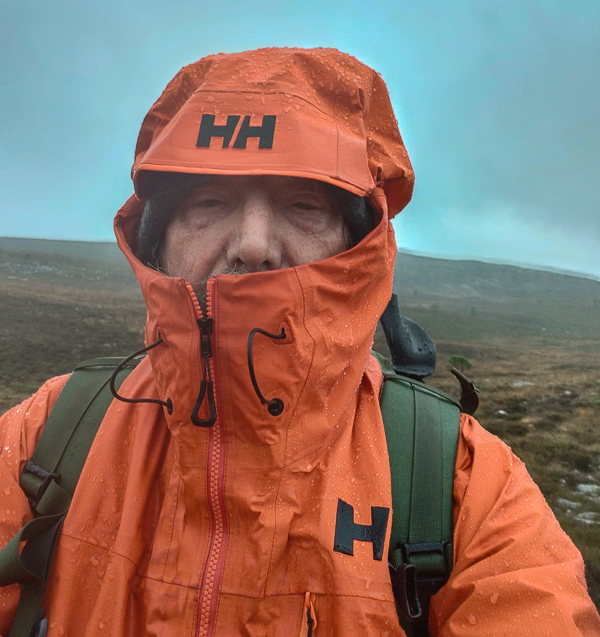 I've had the Odin 1 since the late spring. I used it a few times in rain over the summer but I wanted to try it in colder more severe weather before writing a review. This autumn I've tried it in enough wintry storms for me to feel happy to recommend it for severe weather. It's kept out sleet and rain driven on very strong winds and feels protective. Breathability is much the same as for similar garments, which is to say that it stays dry inside when you're not working hard but start pushing uphill on a wet day and some dampness will appear.
The sizing is sensible for a jacket that might be worn over thick insulated garments. This is not an 'athletic fit' or 'body skimming' garment. I found the large size easily big enough to go over several layers. This roominess is also useful as the fabric doesn't stretch.
The Odin 1 is quite light for a jacket suitable for the winter mountains and it performs well. It is expensive though.
RECOMMENDED: This product has been awarded our 'Recommended' endorsement, meaning our reviewer believes it is a strong product which works well for its intended purpose.