Comfort means so much in 3-season footwear, says Fiona Russell, and the inov-8 Roclite Pro G 400 is designed to fit like a slipper.
Comfort means so much with 3-season walking boots, and the inov-8 Roclite Pro G 400 is designed to fit like a slipper. The width suits a narrow to mid-width female foot and the lacing system, with robust metal eyelets, makes it easy to get the right tension along the foot and up to the ankle. The lightly padded tongue and ankle cuff add to the comfort.
The boots are also fairly lightweight and have the right amount of underfoot cushioning – not so much that they become energy-sapping, but not so little that you feel every stone and rock protrusion.
Note that inov-8 states an average weight of 400g per boot, but I weighed mine at 425g. Out on the trails, the boots proved to be waterproof, although Gore-Tex membranes in fabric uppers do have a limited lifespan.
The inov-8 Roclite Pro G 400 are nicely flexible along most of the upper but with the welcome addition of a stabilising external rubber structure at the heel area. These are like running footwear but with the addition of ankle support.
The 6mm lugs are ideal for spring to autumn conditions, although you still need to be careful not to slip on steep and muddy slopes. The brand describes its graphene-enhanced rubber soles as "the world's toughest grip"; and whilst graphene is acclaimed as durable, it's not especially grippy compared to other rubber soles I've tested. Saying that, the grip is generally good except on wet rocks and tree roots. The uppers are durable and resist abrasion really well. I'd like to see a full 360-degree rand rather than only at the heel and toe cap.
The only area that some hikers might find these boots lacking is sole rigidity. I like a flexible boot, but look elsewhere if you personally prefer a stiffer sole.
Take a look at some of the other women's walking boots with our guide to the best walking boots for women
---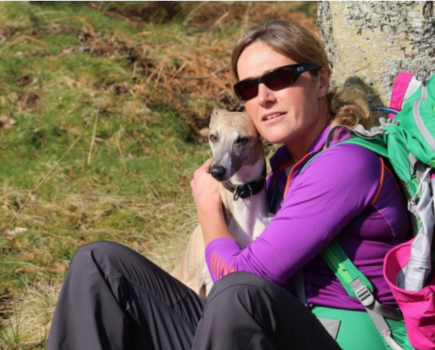 Tested by Fiona Russell
Fiona has a narrow UK8.5 foot. She tested the boots on a range of terrain, from hard-packed trails to muddy and wet hill and mountain slopes. She often walks off the path and through thick vegetation.