We're thrilled to announce the winners of The Great Outdoors Gear of the Year Awards 2023. Across 16 categories, these awards recognise the best outdoor equipment available: ground-breaking products that simply work brilliantly in the mountains. The initial shortlist, consisting of 76 products, was drawn up by our expert judging panel and finalised by head judge Chris Townsend. The jury then conducted further testing, before jointly agreeing on an overall winner and runner up in each category. We've also awarded the brands pushing boundaries of innovation and sustainability. Our judges tested these products in locations such as the Cairngorms, North Wales and the Lake District and on trips ranging from day hikes and scrambles to winter campouts and multi-day treks.
The jury: Chris Townsend, Alex Roddie, Francesca Donovan, Peter Macfarlane, Fiona Russell, David Lintern, Carey Davies and Will Renwick.
Here are our winners! You can jump straight to the jury verdict for each product by clicking the links below.
Best hiking boots: Inov-8 Roclite Pro G400 GTX V2 (Winner), Aku Rock DFS Mid GTX (Highly commended)
Best hiking shoes: Altra Lone Peak 7 (Winner), Arc'teryx Norvan LD3 (Highly commended)
Best waterproof jackets: Montane Phase Nano (Winner), Patagonia Granite Crest (Highly commended)
Best insulated garments: Outdoor Research Superstrand LT Hoodie (Winner), Rab Mythic Ultra (Highly commended)
Best mid layers: Alpkit Woodsmoke (Winner), Salewa Agner Polarlite Hooded Jacket (Highly commended)
Best hiking pack: Atom Packs The Mo VX60 (Winner), Sierra Designs Flex Capacitor 40-60 (Highly commended)
Best sleeping bags: Gruezi Biopod Downwool Subzero 185 (Winner), Therm-a-rest Parsec 20F / -6 (Highly commended)
Best tents: Nemo Dagger OSMO (Winner), Sierra Designs Meteor 3000 2P (Highly commended)
Best safety equipment: Lifesaver Wayfarer (Winner), Zoleo Satellite Communicator (Highly commended)
Best stoves: Jetboil Stash (Winner), MSR Pocket Rocket Deluxe (Highly commended)
Best navigation device: Suunto Vertical (Winner), Coros Apex 2 GPS (Highly commended)
Best camping tech: Therm-a-rest NeoAir Xlite (Winner), Rab Ionosphere 5.5 (Highly commended)
Award for innovation (product): Keen WK400 (Winner), PrimaLoft RISE (Highly commended)
Award for innovation (brand): Inov-8 (Winner), Sierra Designs (Highly commended)
Award for sustainability (product): Silva Terra Scout H (Winner), Vango Apex 2 (Highly commended)
Award for sustainability (brand): Keela (Winner), Nikwax (Highly commended).
---
Best hiking boots for 2023
WINNER: Inov-8 Roclite Pro G400 GTX V2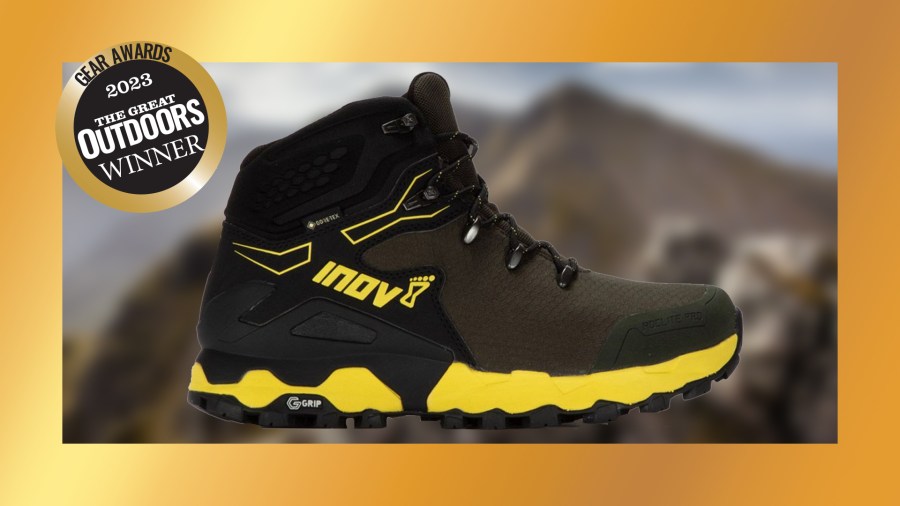 SQUIRREL_BUTTON_12925482
Our judges liked the new 2023 updates to this boot enough to choose it as the best walking boot of the year for the second time, it having previously won the category back in 2020.
"Lightweight, very comfortable, grippy on a wide range of terrain, these are my go-to walking boots for most of the year in Scotland," said Angus-based jury member Fiona Russell. "They are as comfy as a favourite pair of running shoes but with extra ankle support.
Originally released in 2021, the Roclite Pro G 400 GTX V2 (£210) is a cushioned boot that features a grippy and hardwearing graphene outsole and a breathable, quick-drying Gore-Tex upper. It weighs in at a lightweight 800g per pair.
The new updates for 2023 are all focussed around adding durability, with extra padding at the ankle, a tougher fabric used across the upper and an extended toe bumper. Inov-8 says that it's also updated the heel to create a more locked-in fit. "Good grip, breathable, decent level of support while still being nimble," commented David Lintern.
Read our full Inov-8 Roclite Pro 400 GTX (V1) review. SQUIRREL_12925482
HIGHLY COMMENDED: Aku Rock DFS Mid GTX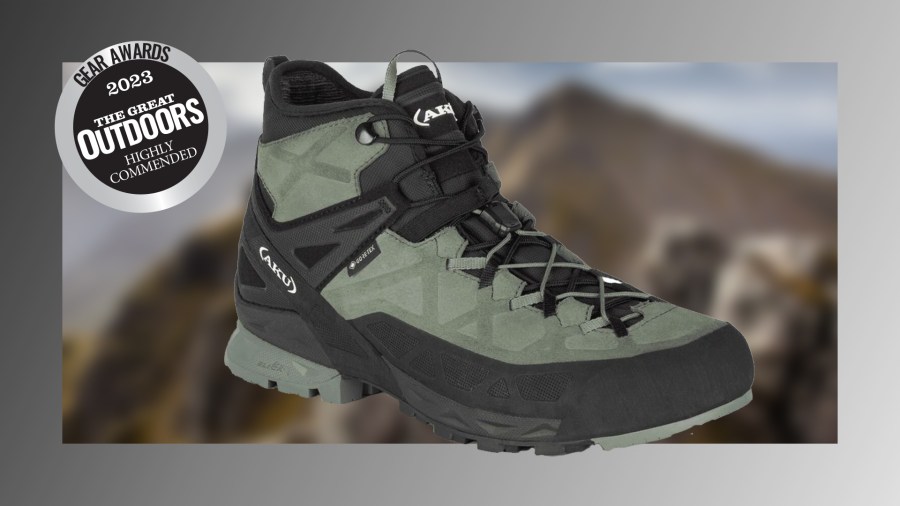 SQUIRREL_BUTTON_6726996
Long-standing Italian footwear brand AKU describes its Rock DFS (£220) as a technical approach and light climbing shoe – something that's ideal for via ferrata and excursions on mountain paths.
The DFS in its name stands for Dual FitSystem. This involves a traditional lace for maximum comfort whilst walking plus a fast lace toggle system to increase precision when climbing. Jury member Will Renwick described this lacing as "unique" but also "effective", saying that it "allows you to really dial in the fit to exactly how you want it.
"The Rock DFS also features a hard-wearing, breathable upper with a Gore-Tex membrane and big rubber rand around its base. Will observed that the midsole is quite stiff, but "still comfortable for covering long distances".
SHORTLISTED: Keen Targhee, Inov-8 Roclite G345 GTX V2, Danner Mountain600, The North Face Vectiv Exploris 2 Mid.
SQUIRREL_6726996
Best hiking shoes
WINNER: Altra Lone Peak 7
SQUIRREL_BUTTON_12925488
"I've used several versions of the Altra on long walks and they've been superb," said head judge Chris Townsend. "It's the best footwear for long-distance multi-week walks that I've worn."
The first ever iteration of the Lone Peak was released in 2011 and it quickly gained popularity due to its unique features, such as a zero-drop platform, foot-shaped toe box and aggressive outsole. Whilst primarily made for trail running, many long-distance hikers began adopting these trail shoes mainly due to the fact that they cater for the kind of foot swelling and splaying that can occur over high mileage.
The new, seventh version of the LonePeak (£135) possesses all the usual traits of past models, but with deeper lugs and a new seamless upper material that brings a touch more durability, longevity and comfort, but with only 30g extra in weight overall (per pair). SQUIRREL_12925488
HIGHLY COMMENDED: Arc'teryx Norvan LD 3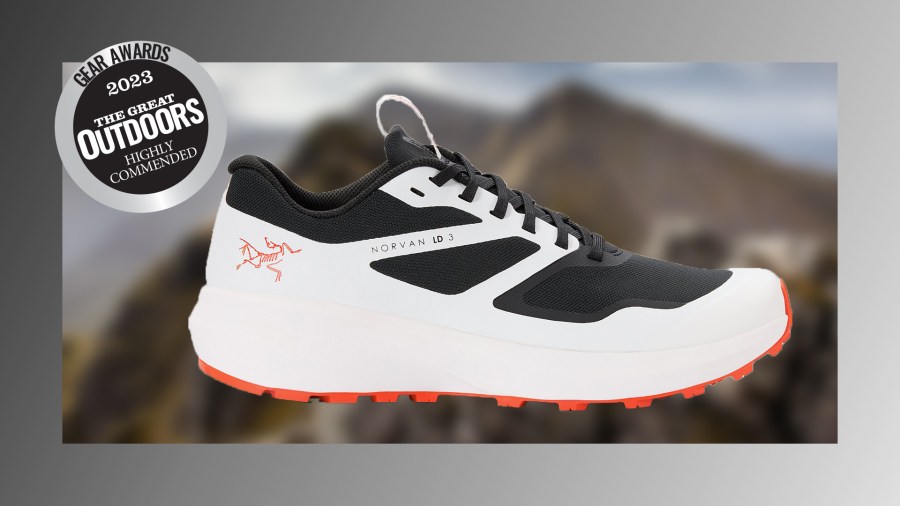 Our jury member and regular gear tester, David Lintern described the Norvan LD 3 (£150) as a "brilliant all-round trail shoe" when he tested it against the latest trail shoe options in a comparative review earlier this year. "I'm equally comfortable walking, backpacking, biking (both MTB and n gravel) and running in these. They are lightweight, breathe well and dry fast."
Available from Arc'teryx
Our judges favoured the Norvan LD3 for its balance between cushioning and lateral stiffness, the volume around the toes that allows for swelling after heavy mileage and the 'sticky' Vibram sole that gives traction on a variety of surfaces.The addition of a protective rand around the base was seen as a notable improvement on the previous edition of the shoe, as was the inclusion of a 100% recycled EVA in the midsole.
"It's light and agile, the toe is comfortable but still precise enough and there's plenty of shock absorption and cushioning for those long-distances," said Will Renwick, who has tested the Norvan LD3 over the past year.
Read our full Arc'teryx Norvan LD3 review.
SHORTLISTED: Merrell MTL Long Sky 2, AKU Rocket DFS GTX, The North Face Summit Vectiv Pro.
Best waterproof jackets
WINNER: Montane Phase Nano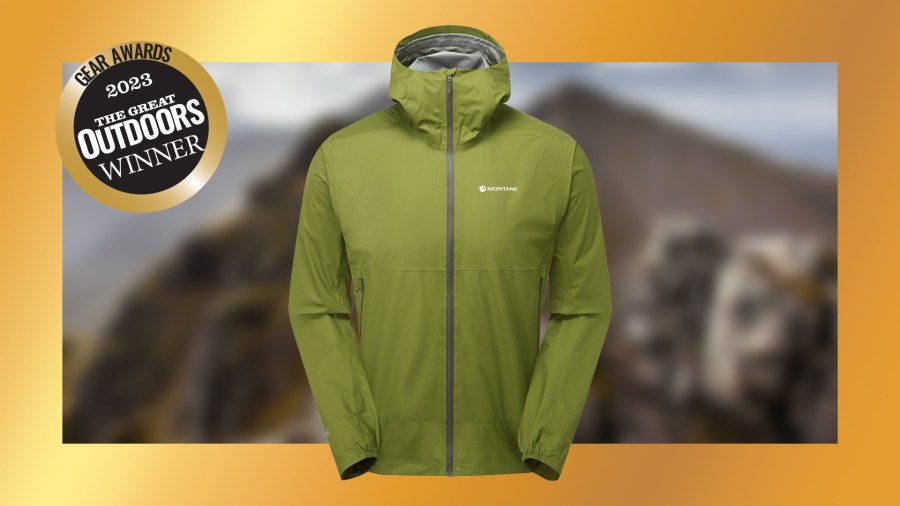 SQUIRREL_BUTTON_12925494
British brand Montane describes the Phase Nano (£300) as the lightest and most breathable Gore-Tex jacket it offers. Weighing just 250g, it offers three-layer waterproof protection alongside a bunch of useful design details.
"It's a great bit of kit," said jury member Peter Macfarlane. "It packs to nothing for just-in-case days, the Gore-Tex fabric is excellent, it has good-sized pockets and it gives perfect articulation with no hem movement at all."
It's Gore-Tex Active that's been deployed here, a lightweight version of Gore's three-layer waterproof fabric that's designed for high levels of breathability. The waterproof jacket is specifically made for trail running but its three-way adjustable hood, big zipped hand warmer pockets and storm flap make it a good option for summer hikes too – though the 13D fabric might be a little thin to wear with a heavily loaded backpack. Unfortunately, whilst the Phase family of jackets comes in men's and women's versions, the Phase Nano is yet to be produced in a women's-specific model.
SQUIRREL_12925494
HIGHLY COMMENDED: Patagonia Granite Crest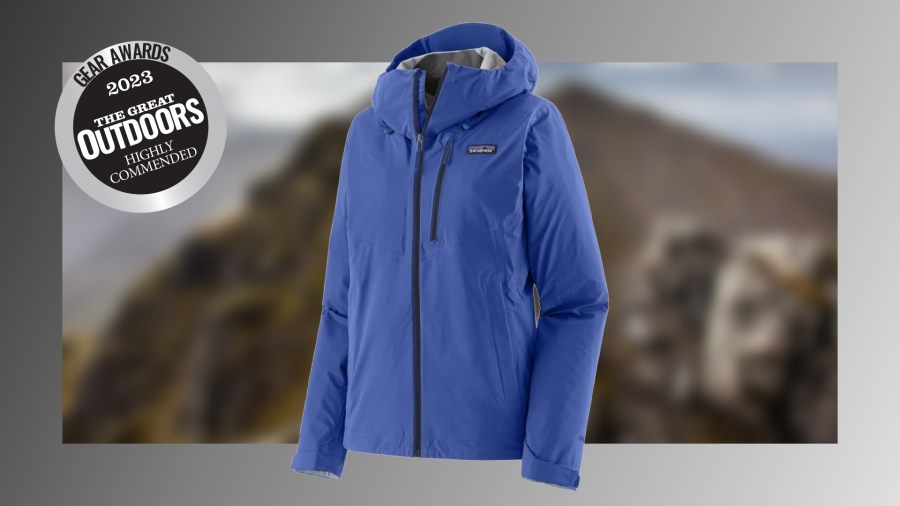 SQUIRREL_BUTTON_12874717
It was this 400g jacket's mix of performance, functionality and sustainability that impressed our judges enough to choose it as Highly Commended in the category for waterproof jackets.
"You've got everything you'd want from a good, reliable wet weather shell,"said Will Renwick, who tested the Patagonia Granite Crest (£270) over the course of a wet backpacking trip in the Lake District. "I particularly like the fact that the fabric has a nice stretch and a soft feel to it and that it's quiet too."
This fabric is 100% recycled and is made from discarded fishing nets to help to reduce ocean plastic pollution, a move Chris Townsend described as "excellent". Patagonia has also finished the jacket with an eco-friendly DWR treatment that is completely free from harmful PFCs. Other details include long two-way underarm zips for ventilation, a helmet-compatible hood, adjustment at the hem, hood and cuffs, a fully-sized chest pocket big enough for a map and two large hand warmer pockets.
Read our full Patagonia Granite Crest review. SQUIRREL_12874717
SHORTLISTED: Arc'teryx Beta, Black Diamond Stormline Stretch, Jack Wolfskin Tapeless 2.0.
Best insulated garments
WINNER Outdoor Research Superstrand LT Hoodie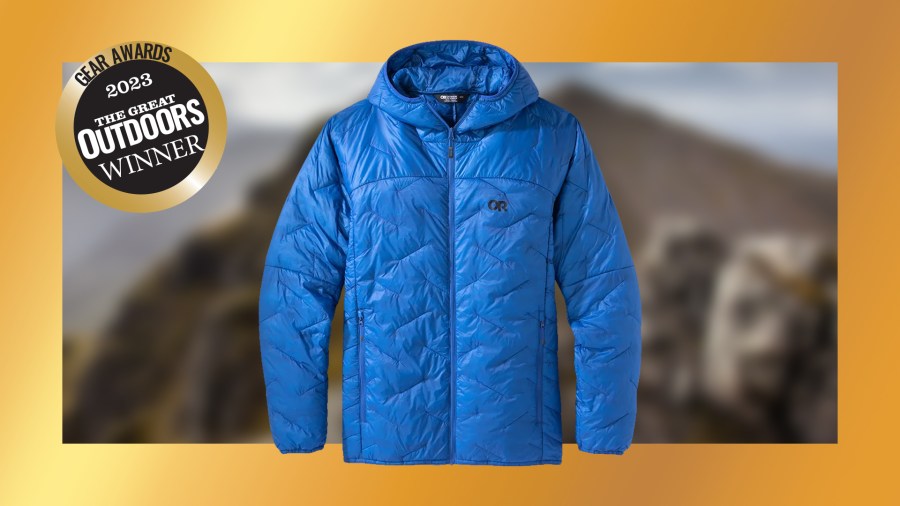 Head judge Chris Townsend described this lightweight synthetic insulated jacket from Outdoor Research as a "great option for backpacking" due to the low weight and bulk.
Available from Outdoor Research
"I'm impressed with the warmth for the weight," said Chris."The fill is very soft and comfortable too."
That fill is Outdoor Research's VerticalXSuperStrand. OR claims that it's able to mimic 700-800 fill power down by creating down-like clusters that are held in place by a lattice structure. The main benefit this has over standard down is that it's able to provide warmth even when it gets wet.
The Outdoor Research Superstrand LT Hoodie (£220) has a distinctive discontinuous quilting that reduces the amount of stitching needed, and this also makes it easier to compress – in fact, the whole thing can be squeezed into a very compact bundle. It weighs 315g.
Read our full Outdoor Research Superstrand LT Hoodie review.
HIGHLY COMMENDED: Rab Mythic Ultra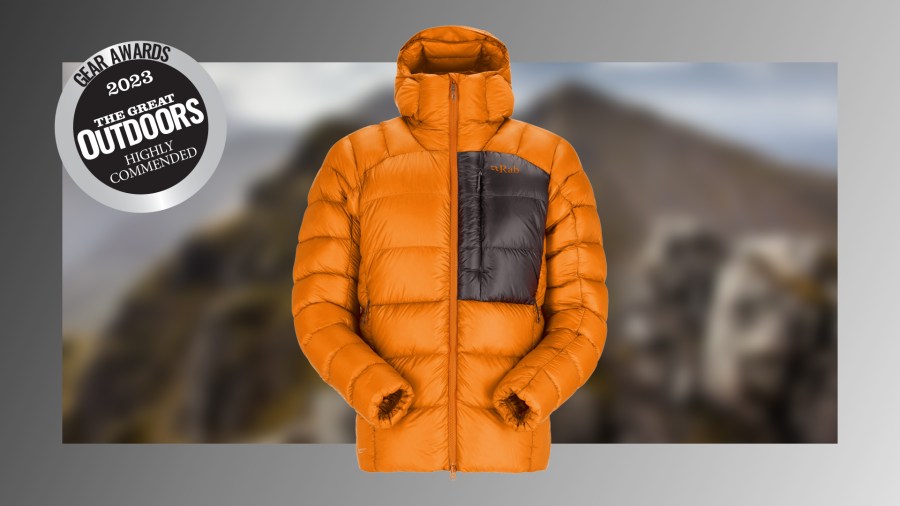 SQUIRREL_BUTTON_12925496
"This is as lofty and cosy as they get," said Will Renwick, who tested the Rab Mythic Ultra (£380) throughout last winter. "As soon as you throw it on, you can feel that warmth radiating back at you," he added. That'll be the 537g jacket's Thermo IonicLining Technology (TILT) doing its work. This is a lining within the jacket's baffles that's made from a lightweight fabric coated with aluminium to reflect heat radiating from your body back to you. It works in the same way as one of those thermal blankets you see runners with at the end of marathons.
Other aspects of the jacket that impressed our jury team included its careful placement of box wall and stitched-through baffles, the 100% recycled and downproof Pertex Quantum fabric and its Nikwax Hydrophobic down treatment.
SHORTLISTED: The North Face Dawn Turn 50/50, Marmot Warmcube Active Normus, Rab Xenair Light, BAM 73 Zero Insulate.
SQUIRREL_12925496
Best mid layers
WINNER: Alpkit Woodsmoke
Whilst this might look like a casual shirt that someone might wear down the pub or to a mountain film festival, it actually has the performance and comfort that's required for outdoor activity. It's made from hollowcore polyester fibres that are able to trap body heat to keep you warm whilst also wicking any moisture away from the skin. To counter the risk of odour build-up that can occur with plastic-based garments, the shirt comes embedded with Polygiene, a brand of antimicrobial treatment used in textiles to prevent the growth of odour-causing bacteria.
Available from Alpkit
Chris Townsend described the360g (M) poppered shirt (£70) as being suitable as an option for warmth on cooler days, saying that it makes a "good lightweight alternative to a microfleece."
Read our full Alpkit Woodsmoke review.
HIGHLY COMMENDED: Salewa Agner Polarlite Hooded Jacket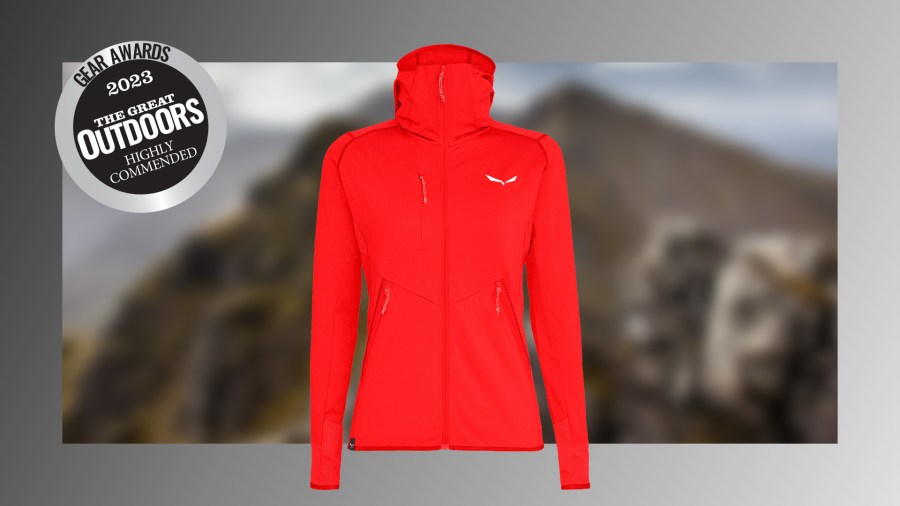 "Thoughtfully designed"and "high quality" were the words used by our jury to describe Italian brand Salewa's Agner Polarlite Hooded Jacket (£140).
Available from Alpine Trek
Designed for alpine use, it's made with a stretchy material and specific gusseting to allow for completely unhindered movement when you're reaching up for a hold. The fabrics are also cleverly body-mapped with different weaves and thicknesses to match the durability and insulation needs required at specific points. A recycled fleece lines the jacket on the chest, arms and back.
SHORTLSTED: Montane Allez, Berghaus MTNGuide MW Hoody, Keela Merino Hoody, Patagonia Nano Air Light Hybrid Hoody, Artilect Supermoon Bio Hoodie.
Read our full Salewa Agner Polarlite review.
Best hiking packs
WINNER: Atom Packs The Mo VX60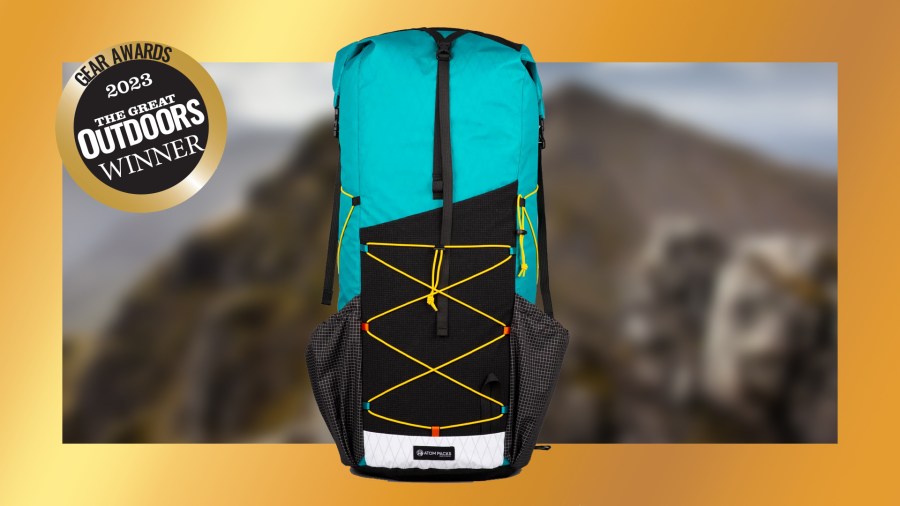 Based in Keswick, Atom Packs is the brainchild of Tom Gale, an experienced long distance hiker who has completed the Appalachian, Pacific Crest and Continental Divide Trails in the USA plus the Te Araroa in New Zealand.
Available from Atom Packs
Our judges took no time at all in agreeing to award his 910g, 60-litre backpack the top award in this category.
Alex Roddie described the Mo VX60 pack (£285) as "superb", saying that it is his favourite option for 90% of his backpacking trips. He described it as "lightweight and comfortable" and praised it for its "capacious storage" and the "welcome ability to customise fabrics, colours, and features".
Capable of managing loads of up to 19kg, it features a durable but lightweight fabric, a 4-inch-wide dual adjustable hipbelt, an EVA foam lumbar pad, a removable closed-cell foam back. panel, a roll top closure and various pockets and gear attachment straps and loops.
Read our full Atom Packs The Mo 50 review.
HIGHLY COMMENDED: Sierra Designs Flex Capacitor 40-60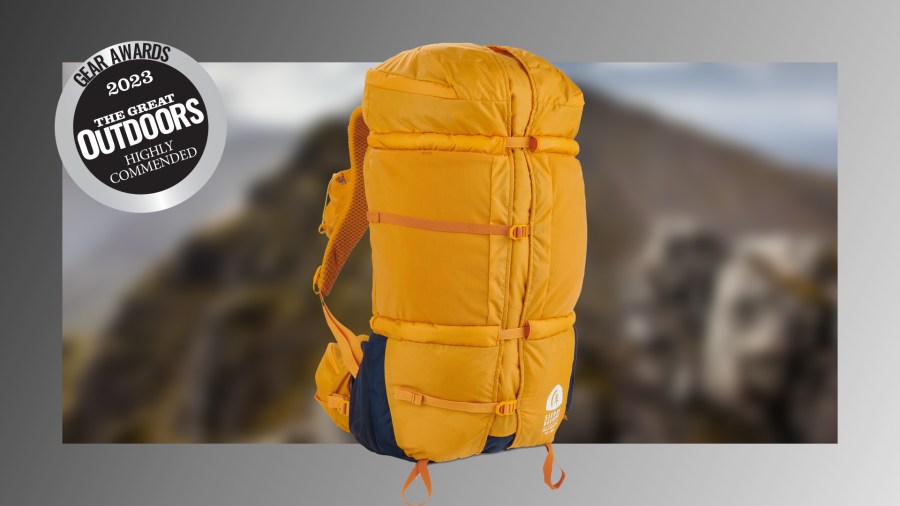 SQUIRREL_BUTTON_12925498
"This is an excellent pack well worth considering for year-round backpacking," said Chris Townsend of the Flex Capacitor ($230). "I have tested it extensively and used it on my month-long walk in the Colorado Rockies. It is tough and the design is unique.
"Recognised in The Great Outdoors Awards back in 2020, our judges saw the Flex Capacitor as deserving of recognition once again this year, a testament to just how forward-thinking its design is, with the ingenious expanding volume being the main clincher.
At the time of writing, the pack has just been updated with two new colours, a few large stretchy mesh storage pockets added and the ability to convert the pack's internal bladder sleeve into a little daypack for forays from base camp. This new version weighs 1.4kg.
SHORTLISTED: Gregory Focal 48, Mystery Ranch Scree32, Granite Gear Crown 3 60, BerghausMTN Guide 45+
Read our full Sierra Designs Flex Capacitor review.
SQUIRREL_12925498
Best sleeping bags
WINNER: Gruezi Biopod Downwool Subzero 185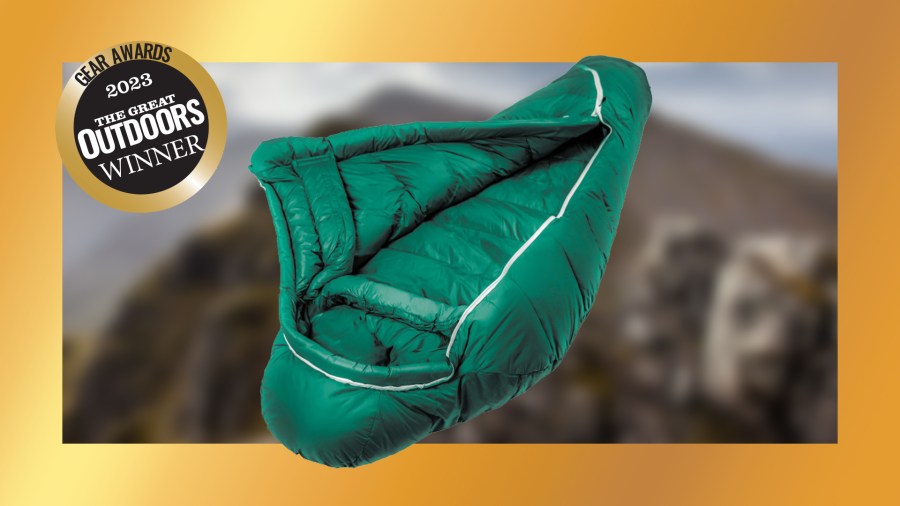 Even condensation in a tent can drastically reduce the effectiveness of a down sleeping bag when it comes to insulation. The main solution to this in the past few years has been to add a hydrophobic treatment from the likes of Nikwax, but this doesn't permanently solve the problem as it needs to be reapplied and reapplied. Gruezi's idea is that by adding wool to the down, it not only brings extra warmth but it also helps to draw moisture away from it, like some kind of natural dehumidifier.
Available from Alpine Trek
This particular model from the German brand is filled with 70% duck down and 30% wool and is treated with an eco-friendly DWR. The overall weight is 1kg.
"I used the Gruezi Biopod on a three-night damp trip last autumn and it was brilliant," said ChrisTownsend, though he pointed out that the Subzero in its name is "misleading given that comfort rating is +2C(comfort limit -4C)".
Other details of the Gruezi Biopod Downwool Subzero 185 (€370) include an adjustable hood, draught collar, outer pocket, pillow pocket and a pocket for stashing a headtorch, batteries or phone.
HIGHLY COMMENDED: Therm-a-rest Parsec 20F / -6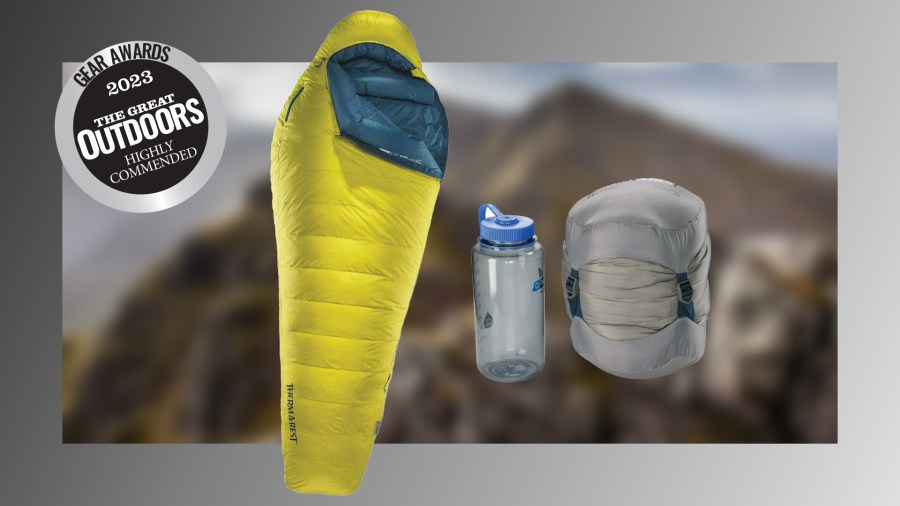 Our judges agreed that theTherm-a-Rest Parsec 20F/-6(£306) ticks all the right boxes for a three-season sleeping bag, being "warm and comfortable, light and with some useful features and materials".
Available from Thermarest
It weighs just 810g but provides comfort down to 0C with a limit of -6C and, unlike many down bags, is able to shrug off moisture caused by condensation (or a leaky backpack or tent). That's thanks to its Nikwax Hydrophobic down treatment, which, it's claimed, makes the fill 90% less absorbent and up to 3x faster at drying out compared to standard down fills.
Our judges approved of its overall construction, including the well-designed footbox, the thermally efficient box wall baffles and heat-mapped insulation. Other details like the snag-free zip and the ability to fix a sleeping mat to the base of the bag impressed the judges as well.
SHORTLISTED: Mountain Equipment Helium600, Nemo Forte Endless Promise, Exped Ultra -10.
Read our full Therm-a-rest Parsec 20F/-6 review.
Best tents
WINNER: Nemo Dagger OSMO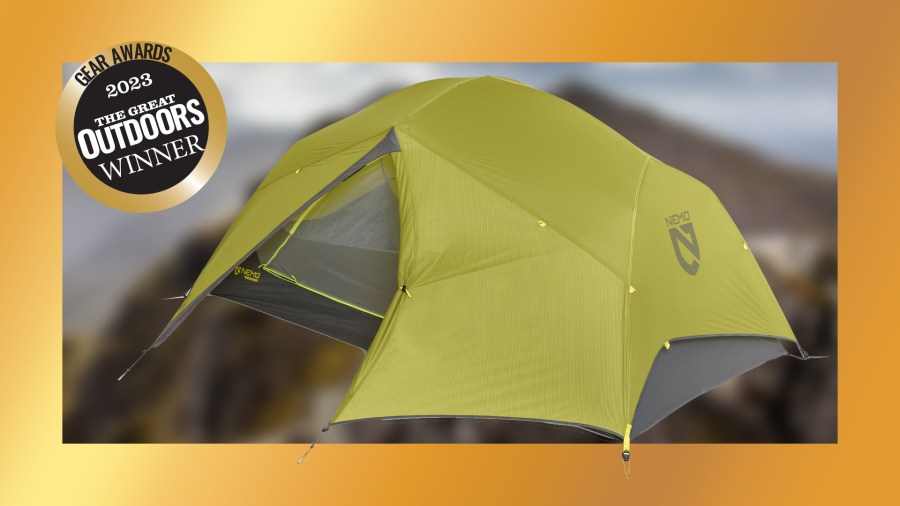 SQUIRREL_BUTTON_12925500
This tent's specially developed OSMO fabric drew particular attention from the judges during the jury process. A composite of nylon and polyester, it's designed to offer 4x more water resistance and 3x less stretch than standard tent fabrics. Nemo say that it results in a material that doesn't get saggy after prolonged rainfall. Did this ring true in testing? Jury member Will Renwick thought so.
"The fabric has a notable quality to it; it's light but it doesn't feel at all flimsy," said Will. "I've found the fabric really does hold its shape too, so there's no need to correct your pitching after a night of rain to keep the tent walls taut.
The jury members were also impressed by the overall space-to-weight of the Nemo Dagger OSMO (£510). At 1.86kg it is relatively light and its two large porches, large sleeping area, steep-sided inner walls and high ceiling make it, as one jury member put it, "very liveable".
Read our full Nemo Dagger OSMO review.
SQUIRREL_12925500
HIGHLY COMMENDED: Sierra Designs Meteor 3000 2P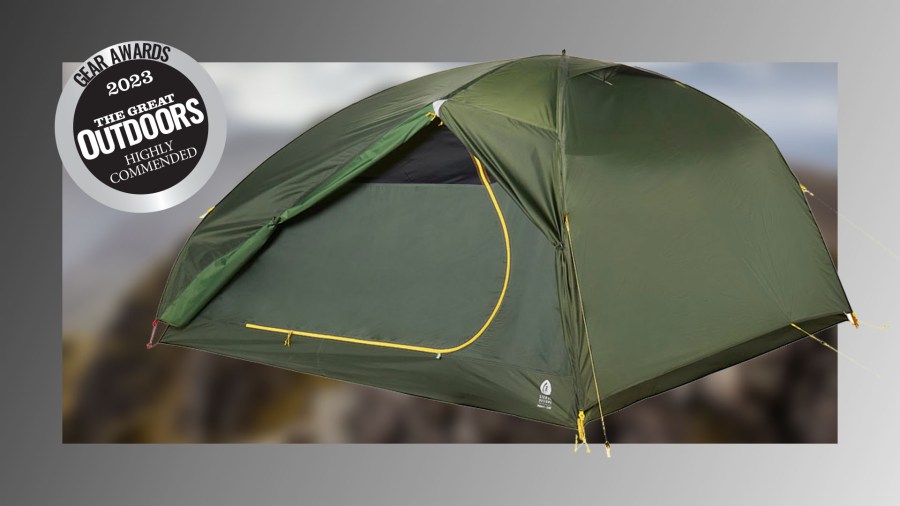 SQUIRREL_BUTTON_4718664
Chris Townsend described this as an "excellent" dome tent following his tests and you can also find James Roddie being very complimentary about in our August issue.
Whilst it comes from a North American brand, the Meteor 3000 (£250) was specifically designed for the European market, featuring green flysheets (research showed that's what us Europeans want) plus a higher hydrostatic head on the flysheet and groundsheet along with solid inner walls to increase resistance to wind and rain.
With two large porches and plenty of space for two people to sit up and lie down alongside each other comfortably, the Meteor 3000 is another liveable tent that, at 2.03kg, comes at a reasonably light weight for two people to split between them.
There are also some impressive aspects in regards to the tent's overall sustainability. It's 100% PFC-free andDWR-free, and features recycled and recyclable materials.
Read our full Sierra Designs Meteor 3000 review.
SQUIRREL_4718664
SHORTLISTED: Vaude Taurus SUL 1P, Exped Mira II HL,Terra Nova Laser Compact AS, Sea to Summit Telos 2, Robens Nordic Lynx 2.
Best safety equipment
WINNER: Lifesaver Wayfarer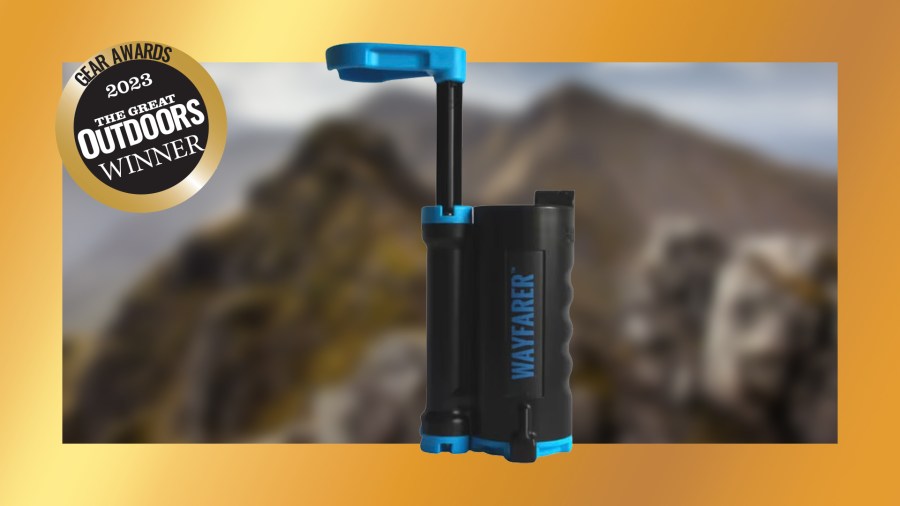 SQUIRREL_BUTTON_12925501
The fact that this 323g water purifier is tested to exceed NSF/ANSI P231standards, a US-based certification that independently verifies the success with which water is filtered and purifies, particularly impressed our awards jury.
"I like the fact that it's actually been tested to official standards," said Alex Roddie, adding it's "unlike any other hiking-marketed filter/purifier I'm aware of.
"The size, weight and price were also commended. "This is smaller and lighter than most purifiers I know," said Will Renwick, "and it's also priced lower than a lot of them too.
"The Lifesaver Wayfarer (£95) uses a two-stage filtration process to remove bacteria, viruses, protozoa and cysts from up to 5000 litres of water via a scavenger hose and pump. The filter is replaceable once it has stopped allowing water through, as is the activated carbon disc, which reduces chemicals and improves taste and odour.
SQUIRREL_12925501
HIGHLY COMMENDED: Zoleo Satellite Communicator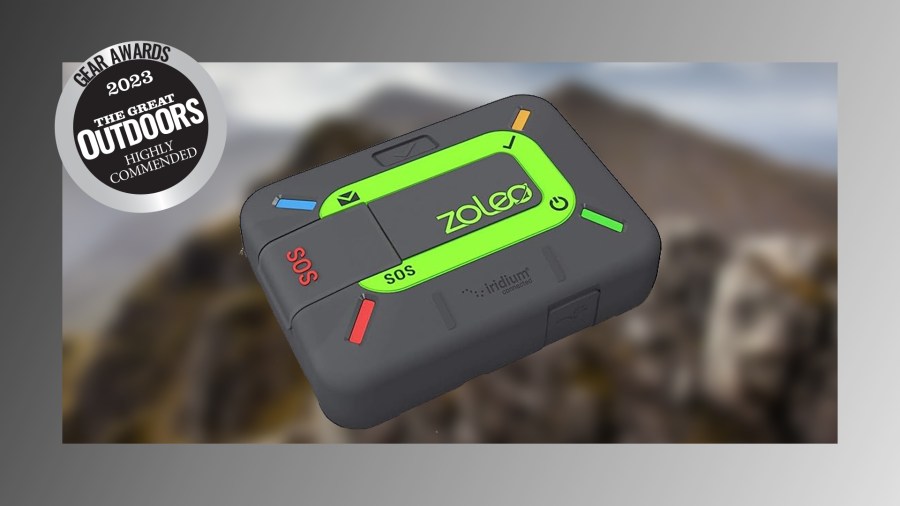 SQUIRREL_BUTTON_12834507
The Zoleo (£199) is a global satellite communicator, personal locator beacon and GPS device all-in-one. It syncs with an easy-to-use app on your phone, and enables two-way global messaging via the Iridium satellite network, even when you don't have mobile coverage.
"If you need to stay in touch off-grid when there's no phone signal then it's a good choice," said Fiona Russell, who also rated the Zoleo's SOS function, its ability to provide breadcrumb tracking and its on-the-spot weather advice whilst your phone is offline. "It's a great wee gadget that you can pop in your rucksack and forget about until you need it.
"Long messages (up to 900 words) can be sent using the device or, at the press of a button, you can also send a 'check-in' message, which informs a list of pre-set contacts that you are safe. These features are only available as part of monthly plans however, with the basic plan (£18 p/m) covering 25 messages a month, a mid-range plan (£25 p/m) offering 250 messages and the top plan (£58 p/m), giving unlimited messages. The battery will last for 200 hours with message checking set to every 12 minutes, for example, whilst the water resistance rating is IP68.
SHORTLISTED: Motorola Defy Satellite Link, Katadyn BeFree
SQUIRREL_12834507
Best Stoves
WINNER: Jetboil Stash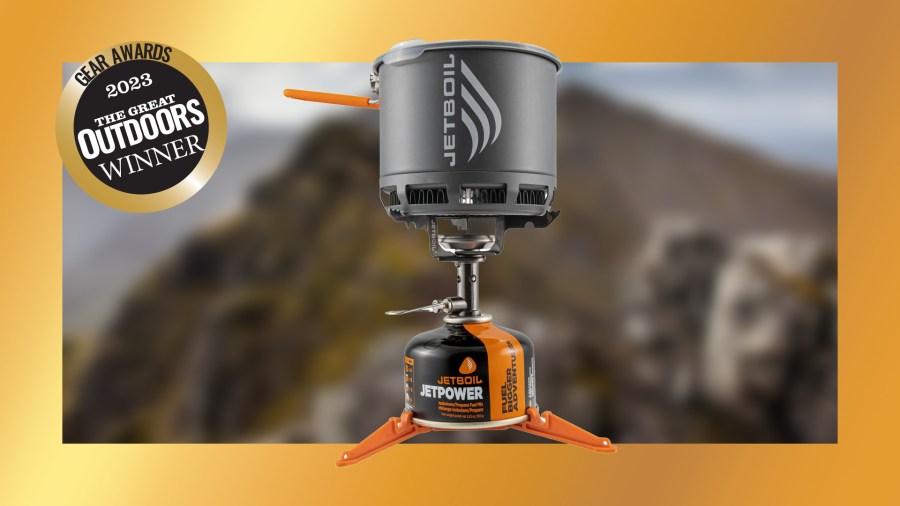 SQUIRREL_BUTTON_12881878
"There's a lot to like here," said David Lintern. "It's a simple, very light design that packs small and will allow basic cooking. For longer, warmer-weather trips nothing else is needed.
"Our jury were unanimous in selecting Jetboil's Stash (£160), one of the lightest personal cooking systems on the market, as the outright winner in this category. It involves a 0.8-litre pot with a built-in FluxRing, a titanium burner with folding arms, a plastic lid with a pour spout and a folding stand, all in all weighing just 230g. Whilst it doesn't have a regulator there is some simmer control, but the stove is best suited to boiling water rather than for cooking food. Will Renwick, who took the Stash on his 500-mile fastpacking trip taking in all 189 of the Welsh Nuttalls, said that taking the system was an "easy decision" and that he has "never been let down by it."
Read our full Jetboil Stash review.
SQUIRREL_12881878
HIGHLY COMMENDED: MSR Pocket Rocket Deluxe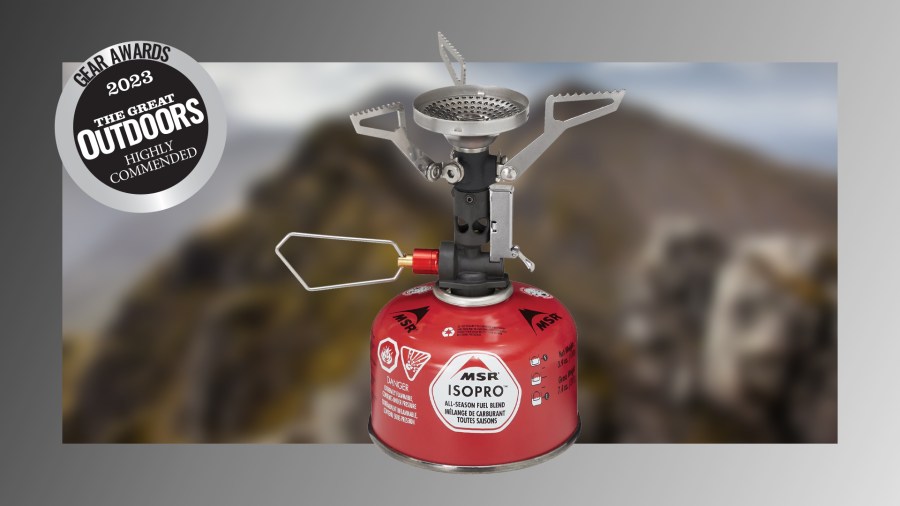 SQUIRREL_BUTTON_12881891
Whilst only 10g heavier than the Pocket Rocket 2, a popular stove amongst our jury, the Pocket Rocket Deluxe (£85) comes with useful extra capabilities, including a pressure regulator, a wide burner for improved cooking performance and a built-in piezo igniter.
"The pressure regulator works extremely well, even with low gas levels and in cold conditions,"said our tester, adding that "the combination of price, weight, performance and MSR attention to detail on every aspect of the design and function makes this a top choice."
Read our full MSR Pocket Rocket Deluxe review.
SHORTLISTED: MSR Reaktor 1L, SOTO Windmaster
SQUIRREL_12881891
Best navigation tech
WINNER: Suunto Vertical
SQUIRREL_BUTTON_12925512
The new Suunto Vertical GPS has a significantly revamped system compared to the brand's previous offerings. It provides offline mapping that's downloadable via Wi-Fi, there's a solar panel around its outside edge, which extends its battery life considerably (up to 60 days), and it has dual-frequency GPS/GNSS satellite connectivity for higher GPS accuracy.
"This has impressed me," said Alex Roddie. "Although expensive, it's a massive upgrade compared to previous Suunto watches. It's generally cheaper than competing Garmins, and (crucially) a lot easier to use and simpler to set up than the Garmin Fenixes of this world. The mapping function works well and has both contours and paths reliably marked, although it lacks text labels."
The Vertical also offers all key sensors (barometer, altimeter, temperature, heart rate monitoring and more) and has a new flashlight function. The line has two core choices: Solar (with titanium), or no Solar (with stainless steel). They're priced at £725 and £545 respectively.
SQUIRREL_12925512
HIGHLY COMMENDED: Coros Apex 2 GPS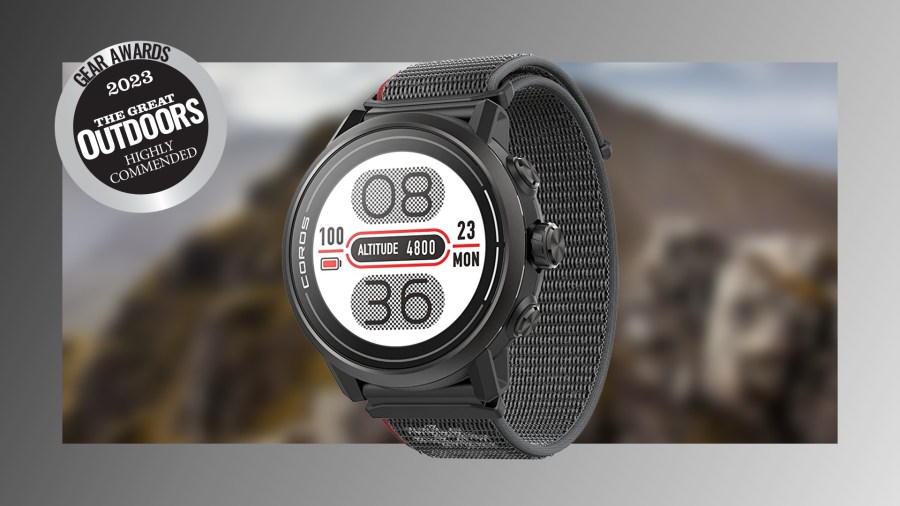 SQUIRREL_BUTTON_12873687
This was a close runner up and in fact was chosen as a Best Buy by Alex Roddie in our recent comparative review of GPS watches, which was published before the release of the Suunto Vertical.
Alex noted that there have been "massive improvements" over the previous model of the Coros Apex. "It brings on-wrist mapping to a much lower price point," said Alex. "It's still more techy and complicated than the Suunto and built to a lower quality standard, but it's easier to use and set up than Garmin watches.
"This watch offers 45 hours of battery with full GPS tracking activated, uses all five major satellite systems and gives access to free global offline maps. There's also a built-in heart rate sensor and alerts that notify you of approaching storms or the risk of altitude sickness. Prices range from £349 to £449.
Read our full Coros Apex 2 review.
SHORTLISTED: Garmin Instinct 2 Solar, OS Locate, Outdooractive, Topo GPS, Garmin InReach Mini 2
SQUIRREL_12873687
Best camping tech
WINNER: Therm-a-rest NeoAir Xlite NXT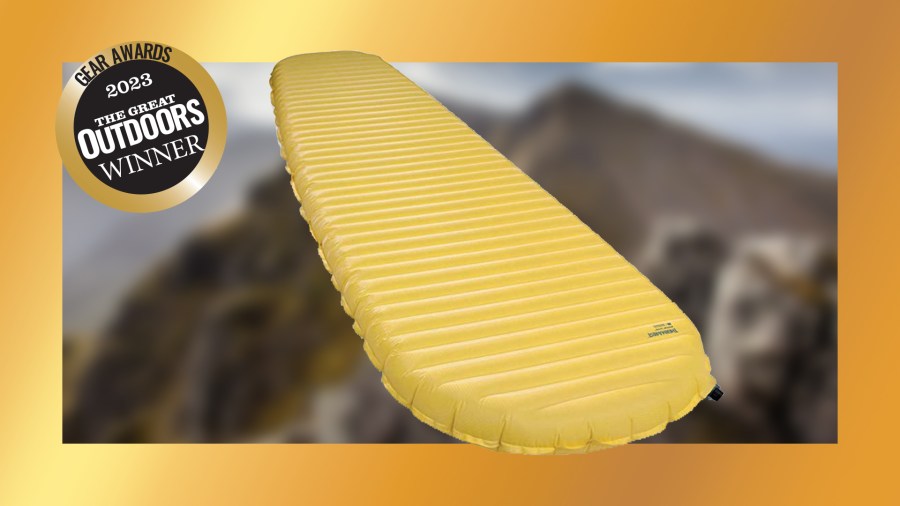 SQUIRREL_BUTTON_6611184
Therm-a-Rest have updated its popular NeoAir XLite, making it warmer at no extra weight. The mat weighs just 350g and offers an R-rating of 4.5 (the previous version was 4.2), making it something that can potentially be used all year round. What's more, Therm-a-Rest appears to have listened to complaints from backpackers about the previous model.
"The ThermaCapture material within the previous mat would rustle whenever you moved," said Will Renwick. "That problem doesn't exist any more. It offers an extremely comfortable, warm and a quiet night's sleep now."
The mat features Therm-a-Rest's glove-friendly WingLock valve and can be inflated using a pump sack that comes with it. It's available in four sizes, from Regular Short (168cm long by 51cm at the wide point, £210) to Large (196x64cm, £250). There's also a rectangular version.
Read our full Therm-a-rest NeoAir Xlite NXT review.
SQUIRREL_6611184
HIGHLY COMMENDED: Rab Ionosphere 5.5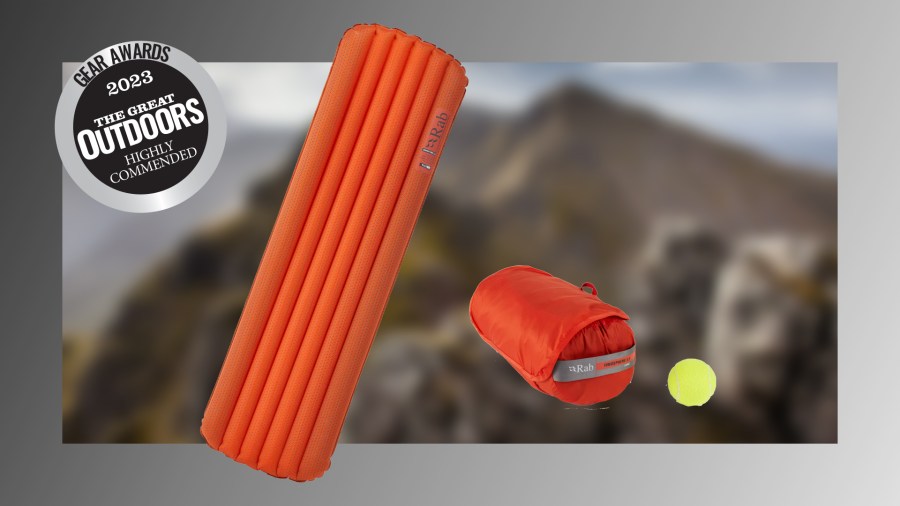 SQUIRREL_BUTTON_12925513
Rab might have specialised in sleeping bags for over 40 years, but it's kept us waiting on a sleeping mat. Fortunately, the new Ionosphere, one of five new mats from the Derbyshire-based brand, seems to be worth the wait.
"This is a next generation style of sleeping mattress," said Fiona Russell. "Amazing comfort (best night's sleep I've had on a camping mattress and no sore hips for the first time ever!) and it provides good warmth under the body."
The Rab Ionosphere 5.5 (£170) features Rab's Thermo Ionic Lining Technology (TILT), which is also used in the Mythic Ultra jacket (Highly Commended in our Insulated Jackets category). This is essentially a reflective film within the insulation that helps reduce radiant heat loss.
The Ionosphere weighs 690g in the Regular length, has an R-rating of 5.5 – making it suitable for year-round use – and features a 20D outer fabric made from recycled polyester.
SHORTLISTED: Nikwax Camping Care Kit, BlackDiamond Storm R head lamp, Primus SIP Power Gas.
SQUIRREL_12925513
Award for innovation (product)
WINNER: Keen WK400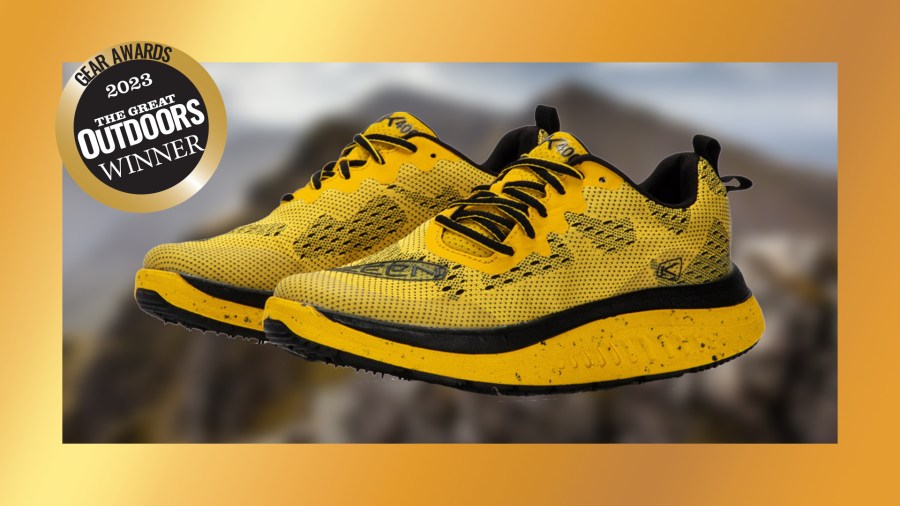 SQUIRREL_BUTTON_12883448
"Certainly innovative and unusual," is how head judge Chris Townsend described Keen's WK400 (£135), a shoe that features a sole that curves upwards at the toe and at the heel to create a large rocker. The intention is to make walking feel like rolling in order to aid forward propulsion and a natural walking gait.
"As soon as you start walking the positive effect of the curved sole is felt as the shoes really do seem to propel you forward easily," Chris observed. "It's excellent on roads and hard tracks and it does take the sting out of these.
"The uppers are made from breathable mesh with TPU overlays, meaning these are suitable for use only in warm and dry weather. There's a small, hard toe cap to protect against rocks and a firm heel counter and multi-directional lugs on the sole that grip well on a variety of terrain.
Chris did however note that the fit, which Keen describe as "athletic', was too narrow for him and he had to switch to a larger size than he'd normally wear.
Read our full Keen WK400 review.
SQUIRREL_12883448
HIGHLY COMMENDED: PrimaLoft RISE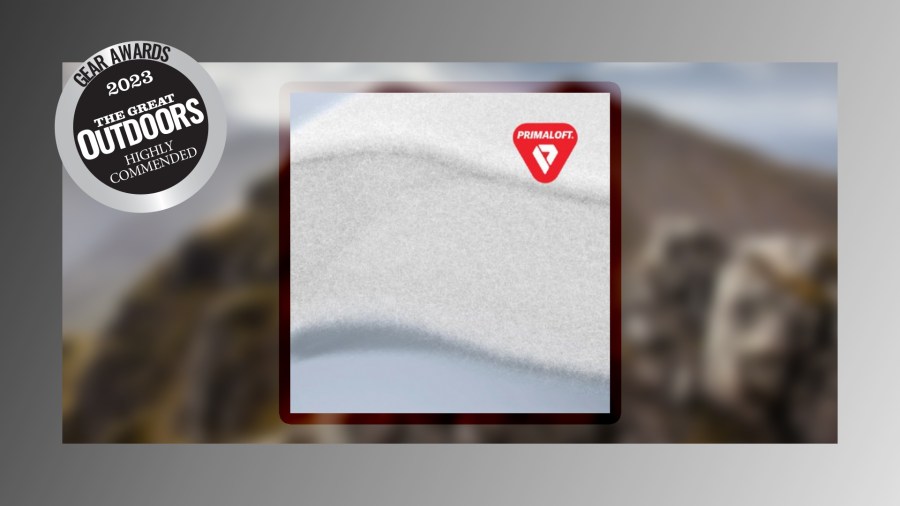 RISE is PrimaLoft's latest innovation, offering a new synthetic alternative to down that's designed to bring enhanced loft compared to standard PrimaLoft fills, along with durability, warmth-when-wet and long-lasting performance.The unique construction of the insulation allows it to perform across a variety of weights and thicknesses to create everything from thin and thick insulated jackets through to lightweight and packable sleeping bags.The main aspect that impressed the judges was in regards to sustainability, with the PrimaLoftRISE fill made from recycled content of at least 80%.
SHORTLISTED: Marmot WarmCube Active Alt HB,Outdoor Research Plus Size range,Patagonia StormShift Jacket.
Award for innovation (brand)
WINNER: Inov-8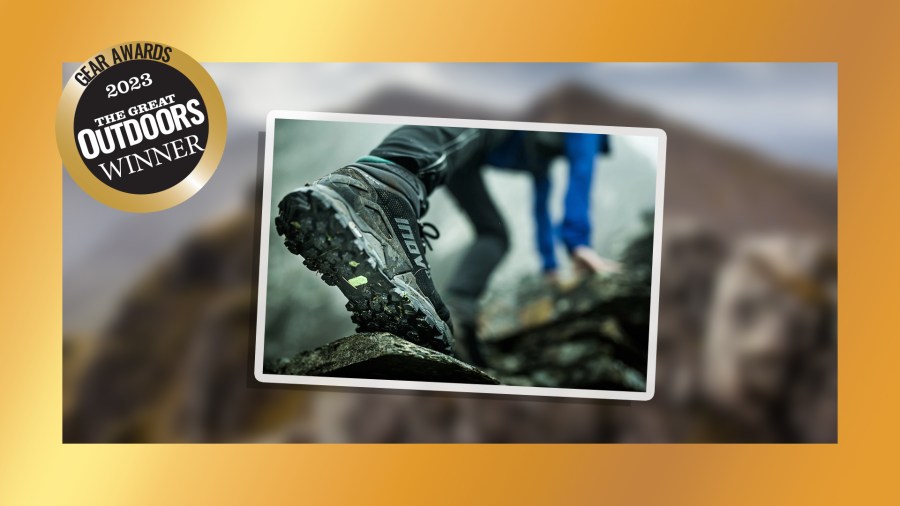 Our judges were all impressed by Inov-8's efforts to create longer-lasting footwear, namely through the use of graphene. Identified as the strongest – yet thinnest – material in the world, graphene was first created by scientists at the University of Manchester back in 2004. Recognising its potential, Lake District-based brand Inov-8 sought to incorporate the Nobel Prize-winning material into its outsoles in order to enhance their overall durability – and the result proved a huge success. Subsequently, in 2021, Inov-8 also managed to develop a foam that utilised the material for its lightweight durability too.
"I feel that Inov-8 deserves to be recognised here due to its pioneering work in improving the durability of trail shoes through its use of graphene," said Alex Roddie. "People who spend a lot of time in the hills tend to wear out shoes quickly, so new tech that can get more life out of shoes is something to be commended.
HIGHLY COMMENDED: Sierra Designs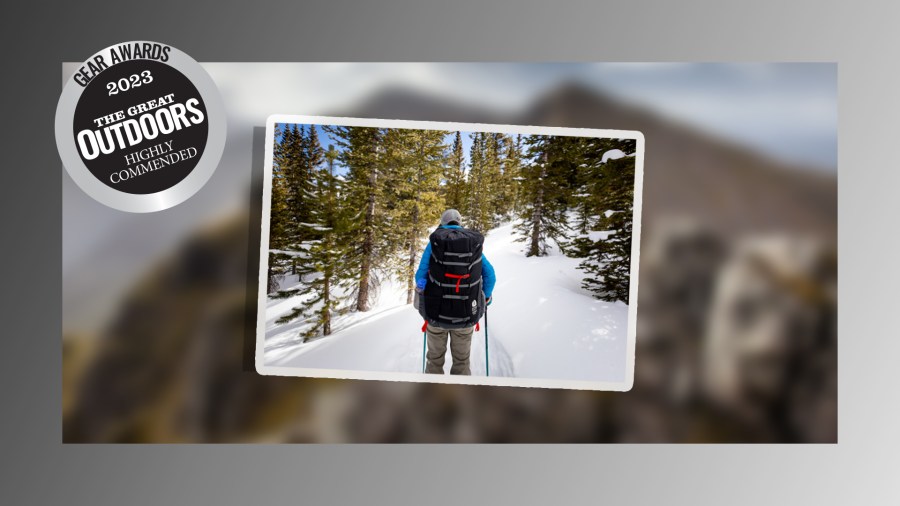 Alongside their awards this year for the Flex Capacitor backpack and Meteor 3000 tent, our judges felt that backpacking specialist Sierra Designs was worthy of overall recognition for product innovation this year.
The judges commended the 58-year-old company for its innovative design thinking and acute consideration for the specific requirements for backpacking.
"The Sierra Designs packs and sleeping bags are different and really are excellent," said Chris Townsend.
"They certainly seem to think outside of the box," added Will Renwick, who was impressed by the brand's Meteor 3000 and High Route 3000 tents. "I think it's great that they've tweaked their US-focussed designs to make them suited to the kind of conditions we often get when backpacking in the UK."
SHORTLISTED: Berghaus, The North Face, BAM.
Award for sustainability (product)
WINNER: Silva Terra Scout H
SQUIRREL_BUTTON_12925514
Both the light unit casing and the bracket of this head torch(£60) are made of recycled plastic, which has up to a 90% lower CO2 footprint compared to standard plastics. The headband is also made from hemp, a natural fibre that is a more environmentally sound alternative to synthetic fibres like nylon or polyester.
"Silva deserves praise for coming up with a genuinely progressive product here," said Will Renwick. "It's the most eco-friendly head torch that I'm aware of – perhaps by a long way."
This particular model comes with a rechargeable battery but it can also run off standard AAA batteries too. It offers a creditable 350 lumens, whilst Silva' Intelligent Light technology delivers a good balance of beam spread and penetration. Operations are simple and straightforward via one big button on top of the head lamp, and you also get a battery level indicator.
Read our full Silva Terra Scout XT review.
SQUIRREL_12925514
HIGHLY COMMENDED: Vango Apex 2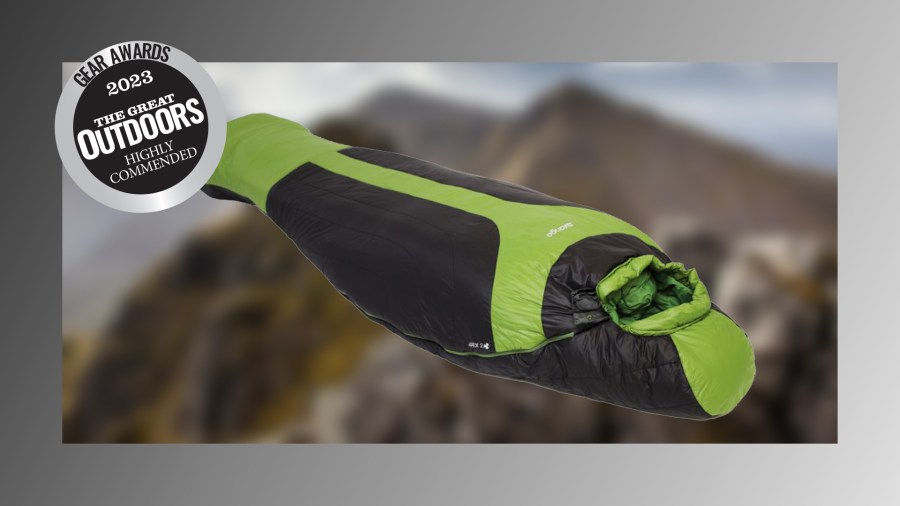 SQUIRREL_BUTTON_12925515
This sleeping bag from Scotland-based brand Vango is made with an impressively low carbon footprint, using recycled fishing nets to form the shell and lining fabrics, and Vango's EcoLoft recycled synthetic fill too. It weighs 1.75kg and has a comfort limit of -6C, making it suitable for most winter nights in the UK.
"The sustainability side of things here is impressive," said Will Renwick, "but Vango has also got the performance side of things right, too. It's very lofty and cosy – the fill feels just like down.
The Apex 2 (£180) is ergonomically tailored around the head and shoulders to retain heat, and it contains a lining called Thermal Reverb that causes heat to reflect back onto the body. There's also a lighter Apex 1 and a heavierApex 3 in the range. These also use the same recycled materials.
SHORTLISTED: Merrell Speed Eco, Patagonia WornWear Repair Roll
SQUIRREL_12925515
Award for sustainability (brand)
Winner: Keela
British brand Keela has been repairing products in its Keela Hospital for over 40 years now, and it was arguably ahead of the game in focussing on garment repairability. Now, through its Legacy Project, it's looking to up its efforts in reducing waste right across its business.
Alongside its Keela Hospital, the Scottish brand is developing ways of creating new products out of old ones that are past the point of repair. It's been finding ways to create new products from offcuts and spare fabric, and has also introduced a recycling programme where customers can send back their unfixable garments to be shredded and turned into insulation and, in some cases, brand new products.
"It's great to see a British company taking a lead on saving garments from landfill," said Chris Townsend.
HIGHLY COMMENDED: Nikwax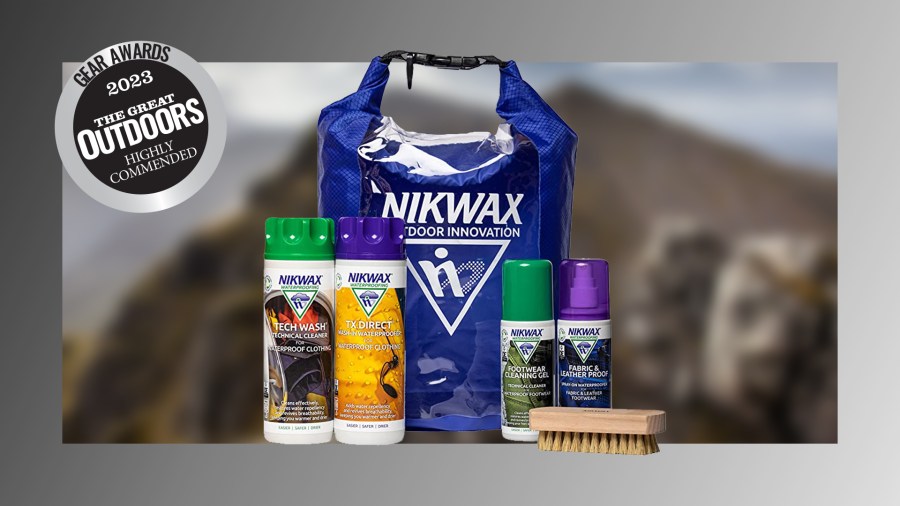 SQUIRREL_BUTTON_3388617
Our judges were surprised that Nikwax hadn't put itself forward for this category, and all decided that the brand deserved to be recognised. This Sussex-based aftercare solutions company has long been an outdoor industry leader when it comes to sustainable innovation, with a focus on clean chemistry, extending the lifespan of products, and ethical business practices. In fact, in 2022, Nikwax's founder Nick Brown handed the business over to his staff by forming an Employee Owned Trust. As part of this, a commitment was made to ensure that 1% of annual turnover goes to environmental and social causes.
"That's 360-degree sustainability in my opinion," commented David Lintern.
SHORTLISTED: PrimaLoft, BAM, Patagonia
SQUIRREL_3388617