Chris Townsend tests the latest hiking boots from Inov-8 and finds them comfortable, supportive and lightweight.
Inov-8 describe the Roclite Pro G 400 Gore-Tex boot as its "toughest and most cushioned hiking boot to date". It's made from a Schoeller ceramic-coated fabric in which "thousands of super-tough ceramic particles are bound together in honeycomb formations" for abrasion resistance and durability, and has a Gore-Tex XCR membrane inside.
The outsole contains graphene for durability, and the 6mm deep studs have been reengineered from earlier versions. Water-dispersion grooves have been added to give better grip on wet ground. The midsole is EVA, 20mm thick in the heel and 12mm in the forefoot and has a plate inside to give side to side stiffness and underfoot protection from stones. This plate connects to an external stiff heel cup for good stability. The toe has a hard bumper so you can kick rocks without hurting your toes.
Fit
I've been wearing the Roclite Pros through the autumn and winter on day walks with a light pack and overnight trips with a fairly heavy one and have found them comfortable and supportive. The laces hold my feet in place securely and I've had no problems with my heels lifting inside the boots. The fit is quite roomy in the forefoot and narrow in the heel, which is the same shape as my feet. The hiking boots are 4 on Inov-8's 1-5 (from narrow to wide) fit scale. Those with narrow feet might find the Roclite Pro rather loose fitting.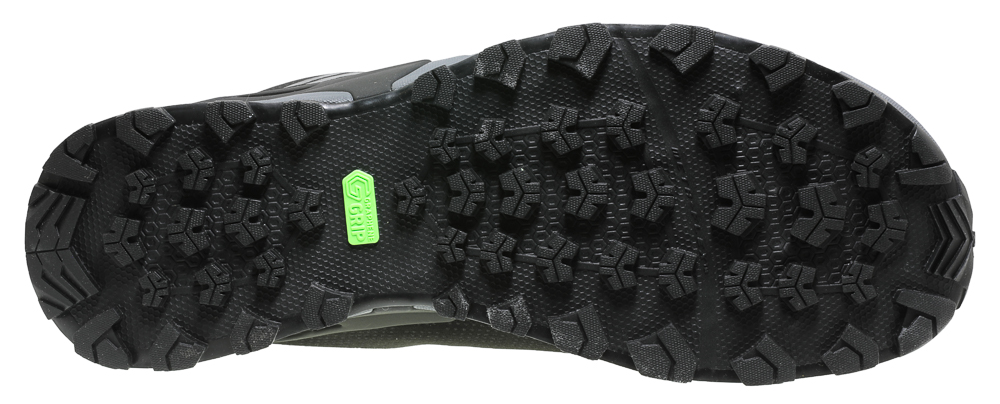 Performance
I've tried the boots on every type of terrain and found the grip good. The heel unit has clogged up a little on muddy ground but not enough to cause slipping. On soft snow the boots grip okay but do feel a little chilly – the uppers are quite thin. Micro spikes and walking crampons can be fitted for use on paths and gentle terrain but these are not winter mountain boots.
So far durability has been excellent though it's too early to tell just how long they'll last. The uppers are unmarked, and the soles show no sign of wear after twenty days and around 300 kilometres. I'll report back on how they're doing after significantly more usage.
Breathability has been good too though I haven't yet worn the boots in hot weather when I suspect they may be a little sweaty. The boots are waterproof, at least for now, and dried fairly quickly after I went in over the ankles in wet snow and they were soaked. I do wonder how long the Gore-Tex inner will last compared with the rest of the boots. A version without Gore-Tex would be good for warm weather use.
Overall, I like these boots. I can't criticise the performance or the comfort and they are very light. If you prefer boots to shoes but don't want heavy ones they are well worth considering.
The Roclite Pros costs £200. If the durability is as good as claimed they'll be well worth the money.
BEST BUY: This product has been awarded our 'Best Buy' endorsement, meaning our reviewer believes it to be one of the best items of its kind available.