Chris Townsend is impressed by this ultralight pack made in the Lake District, awarding it our coveted Best Buy endorsement.
Ultralight packs specially designed for long-distance hiking have been popular for many years. Most are made by American cottage gear companies. I've used several of these and liked them, so I was very interested a few years ago when such a company was launched in the UK with all the packs made in Keswick in the Lake District. Atom Packs is the brainchild of Tom Gale, a very experienced long distance hiker who has completed the Appalachian, Pacific Crest, and Continental Divide Trails in the USA and the Te Araroa in New Zealand. Initially all the packs were custom built. This year the first ready-made pack appeared, The Mo EP50. It was submitted for the TGO Gear Awards, winning Bronze in the Innovation section. I tested the pack for the awards. Here I'm giving it a more detailed review, which I think it deserves. Atom Packs says The Mo is "our perfect backpack". It's designed to be tough as well as comfortable and functional. Having only had the pack since the autumn I haven't yet done any long-distance walks with it – they'll come next year – so this is very much an initial review. I have taken it on overnight trips and also used it as a winter daypack, carrying ice axe, crampons, snow shovel, and plenty of warm clothing.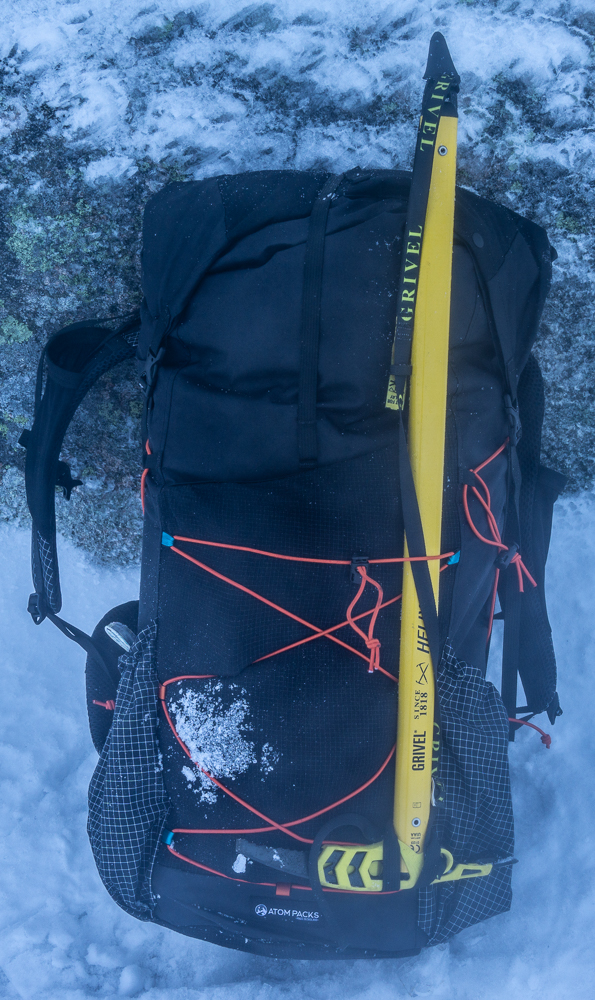 The Mo has a body made from a rugged recycled fabric. Equally tough fabrics are used for the side pockets, and they should prove very durable, far more so than mesh ones. I have torn holes in mesh side pockets when walking through dense vegetation and scraping against rocks. These pockets each have a 2.5 litre capacity and will hold two litre water bottles. They have shockcord and cordlocks at the top and can be tightened around the contents. A tent or tarp can also be strapped to the side with the side shockcord with the lower end a pocket so there's no danger of it slipping out. The front and bottom pockets are made from thick Dyneema mesh, which feels tough. The front pocket is protected by elastic cord. This isn't a high wear area anyway. The bottom pocket has no protection. I'll be interested to see how it stands being dumped on the ground again and again. So far there's no sign of wear. Lighter weight mesh is used for the phone-size stretch pockets on the shoulder straps. The pack closes with a rolltop with clip buckles and straps that can be fastened above the pack or down the sides. Thick shockcord on the front and sides can be used to compress the pack or hold long items of gear. The capacity is 55 litres, not including the shoulder strap pockets or the unusual base pocket, which has a side entrance for use while wearing the pack and can be used for shoving in hats or gloves when not needed. I reckon it'll hold about 2 litres. The capacity can be further increased with optional hipbelt pockets (28g and £20 each). One of these was provided with the test pack. I found the pack easily big enough for overnight autumn trips with some bulkier gear than I'd take on a long-distance walk. As a winter daypack it's excellent.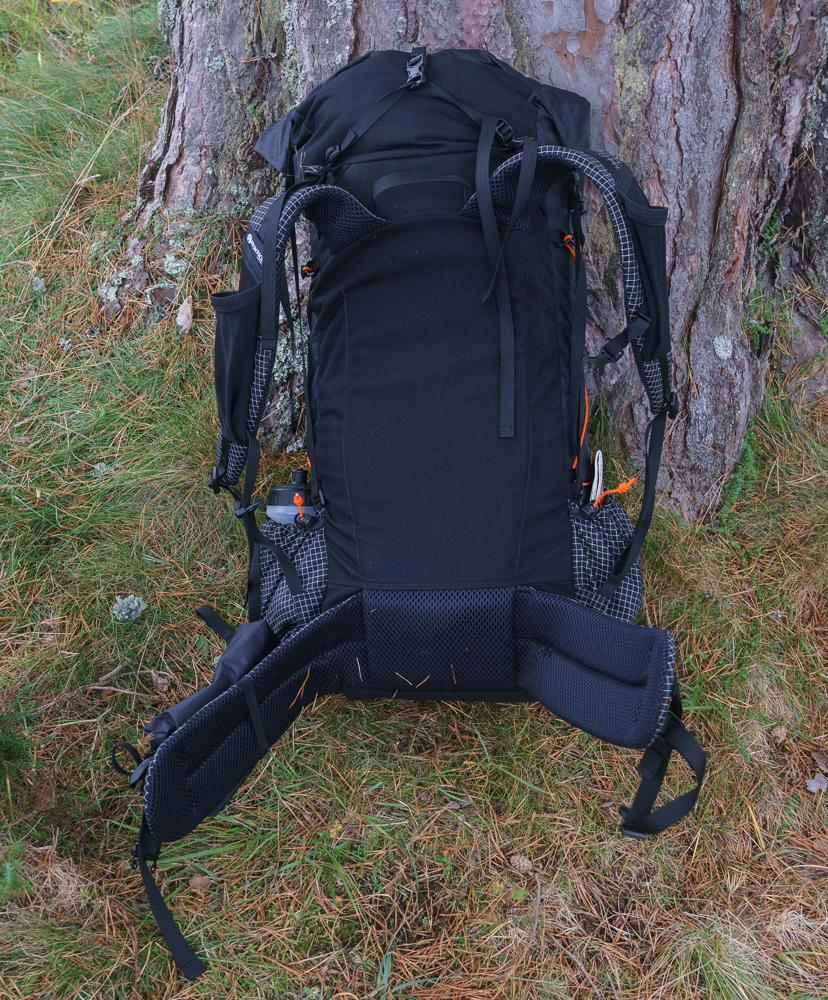 The key to pack comfort is the back system and here the Mo is excellent. Inside the pack is a plastic framesheet with an alloy bar inserted that moulds to the shape of your back. In front of this is a closed cell foam back panel. Both of these can be removed to save a little weight if you have a very light load. The shoulder straps, lumbar pad and hipbelt are well-padded and supportive. The frame transmits the weight to the hipbelt well. Atom Packs says the load capacity is 19kg and the pack certainly feels comfortable with this in my first trials. The Mo is a body-hugging pack, which is great for stability but can lead to a damp back in warm weather, which some may dislike. I don't mind as I've always preferred stability – and if it's very hot my back gets sweaty anyway. Close-fitting packs keep the weight closer to the body too, which is good for comfort. I'm impressed with the Mo and I'm looking forward to taking it on a long walk. It's ultralight, well-made, has useful features, and looks like it should last.
BEST BUY: This product has been awarded our 'Best Buy' endorsement, meaning our reviewer believes it to be one of the best items of its kind available.