Why stop at one scramble when you could have three? James Forrest heads to Blencathra to climb three knife-edge ridges in one adrenaline-packed day out with the Amazfit T-Rex 2.
Words | James Forrest
Images | Tom McNally
This is a paid sponsorship in partnership with our friends at Amazfit.
This is life at its best. Adrenaline pulses through my veins yet I somehow feel calm – a strange dichotomy. Below my feet is a serrated, fin-like rocky spine. To my left, scree slopes plunge hundreds of metres down to the deep blue waters of Scales Tarn; to my right a precipitous gully is gashed into the mountainside, a chaotic jumble of crag and boulder; and inbetween I tiptoe along a craggy arête that rises and falls with majestic ruggedness. This is Sharp Edge, the most exciting way up Blencathra, one of the UK's finest and best-loved peaks.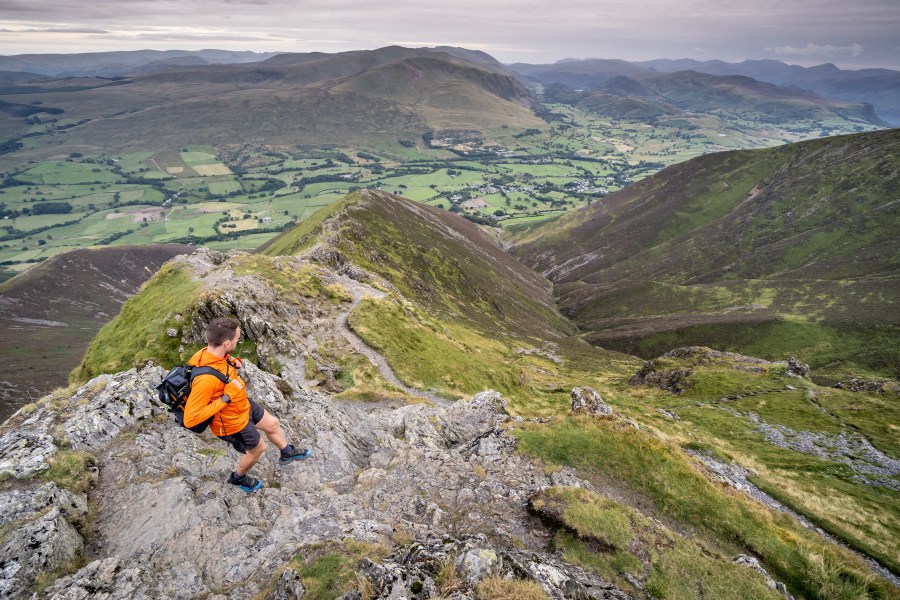 Ahead of me is the Bad Step, a slanting slab of rock angling towards a vertiginous drop. It takes a nerve-jangling shuffle, while hugging onto a blocky outcrop for safety, to overcome – but I get it done. A light breeze ruffles my hair and the evening sun breaks through the cloud. Below me is the pastoral patchwork of the Lake District: a collage of village and farm, hill and lake, mountain and valley, the archetypal Romantic landscape – and I can't help but feel my spirits buoyed by it. The immediate terrain might be severe, but there always seems to be an idyllic undertone to mountain adventures in this corner of England.
Rewind a couple of hours and I park up just off the A66 in a layby near Scales. Sharp peaks, rugged rocks and adrenaline-pumping ascents… my day ahead is going to be packed with thrilling moments. Clicking start on my Amazfit T-Rex 2, I glance down at the route I've imported onto the watch this morning, ready to take on this gripping adventure through the rugged terrain up Blencathra.
My plan is simple – to cram in three spectacular ridges and have the ultimate day out on Blencathra. It's a 7.9km route with 893m of ascent, modest stats that bely the sheer amount of mountain drama ahead.
To ensure my safety throughout the climb, I am wearing the military-graded Amazfit T-Rex 2 smartwatch designed to endure even the most extreme environments. I am counting on the accurate route-tracking system to guide me along the ridges and its comprehensive health monitoring feature to detect any status change in my body before sending alerts whenever I need to take a breather on the tip of the rocky spine.
And with that, my quest to conquer the precipitous Blencathra begins.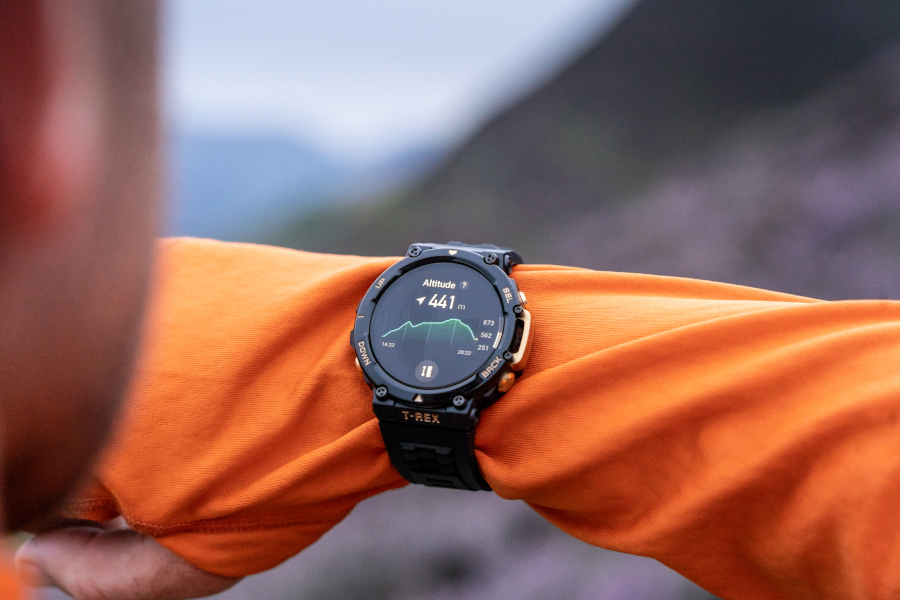 Three for the price of two
A common scrambling itinerary on Blencathra begins at Scales and loops north-east to Mousthwaite Comb before ascending Sharp Edge and descending Hall's Fell ridge, but this seems to miss a trick. Why only climb two epic ridges when you could add in a third? My self-chosen route veers west from Scales and adds in the Doddick Fell ridge to the mix, an ascent guidebook writer Alfred Wainwright called "a grand climb…with a striking views" and a "splendid way" up Blencathra. I will climb Doddick Fell first, drop down to Scales Tarn, scramble up Sharp Edge, top out at the summit of Saddleback (Blencathra's other name), and finally descend back to Scales village via Hall's Fell. Three ridges for the price of two, if you will.
A narrow passageway through a sea of lush bracken marks the start of the Doddick Fell climb, and I enthusiastically power uphill with a spring in my step. Heather is in full bloom and the ridge is awash with colour, spiky blooms of pink, lavender, purple, amethyst, magenta and white flourishing atop their low mounds of handsome greenery. I stop half way up and assess the ridge. To the left Doddick Gill tumbles in the middle of vast ravine, ahead the towering bulk of Blencathra soars, and to the right the smoother lines of Scales Fell flow, while the ridge itself – although lacking the definition and sharpness of Blencathra's more famed arêtes – sweeps upwards aesthetically, with a few rocky turrets and craggy excrescences piercing out of the mountainside.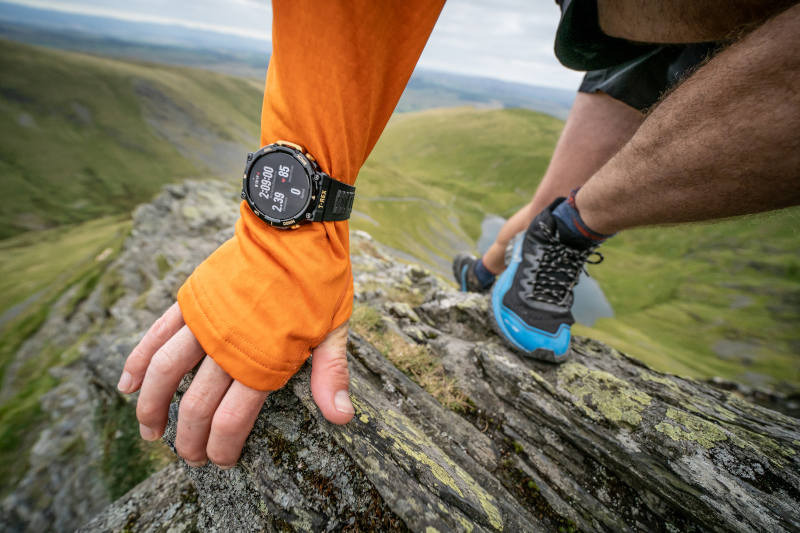 I glance down at my Amazfit T-Rex 2 display, after topping out of Doddick ridge onto grassy slopes to the east of Saddleback's summit. Only 2.5 kilometres walked and 531m ascended, but it already feels like I've experienced my fair share of hillwalking exhilaration. It is easy to get lost when climbing through a complex terrain like this, even if you follow the guidebook down to a tee.  Luckily, the T-Rex 2 features high-precision dual-band positioning that supports five satellite systems for precise real-time navigation. I toggle through the watch's features, checking my heart rate, GPS location, compass, altimeter and barometer, and then compare the route screen to the scene of Scales Tarn and Sharp Edge in front of me. Off we go.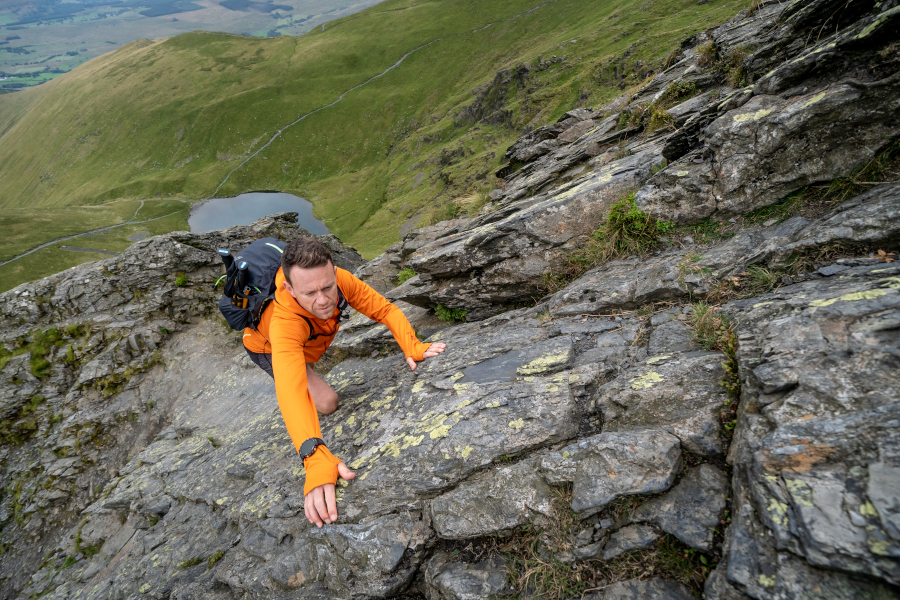 Standing tall
After a pathless tramp down to the eastern shores of Scales Tarn, where a few hardy folk are swimming, I pick up the well-trodden path up Sharp Edge. Before long I'm scrambling along the rocky spine. Reach, grip, heave myself upward. Breathe. Left foot up, right hand across, shuffle toe diagonally.
Each step is taken with caution and mindfulness. With blood pumping through my veins, I begin checking my physical status regularly to ensure that my body is adapting to the altitude change. Whenever the smartwatch detects any major altitude change, it prompts me to take a 15-second blood-oxygen saturation test. The results are visible on T-Rex 2's always-on 1.39" HD AMOLED colour screen even when I'm under direct sunlight. Breathe. Grasp, clasp, clutch. Breathe. Shimmy, edge, skirt. Breathe.
It is an epic grade one scramble, with a few awkward manoeuvres, but nothing too technical. There are little rocky steps and blocky obstacles, enclosed gullies and craggy faces, but mostly I stick to the airy apex of the ridge's backbone – trying to avoid the crest of the ridge by taking a 'cheat' path can actually end up being more dangerous.
I know there is a lot still to relish on this walk. Over the next few hours I'll stand atop Blencathra's 868m summit, take a photo of my feet next to the iconic summit ring marker, descend the craggy labyrinth of Hall's Fell ridge with its pillars of rock and narrowing profile, and finally reach The White Horse Inn in Scales for some well-deserved post-hike sustenance. Later, I'll return home feeling exhausted yet accomplished. While my T-Rex 2 will have only consumed 6% battery, it will track the quality sleep I look forward to as part of my recovery before the next adventure.
But my mountain instincts tell me this moment on Sharp Edge is one to savour, so I pause atop a rocky obelisk to drink it all in. Standing tall and confident, fighting the 'jelly legs' sensation trying to take hold, I look out over Lakeland. Just like the precipitous drops plunging away on both sides, all of the lingering everyday stresses and anxieties in my system fall away too. There's nowhere else I'd rather be.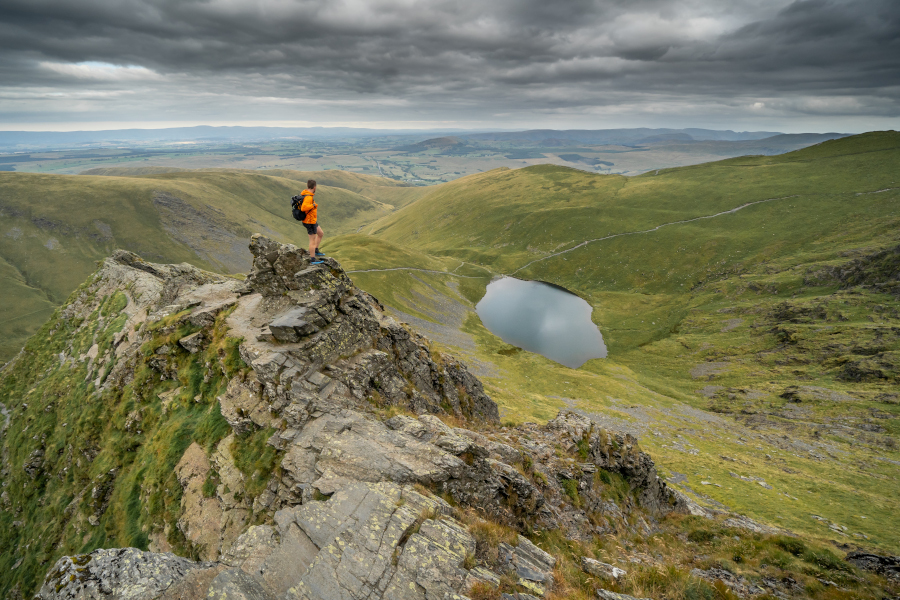 The Route: James' three-ridge Blencathra hike
The Route
Distance
7.9km / 4.9 miles
Ascent
893m / 2,930ft
Time
4-5 hours
Technicality
Grade 1 scrambling
Start / Finish
A66 layby at GR: NY339267, just to south-west of Scales
Maps
OS Explorer OL5 (1:25k); OS Landranger 90 (1:50k)
Transport
Stagecoach's X4 or X5 Penrith-Workington bus, alight at Threlkeld
Parking
A66 layby at GR: NY339267
Beyond Blencathra
TGO says: If you want to take on an adventure like James', the Amazfit T-Rex 2 can support a holistic approach to the challenge ahead. Not only will it track your vital health data while you're in the hills, but it will also give you insights into your recovery and further training. A certain degree of hill fitness is required to take on mountain scrambles and you can train strategically with the help of this smartwatch. For example, the T-Rex 2 allows you to input specific fitness goals into the system to coordinate workouts – including cycling, swimming, running and big mountain days – as part of a training schedule to prepare your body for high altitudes and epic hikes. So, the next time the mountains call, you'll be ready.