The unusual curved sole of the Keen WK400 shoes take a bit of getting used to, but they work well and are comfortable, says Chris Townsend.
Rocker soles with a slight upward curve in the forefoot have been around for many years. The design is intended to aid forward propulsion and a natural walking gait. With the WK400 Keen has taken this design to the extreme. As well as more of a curve at the front than most rocker soles the shoes also curve up at the back. This continuous curve is meant to make walking "feel like rolling".
Wearing the Keen WK400 shoes feels odd when standing still. Only the centre of the sole is in contact with the ground with both your toes and heel up in the air. This can feel wobbly! In fact, if standing still it's best to rock backwards and forwards on the shoes as you can't actually put your foot down flat.
However, as soon as you start walking the positive effect of the curved sole is felt as the shoes really do seem to propel you forward easily. On hard flat surfaces, this is especially noticeable. On rougher terrain, it's less obvious. I did wonder how well the shoes would perform off tracks and paths and whether there'd be a balance problem but I needn't have worried. On steep tussocky moorland, steep stony ground, and steep loose forest floors they were fine.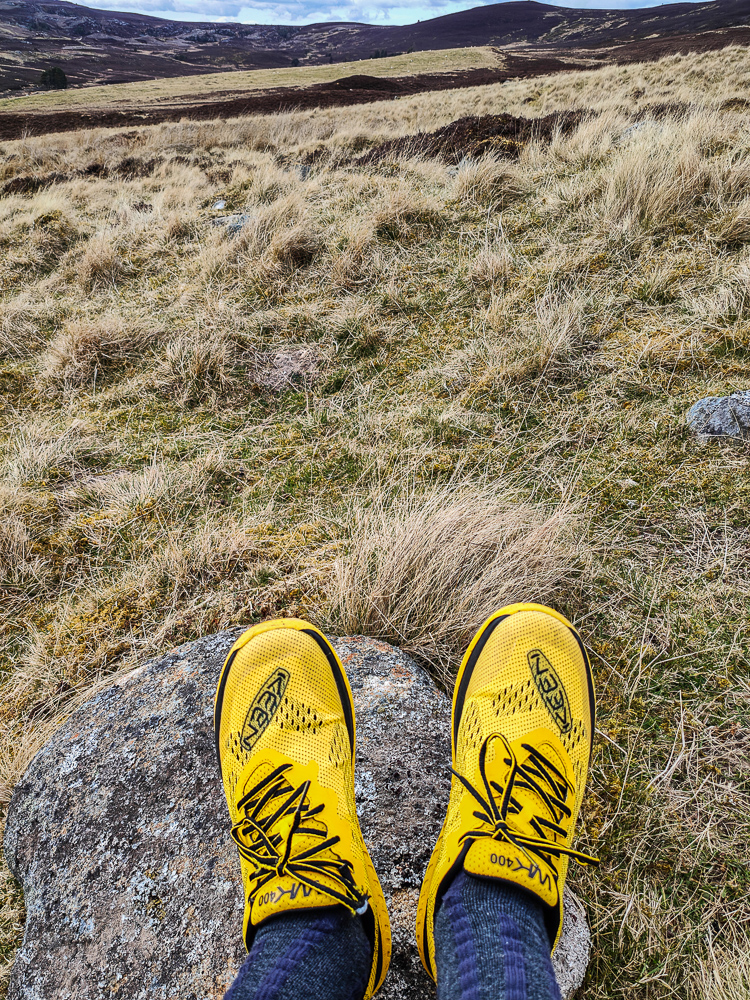 The uppers are made from mesh with TPU overlays. Breathability is excellent, water resistance non-existent. These are shoes for dry conditions or wet conditions if it's warm and you don't mind wet feet. The lacing is offset, which looks unusual. This is designed to relieve pressure on top of the foot. As I've not had a problem with standard lacing on other trail shoes I can't tell if this really makes a difference. There's a small hard toecap to protect against rocks and a firm heel counter. The shoe has a natural pesticide-free odour control treatment.
The sole has multi-directional lugs that grip well on a variety of terrain. The thick EVA midsole provides good cushioning. Above this is a full-length thin nylon plate that maintains the curve. On top of all this is a soft removable PU insole.
I was very interested in trying this unusual design and was keen (no pun intended) to try them on as soon as the test pair arrived. However, I could barely squeeze my feet into them and certainly couldn't walk far without pain when I did. Keen footwear usually fits my wide feet. But these shoes have what Keen calls an athletic fit – which means narrow. I tried the next size up and these fit okay in width when worn with fairly thin socks but are slightly too long. The close fit around my heel and instep meant my feet didn't slip forward when going downhill so the extra length isn't a real problem.
I don't usually comment on colour but as the test pair and the shoes in all the promotional material I've seen are eyeball-searing yellow I thought I'd point out that they are also available in blue, grey and black in men's sizes and fawn, black and white in women's sizes for those who don't want their feet to stand out.
The Keen WK400 trail shoes really are very comfortable. The curved sole is excellent on roads and hard tracks and does take the sting out of these. I wish they were available in the usual Keen wide fit, however.
RECOMMENDED: This product has been awarded our 'Recommended' endorsement, meaning our reviewer believes it is a strong product which works well for its intended purpose.