Trail shoes aren't just for runners – many hikers and hillwalkers favour them too. David Lintern and Fiona Russell put the latest and best to the test.
In this comparative roundup, we're looking at the best trail shoes or 'trail runners'. These are not the fabric, three season hiking boots or low-cut boots we might use for hillwalking if we want to keep our feet dry, but lightweight 'trainers' with an outdoor focus. They're the choice for mountain and fell runners, and are increasingly favoured by hikers, backpackers and hillwalkers, too.
If you're wondering what is the difference between trail shoes and hiking shoes, then read on.
The Great Outdoors has long promoted the use of lighter-weight hiking footwear in the warmer months, primarily via the reviews and trip reports of Chris Townsend… and many of us have followed in his footsteps. Up until a decade or so ago, I (David) assumed that 'proper hillwalkers' had to wear old-fashioned leather boots all year round: that was the uniform. But I tried on lighter boots and then trail shoes, and felt far less tired at the end of the day. My ankles and toes were allowed to flex (just like they were designed to!); and without a so-called waterproof membrane, my feet could breathe and were liberated from sweating and blisters. Apparently, I was not a 'proper hillwalker', but that was OK!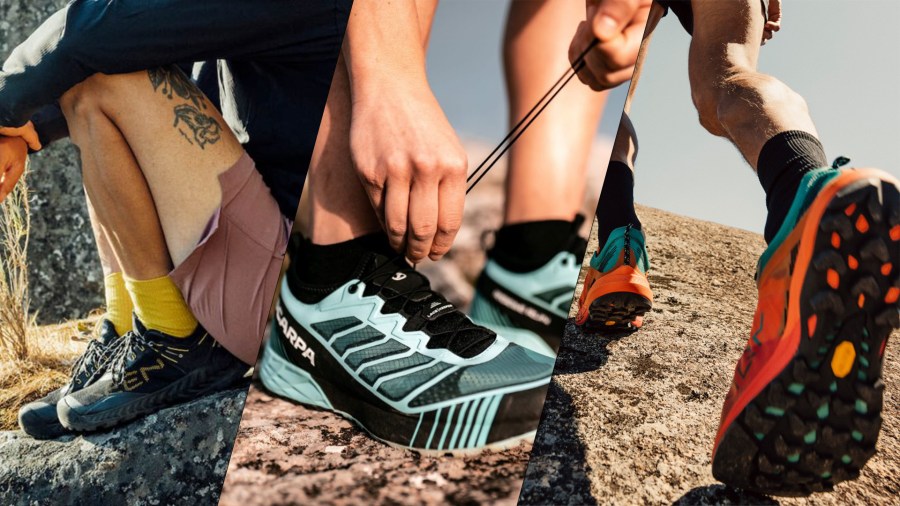 In 2011, I hiked for two months across the Pyrenees. At that point, I wasn't quite brave enough to take the plunge completely, and I began the walk in a pair of traditional three season, lined boots. Early on, conditions alternated between very hot and very wet, and I got a nasty case of trench foot. My feet were in such poor shape by week four I thought I would have to stop. Only the liberal application of iodine (quite an old-fashioned remedy; not sure I'd it recommend now!) dried the skin out and saved the hike. I replaced those manky boots with a pair of very lightweight, no-membrane trail runners – and had zero issues thereafter.
The more I used trail shoes for hiking, the more I understood the benefits. Less weight meant I felt nimbler and less clumsy. I paid more attention to where I put my feet and began to engage more with the terrain. My joints became stronger, my footwork more precise. I rarely get blisters now.
Related: Best waterproof jackets reviewed
Related: Best three-season sleeping bags reviewed
There are tradeoffs, of course. Trail shoes without a 'waterproof' membrane mean feet get wet. Conversely, they dry out more quickly when it stops raining. Carrying very heavy loads or moving in very rough terrain can warrant a larger drop in the heel or more protection in the toe than some trail shoes offer – although there are now options to cater for the ultramarathon and skyrace scenes that go a long way to mitigate those concerns, some of which we look at here. And, of course, trail shoes are not built for winter; so we shouldn't expect them to play well with crampons and axes. But by and large, between April and October, I'm far more fleet of foot in 'hill pumps'.
How we tested them
Women's trail shoes
Fiona is a size U.S. 10.5 / UK 8.5 and has a narrow foot. She is a keen trail and hill runner, as well as a hillwalker. To test the trail shoes, she walked and ran in each pair on the full range of terrain, from forest tracks to off-path mountain slopes, through peat hags, bog and streams and on ground covered in tussocks, heather, rocks, stones and grass. The product weights are per pair and are taken from Fiona's digital scales.
Men's trail shoes
David is a size U.S. 11.5 / UK 10.5 and has a wide forefoot and a narrow heel. He's an occasional trail and hill runner, and an advocate for trail shoes for walking and backpacking during the summer months. These trail shoes were tested last spring, summer and autumn on- and off-trail in the mountains throughout Scotland, from the north-west to the Borders – walking, backpacking and on the odd hill run.
The best trail shoes for hiking 2023: our 10 favourites
In this article, we'll highlight the 10 best pairs of trail shoes for activities like hiking, hillwalking and backpacking. These are all lightweight options and while some are designed specifically for hiking, many of them are trail running shoes that work well for hiking too. Each product has been fully tested and reviewed by our team.
Arc'teryx Norvan LD3 – Best Buy (men's)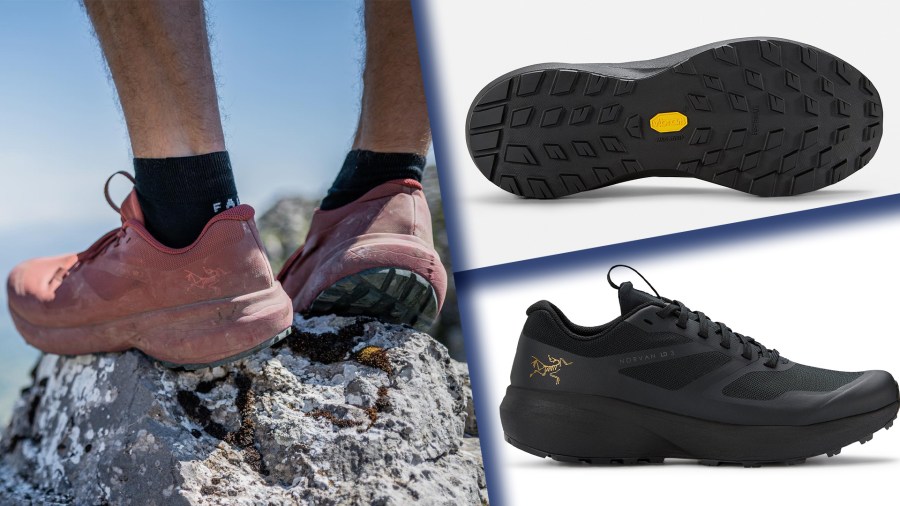 RRP: $163 | £150
Weight: 1.34 lb. | 612g
Pros: Grip, support
Cons: High ankle cuff
Heel-to-toe drop: 6mm | Lug depth: 4mm | Materials and features: EVA/polyolefin blend midsole, single-layer mesh upper, toe cap, Ariaprene foam tongue, InFuse midsole (42 Shore C), anti-fatigue insert – 85%, internal foot wrap, Vibram MegaGrip outsole | Sizes: 6.5-12.5 | Women's version: yes
The Norvan LD 3 is a quietly competent generalist. The fit is true to size, with a wide forefoot that allows for swelling in the toes, and a high, narrow heel cup that keeps the foot secure and supported. There's less stiffness at the ankle in this version, too, which is easier on bony ankles in a deeply cupped shoe.
Read our full thoughts in our Arc'teryx Norvan LD3 review
Scarpa Ribelle Run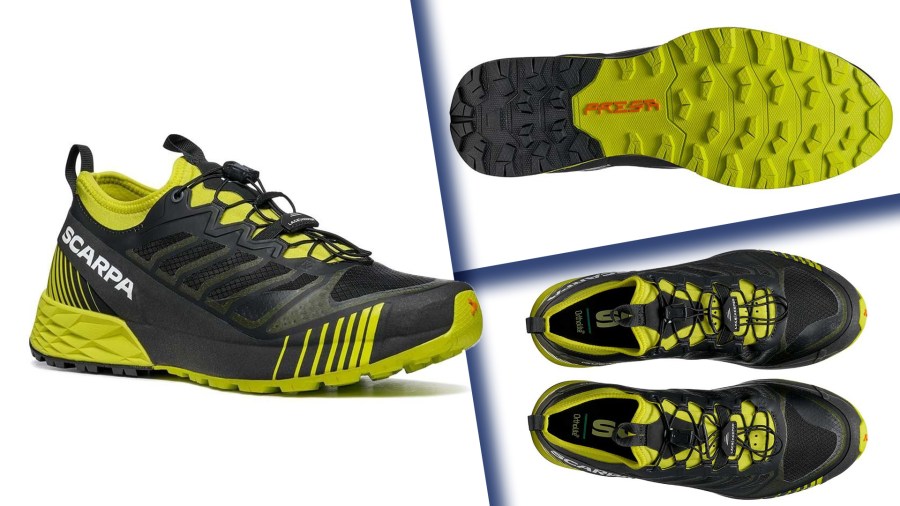 RRP: $189 | £145
Weight: 1.49 lb. | 678g
Pros: Gaiter, support, precision
Cons: 4mm lugs a little lacking on muddy, wet terrain
Heel-to-toe drop: 4mm | Lug depth: 4mm | Materials and features: built-in gaiter, Presa midsole, Supergum outsole, ripstop mesh and film upper | Sizes: 6.5-12.5 | Women's version: yes
The Ribelle Run is a new-ish technical trail runner, and it's excellent. The upper is a minimal in-house 'sock fit' construction, closed around the foot with drawstring 'speed lacing system'. The top of the shoe has a stretchy, built-in gaiter that's very effective at keeping most small grit out. Breathability is equally great – there's less slipper-like comfort here, but the shoe dries fast and keeps the sweat at bay.
Read our full thoughts in our Scarpa Ribelle Run review
Saucony Peregrine 12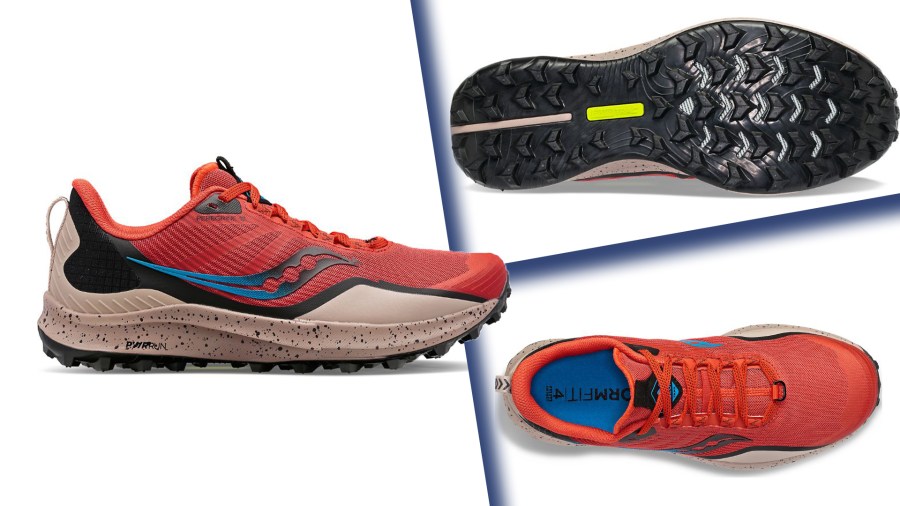 RRP: $84.95 | £140
Weight: 1.33 lb. | 604g
Pros: Grip, comfort
Cons: Lateral and heel support
Heel-to-toe drop: 4mm | Lug depth: 5mm | Materials and features: Rockplate, PWRRUN midsole, PWRTRACK outsole, recycled mesh upper | Sizes: 6-13 | Women's version: yes
The Peregrine's grip is probably best in test. The lugs are 5mm and don't bat an eyelid on any ground, wet or dry. The forefoot is very wide, and the heel is quite wide, which translates into a very comfortable shoe with loads of room in the toebox. There's very little lateral support, so the shoe bends side to side when contouring.
Read our full thoughts in our Saucony Peregrine 12 review
Montrail Trinity AG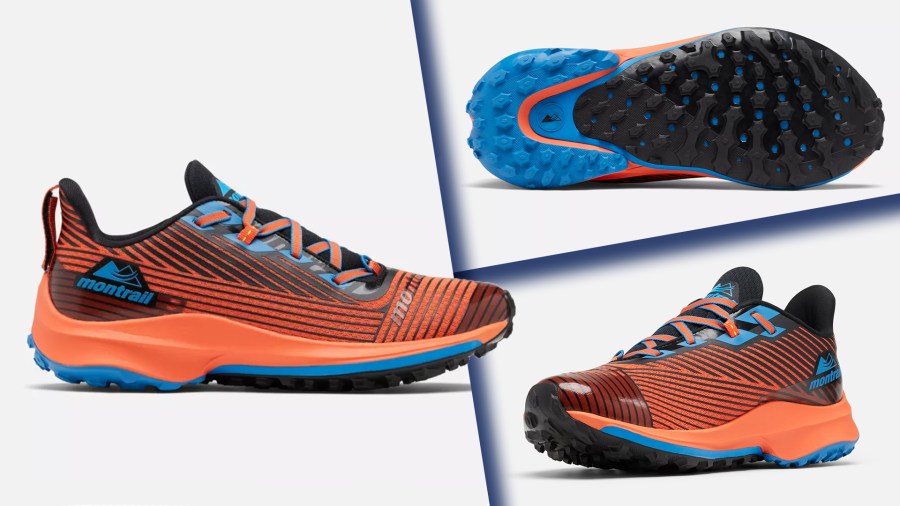 RRP: $150 | £135
Weight: 1.51 lb | 688g
Pros: Comfort, lacing system, grip
Cons: Relative lack of ground feel
Heel-to-toe drop: 12mm | Lug depth: 4mm | Materials and features: Adaptrax outsole, eco insole, Techlite midsole, mesh upper with asymmetrical lacing, Haptic print and Navic fit | Sizes: 6-14 | Women's version: yes
Asymmetric lacing, 12mm heel-to-toe drop and lots of cushioning in the midsole make for a springy, energetic shoe. They're great for running on the flat but less than ideal for hillwalking, backpacking or even 'fastpacking'. The Montrails are better suited to groomed trails – once off-piste, I want to know what I'm walking on.
Read our full thoughts in our Montrail Trinity AG review
La Sportiva Ultra Raptor 2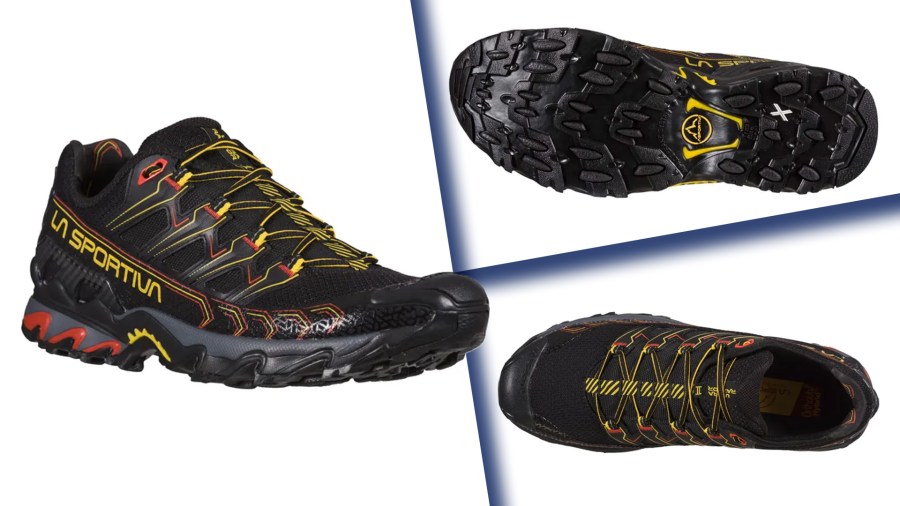 RRP: $165 | £150
Weight: 1.97 | 896g
Pros: Support, protection, grip
Cons: Less breathable than others here
Heel-to-toe drop: 9mm | Lug depth: 4.5mm | Materials and features: full-length rock plate, wraparound rand, FriXion rubber outsole, recycled laces and footbed, air mesh upper, variable thickness EVA endurance midsole, Impact Brake System at the heel. | Sizes: 5-14 | Women's version: yes
The La Sportiva Ultra Raptor 2s are designed to be durable and protective, and are the heaviest and stiffest offering in this test. There's loads of lateral stiffness and stability from various inserts, a rock plate and beefed-up midsole and a big wraparound rand with a toe bumper. They may feel too stiff to run in, but that burliness makes them excellent for backpacking.
Read our full thoughts in our La Sportiva Ultra Raptor 2
Inov-8 Roclite G315 GTX – Best Buy (women's)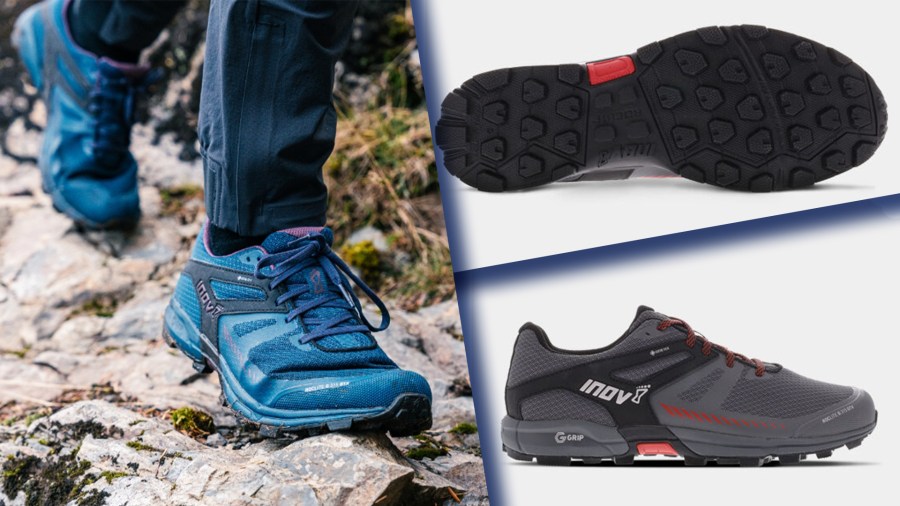 RRP: $190 | £155
Weight: 1.47 lb. | 668g
Pros: Fit, waterproofing, grip, stability 
Cons: Price, limited upper sizes for women
Heel-to-toe drop: 8mm | Lug depth: 6mm | Materials and features: graphene G-GRIP outsole, textile upper, mid-width, Powerflow Max foam midsole, 6mm EVA footbed, Gore-Tex membrane, mid-heel lock panel, META-PLATE, front-end bumper | Sizes: 3-8.5 | Men's version: yes
The inov-8 G315 is one of the best all-round performers I've ever tested. The outsole, with its deeper lugs, gives great traction, whilst a slimmer sole offers good ground-feel and ankle stability. There is less cushioning than other shoes on test and this could leave your feet weary if you have miles of hard-packed trails to cover. They are ideal for outings where there is a mix of walking and running on softer and rougher terrain.
Read our full thoughts in our Inov-8 Roclite G315 GTX V2 Review
Merrell MTL MQM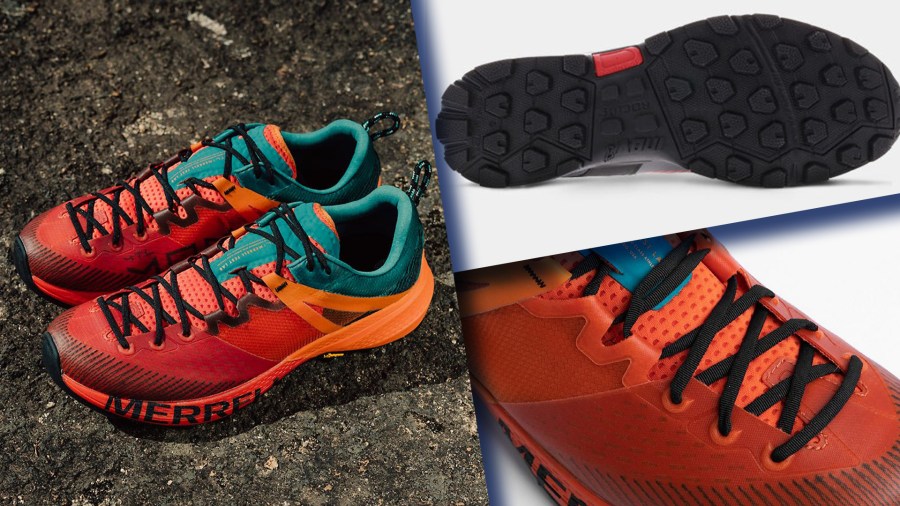 RRP: $150 | £135
Weight: 1.38 lb. | 628g
Pros: Lightweight, comfortable, supportive, durable upper, cushioning  
Cons: Limited upper sizes for women
Heel-to-toe drop: 6mm | Lug depth: 5mm | Materials and features: Vibram MegaGrip and Vibram Idrogrip combined outsole, mesh and TPU upper, 100% recycled laces and webbing, internal bootie, TPU waterproof shell, microfibre lining, removable PU footbed, 100% recycled mesh footbed cover, rock plate, 50% recycled removable EVA foam footbed, FloatPro Foam midsole, pull-on rear loop | Sizes: 2.5-8.5 | Men's version: yes
The internal bootie supports the mid part of the foot and under the arch, whilst the lacing system is full and adaptable. There is enough bounce and comfort on hard trails but not so much that it drains energy. They do not have a waterproof membrane, but they managed to keep out a lot of wet until damp slowly seeped in.
Read our full thoughts in our Merrell MTL MQM Review
Salomon OUTpulse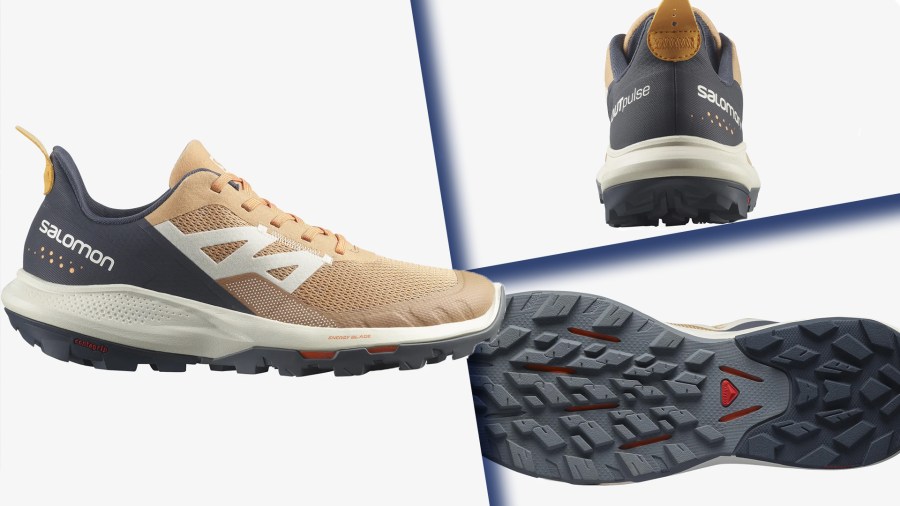 RRP: $130 | £115
Weight: 1.56 lb. | 712g
Pros: Comfortable, supportive, cushioning, price, size range
Cons: Flexibility
Heel-to-toe drop: 10mm | Lug depth: 4mm | Materials and features: All Terrain Contagrip rubber outsole, synthetic upper, textile lining, SensiFit construction, OrthoLite insole EVA mid-sole with reverse camber, Fuze Surge foam compound sole, Energy Blade TPU plate, All Terrain Contagrip rubber outsole, PFC-free, protective toecap, pull-on rear tab | Sizes: 3.5-10.5 | Men's version: yes
The Salomon OUTpulse is of average weight, comfort, support and underfoot flexibility. The sole is a little too stiff and 'clumpy'-feeling for easy 'flowy' running, but it's fine for a job here and there. It's comfortable to wear but lacks a little wow factor. However, the price is good for a solid, no-nonsense shoe.
Read our full thoughts in our Salomon OUTpulse Review
Keen NXIS EVO Waterproof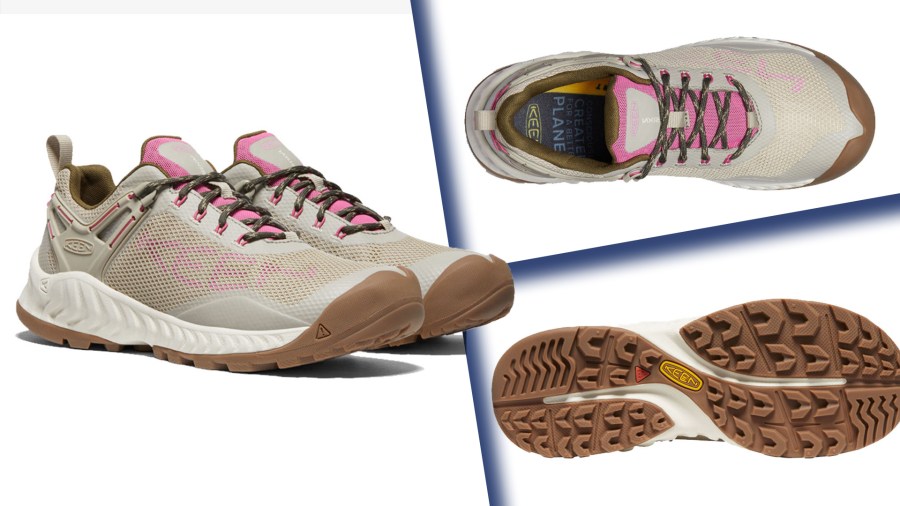 RRP: $180 | £130
Weight: 1.71 lb. | 776g
Pros: Durable, wide fit, cushioning, size range 
Cons: Weight
Heel-to-toe drop: 7mm | Lug depth: 4mm | Materials and features: Mesh upper with TPU overlays, injected EVA midsole, KEEN.ALL-TERRAIN rubber outsole, PU insole, KonnectFit heel-capture system, stability shank, speed-lace webbing system, KEEN.DRY waterproof membrane, Eco anti-odour, PFC-free DWR | Sizes: 2.5-9 | Men's version: yes
The Keen NXIS is a fairly stiff shoe, with a solid outsole and an oversized toe cap. In hot weather, the thick and waterproof uppers made my feet feel a bit sweaty, so I would keep these for chillier days. The sole and uppers are stiffer than my normal running shoes, which is fine if you do more walking than running.
Read our full thoughts in our Keen NXIS EVO Waterproof review
Salewa Dropline Speed Hikers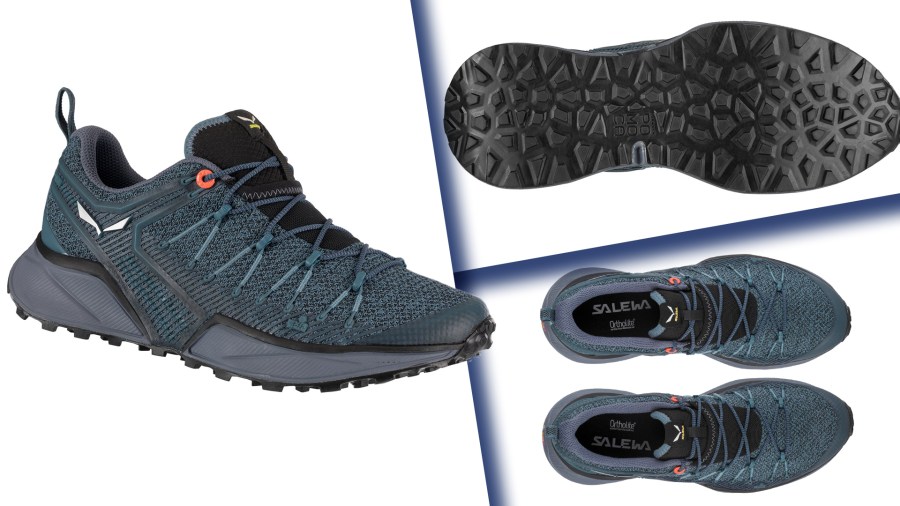 RRP: $120 | £135
Weight: 1.56 lb. | 712g
Pros: Snug fit, comfort, cushioning
Cons: Particularly narrow, weight discrepancy
Heel-to-toe drop: 6mm | Lug depth: 4mm | Materials and features: own-brand 'POMOCA' butylic compound rubber sole; upper: 3F System with Kevlar cables, Exa Shell Over Injected 3D Cage, stretchable air mesh; midsole: Performance EVA , rubber toe cup, stretch gaiter, anti-rock heel cup, Ortholite footbed | Sizes: 3-9 | Men's version: yes
The Dropline Speed Hikers are best reserved for hard-packed trails – especially dry ones because they are not waterproof. The 'stretch gaiter', which is a stretchy tongue, adds to the comfort levels because it sits neatly and flatly on the top of the foot and doesn't move about. Just make sure you tie the slippery laces in a double knot to stop them coming undone.
Read our full thoughts in our Salewa Dropline Speed Hikers review
What makes a good trail shoe for hiking?
Outsole
Soles should offer a level of grip to suit your chosen terrain, and you'll see deeper and more densely packed lugs on shoes that aim to offer more grip on wet, muddy and steep ground.
Stiffness
Traditional trail walking shoes are usually designed with a stiffer sole because the motion of walking, compared to running, requires less flexibility. If you want to use your trail shoes for walking and running, it's a good idea to ensure they are flexible enough to complement your natural running gait. There is a compromise to be found here, though, because a shoe that is too flexible will not necessarily be as comfortable when walking long-distance when more support is usually required.
Rock plate
Some shoes have a rock plate, which is a material embedded between the outsole and the midsole for underfoot protection. It can add stability and stiffness to the shoe and helps to protect the soles of your feet from sharp rocks and stones.
Midsole
The level of cushioning is a personal choice, but you should think about where you will be walking and running. A shallower sole usually means there is less cushioning and better 'ground feel', whilst deeper soles are likely to offer greater levels of cushioning. On rough terrain, a deeper sole may result in instability for some.
Heel-to-toe drop
Regardless of the depth of sole, shoes offer a range of heel-to-toe drop and that is the difference in height – usually in mm – of the stacked heel to the forefoot. Road running shoes will normally have a larger drop, often with the aim of protecting the Achilles tendon from being overly stretched, whilst trail running shoes usually have a much shallower drop.
Uppers
Trail shoes need to be durable and offer protection against abrasion caused by vegetation, rocks, stones, scree and mud. Expect to see a protective rand around the base of the upper where it meets the sole, as well as toe bumpers or caps and heel protectors. There should still be a good degree of upper flexibility so foot flex and breathability aren't inhibited.
Waterproofing
A built-in waterproof liner, such as Gore-Tex, will offer some waterproofing if you are walking or running in the rain, on wet ground or when crossing streams and rivers. Waterproof liners can make the shoe less breathable, so you end up with sweatier feet in warm conditions. To stop the wet getting in at the ankle area, you can wear lightweight running gaiters.
Lacing
Whether traditional lacing or another system, the aim should be for an even tension along the length of the foot.
Weight
Weight should be considered against sturdiness. Generally, very lightweight shoes will not be as long-lasting or durable as a heavier shoe; although this also does depend on the materials and construction quality.
Recycled materials
More now than ever, brands are keen to inform consumers about recycled content in their products. This is good news, but it's important to consider the potential for 'greenwashing' and also more than just the materials. How and where the products are made, end-of-life recycling schemes, sustainability certifications and pledges are all worth considering.