Our round up of the best camping chairs for backpacking, van life, car camping and more…
A good, comfortable camping chair can significantly improve an outdoor experience. We've all experienced situations where the ground was a little slick, we tried to stay upright as long as we could or used our rain jacket as a seat pad, but eventually had to head back to our tent a little sooner than we'd have liked, squandering the opportunity to fully appreciate the end of the day.
Handily, you can now find plenty of great camping chairs that are light enough to carry, and not just slung over your shoulder on a short walk from your car to the campsite or festival pitch, but over reasonable distances inside your backpack. 
The benefits of camping chairs include comfort and back support, elevation off wet ground, of course, and also some have the added convenience of providing you with somewhere to place your drink, binoculars or book. The best ones will be light, packable, durable, strong, comfortable, easy to assemble and pack away and easy to get in and out of too. You also might want to consider things like their reclining angle, how much support there is – and where – and also aspects like sustainability, longevity and price. It's worth bearing in mind that a lot of camping chairs come with extra add-ons that are purchased separately; things like feet adaptors, arm slings, cup holders and head rests. 
The best materials for camping chairs
When it comes to selecting a camping chair, the choice of materials is crucial for both the frame and the fabric to ensure a balance between lightweight design and durability. For a lightweight yet strong camping chair frame, materials such as aluminum alloys or high-strength steel alloys are excellent options. Aluminum alloys offer exceptional strength-to-weight ratios, making them ideal for backpackers and hikers who prioritize minimal weight without compromising on sturdiness. High-strength steel alloys, on the other hand, provide robustness and durability, making them suitable for camping chairs that can withstand heavier use and rougher terrains.
In terms of camping chair fabric, nylon and polyester are among the top choices for their lightweight properties and resistance to wear and tear. Nylon is known for its excellent strength, durability, and quick-drying capabilities, making it a popular choice for camping chairs. Polyester offers similar qualities, including resistance to UV rays and water, making it a great option for outdoor use. 
Conversely, cheap and flimsy camping chairs often utilize low-quality materials such as thin steel frames or plastic components. These materials may lack the necessary strength and durability required for long-lasting use. Additionally, the fabrics used in cheaper chairs tend to be less durable and prone to tearing or fading when exposed to harsh conditions. 
Best camping chairs: top 8
In this article, you'll find a round up of the latest camping chairs. We've selected a range of options with the majority being chosen for their low weight, packability and the potential to be carried in a backpack. We've also added one or two that will be suitable for base camp use – so for van and car camping, festivals and things like picnics and beach trips. Prices range all the way from $25 to $160 (£28 to £150)
Helinox Chair One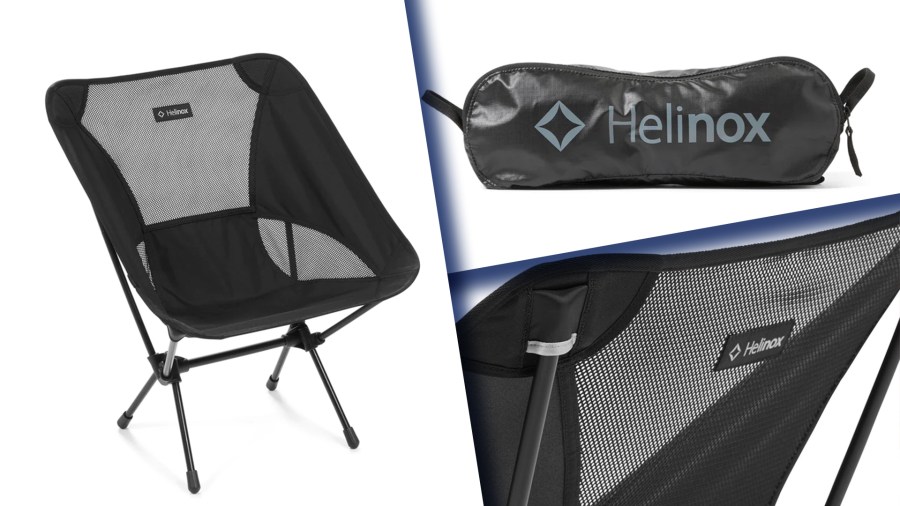 Price: $120 | £100 Available at Amazon
Weight: 1.96 lbs | 890g
Pros: lightweight, packable
Cons: very low to the ground
Helinox are one of the world's leading brands when it comes to lightweight camping furniture and this, the Helinox Chair One, is one of their bestsellers. It's a design that a lot of other companies have sought to mimic. 
At 890g, this thing is about as light as camping chairs come and it's packable too. In its little case, it's no bigger than a loaf of bread and it's therefore possible to slot it into a large enough hiking backpack alongside your overnight kit. Gram gremlins might find it too much of a luxury to take on multi-day hikes but some will certainly see that extra 890g worth it for the convenience it provides in the evening. 
Perhaps most importantly, this chair is really comfortable too. OK you don't have rests for you head or arm but it still provides comfortable support for your back and lets you sink back in a nice reclined position. 
At a standing height of 66 cm, and sitting 27cm off the ground, it's a low profile chair but with a load bearing capacity of 319 lb / 145kg, it's fair to say it's a small but mighty product. 
Materials: Aluminum alloy frame, fibre-reinforced pole hubs, ripstop nylon fabric | Assembled dimensions: 66 x 50 x 52cm | Packed dimensions: 10 x 35 x 12 cm | Max load: 319 lb / 145kg. 
Available at: helinox.eu
Big Agnes Big Six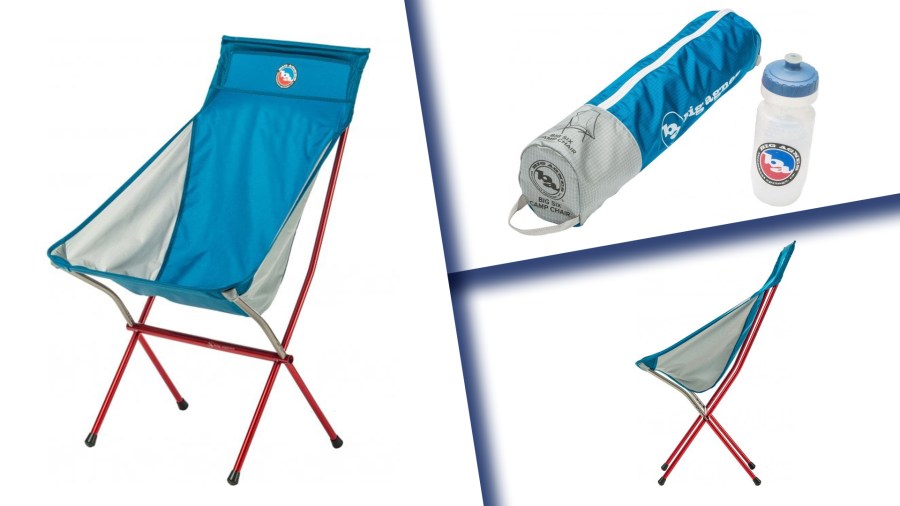 Price: $140 | £170 Available at Alpine Trek
Weight: 3 lbs | 1.36 kg
Pros: light, comfortable, strong
Cons: a little high for those under 5 ft 5

While it wouldn't be totally unrealistic to fit this in a backpack, it's still a little on the heavy and bulky side to be yomping miles with. It's more suited to things like van life and car camping, where you want something that isn't going to take up loads of space when it's all packed up. 
What's great about this chair is that it offers both back and neck support, so you can really sink into it. It's also surprisingly high, making it easier to climb in and out of than some chairs and allowing you to take the load off your feet. 
The pole system is made from a lightweight but strong aircraft aluminum and the main fabric is a high-tenacity nylon with a polyester ripstop for tear strength and a waterproof UTS coating.
You can also, by the way, get add-on arms with cup holders for this chair – purchased separately.

Materials: aluminum, nylon with polyester ripstop | Assembled dimensions: 61 x 66 x 101 cm  | Packed dimensions: 9 x 11 x 53 cm | Max load: 300 lb / 136kg.
Available at: bigagnes.com

Therm-a-rest Trekker Chair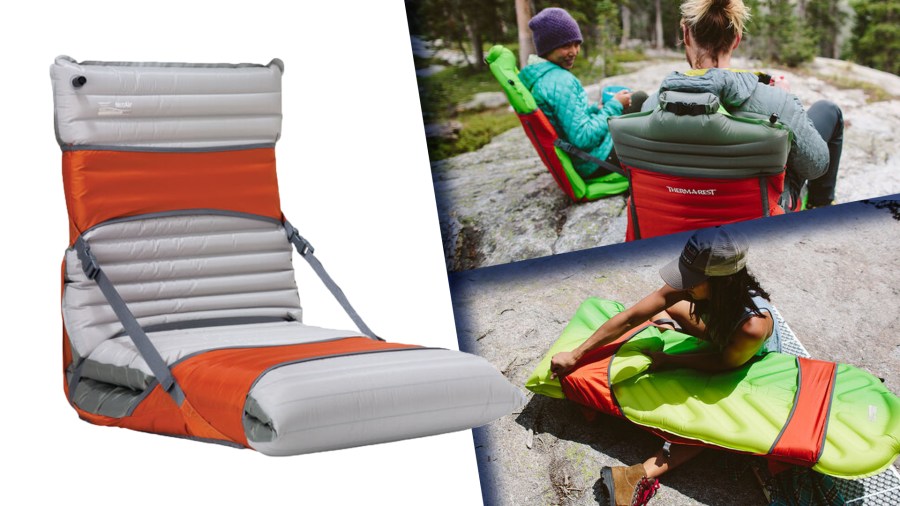 Price: $65 | £55
Weight: 0.63 lbs | 290g
Pros: light & packable
Cons: risk of puncturing sleeping mat

Most backpackers won't want to carry the extra weight of a chair on their multi-day hiking adventures. They might want to carry something that converts their sleeping mat into one though. 
Compatible with most sleeping mats – be they by Therm-a-rest or not – the Trekker Chair weighs just 290g, is super easy to use and it makes for a very comfy and supportive recliner. 
Assembly is quick and easy once you know how to do it. Fortunately, Therm-a-rest have a handy little video that shows exactly what you need to do. 
The material of the chair provides a lining to protect your sleeping mat from the ground, though you do still want to take a bit of care to avoid getting a puncture. 
Materials: 75D ripstop polyester, fiberglass stays | Assembled dimensions: 127 x 63.5 cm | Packed dimensions: 15 x 53 cm  | Max load: 299 lb / 136kg.
More info: thermarest.com

Sea to Summit Air Chair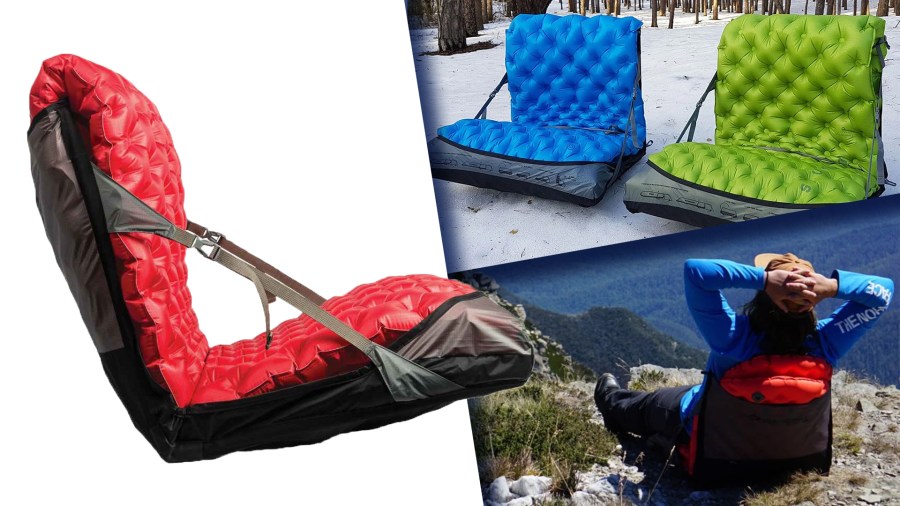 Price: £50
Weight: 0.50 lbs |  230g
Pros: light & packable
Cons: risk of puncturing sleeping mat

This is very similar in design and concept to the Therm-a-rest Trekker Chair above, though it's tough 70D Cordura base with 2000mm waterproofing might just give it the edge. It's also ever so slightly lighter at 280g / 1- oz. 
The Sea to Summit Air Chair features an adjustable strap system that securely holds your sleeping mat in place, transforming it into a stable and supportive chair. It is compatible with a wide range of backpacking sleeping mats, including various sizes and thicknesses. The strap system allows for easy attachment and adjustment, ensuring a snug fit and optimal comfort.

Materials: 70D Cordura nylon base, ultra-sil upper fabric, elasticated gusset.

Available at: seatosummit.co.uk

Mountainsmith Slingback Chair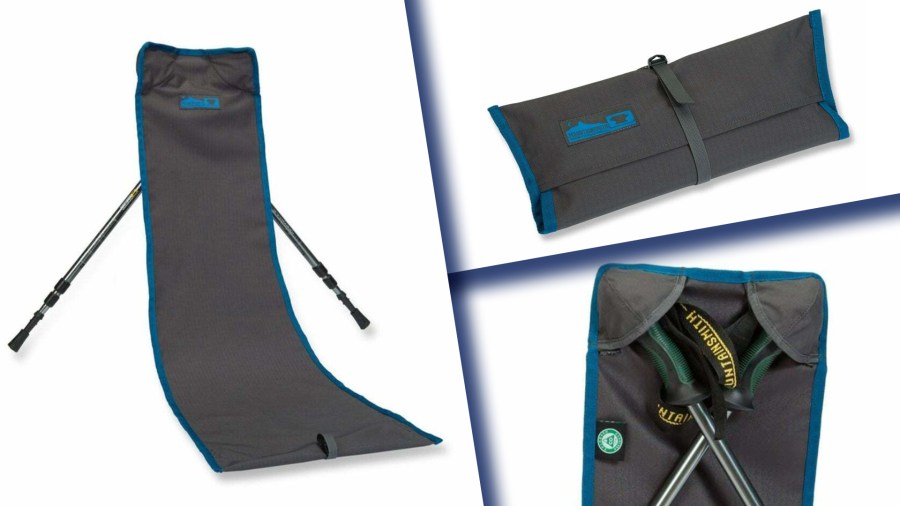 Price: $25 | £28
Weight: 0.31 lbs | 144g
Pros: light & packable
Cons: no padding or insulation

Like the options above from Therm-a-rest and Sea to Summit, this is designed to utilise the kit you might already have to make a comfortable chair to sit on.
All it is is just a long piece of toughened fabric that has two little corners to slot the handles of your trekking poles into. It's a simple concept, but it makes for a surprisingly sturdy and comfortable back support. You might just want to combine it with your own foam sit pad to provide a bit of insulation for your bum. 
While it might be a lot more basic than some of the options in this round up of the best camping chairs, it is at least the lightest, coming in at just 144g. It's also the cheapest, the most packable and the most realistic as a companion for any long distance trips.

Materials: 610D Cordura nylon | Assembled dimensions:101 x 38cm | Packed dimensions: 38 x 14 x 2cm.
Available at: mountainsmith.com
Nemo Moonlite Reclining Chair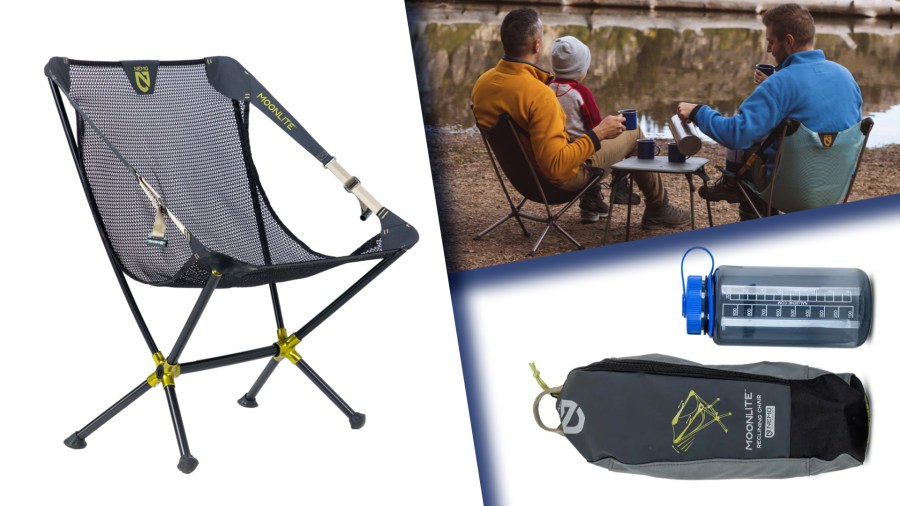 Price: $160 | £150
Weight: 1.87 lbs | 850g
Pros: light, convenient
Cons: low to the ground

This follows a similar design to the Helinox Chair One, only it's lighter. Nemo, a brand renowned for their excellent two-person tents, have cleverly shaved off a few dozen extra grams by using a mesh main fabric and replacing the side arms with straps. That mesh main body is also totally seamless, so there are no flash points where the fabric might start to come under stress. On that note, this thing's capable of accommodating a whopping 136 kg of weight. 
What's also impressive about this chair is that it has two-way buckles on each side that allow you to adjust how much of a recline you want. There are also clever geometric feet that create stability on rocky and uneven surfaces. 
Materials: aluminum frame, 100% polyester seat, ball and socket connection | Assembled dimensions: 52 x 51 x 65 cm  | Packed dimensions: 10 x 10 x 35 cm | Max load: 136kg.
Available at: nemoequipment.com

Montbell L.W. Trail Chair 33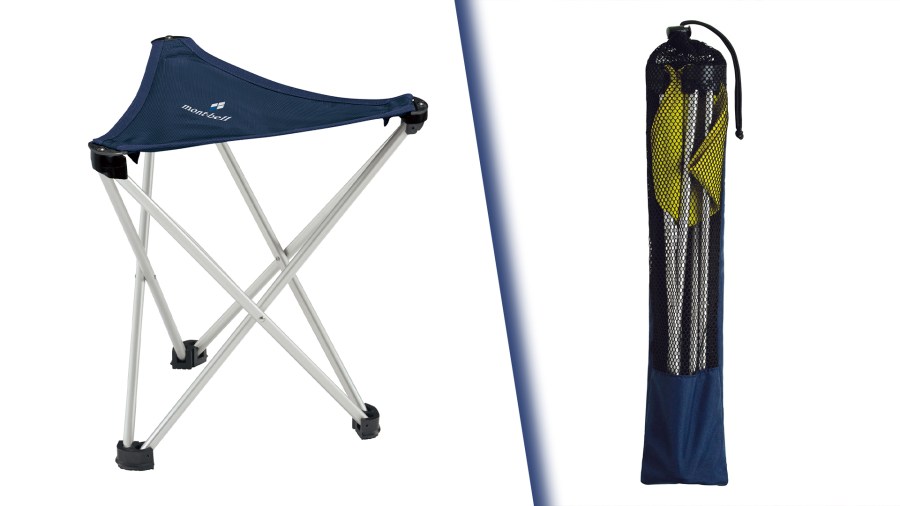 Price: £50
Weight: 0.82 lbs | 372g
Pros: very light and packable
Cons: basic, quite expensive

OK this might not be a chair per se, but you do sit on it and it is very, very light. So we thought that made it worthy enough of inclusion in this round up of the best camping chairs. 
This thing weighs just 372g and it's packs down to a very convenient size, so it's very easy to transport inside your backpack or attached to the outside of it. The little mesh bag it comes with helps transportation-wise too. 
It's made from a super tough 600-denier polyester with a PVC coating for water resistance, with an anodized aluminum alloy used for the legs. Load bearing weight is 80kg, so there will be some people out there who might want to steer clear of this. 
Materials: 600 -denier polyester with PVC coating, extra super duralumin frame | Assembled dimensions: 34 x 33 x 29 cm | Packed dimensions: 7.5 x 43 cm | Max load: 176 lbs / 80kg
Available at: montbell.com

Ticket to the Moon Moon Chair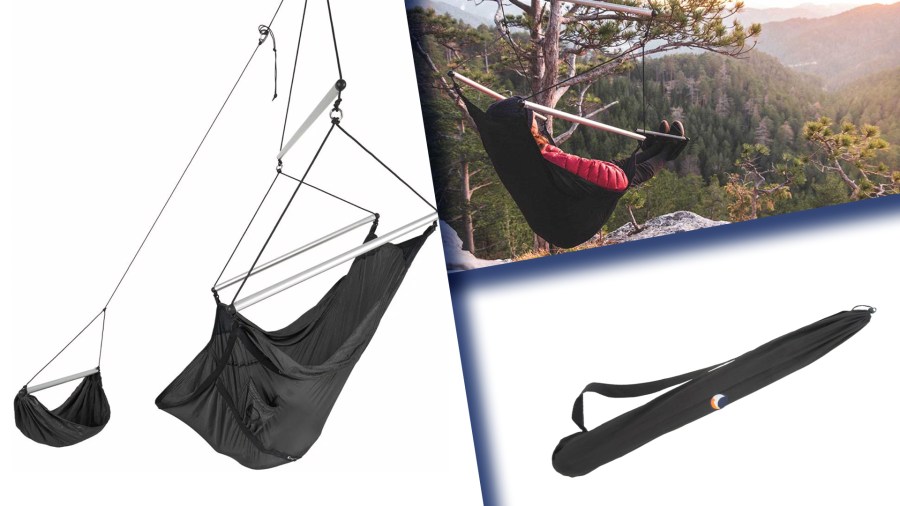 Price: $90 | £90
Weight: 3.75 lbs | 1.70kg
Pros: comfortable
Cons: requires a hanging point
Ticket to the Moon have taken their hammock-making knowledge and transferred it to a chair – well, it's kind of a hammock that you sit in. 
The whole thing is hung from one single point – be that a tree branch, hook or beam – and features a quickly adjustable backrest and removable footrest. It's made from reinforced parachute silk nylon that's triple-stitched and the rings are all made from stainless steel. 
It weighs 1700g / 3 lb 75 oz, so it's not necessarily something that many people will want to take backpacking with them but it'll be great for van lifers, car camping or day trips. 
There are two versions of it; the standard, which can hold up to 120kg, and the Mini, which is perfect for children weighing up to 60kg. 
Materials: | parachute-silk nylon, aluminum spreader tubing, stainless steel adjustment rings | Packed dimensions: 98 x 15 cm | Max load: 264 lb / 120kg. 
Available at: tickettothemoon.com

Vango Titan 2 Oversized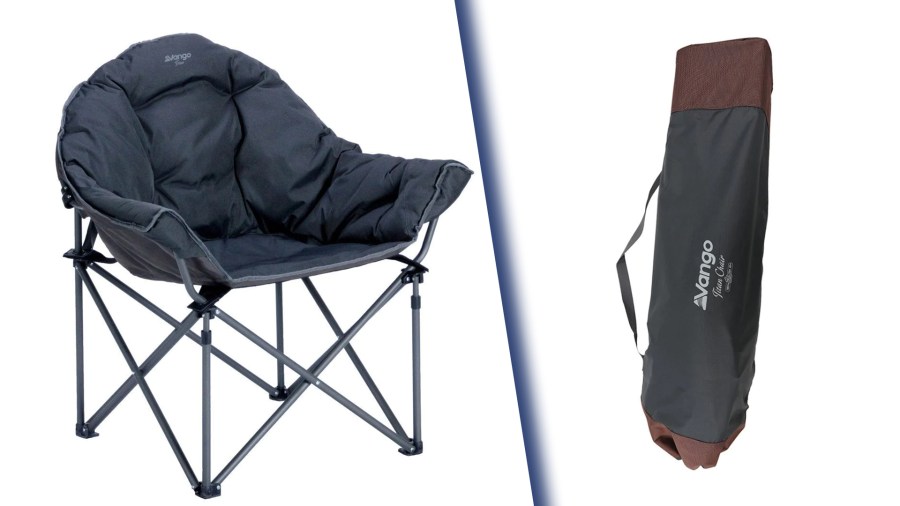 Price: £115
Weight: 6.3kg
Pros: very comfortable
Cons: heavy, basic materials
This is the heaviest and bulkiest item in this round up, but it's also the comfiest and we thought it'd be worth inclusion for any van lifers or car campers who aren't too bothered about size and weight. 
It's essentially a packable armchair, with luxurious padding on the base and around the back and a wrap-around design to sink into. 
Like standard camping chairs, it folds up and can be slipped into a carry case which has a webbing handle
Materials: polyester fabric, steel frame | Assembled dimensions: 80 x 87 x 93 cm | Packed dimensions: 30 x 105 x 25 cm | Max load: 180kg.
Available at: vango.co.uk
You may also like:
Best one-person tents reviewed