The Great Outdoors team's favourite walking trousers for this year. We've selected a bunch of different options to suit a variety of outdoor adventures – and budgets too. 
Trousers that are specifically designed for hiking can potentially make a big difference to your ability to enjoy a trip out on the trails. A good pair of hiking pants will protect you from rough rock and from things like branches and thorns, they'll also regulate your temperature and block out moisture, wind and UV rays too. Pants that aren't designed for hiking – like jeans, jogging bottoms or basic leggings – just aren't going to cut it when the going gets even remotely tough, and they have the potential to make the day even tougher for you. 
So what are the best hiking pants? What kind of materials do you want to be looking for and what kind of details and features are required? I'll fill you in on all you need there down at the bottom of this article. First, however, I'll highlight some of the options that I've had experience with and that have performed for me over the years.
Best hiking pants for 2023: our favourite walking trousers 
This article shows my pick of the best hiking trousers I've used over the last two years. Each pair was tested in three-season conditions, mainly in my home country of Wales but also in England's Lake District and the Highlands of Scotland. All of the products listed in this article are available in men's and women's versions.
Patagonia Point Peak Trail
Black Diamond Technician Pro
Cimalp Hoggar 3H
Fjällraven Abisko Trekking Tights Pro
Fjällraven Keb Trousers
Keela Scuffer
Pàramo Maui
Patagonia Point Peak Trail
Price: $139 | £140
Weight: 14.88 oz | 422g
Pros: light, comfortable, good adjustment
Cons: none
These pants are made from 90% recycled nylon and 10% double-weaved elastane, with a durable water repellent (DWR) finish that's free from nasty chemicals, including PFCs. 
The recycled nylon is made from post-industrial waste fibres, including discards from weaving mills and post-consumer fishing nets.
These have a slim fit with abrasion-resistant panelling on the rear and on the from the front mid-thighs to the ankle cuffs. Handily, there are Velcro tabs on the waist and cuffs. You've also got mitered on-seam front pockets, two zippered thigh pockets, two zippered back pockets, and a gusseted crotch for extra mobility when scrambling. 
Available at: patagonia.com
Black Diamond Technician Pro Alpine
Price: $165 | £140
Weight: 20.77 oz | 589g
Pros: good waist adjustment, numerous pockets, water resistant
Cons: no ankle adjustment
The Technician Pro Alpine Pants use a water-free and PFC-free DWR treatment that is said to be much more durable than traditional DWR treatments thanks to a method of 'covalent molecular bonding'. This means that the DWR won't weaken every time you stick these in the washing machine.
These have a single zipped thigh pocket, two harness compatible hand pockets and a single back right pocket to store valuables. 
The waist can be adjusted by a 'ladder lock' system with a hook and numerous webbing loops. The ankle cuffs feature a neat bungee that allows them to be tightened to keep the fabric from flapping or ticks from crawling up your trousers legs. 
Available at: blackdiamondequipment.com
Fjällraven Abisko Trekking Tights Pro
Price: $150 | £150
Weight: 8.64 | 245g
Pros: durable, comfortable, good pocket options, light
Cons: no boot coverage to keep out debris
I've used the male equivalent of these in the past (and my other half now owns a pair of them). They're made from a recycled, fluorocarbon-free polyester (71%), elastane and polyamide, with a matte, opaque finish. It's also worth noting that the fabric is double-knitted for extra durability and it's reinforced on the backside and knees with a hardwearing Cordura. 
The waistband has an adjustable drawcord on the inside for varying waist sizes. There are also map-sized (or phone-sized) stretchy pockets on the legs with secure envelope closures that are slightly tilted for easy access.
Available at: fjallraven.com

Fjällraven Keb Trousers
Price: $235 | £215
Weight: 19.04 oz | 540g
Pros: Durable, good pocket options, ventilation
Cons: heavy, quite expensive
Fjällraven's Keb trousers are made from polycotton with stretchy panels made from a mix of polyester, polyamide and elastane. The polycotton is Fjallraven's G1000 Eco which uses recycled plastics and organic cotton and this can be treated with the Swedish brand's Greenland Wax to add wet weather resistance. 
Ventilation zips are located on the thighs and shins and, along with the handwarmer pockets, there's a large map-sized button-down pocket on each leg.
The ankle cuffs have poppers for volume adjustment and feature metal hooks that can be fastened to your boot laces to keep your trousers legs low down on your hiking boots to prevent debris and insects from entering them.
Fjällraven are good at making trousers, with a particular focus on articulation and comfort, and they haven't dropped the ball with this classic pair.
Available at: fjallraven.com
Keela Scuffer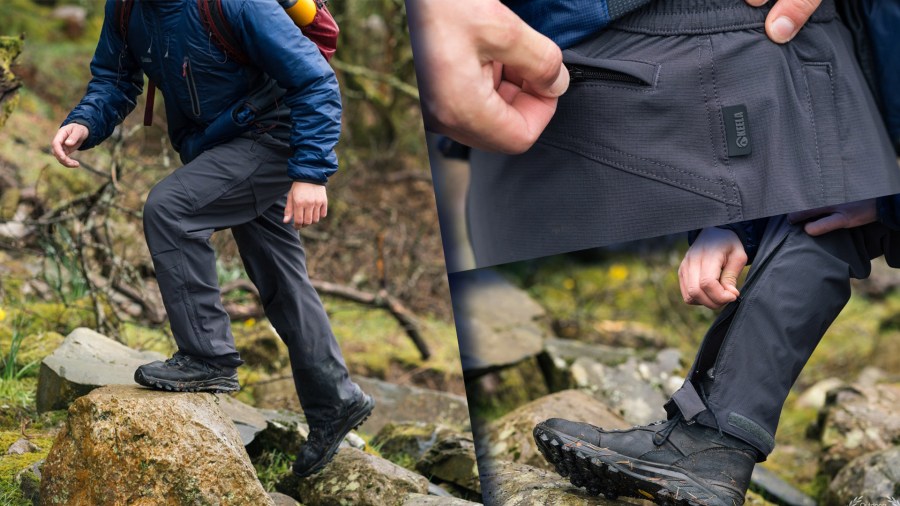 Price: £80
Weight: 19.18 oz | 544g
Pros: comfortable, practical, adjustable
Cons: baggy fit might not be for everyone
These are light and loose trousers that are extremely comfortable and very practical for hiking in. They're made from a lightweight and stretchy synthetic blend with reinforced panels on the in-step to prevent the fabric from crampon spikes. 
The ankle cuffs have Velcro adjustment tabs and zips, meaning you can open the base of the trousers up for ventilation. This also lets you adapt the trousers to fit over mountaineering or scrambling boots when required. 
Details on the Keela Scuffer include a webbing belt that can be removed, zipped handwarmer pockets with a security pocket within one of them, a zipped fly and a reinforced backside. You also get useful side zips on the thighs for ventilation.
Available at: keelaoutdoors.com
Pàramo Maui
Price: £75
Weight: 11.81 oz | 335g
Pros: lightweight, quick-drying
Cons: not great water resistance
These are best suited to any summer hiking but they'll also serve well on milder spring and autumn days as well. The brand's Parameta A Cotton+ fabric is used here, a blend of organic cotton and synthetics. It's fast wicking, so it'll spread any moisture out thinly enough to allow it to evaporate quickly. It's also quite a dense weave with a ripstop construction and that makes it tough enough to withstand rough rock and branches – and to block out UV rays and biting insects too. 
The fit isn't baggy but it's still loose enough to accommodate a baselayer underneath. There's an OS map-sized cargo pocket on the thigh with a Velcro fastening and a hidden zipped pocket inside it which will fit a passport. There's a zipped pocket on the backside that's the right size for a wallet or phone and then two open handwarmer pockets. The waist is elasticated slightly, it's buttoned up and has a zipped fly and there are belt loops too. 
Available at: paramo-clothing.com
Cimalp Hoggar 3H
Price: $85 | £60
Weight: 13.75 oz | 390g
Pros: Good value, waterproof, useful details
Cons: hot in mild conditions
This pair of trousers will suit three-season hiking in unpleasant conditions and they'll be ideal for winter use too. 
They might look like standard softshell trousers but they are in fact waterproof. The fabric, which features CimAlp's proprietary waterproof membrane, has a hydrostatic head of 10,000mm and the seams are all thermo-sealed. 
There are two zippered front side pockets and a large, pleated pocket on the right thigh which is ideal for items like phones, keys and cards. The knees are pre-shaped for complete unhindered movement and the waistband is part elasticated, with adjustable belt loops to tailor to your size. There's even a mini compass built into one of the zip pulls, an integrated belt and reinforced nylon crampon guards.
CimAlp advise that if you are choosing between two sizes, opt for the smaller size as these come up slightly large. 
What are the best hiking pants?
When choosing hiking trousers, one of the most important things to consider is the time of year you require them for. A pair that will suit summer will, in most cases, not be suitable for winter and vice versa. With that in mind, if you're a year-round hiker you might want to have a lightweight pair for warm, summer conditions and then a thick, insulating pair for cold winter conditions. 
In this round-up, I've selected trousers that, from my experience, are specifically suited to three-season hiking. For outdoor adventures from spring through to autumn, you want trousers that offer the following:
The right balance between breathability, durability and water and wind resistance
Trousers made from softshell materials tend to strike a good balance in this regard. These are usually made from polyester or nylon or a blend of the two, combined with elastane for a bit of stretch. You also see a lot of outdoor trousers that are made from polycotton – that's a blend of polyester and cotton. Many Fjällraven and Craghoppers trousers use this type of material. It tends to have good durability and wind resistance, but it has a lower resistance to moisture and a longer drying time than fully synthetic trousers. Some of these types of trousers, can be treated with wax to add extra water resistance. 
Fabrics that are specifically designed for outdoor activities, such as ripstop nylon or polyester blends, tend to be more durable and resistant to tears and abrasions. The stitching and construction, including any additional reinforcements in critical areas also increase the durability of hiking trousers. 
Features and details to look out for
Here are some of the smaller details that aren't necessarily essential in all cases, but are certainly very useful to have.
Pockets
Pockets are, of course, handy to have – though some hikers will require more than others. A pocket that can store a map or GPS device and make it quick and easy to access and put away is always very useful.
Ventilation
If you tend to run quite warm you might want to consider trousers with ventilation options. This can be in the form of a simple zip on the thigh or even trousers legs that can be fully removed. While these essentially give you a pair of trousers and shorts all in one, the downside is that the zips can often be flimsy, easy to break and difficult to fix.
Panels and stitching
Areas more prone to abrasion, like the knees, seat and instep, often have thicker, reinforced fabric panels. Look for double- or even triple-stitched seams for added durability in any areas that tend to be stretched – at the crotch, for instance.
A note on fit
Fit can vary from brand to brand so it's always a good idea to try before you buy when it comes to hiking pants. 
I personally like to look for trousers that have a relaxed and flexible fit but that aren't so baggy that they feel heavy or flappy in the wind. Flex at the knees and at the crotch is important, especially for things like climbing and scrambling. Knee darts and a gusseted crotch improve overall fit and articulation, enhancing mobility.
Some trousers will come with an in-built hipbelt while others come with belt loops. There are also some that are simply elasticated or that have poppers or velcro for adjustment. 
You may also like: