If you plan to head off the beaten track and are likely to experience mud, bog and wet ground and rock, then the Inov-8 Roclite provides excellent confidence and features in our guide The best trail shoes for hiking and hillwalking. The outsole, with its deeper lugs, gives great traction, whilst a slimmer sole offers good ground-feel and ankle stability. 
The soles are made with graphene, which inov-8 say deliver "incredible levels of performance that last for longer". Having tested plenty of graphene-soled inov-8 shoes, the grip is good but there are other rubber compounds that are as grippy. I can't say I feel 'super-charged' either; and whilst the soles do wear quite well, the tread diminishes surprisingly quickly for a material that is "the strongest on earth".
Back to the Inov-8 Roclite G315 shoes specifically, the foam midsole and META-PLATE (the protective underfoot rock plate) provide a comfortable feel whether walking or running. I am surprised there is an 8mm drop because the shoes seem more naturally flat. The fit is fairly supportive, and they will suit mid-width feet. 
There are lighter inov-8 shoes on the market, but the Inov-8 Roclite G315 has a more robust upper, plus a Gore-Tex membrane, which helps fend off the wet and rough ground in the Highlands. 
There is less cushioning than other shoes I've tested and this could leave your feet weary if you have miles of hard-packed trails to cover. However, they are ideal for outings where there is a mix of walking and running on softer and rougher terrain. The price is the highest amongst those I have tested but they are the best all-round performers.
See other trail shoes in our guide to The best trail shoes for hillwalking
---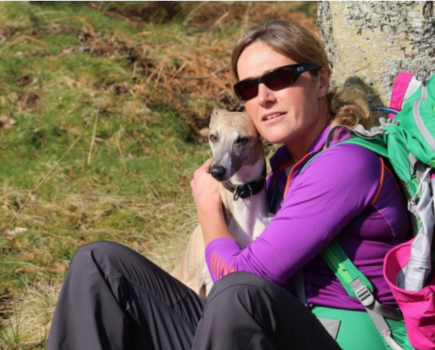 Written & tested by Fiona Russell
Fiona is a size UK8.5 and has a narrow foot. She is a keen trail and hill runner, as well as a hillwalker. To test the trail shoes, she walked and ran in each pair on the full range of terrain, from forest tracks to off-path mountain slopes, through peat hags, bog and streams and on ground covered in tussocks, heather, rocks, stones and grass.