The best 2 person tents come in a number of different style, shapes and sizes. Some are made for all-season camping and will be designed to be able to shrug off high winds and snowfall, while at the other end of the scale you have ultralight and minimalist designs that offer just enough protection for the elements to keep you comfortable on summer nights. This article will highlight the best 2 person tents that we think strike the right balances and tick the right boxes for three-season backpacking trips – so that's overnight trips during spring, summer, and fall seasons, typically in conditions with mild to moderate weather. We've also looked at the best one-person tents for backpacking if you don't need the extra space a two-man tent will offer or the best family tents if you're after something a lot bigger and slightly more luxurious.
To compile this list we've considered space-to-weight ratio, performance, features, convenience, value and and comfort. Primarily, as we're looking at tents designed for backpacking, we've chosen to highlight options that are comfortable for two people to lay out two full-length sleeping mats, that have a big enough porch to store hiking backpacks and hiking boots and that have space to cook safely.
Jump down to the bottom of this article for our detailed guide on what to look for when buying a 2 person tent. We've covered everything from the pros and cons of inner-pitched-first tents versus outer-first ones through to things like hydrostatic heads and breathability ratings.
How we tested them
All but the Nordisk and Nemo in this review were tested and selected by our chief reviewer, Chris Townsend. Chris lives in the Cairngorms National Park where the majority of his tests were conducted from mid spring through to mid autumn. Alex tested the Nordisk tent during a two-night trip in the Cairngorms camping in spots at around 600 and 700 metres. Will Renwick tested the Nemo tent during an excursion through the mountains of the Lake District in summer conditions.
---
The 10 best 2 person tents reviewed 2023
The following list shows the 10 best 2 person tents that our gear team have tested. The initial test was carried out for our print issue last year and has been updated for 2023. All options have been fully assessed on backpacking trips and considered for their practicality, performance, reliability and value, all in the context of three-season use.
Nemo Dagger OSMO 2P – Best buy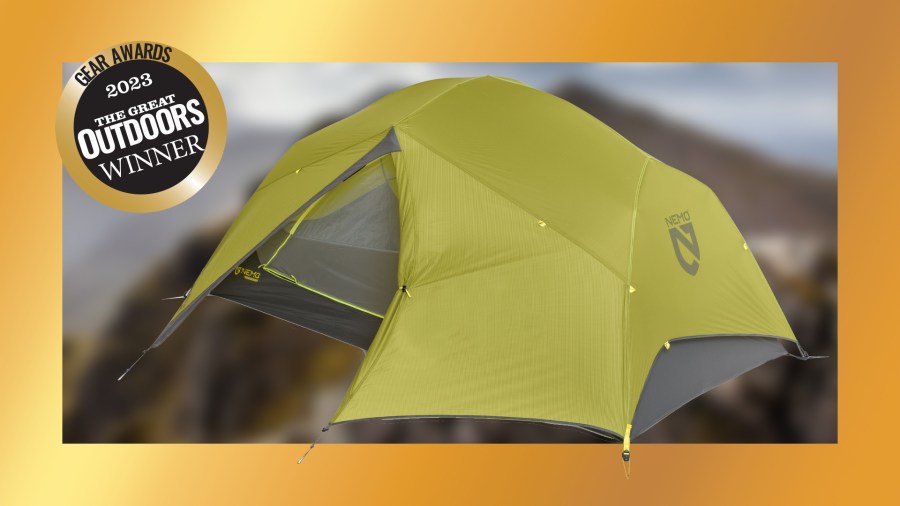 Rating: 4.5/5
Likes: Excellent space-to-weight, innovative fabric
Dislikes: Expensive, inner-first pitching
Price: $480 | £510 | Available from Wildbounds 
---
Weight: 3 lb , 6 oz | 1.52 kg | Packed weight: 4 lb , 2 oz | 1.86 kg | Packed size: 19.5 x 6.5 x 3.5 in | 50 x 16 x 9 cm | Height: 42 in | 106 cm | Floor dimensions: 90 x 50 in | 229 x 127 cm | Flysheet: OSMO | Inner: 0D OSMO Ripstop (2000 mm) and Nylon Ripstop/ No-See-Um Mesh.
---
The Dagger OSMO from U.S. outdoor equipment experts, Nemo, offers ample space for two people to stretch out, with two large porches for gear and cooking equipment. The tent is easy to set up and features Nemo's new OSMO fabric, which is PFC-free, 100% recycled and offers 4x more water repellency than standard tent fabrics.
Useful features include numerous internal pockets, a removable "Landing Zone" to keep gear stored in the porch off wet ground and colour-coded pole ends and docks.
While slightly expensive, the Nemo Dagger OSMO is a good option for backpackers looking for a lightweight, versatile, roomy and comfortable shelter. The fabric has a notable quality to it; it's light but it doesn't feel at all flimsy. I've found the fabric really does hold its shape too, so there's no need to correct your pitching after a night of rain to keep the tent walls taut.
I was also really impressed by the overall space-to-weight of the Nemo Dagger OSMO (£510). At 1.86kg it is relatively light and its two large porches, large sleeping area, steep-sided inner walls and high ceiling make it very liveable.
Read Will Renwick's full Nemo Dagger OSMO review
More info: nemoequipment.eu
Sierra Designs Meteor 3000 2P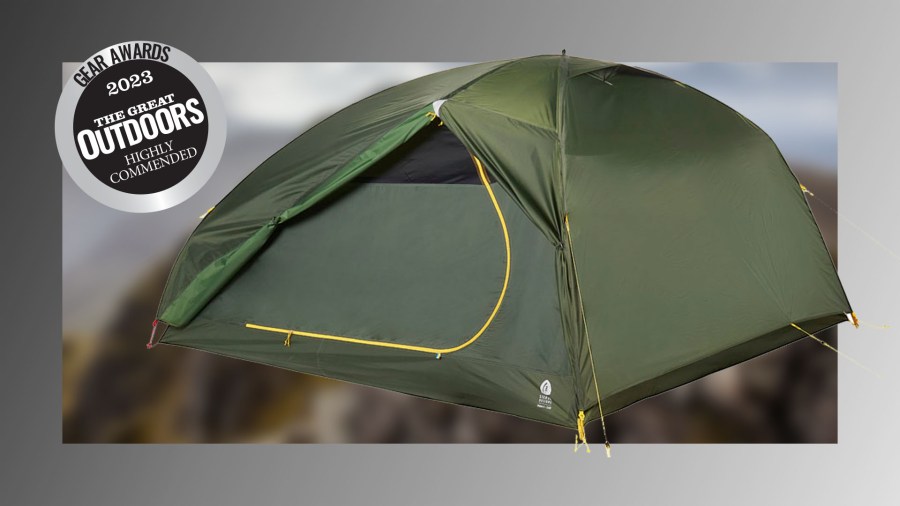 Rating: 4.5/5
Likes: roomy, good headroom, large porches, price
Dislikes: inner-first pitching
Price: £250 | International shipping | Available from Amazon
---
Weight: 2.24kg | Pitching: inner-first | Flysheet: 68D poly taffeta, 3000mm hydrostatic head | Inner: 70% 68D poly taffeta uncoated/30% no-see-um mesh | Groundsheet: 68D poly taffeta, 3000mm hydrostatic head | Poles: DAC Pressfit aluminium | Pegs: 10 x 16cm V | Porches: 2 | Inner dimensions: 213x130cm, peak height 104cm
---
Sierra Designs is an American company that designed the Meteor range of tents specifically for the European market, mainly by upping the durability and weather resistance. The tents have PFC-free 3000mm flysheets made from recycled materials and durable inner walls to increase resistance to wind and rain.
It's freestanding, with the dome being formed by a single hub pole with four arms and then the ridge pole running over the top of it, creating a solid structure, steep-sided walls and a high ceiling, so there's plenty of room for two people inside. Big porches on either side create plenty of space for gear storage and for cooking.
There are lots of other likeable design details, including the fact that the fly can be half-rolled up on dry nights to allow for star gazing – or just better ventilation.
I found this was very quick and easy to pitch, thanks to its colour-coded poles, and it was reliable in strong winds. This is a great choice if you are looking for a backpacking tent designed for comfort without paying much of a weight or price penalty. I found the big porches to be particularly handy when using this tent on a day where all my kit got soaked. It meant I could keep it all in the porches and create a warm, dry and cosy bubble within the inner.
Read Will Renwick's full Sierra Designs Meteor 3000 2P review
More info: ultralightoutdoorgear.co.uk
Sea to Summit Alto TR2 Plus
SQUIRREL_BUTTON_12925866
Rating: 4.5/5
Likes: roomy, good headroom, two porches, multi- pitch options
Dislikes: floor hydrostatic head on low side
Price: $449 | £450 | Available from Sea To Summit
---
Weight: 3.01 lb | 1.40kg | Pitching: multi-option | Flysheet: 15D sil/PU nylon ripstop, 1200mm hydrostatic head | Inner: 20D nylon | Groundsheet: 20D sil/PU nylon ripstop, 2500mm hydrostatic head | Poles: DAC Featherlite | Pegs: 8 x 15cm V | Porches: 2 | Inner dimensions: 215×134/97cm, peak 105cm
---
Sea to Summit has a reputation for innovative designs. They've done it with sleeping mats and sleeping bags and now with tents too. The key feature is called Tension Ridge Architecture. What that means is that the ridge pole that goes over the hub pole is curved upwards instead of downwards to create excellent headroom, steep walls and big porches.
The Alto TR2 Plus has a durable fabric inner, offering more protection and warmth than tents with mesh inners. It can be pitched in five ways, including fly-first. The tent has two doors and two large porches, making it easy for both occupants to access gear and cooking supplies. Additionally, a pole bag doubles as a ceiling-mounted light diffuser for a headlamp.
Although the hydrostatic head of the groundsheet is on the low side, the tent performs well and offers plenty of space.
Read our full Sea to Summit Alto TR2 Plus review
Snugpak Journey Duo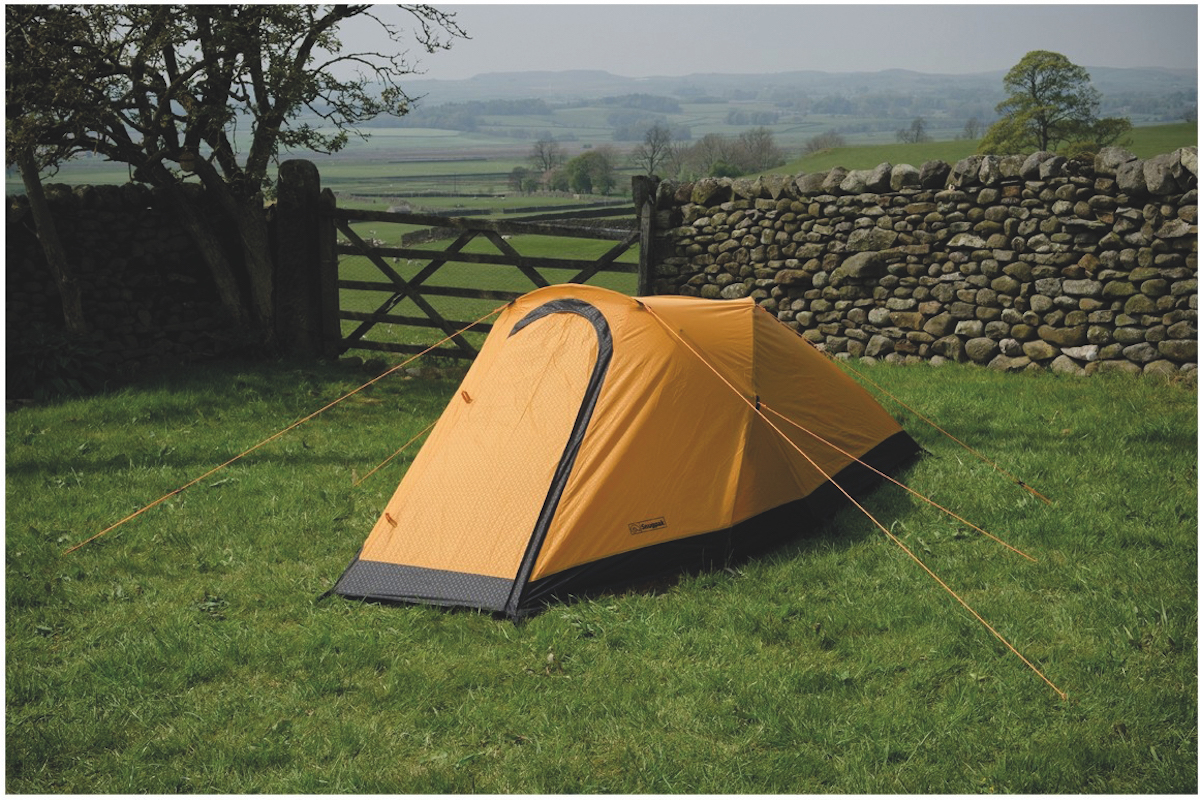 SQUIRREL_BUTTON_12925867
Rating: 3.5/5
Likes: very stable, price
Dislikes: inner-first pitching, single door
Price: $249 | £190 | Available from Amazon
---
Weight: 2.86kg | Pitching: inner-first | Flysheet: 75D polyester, 4000mm hydrostatic head | Inner: nylon with polyester | Groundsheet: polyester, 5000mm hydrostatic head | Poles: alloy | Pegs: 18 x 18cm Y | Porches: 1 | Inner dimensions: 220×135/100cm, peak height 98cm
---
The Journey Duo is a semi-geodesic tent, which makes it very wind-resistant when pitched with the rear into the wind. The fabrics are tough, with high hydrostatic heads. A footprint is provided. This adds another 335 grams to the already quite high weight but, in our tests this was found to not really be needed. There are much more expensive tents with thin groundsheets with much lower hydrostatic heads where a footprint has to be bought separately.
It was quick and easy to pitch (this is inner pitched first) during my tests and the two crossing poles, along with the multiple pegging points and guylines, create a very solid and aerodynamic structure. In strong winds one night, I was able to sleep peacefully in this knowing it would hold up.
Aside from its rather heavy weight, the main downside is that the porch is quite small, but other than that it's a good value tent.
Read our full Snugpak Journey Duo review
Alpkit Ordos 2 – Best value 2 person tent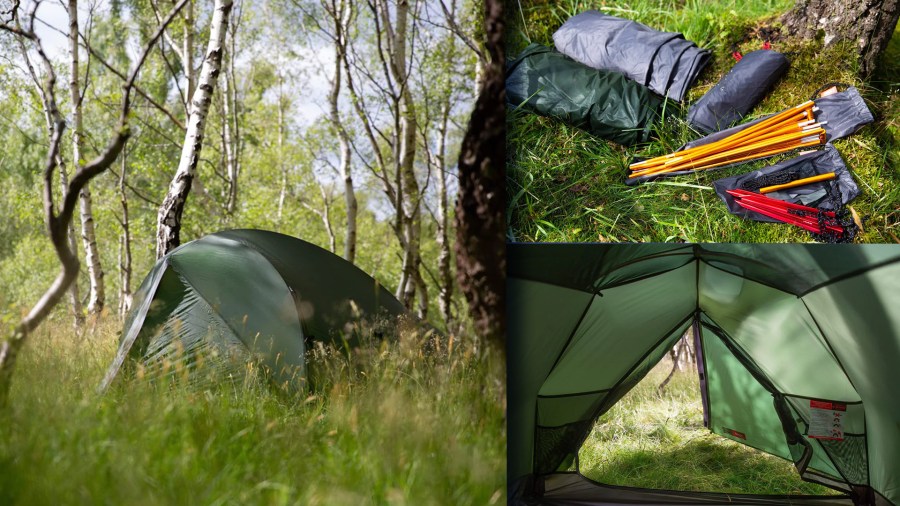 Rating: 4/5
Likes: lightweight, price
Dislikes: inner-first pitching, single door
Price: $310 | £200 | Available from Alpkit
---
Weight: 1.59kg | Pitching: inner-first | Flysheet: 15D PU nylon ripstop | Inner: 20D polyester mesh/15D nylon ripstop | Groundsheet: 20D PU/Sil nylon ripstop, 3000mm hydrostatic head | Poles: 7001-T6 | Pegs: 13 x 16cm DAC J | Porches: 1 | Inner dimensions: 210×134/100cm, peak height 95cm
---
This is an inner-pitched-first tent that, as is often the case with Alpkit, is excellent value. The materials are all lightweight and good quality – including the pegs, which are a lightweight DAC aluminum – and the structure was solid and reliable during tests. The packed size is long and thin, so it's convenient to strap onto the base of a backpack, onto a bike's handlebars or to slide down into a backpack.
It's a tapered wedge shape with the door at the high end. The inner clips onto a hub-connected three-part pole and can be pitched very quickly. The floor tapers to the rear but is wide enough for two mats. Headroom in the centre is reasonable but the walls slope in and there's only room for one occupant to sit up comfortably. The other issue I found was that the porch is quite small and, while it can just about fit two trekking packs and two pairs of boots, it's a squeeze and leaves no room for cooking under the porch in wet weather.
Read Chris Townsend's full Alpkit Ordos 2 review
More info: alpkit.com
Hilleberg Helags 2 review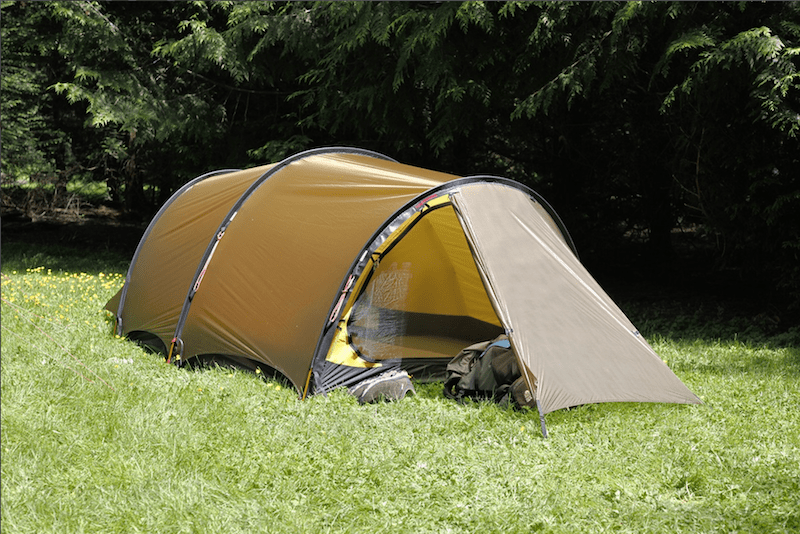 SQUIRREL_BUTTON_12925868
Rating: 4.5/5
Likes: roomy, good headrooms, large porches
Dislikes: expensive
Price: $1,040.00| £960 | Available from Alpine Trek
---
Weight: 2.38kg | Pitching: unit | Flysheet: Kerlon 1000 20D silicone- coated ripstop nylon, 5000mm hydrostatic head | Inner: 10D ripstop nylon /mesh | Groundsheet: 70D PU nylon, 15000mm hydrostatic head | Poles: 9mm | Pegs: 16 x 15vm Y | Porches: 2 | Inner dimensions: 220×120/140cm, inner height 86-100cm
---
This is a Hilleberg model that is specifically designed for three-season use and as such its made from lighter materials than those used on Hilleberg's four-season models. There's also more of a focus on ventilation, so the base of the tent is curved to create airflow and the mesh on the inner tent is designed to allow air to move through it.
I've found that the Helags 2 is still a tough tent, with a higher hydrostatic head for the flysheet than most of those tested in this round-up, plus it has a far higher groundsheet hydrostatic head than any of them. Hooped tunnel tents often tend to be very reliable in strong winds and this is no exception – so long as it's pitched with its head facing into the wind. I found this to be very easy to pitch as a unit and it was one of the roomiest 2 person tents I've tested, giving good headroom the whole length. There are also two porches with one on the tail and one on the side. This means that if the wind switches around, you can choose to use whichever door has the most shelter from the wind.
This is outer pitched first, meaning that you can use this without the inner tent as a basic shelter if needed. With pole holders (purchased separately from Hilleberg) there's also potential to use the inner tent without the flysheet.
As can be expected from Hilleberg – and at this price point – all of the materials are of exceptional quality.
Read our full Hilleberg Helags 2 review
More info: hilleberg.com
Robens Challenger 2
SQUIRREL_BUTTON_4718524
Rating: 3.5/5
Likes: unit pitching, price
Dislikes: small porch, side door
Price: £200 | Available from LD Mountain Centre
---
Weight: 2.47kg | Pitching: unit | Flysheet: 75D polyester ripstop, 5000mm hydrostatic head | Inner: 68D polyester | Groundsheet: 75D polyester, 10000mm hydrostatic head | Poles: 8.5mm Yunan Alloy 7001, T6 | Pegs: 13 x 17cm V | Porches: 1 | Inner dimensions: 215×120/105cm, peak 95cm
---
The Challenger 2 is a tapered two-pole tunnel tent with the door along one side rather than at the high end. This long, wide door is great for easy access, ventilation and views – but it does mean that one occupant has to move the other or clamber over them to get in or out. It also means the door has to be closed more often than with a front opening tent to keep the weather out as far more of the inner is exposed.
It is clearly a robust tent made from high-quality materials, and my impression is that it will withstand years of regular use without any durability issues. The flysheet is madef rom 75D ripstop polyester with a 5000mm hydrostatic head. This is tough and highly waterproof, and it performs very well even in heavy, sustained rain. The groundsheet is also 75D ripstop polyester with a 10,000mm hydrostatic head, making it suitable to pitch on rough or wet ground without needing an additional footprint. Initially it feels as if ventilation options are a little limited, but the kickstand vent on the flysheet can easily be opened and this helps keep condensation to a minimum.
Guy line retainer clips do a great job of preventing guys from tangling when packing away the tent. Glow-in-the-dark zip pulls area nice touch as well, and I appreciated the gear rope running the length of the inner– ideal for drying socks. It's robust, with some really handy features. But for a tent weighing in at 2.4kg, it does feel a little cramped for two.
Read our full Robens Challenger 2 review
More info: robens.de
Terra Nova Laser Compact All Season 2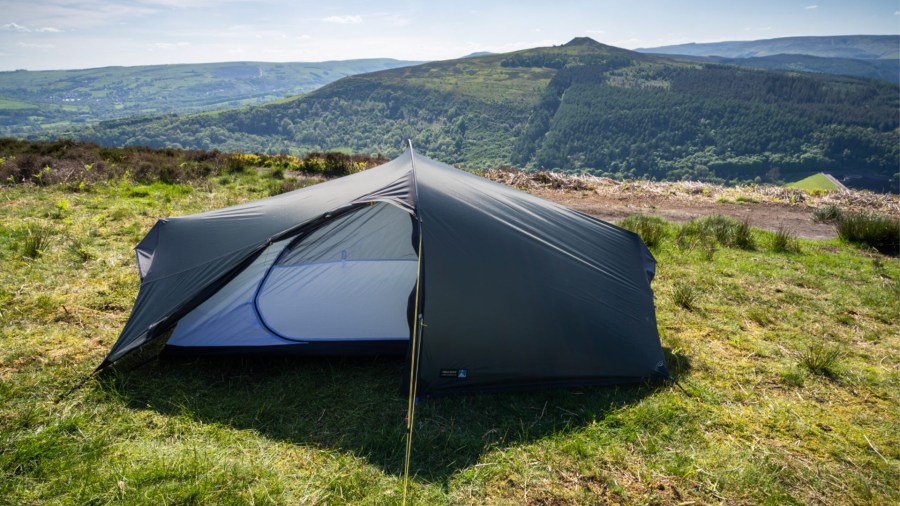 SQUIRREL_BUTTON_12925869
Rating: 3.5/5
Likes: tough fabrics, two doors, unit pitching
Dislikes: small for two
Price: International Shipping | £500 | Available from Cotswold Outdoors
---
Weight: 1.83kg | Pitching: unit | Flysheet: 30D Watershed ripstop nylon, 5000mm hydrostatic head | Inner: ripstop nylon | Groundsheet: Waterbloc nylon, 10000mm hydrostatic head | Poles: 8.7mm DAC NFL | Pegs: 14 x 16.5cm | Porches: 1 | Inner dimensions: 230×105/90cm, peak 95cm
---
The Laser Compact All Season 2 is a tough tent that pitches as a unit and is designed for use year-round. Terra Nova has combined the single hoop design of the Laser with the fabrics of the Quasar, which is why this tent looks like a standard Laser but is a fair bit heavier. The hydrostatic head of the flysheet fabric is the equal highest of the tents tested, and the hydrostatic head of the groundsheet is the second highest.
Read our full Terra Nova Laser Compact All Season 2 review
More info: terra-nova.co.uk
Big Agnes Tiger Wall UL2 MTN GLO
SQUIRREL_BUTTON_12925870
Rating: 4/5
Likes: roomy, two porches, low weight, environmentally friendly
Dislikes: inner-first pitching, low floor hydrostatic head
Price: $450 | £450 | Available from Amazon
---
Weight: 2.60 lb. | 1.18kg | Pitching: inner-first | Flysheet: solution-dyed silicone/PU nylon, 1200mm hydrostatic head | Inner: solution-dyed nylon ripstop | Groundsheet: solution-dyed silicone/PU nylon, 1200mm hydrostatic head | Poles: DAC Featherlite NSL | Pegs: 9 x 15cm V | Porches: 2 | Inner dimensions: 218×132/107cm, peak 99cm
---
The Big Agnes Tiger Wall is an ultralight tent that, thanks to its thin fabrics, is roomier than most heavier tents. The fabrics are solution-dyed and more environmentally friendly, reducing energy and water use during manufacture.
Pitching is inner-first, which is easy and fast, though it does mean that there's the risk that the inner could get damp in rain.The inner is mostly mesh and features built-in LED lights that require three AAA batteries to run.
Two porches mean each person has their own door, and the porches are big enough for gear storage, cooking, and easy access. Big Agnes recommends using a footprint to extend the life of the tent floor, which adds 170 grams to the weight.
Overall, the Tiger Wall is a great choice for those who want plenty of room without much weight, but more care is needed than with heavier tents due to its thin fabrics.
Read our full Big Agnes Tiger Wall UL2 MTN GLO review
More info: bigagnes.com
Nordisk Telemark 2 LW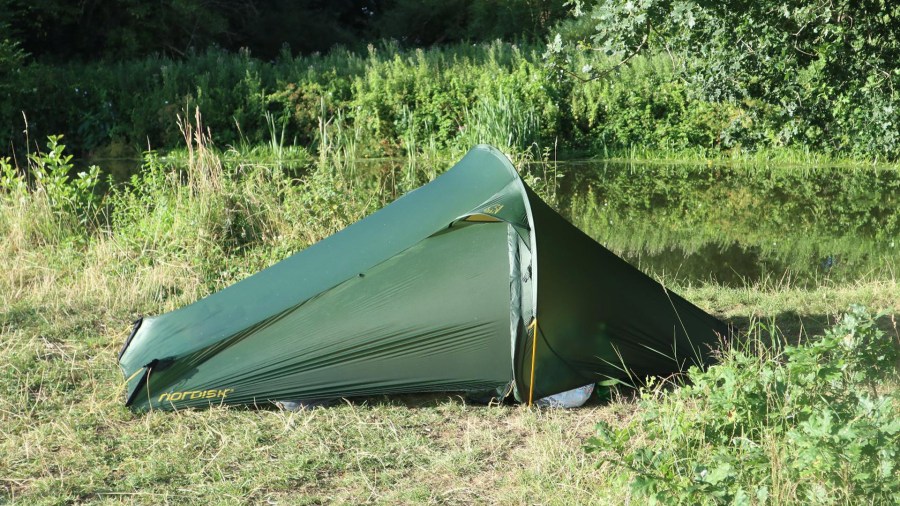 SQUIRREL_BUTTON_12925871
Rating: 4/5
Likes: Packed size, lightweight
Dislikes: Delicate materials, price
Price: International Shipping| £662 | Available from Amazon
---
Maker's weight: 880g | TGO weight: 994g | Flysheet: 10D ripstop nylon | Poles: Carbon Pegs: 4 x 16.5cm titanium V-peg | Inner Size: 220cms long, 135cms wide at door, 76cms & 102cms wide at ends, 100cms at high point.
---
This lightweight tent, which has been around for a number of years has now, is popular amongst the backpacking community. 

It's light, has a very small packed volume and it's capable of withstanding strong winds when pitched correctly.
The flysheet is made from ultralight silicon coated nylon and this is pitched first with the mesh inner then hung inside it (you can also pitch them together). The porch is quite small but it's still big enough for a backpack and your boots – and for cooking alongside them too. There's one single hooped pole and then two short poles at the foot of the tent that can be assembled together to create a rod for propping the tent door up, forming a canopy over the porch. 
While this might be made for two-person camping, those camping in this will need to be prepared to get cosy with their overnight companion as the space inside is quite small. It's actually lighter than many one-person tent designs out there, so it's ideal as a very roomy solo tent. For two people, this is probably best-suited to things like adventure races where you'll only be spending one or two nights camped out – a short enough time to be able to tolerate the lack of space.
A great feature is the ability to adjust the width of the inner via a tension strap. If you are using this tent solo and want as much porch space on one side as possible, you can restrict the width of the inner relative to the porch.
The porch doors can also be converted into a canopy on each side, by using additional short poles and guy lines. This is handy for cooking in the rain as you get a substantial cover over each porch. Rolling up the doors is quite fiddly however as the clips as very small – not ideal if you are wearing gloves.
Read our full Nordisk Telemark 2 review
More info: nordisk.co.uk
How to choose the best 2 person tent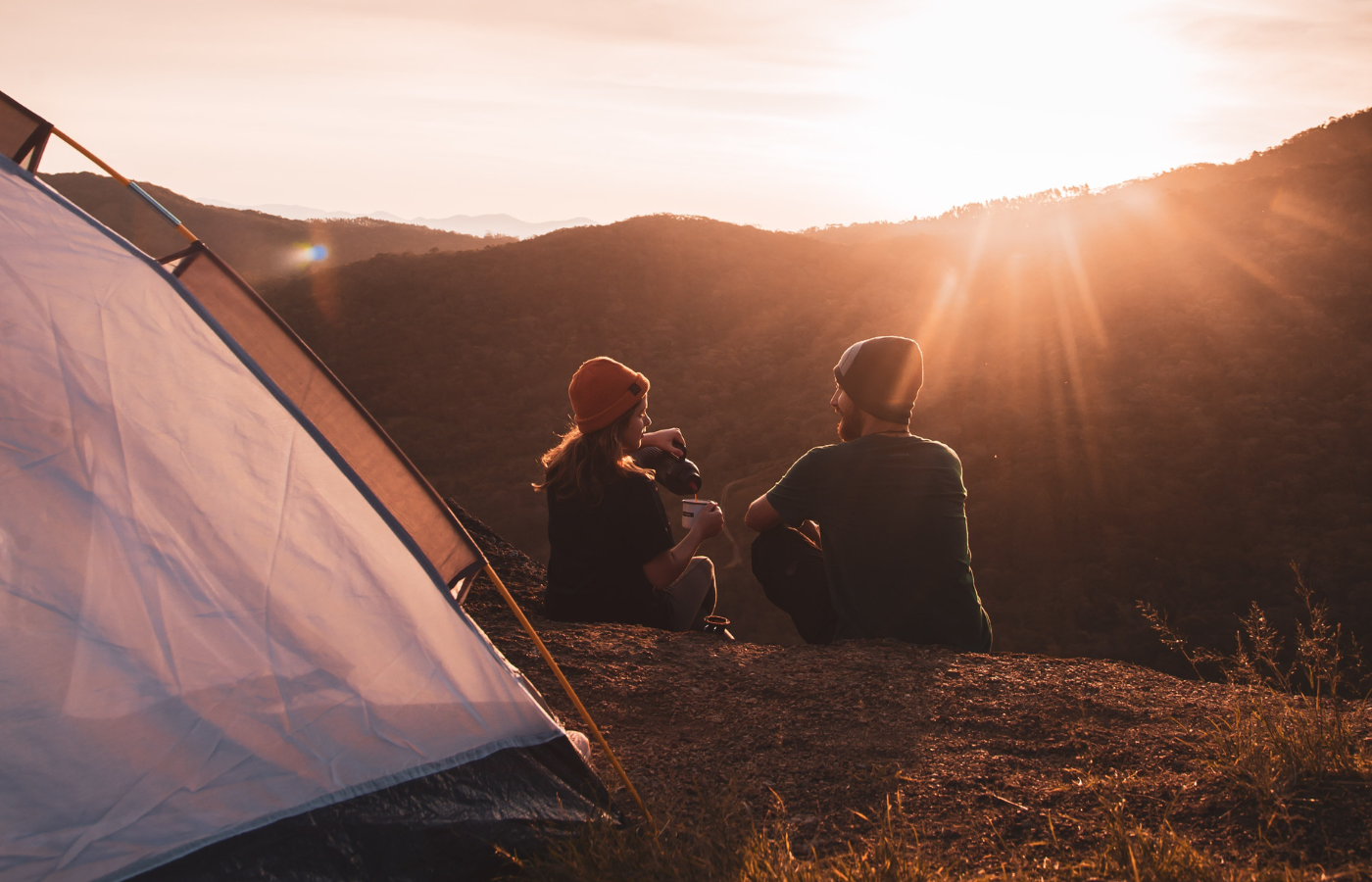 Here are some of the crucial aspects to consider when you're in the market for a new two-person shelter. These should all be weighed up against your own requirements, including the conditions you'll be using the tent in and the type of trip too.
Comfortable fit
The length of a tent, the angle of the walls and the headroom all matter. If your sleeping bag pushes against the walls it may get damp from condensation. Walls that angle in sharply restrict living space, and being unable to sit up is uncomfortable. Note that inflatable mats can be thick and reduce headroom. For the most comfort the highest parts of the inner should extend enough that both occupants can sit up.
Pitch perfect
Pitching should be easy and quick. Tents may pitch as units or inner-first – few now pitch flysheet-first. The advantage of pitching as a unit is that it's fast and the inner can't get wet in rain. With inner- first-pitching tents you need to be able to erect it really fast in rain to minimise how wet the walls and floor get. An advantage of inner-first-pitching tents is that you can just use the inner on dry nights, which means no condensation, and it keeps bugs out. If the inner has a mesh roof you can see the stars too! Most tents come with pitching instructions but it does help to know the basics of how to pitch a tent before you set out to use your tent for the first time.
Weighty topic
To keep the weight down, some tents come with a thin groundsheet with a low 'hydrostatic head' (the height of a column of water it can support before it starts to come through). Often, makers advise the use of a footprint but only supply one as an extra, which means more cost and weight. The weights of the tents reviewed range from 1.18kg to 2.86kg. The weight is not necessarily an indicator of size, though – the two lightest tents are also two of the roomiest – but it's often a sign of ultralight materials.
Tents suitable for use in the British hills should prioritise weather resistance, so it's worth looking for down-to-the-ground flysheets and groundsheets with a high hydrostatic head. Tents that pitch as a unit are useful when the weather is bad too.
Materials
Silicone-coated fabrics are very light and durable and therefore they make for good flysheet materials. PU-coated ones are heavier for the same strength and don't last as long but cost less. Polyester stretches less when wet than nylon but isn't as strong. Silicone on both sides of a fabric reduces how much moisture it absorbs and how long it takes to dry as well as increasing its life. Some fabrics have silicone outside so rain runs off and PU inside so the seams can be taped.
For inner materials, breathable nylon or polyester tend to be good for resisting drips from condensation and keeping out breezes. These materials can be a bit hot in warm weather so optional mesh doors are useful. Mesh inners are cooler, but breezes can blow through; and if condensation drips they don't keep it out as well as solid fabric.
Groundsheets need to be made from heavier fabrics than flysheets and have a higher hydrostatic head. Some makers advise using a footprint under a thin groundsheet.
This article we compiled on how to clean a tent will explain more about some of the different fabrics and how to maintain them.
Inner dimensions
The inner should be long enough that your sleeping bag doesn't push against the end. Ideally there should be room for two full-size sleeping mats side by side. Headroom should allow both occupants to sit up comfortably.
Best 2 person tents: Poles, pegs and guylines
Poles should be easy and quick to attach, and colour-coded so it's clear where each one goes.
A good set of pegs mixes thin ones for hard ground and wider ones for soft ground. The ones for key pegging points and guylines should be at least 15cm long. Packing extra pegs is advisable.
Guylines are the key to stability in strong winds. Extra guylines are useful in a big storm. Many tents have attachment points for these.
Porches and doors
The porch should be big enough for safe cooking and for storing wet gear and packs. Two porches mean each person has their own storage space and their own entrance.
Flysheet doors that can be opened in a number of ways are the most versatile. In good weather you can open them fully for easy access and views. In storms there should be a side away from the weather that can be opened if cooking. Two doors allow each person their own exit.
Ventilation
Protected vents or upper door zips that can be left open in all but the worst weather can reduce condensation. Only close vents if you really must.
Fancy some more tent reading? Then check out do you need a tent for backpacking