The Nemo Dagger OSMO is the latest version of one of the most sought-after backpacking tents from U.S. brand, Nemo, and they've pulled out all the stops with this 2022 update, adding new design features and introducing an impressive new fabric.
It's a two-person tent that will suit backpackers who want a lightweight, portable shelter that offers ample space and comfort, while also delivering excellent durability and protection. 
Design
The design of the tent provides plenty of room for two people to stretch out, sit up, and organize their gear. That's thanks to the large porches on each side and its single hubbed pole structure, which forks at each end to create a high ceiling and steep-sided walls.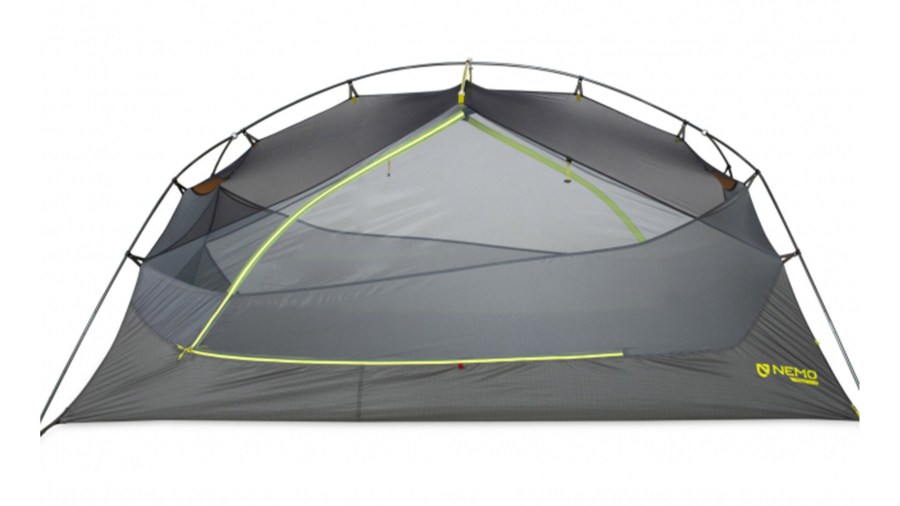 Setting up the Nemo Dagger OSMO is very simple. You can pitch the inner first by plugging the ends of the main tent pole into each grommet, and doing the same for the top crossing pole. Then, hang up the mesh using the series of little hooks and clips. The corners of the flysheet can then be clipped onto the corners of the inner, with color-coding making this task even easier. Finally, peg out the porches and other stake points to complete the setup.
Materials
This is one of the first tents to feature Nemo's new OSMO fabric, which is a PFC-free and 100% recycled yarn that combines polyester and nylon. According to the brand, it took more than 100 different prototypes to get this fabric just right. The finished product delivers 4x more water repellency than standard tent fabrics, and 3x less stretch, which means it maintains its structure even when wet, without sagging. This material feels durable despite being lightweight, and I haven't noticed any sagging issues even when the weather is wet.
In addition, the tent comes with a dye-free pole bag made from a fabric produced using 1.6 plastic bottles, adding to its eco-friendliness.
Nemo has added some great features to the Dagger OSMO that make it even more versatile and practical. The tent has two internal pockets, one on either side, which diffuse the light of a head torch stowed inside to create a warm and welcoming glow. There's also a removable "Landing Zone" that keeps your porch kit from coming into contact with the ground when it's wet, as well as handy little one-handed tabs that hold the doors open when they're rolled back. 
Nemo Dagger OSMO 2P verdict
Protective, durable, well-ventilated, easy to pitch and well-made; there's a lot to like about the Nemo Dagger OSMO. Overall, it's a good albeit slightly expensive option for anyone looking for a lightweight, comfortable, and durable two-person backpacking tent that can stand up to the rigors of life on the trail.
Price: $480 | £510
Weight: 3 lb , 6 oz | 1.52 kg
More info: nemoequipment.eu