What does the Merrell MTL MQM stand for? Well, MQM means Moving Quickly over Mountains, and the product is described as three shoes in one: "A climbing shoe in front, hiker in the back and agile enough to run in." I'd question the climbing suggestion; but for walking and running, this is a well-balanced option which is why we put it in our guide to The best trail shoes for hiking and hillwalking.
---
RRP: $150 | £135 | Available from: Sports Shoes & Sports Direct | Price: £135 | Weight: 628g | Heel-to-toe: 6mm | Lug depth: 5mm | Materials and features: Vibram MegaGrip and Vibram Idrogrip combined outsole, mesh and TPU upper, 100% recycled laces and webbing, internal bootie, TPU waterproof shell, microfibre lining, removable PU footbed, 100% recycled mesh footbed cover, rock plate, 50% recycled removable EVA foam footbed, FloatPro Foam midsole, pull-on rear loop | Sizes: 2.5-8.5 | Men's version: Yes
---
The shoes are very comfortable from the first wear and feel supportive along the length of the foot. The internal bootie supports the mid part of the foot and under the arch, whilst the lacing system is full and adaptable. The heel is a bit flimsy in comparison and could do with more rigidity.
The uppers on the Merrell MTL MQM are different from anything else I've seen. The mesh is coated on the forefoot by a TPU (thermoplastic polyurethane) layer, which gives excellent protection on rough terrain, especially where you encounter thick vegetation and rocks. They do not have a waterproof membrane, but they managed to keep out a lot of wet until damp slowly seeped in.
These shoes are quite slipper-like; and whilst that means they are easy to wear, they might not feel sturdy enough for some people. The insole cushioning, plus what's called a 'Super Rebound Compound' for durable shock absorption, is almost perfect in my view. There is enough bounce and comfort on hard trails but not so much that it drains energy.
The sole depth allows for good ground-feel and ankle stability, but traction is not the best. The lugs are more suited to traction on hard-packed surfaces rather than wet, muddy or steep ground.
---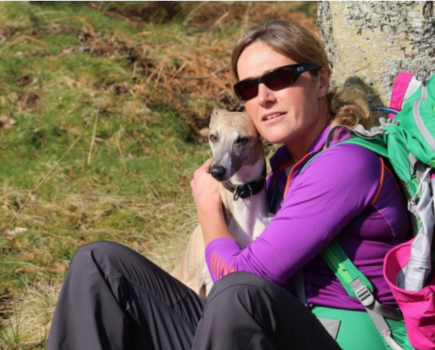 Written & tested by Fiona Russell
Fiona is a size UK8.5 and has a narrow foot. She is a keen trail and hill runner, as well as a hillwalker. To test the trail shoes, she walked and ran in each pair on the full range of terrain, from forest tracks to off-path mountain slopes, through peat hags, bog and streams and on ground covered in tussocks, heather, rocks, stones and grass.