With a generally clean interface and a good balance of features, including Harvey maps, Hiiker has everything that most walkers will need – but with some bugs, says Alex Roddie.
Hiiker offers a sensible balance between community/inspiration features and standalone functionality for map viewing and plotting your own routes and features on our list of the best best hiking apps for digital mapping. It also has a relatively simple and easy-to-understand interface. I like the fact that route discovery and the main map screen are split into separate views – you get a nice clean map when you don't want to have recommended routes displayed as well.
Platforms: iOS, Android, web
Price: Hiiker Pro+ is £41.99 a year or £5.99 a month
Maps: wide range of OSM-based free maps; paid version gives OS maps (including Ireland and Northern Ireland), Harvey maps, international topo maps, and various historical maps
Features: route planning, track recording, GPX import/export, OS grid reference, route discovery via community, stage-by-stage breakdown of longer trails, printable maps
Offline?: yes, both free and paid version. Some functions don't work offline, such as route planning
The app's 'Home' tab gives a list of nearby trails, along with other curated lists of walks. You can download maps for the route or export a GPX file from this page (this feature can be 'buggy'). There is also an option to download a print map (built-in routes only), which splits longer walks into day stages and then generates a PDF with a map for each day.
To download maps for offline use, you can either do it for a particular route or via a rectangular area on the map screen. Hiiker has made offline map downloads free for all users, which is a good move. You still only get detailed topo maps if you pay for Pro+, though.
The main map tab is clear and has a minimal interface, but OS maps are grainy and with slightly strange colours – the poorest image quality of any app tested. Harvey maps are much clearer and look perfect.
Route planning makes use of both snap to path and direct plotting, but doesn't work offline. In every other respect the route-plotting experience is excellent, though. Importing a GPX file is clunky, and you can't just share a route from another app to Hiiker on iOS. Unfortunately, you can't view your own planned routes on the main map.
With a generally clean interface and a good balance of features, including Harvey maps, Hiiker has everything that most walkers will need. However, image quality of OS maps is poor, there are strange bugs, and power users may look for more offline support and the ability to show their routes on the main map screen.
Compare Hiiker with others in our guide to the best hiking apps.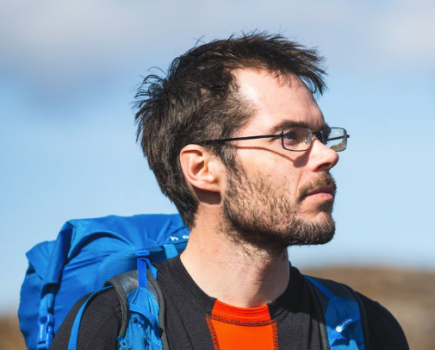 Written by Alex Roddie
Alex tested these apps throughout spring and summer 2023 on a variety of day hikes and backpacking trips throughout the UK and Ireland, in most cases testing both the Android and iPhone version of the app where available.
NOTE: We do not recommend that you rely solely on a smartphone app for mountain navigation. Always carry a paper map and compass and know how to use them.