Outdoor journalist David Lintern and Mountain Leader Lucy Wallace compare nine winter mountaineering boots suitable for steeper, more technical ground in the snowy season.
For lowland rambles in winter, and hillwalking where no snow is present, 'ordinary' three season hillwalking footwear is just fine. But with the addition of snow and ice, hillwalking y blurs into mountaineering, requiring additional skills, clothing and equipment. The most (literally) fundamental of these is winter mountaineering boots.
Boots with sole
This test is specifically about footwear for more demanding terrain covered in snow and ice, where boots with stiffer soles than three-season footwear become much more useful. Winter Mountain Leader Lucy Wallace says, "From a teaching point of view, it's impossible to impart good footwork skills in bendy boots." In David's journey onto steeper winter ground, he's found more confidence, comfort and security in stiffer footwear. Why?
Even gentler inclines can become icy and threaten long sliding falls, so a firm footing is essential. A stiffer sole and wraparound rand means it's easier to kick steps into snow and ice, which provides a solid platform and involves less stress on the toes. A stiff boot sole also makes it easier to 'edge' (with a scuffing or slicing motion) into snow and ice, especially when contouring on a slope. When descending it's often necessary to heel plunge to gain traction. Climate change has increased the variability of snow conditions with rapid freeze-thaws, and 'big boots' offer improved traction and waterproofing. Wet feet in winter can lead to frostnip or worse.
Making the grade
We've chosen to focus on boots with a heel 'welt' in this review, because they allow more secure fastening of crampons (the semi-automatic variety, with a heel clip lever and a simple front plastic basket). Winter boots are often graded in stiffness between B1-B3; we've mostly gone for B2s here, that aim to strike a balance between all day comfort and technical security. B1 boots are fine for most hillwalking in winter conditions, but if your aspirations push up into easier graded winter routes – like most popular scrambles in winter conditions – a B2 boot has you covered. They also work well for easier glacier tours and alpine mountaineering further afield, so you'll get the most value from what is an expensive purchase.
What to look for in winter mountaineering boots
Winter boots have undergone a transformation in recent years, with waterproof membranes allowing the use of lighter materials, especially in the uppers. To ensure a good fit, it's worth buying in-store. Choose a last (sole shape) that fits your foot, an adaptable lacing system, and high-quality crafts-person-ship, and they should last years, even decades.
---
Features
Fit
Winter boots are quite stiff and fit is important. Try them on with an experienced boot fitter to hand. Lots of heel lift is bad, but toes need wiggle room. Tight boots can cause frostbite, but you don't want your foot sliding forward when kicking steps.
Last
The "last" is a mould around which a boot is constructed. Lasts vary in shape and volume- as do human feet- and different brands use different shapes. Look out for variation in the size and shape of toe box and heel cup as well as overall width.
Uppers
Modern winter boots are often a composite mix of leather and synthetic materials, with trade-off between weight, warmth and durability.
Rand
A rubber rand covers the point where the uppers meet the sole, which adds durability. This is important for protecting the boot when kicking in to hard snow and scrambling on rock.
Lacing
Look out for locking cleats, and free running cleats that allow one section to be cinched in tight, and another to be slackened off.  Typically, a looser fit is more comfortable on the approach, but once crampons are on everything needs to be snug.
Waterproof Membrane
A waterproof membrane is vital, to keep the feet dry and prevent frostbite. Gore-Tex is the most frequently used, in the form of sock-like insert.  The Scarpa boot in the women's test uses a membrane that is laminated directly to the uppers.
Weight
Boots designed for winter mountaineering tend to be heavier than their summer counterparts, (typically 2kg a pair), but increasingly, lightweight models are available.  Bear in mind that there may be a compromise in warmth or durability to keep the weight low.
Stiffness
Winter mountaineering boots are stiff to make it easier to fit crampons, and to improve the efficiency of kicking in to compact and refrozen snow.
Edges
The sole has a tread that is designed to shed snow, and the edges of the sole are neat and defined, useful for slicing the foot into snow to kick out footsteps.
---
Crampon Compatibility
B1 Boots are the most flexible of winter specific boots and compatible with C1 crampons only – that have a basket at the front and back. It is possible to attach crampons to flexible footwear, but the more flexible the boot, the greater the likelihood of crampons becoming detached on steep ground. C1 crampons are fine for most UK hillwalking.
B2 Boots are compatible with C2 crampons (with a basket at the front, and a heel clip lever at the back). C2 crampons are well suited to both challenging winter mountain walking and 'graded' ground which involves a level of technicality (e.g. many popular scrambles in winter conditions). They are less fiddly to put on and have more spikes than C1, but require quite a stiff boot, with a ledge at the back for the lever to rest on. B2 boots can be worn with C1 or C2 crampons, but not C3 crampons.
B3 boots do not flex, have ledges at toe and heel, and are compatible with C3 crampons. These rigid, aggressive crampons are designed for winter / ice climbing and technical mountaineering and as such are overkill for hillwalking.
---
Men's winter mountaineering boots
BEST BUY: Lowa Alpine Pro GTX (RRP: £250)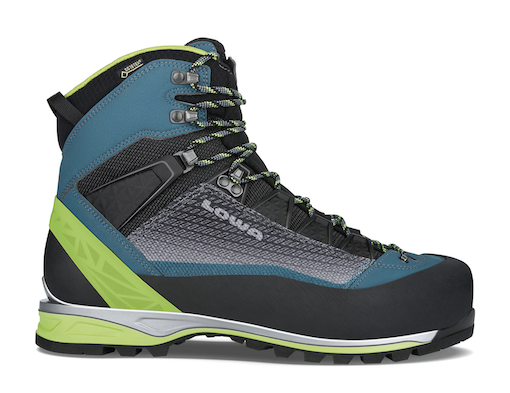 Rating: 4.5/5
Likes: reduced price, grip, lacing
Dislikes: nothing
Weight: 860g | Upper: suede and synthetic | Outer: sole Vibram Alp Trac | Stiffness: B2 | Sizes 8-12
As the name suggests, this is an alpine boot, but brought up to date. Stiffness is at the lower end of B2 and as such there's enough flex in the toe to make walking more comfortable, but enough stiffness in the sole to provide a good platform for crampons and to allow edging on snow and ice. The Vibram sole provides excellent traction, even on rimed up rock.
Read more: Lowa Alpine Pro GTX review
RECOMMENDED: Hanwang Makra Combi GTX (RRP: £245)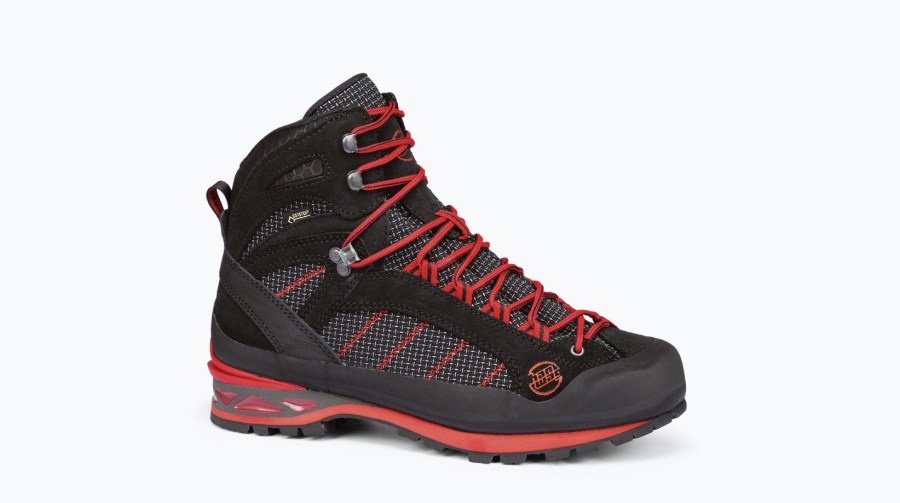 Rating: 4/5
Likes: weight, fit, adaptability
Dislikes: rocker
Weight: 730g | Upper: Suede, Cordura | Outer sole: Vibram Pepe | Stiffness: B2 | Sizes 6-13
The Makra is a smart looking, ultra-modern offering, and a honeycomb structure in the sole and modern synthetic upper means it's the lightest boot in my test.
Read more: Hanwang Makra Combi GTX review
RECOMMENDED: AKU Tengu GTX (RRP £294.99)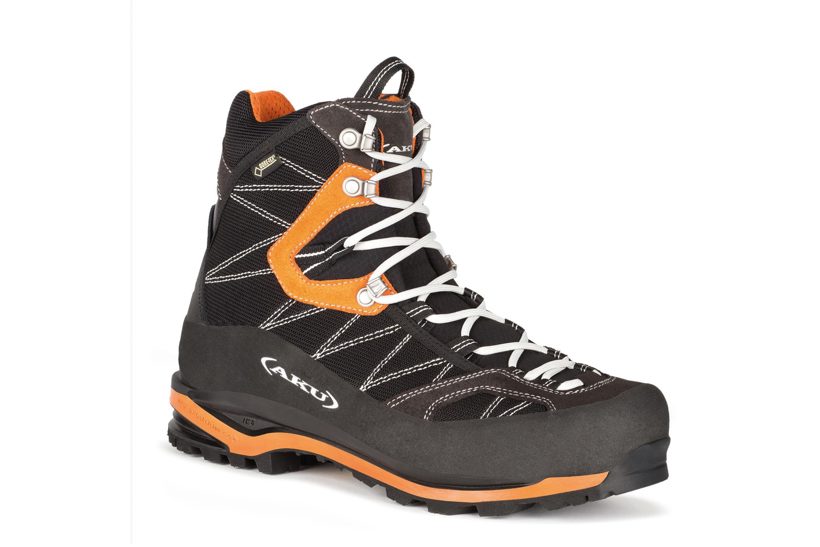 Rating: 4/5
Likes: grip, lacing
Dislikes: fit
Weight: 880g | Upper: nylon and suede | Outer sole: Vibram Curcuma | Stiffness: B2 | Sizes 4.5-12
This is the most climbing-focused boot in the test. Sole stiffness is 'classic B2', with a slight flex in the forefoot and very stiff laterally. The fit is 'Italian'; on the longer, narrower side. It's especially narrow at the toe, with a lower volume internally than others here. In practice for me this means a little toe scrunch on descent, but total confidence on ascent.
Read more: Aku Tengu GTX review
RECOMMENDED: Scarpa Manta Tech (RRP: £300)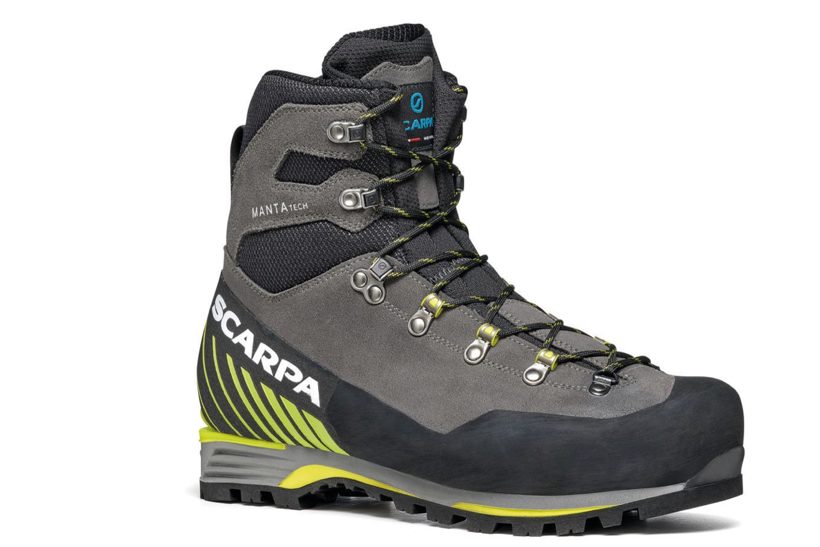 Rating: 4.5/5
Likes: stability, lacing
Dislikes: weight
Weight: 1,010g | Upper: Suede Perwanger | Outer sole: Vibram Pentax Precision XT | Stiffness: B2 | Sizes 2-14
The Manta has been around for decades and over that time has become a classic. The 'Tech' suffix here refers to an upgraded upper with less stitching, a rebuilt cuff and a warmer goretex liner than in previous iterations. However, the chances are if you have the old Manta, it's probably still fine and you won't be reading this review!
Read more: Scarpa Manta Tech review
RECOMMENDED: Meindl Litepeak Pro GTX (RRP: £260)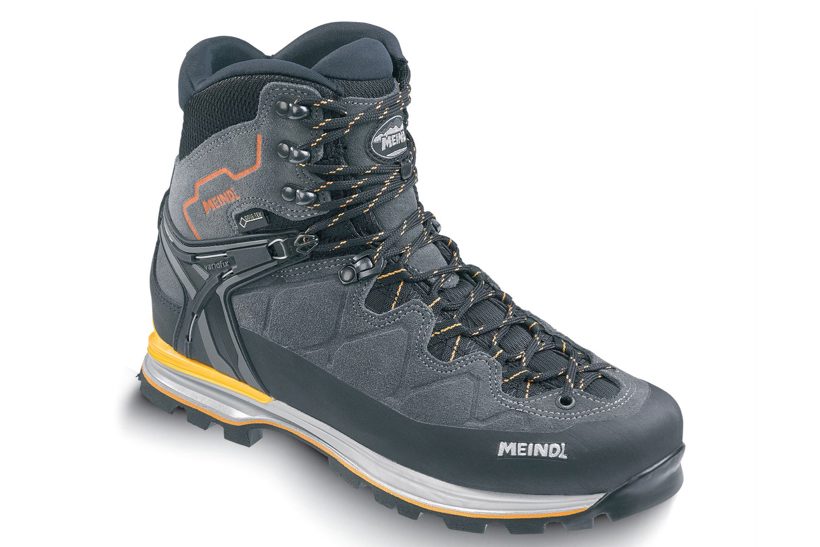 Rating: 4/5
Likes: relaxed fit, adaptability
Dislikes: stiff ankle cuff
Weight: 890g | Upper: Suede and mesh | Outer sole: Vibram Alpin | Stiffness: B1 | Sizes: 6-12
The Litepeak is the only B1 boot in my selection. As such it's a bit of an odd one out, but that's not a criticism. In some ways this is a perfect hybrid of traditional 3 and 4 season footwear.
Read more: Meindl Litepeak Pro GTX review
Women's mountaineering boots
BEST BUY: Lowa Cevedale Evo GTX Ws (RRP: £280)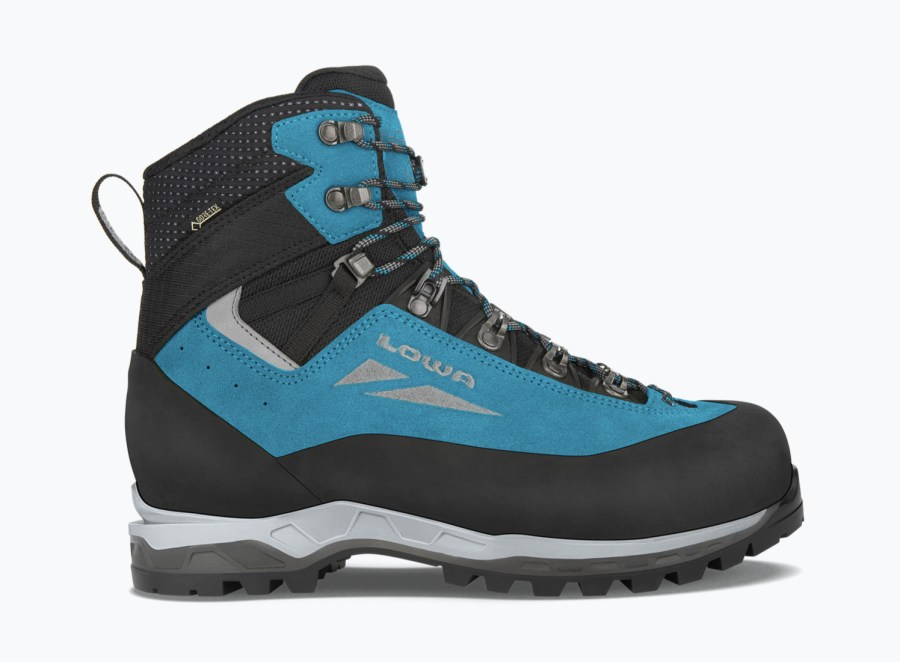 Rating: 4.5/5
Likes: build quality, toughness
Dislikes: none
Weight: 1390g (pair) | Upper: Suede, fabric | Outer Sole: Vibram Scalatore Evo | Stiffness: B2 | Sizes: 4-9
I'm familiar with the predecessor to this boot having used it in winter for a couple of years and it has lasted well. These are the widest of the boots I tested and, although they are the same size as my old pair, I found them to be slightly shorter, so if you are looking to replace an old pair with the new version, it is worth trying them on first.
Read more: Lowa Cevedale Evo GTX Ws review
RECOMMENDED: Mammut Kento Pro High GTX (RRP: £280)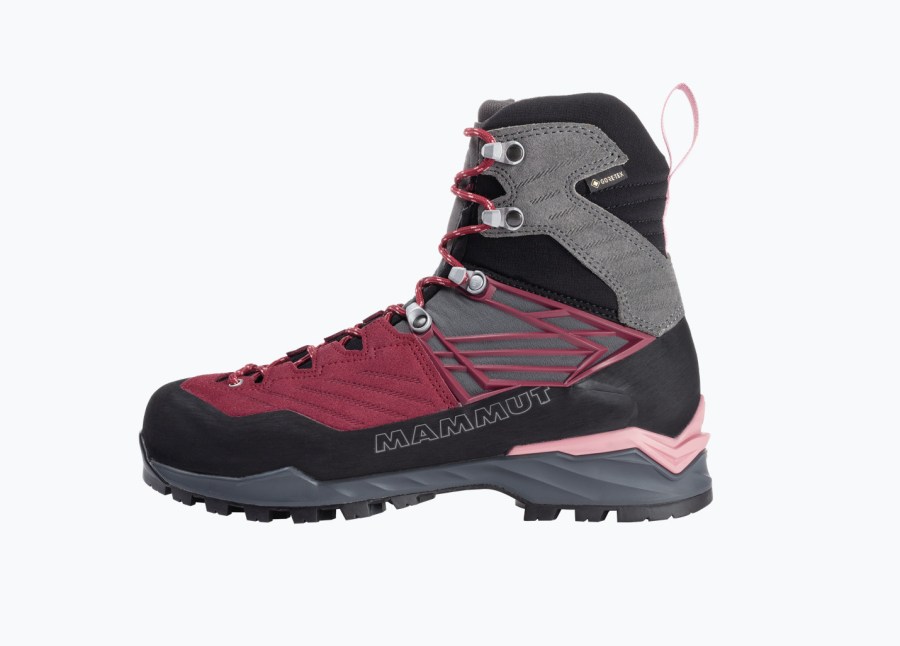 Rating: 4.5/5
Likes: warmth, comfort
Dislikes: basic lacing system
Weight: 1080g (EU 38) (pair) | Upper: Velours leather and textile | Outer sole: Vibram Hexa Tech with a PU insert in the heel | Stiffness: B2 | Sizes: 3.5-8.5
These boots fitted me perfectly straight away, and are my favourites to actually wear. Fit is so important in winter boots- to avoid the misery of blisters and numb feet. The Kento Pro High GTX has a roomy heel box, which suits anyone like me with Achilles niggles. A memo foam lining hugs the mid foot, holding it snug and preventing it from sliding forward.
Read more: Mammut Kento Pro High GTX review
Scarpa Ribelle Lite HD WMN (RRP: £280)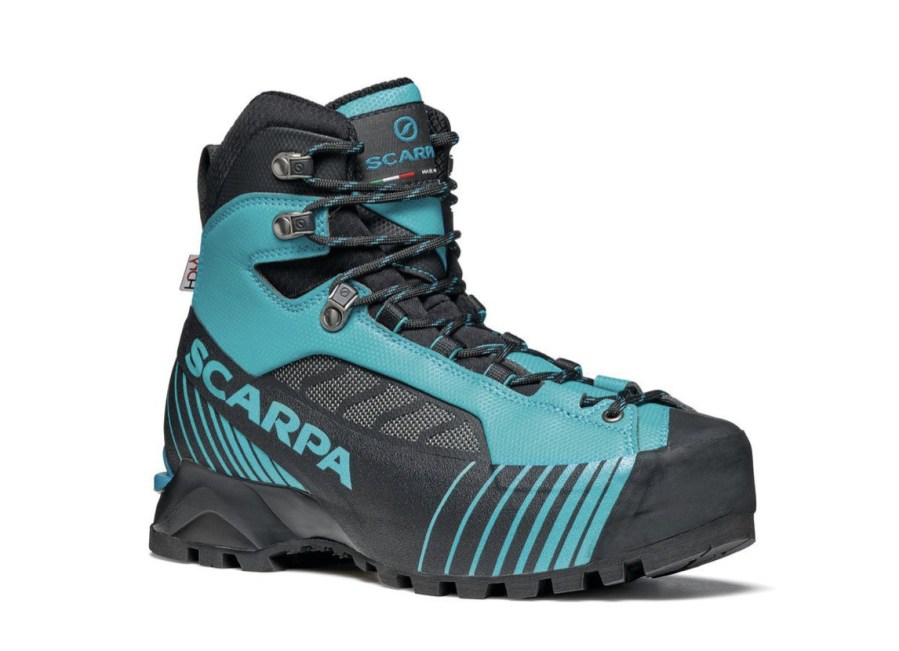 Rating: 4/5
Likes: lightness, dexterity
Dislikes: not very warm
Weight: 1100g (EU38) (pair) | Upper: Lightweight Microtech (synthetic) | Outer sole: Vibram Pentax Precision III | Stiffness: B2 | Sizes: 37-42
There's quite a lot of technology in these boots, which is noticeable as soon as you pick them up. They feel impressively light both in the hand and on the foot. The most significant difference between these and others tested is that the H-Dry membrane is laminated directly to the inside of the uppers, removing layers and reducing weight.
Read more: Scarpa Ribelle Lite HD review
RECOMMENDED: Salewa Raven 3 Ws GTX (RRP: £270)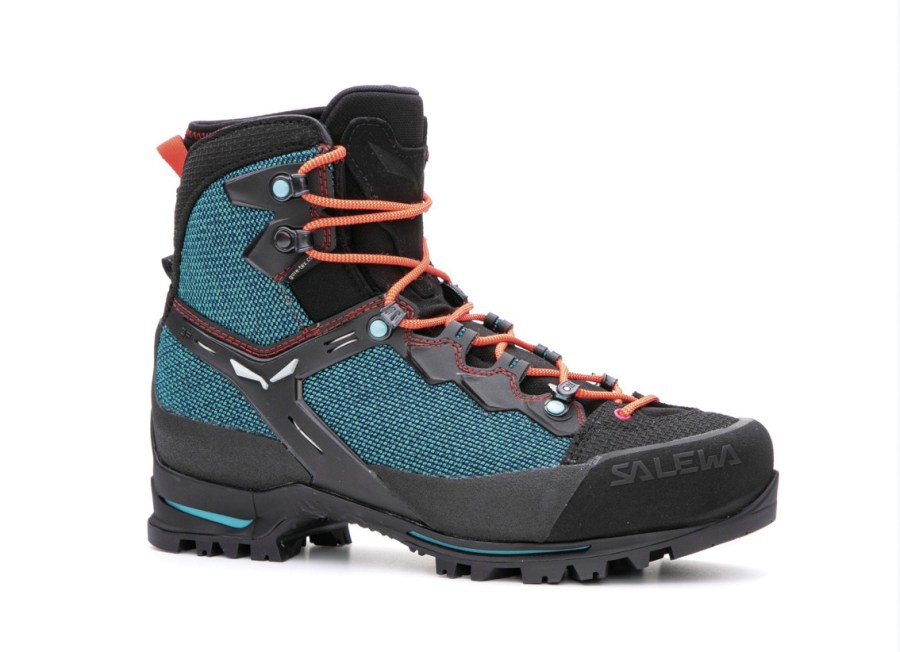 Rating: 4/5
Likes: comfort, lacing system
Dislikes: low rand, fussy sole design
Weight: 629g per boot | Upper: abrasion resistant fabric | Outer Sole: Vibram WTC | Stiffness: B2 | Sizes: 3-9
I've never tried Salewa boots before but having heard good things I was intrigued to give these a go. These are quite narrow, and snug from heel to toe, whilst being true to size in length, prompting me to wear a thinner sock than I normally would in winter.
Read more: Salewa Raven 3 Ws GTX review