The Scarpa Manta Tech is a trustworthy choice for winter, says Kirsty Pallas who gave these updated lighter-weight boots her recommendation in 2023 winter tests despite a few pitfalls.
The Scarpa Manta is a classic B2 winter boot, often used for hire because of their reliability and sturdiness. The newer Manta Tech is an equally solid and comfortable option but weighs less than its predecessor.
Rating: 4.5/5
RRP: £350
Weight: 1285g (EU 38, pair)
Pros: Weight, comfortable fit
Cons: Price, pressure on top of foot
B rating: B2 | Waterproofing: Goretex Insulated Comfort | Upper: 3mm Suede Perwanger | Crampon welts: Heel welt | Sole: Vibram Pentax Precision XT | Sizes: EU 36-42 with half sizes | Men's version: Yes
The upper is suede and incorporates a Goretex membrane, which keeps the water out well, without feeling too sweaty. The suede is initially very water resistant and dries quickly, but this wears off after a few uses. It doesn't compromise the waterproofness but adds to the drying time.
The ankle is padded and insulated, which makes it a comfortable wear. This continues down the tongue, but I found it adds a bit of pressure on the top of the foot toward the toes – noticeable, not painful. The tongue connects to the ankle right at the top, which is great for keeping snow and debris out, and there's enough fabric to adjust it.
When lacing, there are narrow cleats at the ankle to help hold your foot into the back of the boot and avoid toe smashing descents. The eyelets down the boot are broad and so friendly to the laces, and the lace itself is just long enough for a double knot, but not with loads of excess.
The sole is grippy on rock, with a good climbing zone on the toe. The heel brake works well on wet grass and snow, but the lugs aren't the deepest. They still kick into snow and vegetation well, but may wear down quicker over time.
The Scarpa Manta Tech is a really trustworthy choice for winter.
Compare the Scarpa Manta Tech with other models in our buyer's guide to the best winter mountaineering boots. 
SQUIRREL_BUTTON_12991408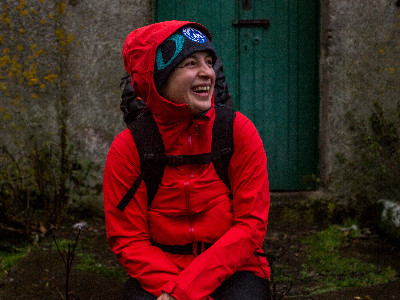 Testing conditions
Kirsty is a UK size 5/EU 38, with a wide forefoot. All boots (with the exception of the Aku) were tested during the winter of 2022/23 on both personal mountaineering days and while delivering winter skills courses, in all weather and conditions. The latter often involves lots of standing still and digging, so the waterproofing and insulation properties were well tested! The AKU boots are a new model so haven't been tested in snow, but were used in cold autumnal weather on steep and wet terrain. Boots were weighed on Kirsty's digital scales.