Peter Macfarlane recommends the Keen Revel IV High Polar Boot given our current winters where the classic crisp snow days aren't guaranteed.
Keen have always taken a different approach to the design of their outdoor winter boots with flexibility and warmth being the priority. Any thoughts of crampon compatibility is up to you, the user, to work out. Lightweight flexible crampons suit winter Keens very well but the boots' use in the winter hills can take a little adapting to. This is the case with the Keen Revel IV High Polar Boot.
Rating: 4/5
RRP: £165
Weight: 1550g (EU41-2, pair)
Pros: weight, comfort, range of winter use
Cons: not stiff enough for tradition winter walking or crampons
B rating: B0 | Waterproofing: KEEN.DRY waterproof lining | Upper: leather and mesh upper with recycled PET insulation | Crampon welts: none | Sole: Kenn.Polar Traction | Sizes: EU40-49 with half sizes up to 45 | Women's version: yes
The upper is leather with some synthetic and mesh sections to aid ankle flexibility. There are few stitched seams on the leather and they are positioned in low abrasion areas which should aid durability. The toe has a large rubber bumper with an additional rubber rand and the heel has a thick synthetic overlay, which again should help with longevity.
The ankle cuff is very high but is also very flexible. After a short break in period where the ankle creased to my natural flex point, they are very comfortable. The rest of the boot needed no breaking in as both upper and midsole are flexible. The sole is flexible enough for natural walking. The outsole has quite aggressive lugs which grip well in most soft conditions and very well on drier ground, the flex helps with clearing too, so clogging hasn't been too much of an issue. There is no heel counter, the sole is quite flat, something that's worth noting as it changes the way you look for grip on descent. The laces run smoothly through chunky metal fittings over a well-padded tongue and there's an eyelet for attaching gaiter or trouser cuff hooks.
The Keen Revel IV High Polar Boots have a wide forefoot which helps keeps feet warmer – when standing around in the cold or at a winter camp I can wiggle my toes and keep the blood flowing. The Keen's are insulated too and are designed to be used in subzero conditions. I found walking in them in the cold very pleasant but I do feel the extra warmth if conditions are fair.
Lightweight, flexible strap-on crampons and spikes fit the Revels well and are secure in use although their wide sole can prevent some models from attaching at all.
In our current winters where the classic crisp snow days aren't guaranteed, a boot that is just as happy in slush and mud as well as walking the low level winter trails is worth a thought.
Compare the Keen Revel IV High Polar Boot with other models in our buyer's guide to the best winter mountaineering boots. 
SQUIRREL_BUTTON_12991466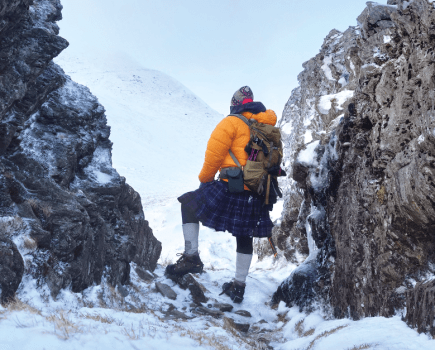 Testing conditions
Peter took these boots on trips to the Arrochar Alps in winter conditions in early 2023 and has continued to wear them throughout the year in cool and wet conditions. Peter approaches winter footwear from a lightweight perspective and has adapted his techniques on winter ground and crampon choice accordingly. A variety of crampon styles were fitted to each boot.