The Altberg Mallerstang Mountain Boot is recommended by Peter Macfarlane – but he warns they are boots that need breaking in at home.
The Altberg Mallerstang Mountain Boot is a traditional mountain boot in looks and construction. The upper is 2.8mm thick leather which is tough and durable but which also makes the boot very stiff to wear initially. It was the only boot in my selection that I had to break in at home, before trying some short walks and only then taking them into the hills.
Rating: 4/5
RRP: £264
Weight: 1820g (EU41-2, pair)
Pros: durability, reproofable upper, resoleable, grip, fit options
Cons: initial breaking in, weight
B rating: B2 | Waterproofing: Sympatex waterproof lining | Upper: 2.8mm one piece Anfibio leather | Crampon welts: Heel welt | Sole: Vibram Ice Trek | Sizes: EU38-48 including half sizes and 5 width fittings | Woman's version: Unisex design
Once broken in, the fit and feel are excellent, with several features contributing to that. The ankle cuff is high but made from a softer leather and is well shaped. The padded tongue is the same softer leather on the top half which allows excellent flex, but it's reinforced with a patch of the thicker outer leather under the top lace hooks to alleviate lace pressure. The Altberg Mallerstang Mountain Boot midsole is quite stiff with just a little torsional movement, but there's a good amount of flex at the forefoot which aids natural walking.
The outsoles' gentle curve also aids a natural walking motion and the ice trek lug pattern is very aggressive with large lugs which bite into snow and soft ground. The heel in particular is excellent for descending snow or soft ground where I've felt it very secure. The lacing is excellent, very smooth running if kept clean and the mix of D rings, tunnels and hooks are well positioned to pull the boot in securely but still leave the flex point above the instep free of pressure from the laces.
Durability is an important factor in the Altberg Mallerstang Mountain Boot. The upper is one piece of leather with the only stitching at the heel so will last a long time if treated well. When the Sympatex waterproof lining eventually fails, the boots can be treated to maximize the water resistance of the leather.
There is a heel lug for crampons with heel clips and front straps and it works well enough with a variety of different models. Any fully strapped crampon worked very well and micro-spikes also work well. The Altberg Mallerstang Mountain Boot is a heavy boot, but when broken in it feels nimble enough, and it will last.
Compare the Altberg Mallerstang Mountain Boot with other models in our buyer's guide to the best winter mountaineering boots.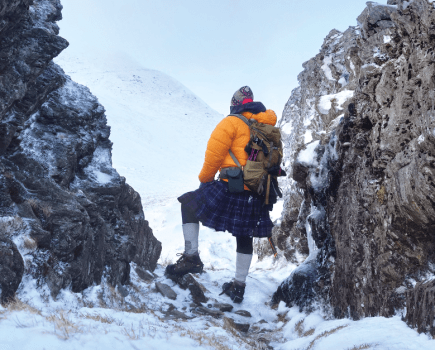 Testing conditions
Peter took these boots on trips to the Arrochar Alps in winter conditions in early 2023 and has continued to wear them throughout the year in cool and wet conditions. Peter approaches winter footwear from a lightweight perspective and has adapted his techniques on winter ground and crampon choice accordingly. A variety of crampon styles were fitted to each boot.