Kirsty Pallas recommends the AKU Trekker Therm200 if you're looking for a light winter boot suitable for some snow, but maybe not full winter conditions.
The AKU Trekker Therm200 is a brand new boot from AKU, and is the only boot in this test that is not officially B rated. This is very noticeable in the weight – they are extremely light as there's no shank in the midsole, and alongside a synthetic upper they feel like clouds on your feet! They are designed to be worn with snowshoes but will take a flexible C1 crampon (with both front and heel baskets), although AKU only recommends this for limited use.
Rating: 4/5
RRP: £245
Weight: 984g (EU38, pair)
Pros: Weight, sole flex when walking
Cons: Not B rated, lace durability
B rating: None | Waterproofing: Goretex insulated comfort | Upper: AKU Air8000 | Crampon welts: None | Sole: Vibram Curcuma | Sizes: EU35-42 with half sizes | Men's version: Yes
They are comfortable straight out of the box, and feel easy to slip into, helped by the loop on the back and the tongue for pulling on the boot. The padded ankle collar doesn't come up very high, which gives lots of flexibility, but there is an additional elastic debris gaiter to add height. This is fixed with Velcro in the front above the laces and can be adjusted to suit your calf. The tongue is attached to the boot with a loop for adjusting placement and pulling it up to stop any wrinkling.
The laces are long and start in the middle of the forefoot, but after a few uses there is already some wear showing where the laces sit in the eyelets. There is a narrower hook at the base of the ankle to tighten the foot and leave ankle flexibility which works well.
The Vibram sole is grippy on wet rock and vegetation, but the lugs aren't the deepest, so may not slice into hard snow as well. There is a good heel brake on the sole for descending, and only a small climbing zone at the toe, so this is less of a mountaineering boot and more of a walking boot.
If you're looking for a light winter boot, that will be suitable for some snow, but maybe not full winter conditions, then this is a lovely model.
Compare the AKU Trekker Therm200 with other models in our buyer's guide to the best winter mountaineering boots.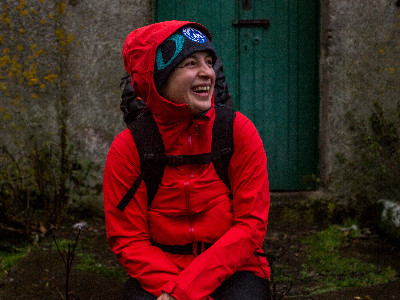 Testing conditions
Kirsty is a UK size 5/EU 38, with a wide forefoot. All boots (with the exception of the Aku) were tested during the winter of 2022/23 on both personal mountaineering days and while delivering winter skills courses, in all weather and conditions. The latter often involves lots of standing still and digging, so the waterproofing and insulation properties were well tested! The AKU boots are a new model so haven't been tested in snow, but were used in cold autumnal weather on steep and wet terrain. Boots were weighed on Kirsty's digital scales.