The Hanwag Ferrata II GTX boasts good ankle movement and well-spaces lugs. Peter Macfarlane gives these boots his recommendation.
The Hanwag Ferrata II GTX has the look of a rigid alpine climbing boot but has a very different feel, both on the foot and in its range of uses. The upper is a mix of synthetic materials, some with a leather feel and some have a woven texture. Different weights of these materials are used to create alternating areas of strength or flexibility which means the Ferrata was comfortable straight from the box with no breaking in. Ankle movement in the upper was immediately natural and I could wear them on a shorter hill day straight away.
Rating: 4/5
RRP: £335
Weight: 1550g (EU41-2, pair)
Pros: light, grippy, dexterous
Cons: price
B rating: B2 equivalent | Waterproofing: Gore-Tex waterproof lining | Upper: synthetic, microfiber, rubber overlay | Crampon welts: heel welt | Sole: Vibram Climbing Zone | Sizes: EU39-47 including half sizes | Women's version: yes
A wide rubber rand protects a large area of the boots with extra overlay at the toe which should help to protect the seams between the different upper materials, as well as avoiding general abrasion from rock and ice.
The Hanwag Ferrata II GTX can also be resoled, so there has been an effort to build in elements of longevity for the high price. The midsole is very stiff torsionally, but has a good amount of flex at the forefoot for an easy walking motion.
The outsole has aggressive well-spaced lugs which do dig into soft surfaces and clear easily when clogged. The outsole has a climbing zone at the toe which makes the Hanwag Ferrata II GTX an excellent scrambling boot, regardless of season. The heel does have a lug to take a B2 style crampon (clip at the rear, basket at the front), and I've fitted a number of different models, some of which fitted the quite shallow lug better than others. The heel is stiff enough to take the pressure of various clip designs without me feeling it. Fully flexible crampons (dual baskets) and lighter microspikes all fit very well.
The laces are narrow and flat and run through the mix of webbing eyelets and metal hooks extremely well. There are locking eyelets at the instep which function well but there are next to impossible to open with gloved hands are painful to open with bare fingers in the cold. I almost always adjust the lacing in my boots at my first rest stop as the laces stretch and the boots relax with flexing, so this has become the single bugbear on an otherwise excellent boot.
Compare the Hanwag Ferrata II GTX with other models in our buyer's guide to the best winter mountaineering boots. 
SQUIRREL_BUTTON_12991451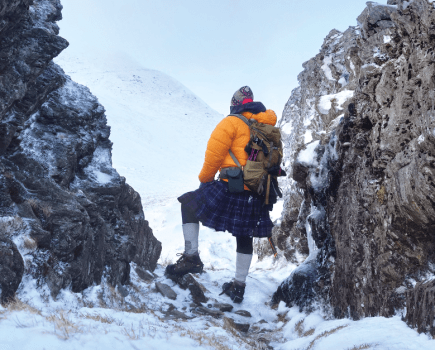 Testing conditions
Peter took these boots on trips to the Arrochar Alps in winter conditions in early 2023 and has continued to wear them throughout the year in cool and wet conditions. Peter approaches winter footwear from a lightweight perspective and has adapted his techniques on winter ground and crampon choice accordingly. A variety of crampon styles were fitted to each boot.