Peter Macfarlane's Best Buy for winter 2023 is the Meindl Vakuum Men GTX – an excellent all-round all-year hill boot if you bear one pitfall in mind.
Straight out of the box, the Meindl Vakuum Men GTX felt stiff. It's the second heaviest men's boot in the review, so I was concerned they would be a little unwieldy until broken in. An hour into their first walk, I adjusted the laces at a rest stop and realized that they had already settled into an extremely comfortable fit. We ending up adding at extra 20km walking to our day, and I had no foot issues.
Rating: 4/5
RRP: £309.99 – £329.99, depending on size
Weight: 1660g (EU41-2, pair)
Pros: comfort, grip, wide range of outdoor use
Cons: not as stiff soled as some winter boots
B rating: B1 equivalent | Waterproofing: Gore Tex waterproof lining | Upper: nubuck leather upper, rubber rand | Crampon welts: none | Sole: Meindl Multigriff 2 by Vibram | Sizes: EU39-49 with half sizes up to 46 | Woman's version: yes
The Vakuum has a nubuck leather upper which is thick for decent durability but it's also flexible for good movement. It's backed by a memory foam system which uses body heat to mold to your foot contours, designed to provide a bespoke fit over time. The footbeds have the same feature and have taken the shape of my feet and toes quite distinctly now.
The upper is now equally contoured inside and fits snugly. This process was noticeable very quickly. There is a wide rubber rand right round the boot for added protection and the toebox is significantly stiffened compared to the rest of the upper which is excellent for kicking into snow. The midsole has high torsional stiffness and an excellent degree of flex at the forefoot which I found worked very well on both long level trails and steeper, more difficult ground.
The lacing has three pairs of loops then five pairs of hooks to the top of the ankle cuff which makes the Vakuum's extremely easy to adjust and to remove, as well as to clean. The tongue is padded with leather reinforcement to prevent lace pressure and has a cutout area with thinner material to allow a more natural flex. The cuff is high and well padded.
The outsole is grippy in most conditions with useful square edged heel which is excellent for grip on descent, but bigger and wider spaced lugs would be better for full winter conditions. It can be resoled, adding to the boot's lifespan.
The Vakuum will take a dual basketed crampon, but is better suited to lightweight flexible crampons and spikes. The Vakuum is an excellent all round all year hill boot if you bear this in mind.
Compare the Meindl Vakuum Men GTX with other models in our buyer's guide to the best winter mountaineering boots. 
SQUIRREL_BUTTON_12991430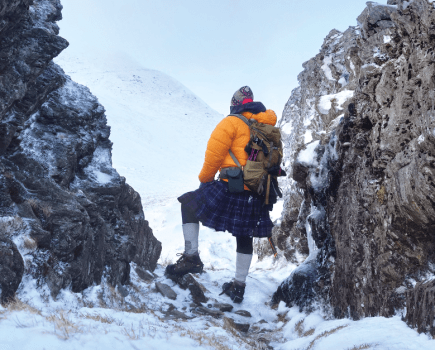 Testing conditions
Peter took these boots on trips to the Arrochar Alps in winter conditions in early 2023 and has continued to wear them throughout the year in cool and wet conditions. Peter approaches winter footwear from a lightweight perspective and has adapted his techniques on winter ground and crampon choice accordingly. A variety of crampon styles were fitted to each boot.