Crampons are a key piece of kit in winter. As our literal connection to the ground, they are vitally important in making sure we stay the right way up. It's interesting to reflect that in the early years of alpinism, they were regarded by some as bad sports person-ship. Thankfully, things have changed! Nowadays, the best crampons on the market can help you connect with the mountains in winter with confidence.
The increase in the popularity of micro spikes over the last few years has led to some confusion as to whether more traditional crampons are still necessary. Can we can get away with something smaller and lighter?
While micro spikes find their niche on icy and low angle paths, crampons are still the tool to use to get us into and around the higher and steeper mountains with confidence. Crampons come equipped with longer, wider spikes and can be more securely attached to our footwear, allowing superior traction on the slopes, summits and even beyond, into mountaineering terrain.
Learn how to walk in crampons with advice from gear experts, James Roddie and Giles Trussell of Glenmore Lodge.
Tested: the best crampons
Testing notes
Kirsty wears a UK size 5 winter boot. These crampons were tested in winter 2023 through lots of different weather and conditions on both personal mountaineering days and as she delivered winter skills courses across Scotland.  Further testing by Alex Roddie in 2020 and Chris Townsend in 2016 has been included. All crampons were weighed on the tester's home digital scales.
Petzl Irvis: best crampons in test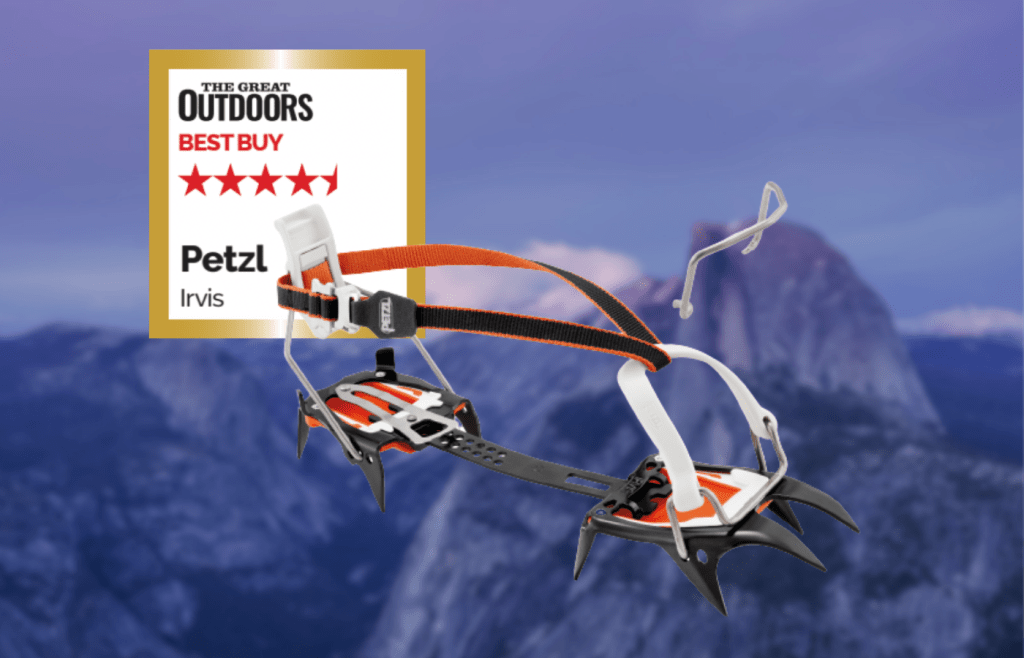 SQUIRREL_BUTTON_12986778
Rating: 4.5/5
Cost: £115
Weight: 746g
Pros: Price, weight, modular
Cons: No length adjustment in the bars, tricky to switch front bails (attachment points)
The Petzl Irvis is part of a great range of crampons from Petzl, which can be used in a modular way, by combining different heel and front sections to suit the ground you're heading into. I used that option over winter, switching the heel from the Irvis to the Dart front section and back, depending on whether I was walking or ice climbing that day. If you do a lot of both, then the switching may feel faffy and you might benefit from two full sets of crampons, especially if you want to swap the front bails regularly, as this is fairly tricky and needs a bit of time and force.
Read Kirsty Pallas' full review of the Petzl Irvis crampons. David Lintern also reviewed this model in 2021 – you can read his verdict here.
Grivel G12
SQUIRREL_BUTTON_12986779
Rating: 4/5
Cost: £145.95
Weight: 1005g
Pros: Solid design, secure fit
Cons: Hard to adjust, weight
The Grivel G12 is an absolute classic crampon, having been around for many years, and a part of pioneering history on new routes. They've had some updates recently though, which I don't feel are all useful. The crampon bars are reversible for small and big feet, but the lever for adjusting the length of the crampon now feels more awkward and stiffer. It wraps around the heel so it's tucked nicely out of the way, unlike the old lever that was down the middle, but it feels like there's double the stiffness now. The heel lever can be adjusted in height too, but it's near impossible to get it into the bottom setting, and very faffy in general.
Read Kirsty Pallas' full review of the Grivel G12 crampons. David Lintern also reviewed this model in 2021 – you can read his verdict here.
Salewa Alpinist Combi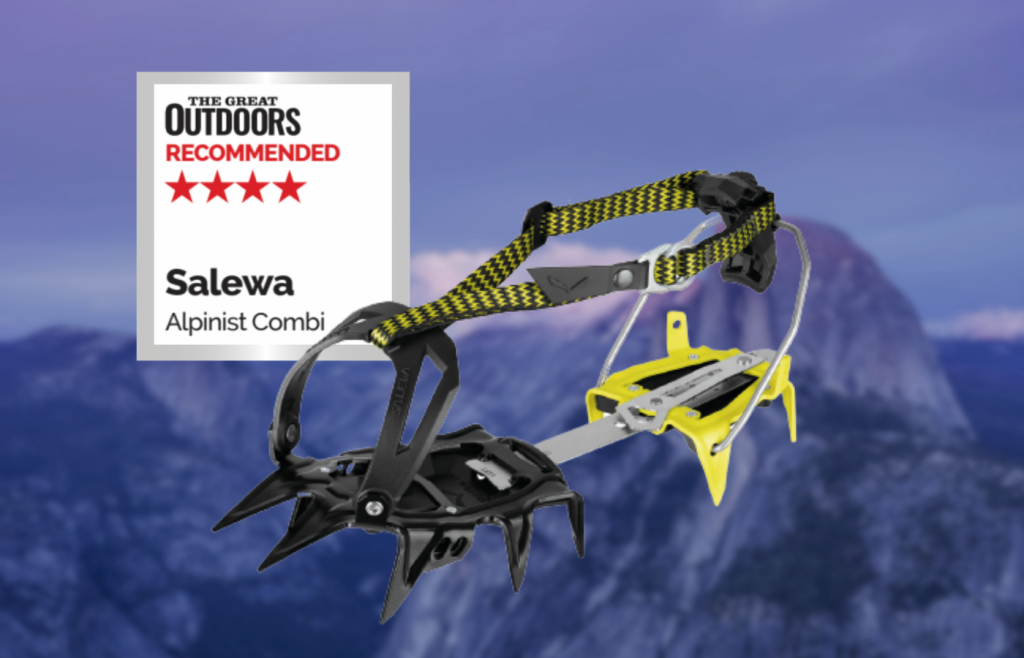 SQUIRREL_BUTTON_6537502
Rating: 4/5
Cost: £150
Weight: 835g
Pros: Adjustable strap length, weight, easy buckle
Cons: No easy release on the heel lever, some play in the fit
The Salewa Alpinist Combi crampons have a lot of nice features to make fitting and using these easier – some of which work well, and others not so much. The crampon bars are reversible to suit both small and big feet, and can be changed over easily. The lever for adjusting crampon bar length is easy to use. The holes on the crampon bars are the furthest apart on this test, and the bar is also the most flexible, which I think contributes to having a bit of play in the fit. In use, I struggled to get a consistently secure fit. The wheel on the heel lever helped a little, but it doesn't resolve the overall fit being inconsistent in the length from one fitting to the next.
Read Kirsty Pallas' full review of the Salewa Alpinist Combi crampons. David Lintern also reviewed this model in 2021 – you can read his verdict here.
Grivel Air Tech Light New Classic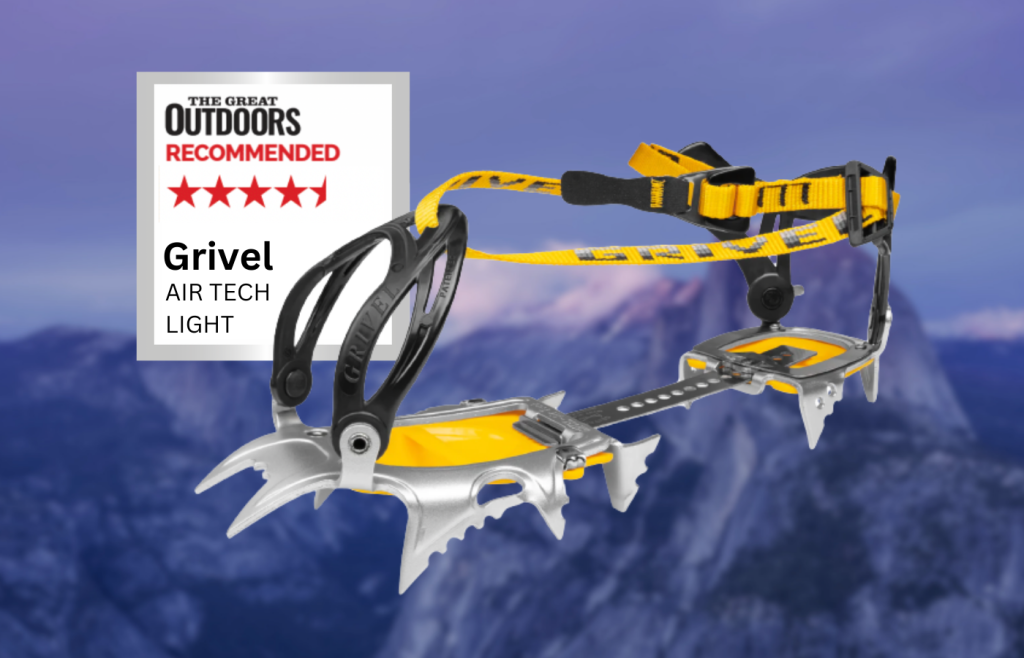 SQUIRREL_BUTTON_12986783
Rating: 4.5/5
Cost: £140
Weight: 600g, including anti-balling plates
Pros: Low weight; great security on steep ground
Cons: No bag included; less durable than steel crampons; included extension bar too stiff for flexible boots
The Air Tech Light is an aluminium alloy version of Grivel's Air Tech crampon, which is in turn a refined and lightened-up version of the classic G12 all-rounder. You get 12 points, including real front points. The points are a little shorter than on the G12, but very aggressive – far more so than your average walking crampon. This makes them great for mixed, steep and technical ground as well as general hillwalking.
Read Alex Roddie's full review of the Grivel Air Tech Light New Classic crampons.
Kahtoola KTS Steel crampons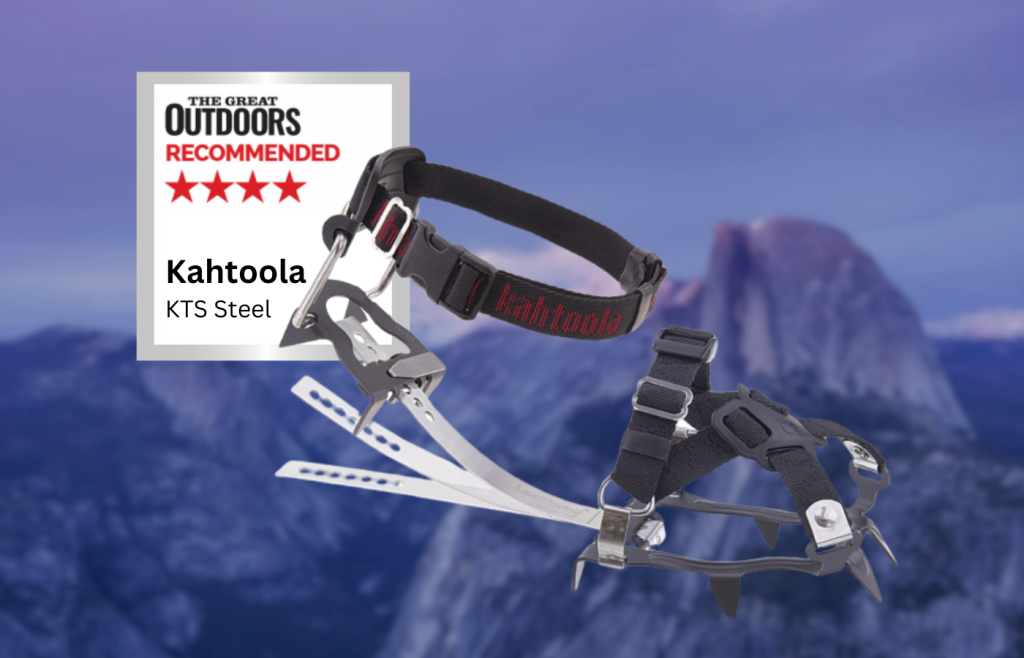 SQUIRREL_BUTTON_12986784
Rating: 4/5
Cost: £109.99
Weight: 660g
Pros: lightweight, short points, very flexible
Cons: anti-ball plates optional, pricey
The points are much shorter and there are no front points. This does mean that all 10 points are in contact with the snow or ice – wearing 10-point crampons with front points, only eight points at most are actually in contact with the snow. The shorter points are less likely to catch on stones or your trousers and are easier to walk in on thin coverings of ice, such as often covers paths. The KTS crampons are also very flexible, with a central bar that can almost be bent in half.
Read Chris Townsend's full review of the Kahtoola KTS Steel crampons.
Black Diamond Serac Clip crampons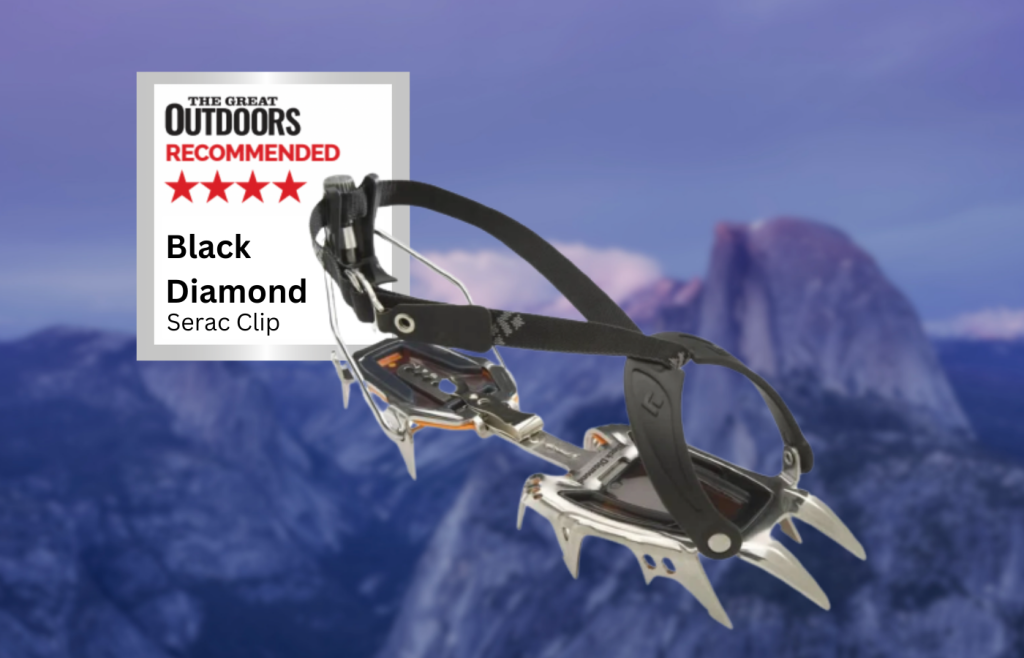 SQUIRREL_BUTTON_12986785
Rating: 4/5
Cost: £125
Weight: 908g
Pros: Stainless steel, very easy to put on
Cons: Requires boots with rear welt, quite heavy, expensive
These are the crampons to choose if you want to do some mountaineering routes as well as hillwalking. Black Diamond say they are suitable for 'moderate technical' climbs. To that end they have 12 very sharp points. They're available with three different binding systems – Pro with a metal front bail and rear clip for stiff climbing boots with welts, Clip with a front cable and rear clip for mountain boots with a rear welt or groove, and Strap with front and rear straps for non-technical footwear. I tried the Clip, which is very easy to put on and feels very secure.
Read Chris Townsend's full review of the Black Diamond Serac Clip crampons.
The best crampons: features to look out for
C Rating
Crampons all have a C rating, from C1 to C3, which relates to the stiffness of the crampon and the intended use. Ideally the C rating matches your boot's B rating, so you don't end up with a flexible boot and stiff crampon or vice versa. C1 is the most flexible and will usually work on a stiff summer boot or a B1 boot. C2 is a good mountaineering crampon, and works with a B2 boot. C3 crampons are climbing crampons for vertical terrain, and have the spikes to match.
In our latest tests, Kirsty Pallas reviews three sets of 'C2' crampons which are a great middle ground for being comfortable to walk in all day, yet stiff enough to use on easy winter climbs.
Attachment
While this sometimes correlates with the C rating, you can choose differently. The attachment type depends on if your boot has the appropriate notches, or welts, for parts of the crampon to clip onto. B1 boots usually need front and back baskets on the crampon, a B2 boot will take a lever lock on the back and have a basket on the front, with B3 boots being able to take a C3 climbing crampon with no baskets.
Points
Walking and mountaineering crampons will have 10-12 spikes on the bottom of each foot. The difference of 10 or 12 points is usually at the front of the foot. A 12-point crampon will have 2 subsidiary points to grab more snow on steeper ground. If you don't plan on heading into steeper ground, then a 10-point crampon will do everything and be slightly lighter.
Metal
Most crampons are made from some kind of steel, which is hard wearing and doesn't rust too much. Some models might be made of aluminium, which is a fair bit lighter, but doesn't hold up as well with heavy use, particularly if they come into contact with rocks regularly, fairly common in Britain!
Anti-balling plates
These affix to the bottom of the crampon and are there to stop snow, mud and ice 'balling up' between the boot and the crampon, which can ultimately force the crampon away from the boot. This is common in British winter with regular freeze/thaw conditions experienced. Most crampons include them as standard.