Alex Roddie reviews a superb pair of lightweight crampons – the best you can get for Scottish winter backpacking?
For long-distance backpacking in the Scottish winter, selecting the right crampons can be a daunting task. You want crampons that will be safe and secure on steep, icy slopes; they need to be compatible with your boots; and they need to be as light as possible. Most 10-point walking crampons will do the job, but steel crampons tend to start at around 800g, which is a hefty chunk to carry around if you're walking for days or even weeks – especially in uncertain modern winters when they might not even be needed most of the time. And what if your planned route takes you over more technical terrain than walking crampons can comfortably deal with?
These were the choices I faced when planning my winter Cape Wrath Trail in 2019. The crampons I chose were Grivel's Air Tech Light (New Classic bindings).
Read more about Alex's winter Cape Wrath Trail here.
What these crampons offer
The Air Tech Light is an aluminium alloy version of Grivel's Air Tech crampon, which is in turn a refined and lightened-up version of the classic G12 all-rounder. You get 12 points, including real front points. The points are a little shorter than on the G12, but very aggressive – far more so than your average walking crampon. This makes them great for mixed, steep and technical ground as well as general hillwalking.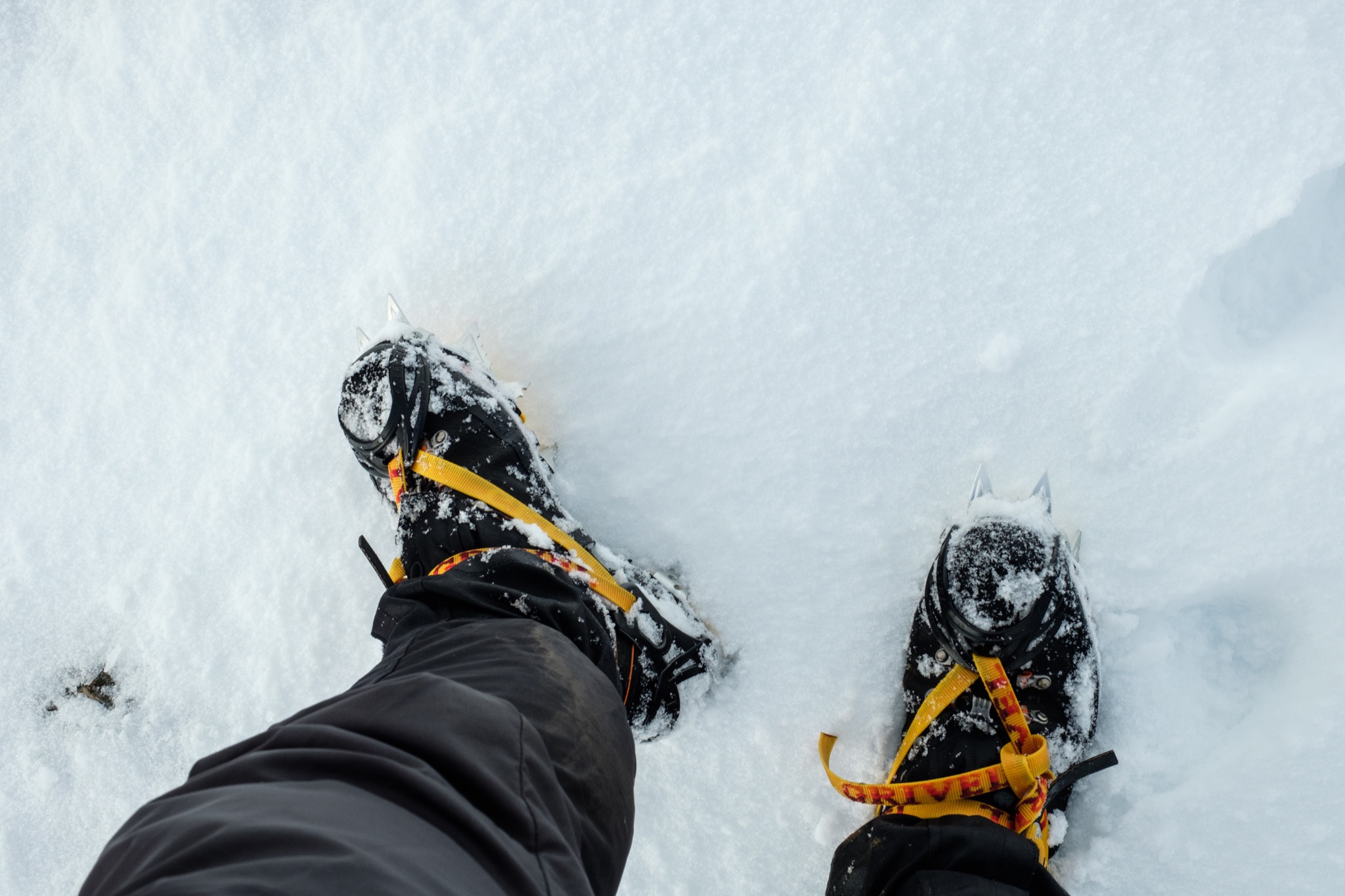 Alloy crampons are much lighter than steel, but also less durable and less strong. The design of the Air Tech Light is subtly different to that of the steel Air Tech to compensate for the reduced strength of the material.
The New Classic binding is designed to fit securely to any footwear. It's a simple plastic cradle with a nylon strap and buckle. This tried-and-true binding system has been used on Grivel's walking crampons for years, and is easy to fit even when wearing gloves.
The crampons come fitted with Antibotts (yellow plastic anti-balling plates, designed to prevent compacted snow from building up underfoot) and black Accordions (squidgy rubber things that fit on the extension bars, supposedly to prevent snow building up there too). The crampon is adjustable by hand to fit sizes up to Eur 46.
The included extension bars are the standard stiff variety. These are fine for fully stiffened mountaineering boots (usually rated B3) but less good for semi-flexible 3-4-season footwear (B2 or, especially, B1). Grivel sell springy 'Flex Bars' separately that are far more suitable for flexible boots, as they allow the crampon to bend with the sole instead of stressing the stiffer metal – which can result in failure after prolonged use (I once learned this the hard way!). For this trip I opted to replace the included extension bars with Flex Bars.
On the hill
I've used various models of Grivel crampons since I started hillwalking, but the Air Tech Lights surprised me – in a good way. First of all, the reduced weight in the pack does make a difference on a long-distance trail. The Air Tech Light is almost 200g lighter than the steel version, and 160g lighter than the G1 New Classic, which is the lightest steel crampon that Grivel currently sells (and a considerably less capable 10-point model).
Fitting the crampons to my boots came with no surprises. The New Classic binding is as secure and easy to use as ever. Once the extension bar is adjusted to fit your boot, it's a simple matter of flexing the plastic cradles over the heel and toe, threading the webbing strap, and securing it with the buckle. I usually knot the strap a couple more times just to be sure. This is a foolproof adjustment system. The only downside is that, in certain conditions, the straps can be prone to freezing; step-in crampons avoid this (but are a lot less suitable for hillwalking and backpacking).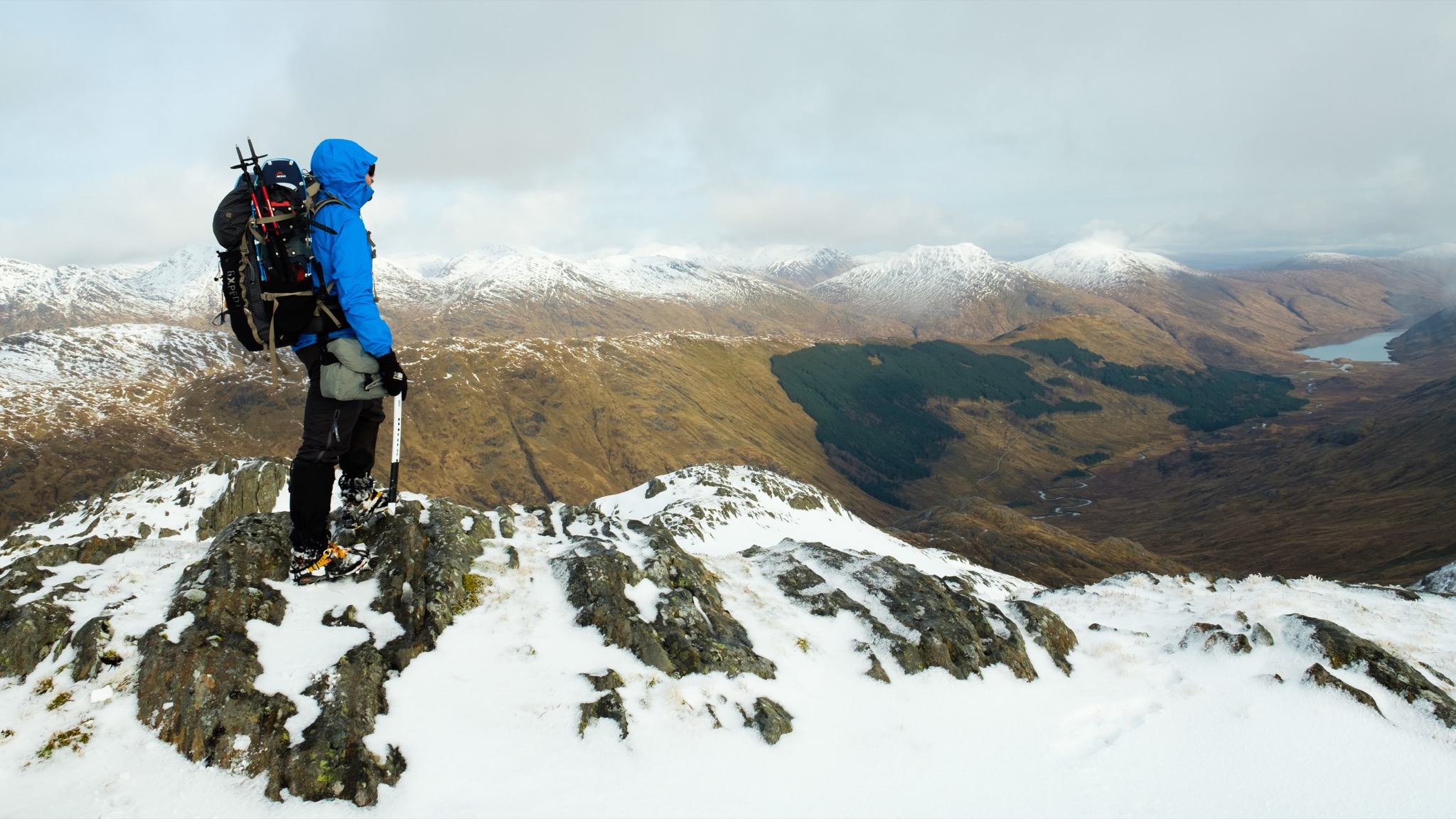 The Air Tech Lights felt delightfully nimble and secure. The reduced weight, it turns out, makes a difference on the boot as well as in the pack – it almost felt as if I wasn't wearing crampons at all. I also noticed the huge step up in security when you swap from a 10-point crampon to 12 points. I found that the Air Tech's shorter points felt less wobbly on rocky ground than the longer points of the G12s I've used in the past, and the more aggressive underfoot profile really did translate to a more secure connection to the mountain. The front points occasionally came in handy when front-pointing up steep, icy gullies on a high mountain ridge.
The best thing I can say about these crampons is that I almost forgot I was wearing them. They did their job perfectly, never balling up with snow or slipping.
Durability surprised me in a good way too. Hardly a scratch is visible after several hard days of use, including plenty of rocks stamped on and accidentally kicked. They won't prove as durable as steel crampons in the long term, but are certainly up to the rigours of Scotland's mountains.
Although I only needed the Air Tech Lights for a couple of days on my less-than-wintry winter Cape Wrath Trail, I decided to carry them for the whole journey. I never knew when winter might return, and at 600g, the burden wasn't too heavy.
Who are these crampons for?
If you expect to need full-blown crampons for technical terrain on a long-distance trail, and demand the lightest possible weight, it's hard to think of a better choice than the Air Tech Light New Classic. They're better than 10-point walking crampons in every respect except price and durability. For long-term regular use, if you prioritise durability over weight, or if you want to use them for graded winter climbing, opt for steel crampons instead. I think the Air Tech Lights are best thought of as your second pair of crampons for lightweight missions.
The downsides are no crampon bag (you definitely need one to protect clothing and other items from those sharp points), and the included extension bars are too stiff for the semi-flexible boots you're likely to be using for a long-distance trail.