The Petzl Irvis is awarded the 'Best Buy' by Kirsty Pallas for its lightweight affordability and modular design.
The Petzl Irvis is part of a great range of crampons from Petzl, which can be used in a modular way, by combining different heel and front sections to suit the ground you're heading into. I used that option over winter, switching the heel from the Irvis to the Dart front section and back, depending on whether I was walking or ice climbing that day. If you do a lot of both, then the switching may feel faffy and you might benefit from two full sets of crampons, especially if you want to swap the front bails regularly, as this is fairly tricky and needs a bit of time and force.
Rating: 4.5/5
Cost: £115
Weight: 746g
Pros: Price, weight, modular
Cons: No length adjustment in the bars, tricky to switch front bails (attachment points)
Materials: Steel | Type: C2 with Leverlock | Points: 10
When fitting the crampons for smaller boots, the main downside is the bars don't flip to work as a shorter bar, meaning I had to cut down the end of the bar to avoid heel spurs all winter! The holes are offset to give a half size of adjustment, which means getting it right is very easy. The heel lever doesn't have any adjustment in itself, but the bail can be placed in three positions on the heel piece to offer some flexibility.
Wearing the Petzl Irvis crampons, the step-in front bail is soft plastic, which molds well to most boots and doesn't leave gaps. The crampon comes with a very long strap, which again I have trimmed down to suit my smaller feet. The buckle is straightforward with gloves, and releases well, as does the heel lever.
These are the only 10-point crampon in this test, so it's worth being aware that they won't feel as secure on steep ground, since the secondary points are much less aggressive and set up for walking. The front points are a good length though, and the odd steeper section isn't a problem, but they might not feel as sturdy on long mountaineering routes. The replaceable anti balling plates are neat and work well. A 10-point crampon means the front section is shorter, so these crampons pack up the smallest and are the lightest in the test. The Petzl Irvis is also the least expensive in this selection.
SQUIRREL_BUTTON_12986778
Compare these crampons with other models in our buyer's guide to the best crampons.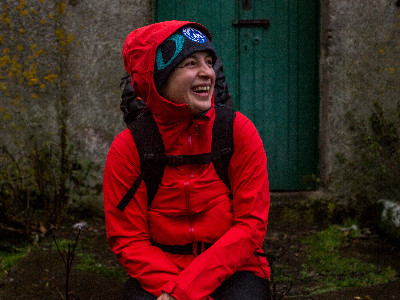 Tested by Kirsty Pallas
Kirsty wears a UK size 5 winter boot. These crampons were tested in winter 2023 through lots of different weather and conditions on both personal mountaineering days and as she delivered winter skills courses across Scotland. All crampons were weighed on the tester's home digital scales.