The Grivel G12 crampons – an update on a classic – get Kirsty Pallas' recommendation.
The Grivel G12 is an absolute classic crampon, having been around for many years, and a part of pioneering history on new routes. They've had some updates recently though, which I don't feel are all useful. The crampon bars are reversible for small and big feet, but the lever for adjusting the length of the crampon now feels more awkward and stiffer. It wraps around the heel so it's tucked nicely out of the way, unlike the old lever that was down the middle, but it feels like there's double the stiffness now. The heel lever can be adjusted in height too, but it's near impossible to get it into the bottom setting, and very faffy in general.
Rating: 4/5
Cost: £145.95
Weight: 1005g
Pros: Solid design, secure fit
Cons: Hard to adjust, weight
Materials: Steel | Type: C2 with Leverlock | Points: 12
Once the crampon is fitted though, it works as well as should be expected of a classic. The toe basket is nicely flexible for different toe boxes, and the heel lever snaps on tightly. The strap comes long and can be cut down to reduce the excess. The buckle has changed and is a bit trickier in winter gloves than the previous ring buckle, but still manageable.
The front and secondary points are a good length and compromise of angle for maximum security without becoming unwieldy. I like that the secondary points have a mini point too, which curves in slightly, and just adds a bit more grip again. The anti-balling plates are bulkiest in the test, but that keeps a lot more snow out, however they don't seem to be replaceable. The rear points of both the front and heel sections are purposely flattened off, which might help save things in your bag from getting spiked, while not compromising on bite in the snow.
It's the heaviest model by almost 200g, but it does feel like the sturdiest and the one you want when you're kicking into hard snow on steep ground. Once you've faffed with the fitting at home, it's a great all round crampon.
SQUIRREL_BUTTON_12986779
Compare these crampons with other models in our buyer's guide to the best crampons.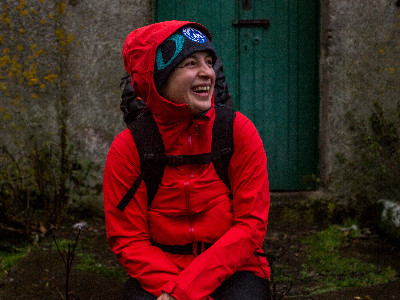 Tested by Kirsty Pallas
Kirsty wears a UK size 5 winter boot. These crampons were tested in winter 2023 through lots of different weather and conditions on both personal mountaineering days and as she delivered winter skills courses across Scotland. All crampons were weighed on the tester's home digital scales.