If you want to take a lighter approach when you're backpacking, it's a good idea to focus on nailing 'the big three' before you start cutting your toothbrush in half and chopping off any labels. That means looking at your sleeping system, your backpacking tent and your backpack.
You see, if you've got a lightweight tent and, say, an ultralight quilt, it makes sense to have a ultralight backpack too, because what's the point in having a heavy, sturdy pack capable of carrying loads of 20kg when your load isn't exceeding 10kg?
Main image: Approaching Beinn a' Chlaidheimh | Credit: James Roddie
Some backpacks these days can weigh upwards of 2kg – heavier than many tents – and they'll tend to be the ones capable of handling heavy loads. Many of the best lightweight backpacks, however, will ideally come in at below 1kg. These will often by semi-framed or even entirely frameless packs that use lightweight fabrics such as silnylon, ripstop nylon, or potentially Dyneema Composite Fabric (DCF). They might also do away with features such as hip belts, chest or sternum straps, and compression straps.
Capacities for ultralight backpacks can really vary. Some can carry as much as 60 litres while others can be as small as 28 litres. The optimum capacity for a multi-day hike, many would argue, is going to be around 35-litres.
If you're looking for a backpack and aren't too bothered about the weight being ultralight, our experts have tested and reviewed the best backpacks for hiking, the best women's backpacks, and the best budget backpacks for hiking too.
The best ultralight backpacks tested: our experts' top picks
For this article, our team have picked out some of the best light backpacks currently on the market. Capacities range from 28 litres to 60 litres and from 500g to 1250g in weight. The selections have been made by Will Renwick and there are also contributions from Chris Townsend, Alex Roddie and Francesca Donovan.
The packs included here were assessed for their balance of weight, load bearing, carrying comfort, durability, practicality and feature set.
Atom Packs Mo 60 |  TGO Gear Awards 2023 Winner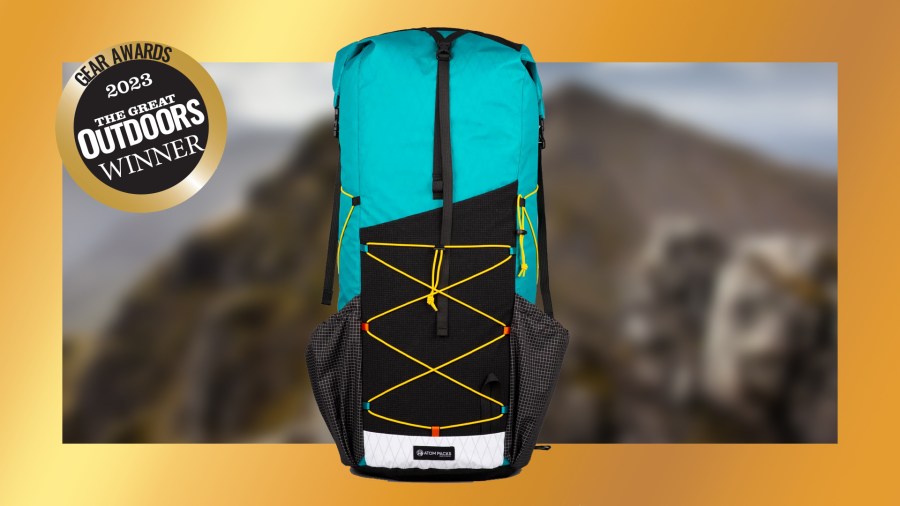 Price: $310 | £285 (Available from Atom Packs)
Weight: 930g
Pros: Durable, light, well-crafted
Cons: Expensive
Made in Keswick in England's Lake District, Atom Packs is the brainchild of Tom Gale, an experienced long-distance hiker who has completed the Appalachian, Pacific Crest, and Continental Divide Trails in the USA and the Te Araroa in New Zealand. Capable of managing loads of up to 19kg, it features a durable but lightweight fabric, a 4-inch-wide dual adjustable hipbelt, an EVA foam lumbar pad, a removable closed cell foam back panel, a roll top closure and various pockets and gear attachment straps and loops.
In our tests, the Mo VX60 pack was superb, handling loads well while feeling comfortable to wear. It was also remarkably light to carry but also offered capacious storage. The ability to customise fabrics, colours, and features was welcomed too.
Read Chris Townsend's Atom Packs Mo EP50 review.
Available at: atompacks.co.uk (Currently sold out but custom model available)
Sierra Designs Flex Capacitor 40-60 | TGO Gear Awards 2023 Highly Commended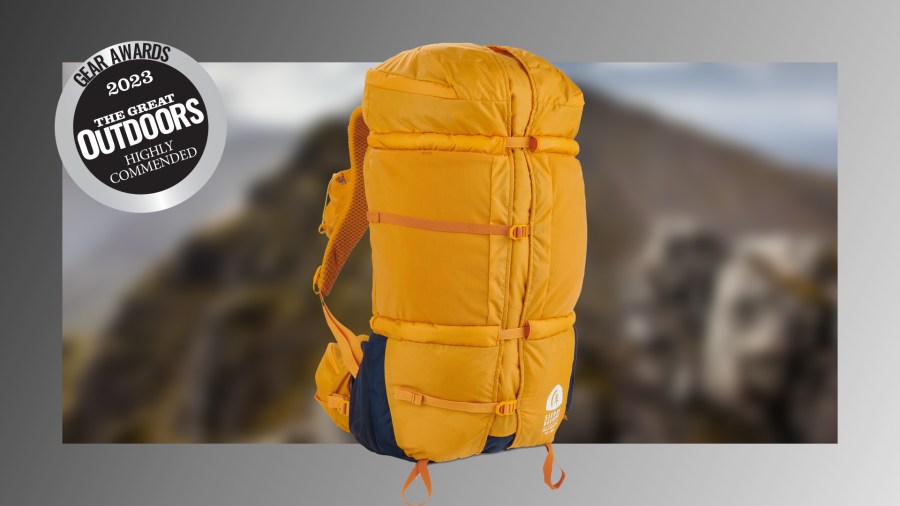 Price: $190 | £165 ( Available from Sierra Designs)
Weight: 3 lbs 2 oz  | 1200g
Pros: adaptable and versatile, at the heavier end of the lightweight category
Cons: the top zip is a little vulnerable to wet weather ingress
The designer of this magazine is none other than prolific ultralight backpacker Andrew Skurka. What's most notable about it is that it is designed to be able to shrink or grow depending on your load – from 40 litres to 60 litres – that's thanks to its six compression straps and a big gusset across the front.
The back system involves a lightweight Y-shaped frame that forks at the top and this means that weight gets distributed evenly from the shoulders down to the waist. There's also a thickly-padded lumbar support and padding around the backs of each shoulder too.
Access to the main compartment is via a bucket-style zipped lid. This makes access to whatever is in the top of the pack quick and easy but you will need to dig down to access anything stored down in the base.
Pockets include two stretch mesh ones on the sides, two stretchy, drawcord pockets on the shoulder straps, zipped pockets on the hipbelt and then a small zipped pocket on the lid which is just about big enough for a map and small valuables.
Read Chris Townsend's full Sierra Designs Flex Capacitor review.

Available at: sierradesigns.com
SQUIRREL_BUTTON_12925497
Granite Gear Crown 3 60L | Chris Townsend's best buy in 2023
Rating: 4.5/5
Price: $220 | £190 (Available from Granite Gear)
Weight: 2 lb 27 oz | 1242g
Pros: good adjustment and compression, useful pocket options
Cons: tall and narrow with only top access
This picked up a Best Buy accolade from Chris Townsend in his recent comparative review of some of the latest backpacks. It's a ultralight pack but one that's not so light that it feels flimsy or that has tiny, fiddly components.
It has a tall and narrow main compartment that's closed by a buckle-fastened roll-top and a floating lid. The floating lid is not only removable but it can also convert into a chest pack or lumbar pack in conjunction with the hipbbelt. Other removable elements include the two sternum straps and the frame sheet. Stripped back fully, the pack weighs just 2 lbs / 900g.
There are plenty of pockets, including a front stretch mesh for storing a waterproof jacket or down jacket, side pockets and a roomy lid pocket.
It's designed for maximum loads of 15kg – Chris found 16kg manageable. There is, however, the option to purchase an aluminium add-on frame, which makes the pack strong enough to handle loads of up to 19kg.
Read Chris Townsend's Granite Gear Crown 3 60 review.
SQUIRREL_BUTTON_12925689
Mountain Laurel Designs Exodus 55L | Recommended
Rating: 4.5/6
Price: $325 | International Shipping (Available from Mountain Laurel Designs)
Weight:18 oz | 510g
Pros: lightweight, customisable
Cons: expensive
This is a roll-top backpack that features a main compartment, rear mesh pocket, and side water bottle pockets. There are multiple volume adjustment straps too.
It's made from a light but hardwearing Dyneema fabric and it has no padding or a frame in the back, making its overall weight exceptionally low at just 510g. With that lack of back support, this needs to be provided by your gear – a short foam pad works well. The shoulder straps and hipbelt are padded and the pack hugs the back closely.
The basic pack has no lid and just three mesh pockets. There are, however, several options for customising it, including adding a lid with a pocket and an internal pouch and hipbelt pockets, all of which are sold separately by the brand.
Read Francesca Donovan's full MLD Exodus 55L review.
Available at: mountainlaureldesigns.com
Osprey Levity 45
Price: International Shipping | £220 (Available from Osprey)
Weight: 760g
Pros: light, good pocket options, three sizes
Cons: thin hipbelt
The Levity 45 is a lightweight pack with an impressive back system that's comfortable and airy. It features Osprey's AirSpeed, a system seen on many of their packs where the bulk of it is suspended about 3 inches off your back by an aluminium frame and trampoline-like mesh to allow a high amount of ventilation and less sweat build up.
At high abrasion points, like the base for instance, there's a 210-denier nylon reinforced with a 200-denier polyethylene, whereas the main material elsewhere is a 30-denier ripstop silnylon which is commonly seen on many ultralight tents.
Other useful features include a stretch mesh front pocket and side pockets, an internal bladder sleeve and daisy chain loops for hanging kit from your pack. If you're carrying smaller loads, it's possible to reduce the pack's volume via zig zagging compression straps on the side.
Bear in mind that the female equivalent of this pack is called the Lumina. Both of these packs also come in different back sizes and there are 60-litre versions too.
Read Chris Townsend's full Osprey Levity 45 review.
SQUIRREL_BUTTON_12941854
Haglöfs LIM 35
Price: £110 | International Shipping (Available from Alpine Trek)
Weight: 1 lb 96 oz | 890g
Pros: good ventilation, durable but light
Cons: fixed back length
This is designed primarily as a large day pack, but it would also serve minimalist backpackers. It's made from a 70-denier rip-stop polyamide which is reinforced with sections of 140-denier fabric, most notably at the base. 
Its back system has a lightweight suspended mesh panel which keeps the contents of the pack away from your back and provides a large amount of airflow to prevent sweat building up.
The hipbelt, which has a good bit of padding to it, has open mesh pockets on either side and there are larger stretch mesh pockets on either side of the pack too.
Access to the main compartment is via the top of the pack where there's a toggled drawcord and top lid. The top lid isn't removable – nor does it float to accommodate more kit.
One thing that particularly impressed us about this was the water resistance of the fabric. It's not fully waterproof but it's capable of seeing off heavy and prolonged rainfall.
The main drawback is that this only comes in one size and the back length isn't adjustable.
Available at: haglofs.com
SQUIRREL_BUTTON_12941864
Rab Aeon Ultra 28
With a capacity of just 28 litres this pack is only going to suit the real minimalists when used for multi-day stuff. Basically, it'll just about manage a very lightweight load for short fastpacking trips or mountain marathon type stuff. Like the Arc'teryx Aerios, the harness is very similar to the kind of harness you'd find on a running pack and there's plenty of padding and ventilation across the back.
The left side strap has a zippered pocket for storing small valuables, such as a phone or keys. There's also a mesh pocket for gels and the like. The right strap also has a small zipped pocket along with a mesh pocket with a zipped expansion panel that's designed for 500ml water flasks and there are zippered pockets on the padded hip belt.
The main material is made from 50% recycled nylon and it's tough enough to cope with repeated abrasion. There's also seam taping, making this pack highly water resistant.
Available at: rab.equipment
SQUIRREL_BUTTON_12941874
Gregory Focal 48
Price: $230 | £190 (Available from Sport Shoes)
Weight: 1250g
Pros: lots of useful features, good ventilation
Cons: at the heavier end of the lightweight category
This has lots of useful design details and features that make it well-suited to any backpacking trips or thru-hikes where your pack is going to grow and shrink in size depending on the supply circumstances ahead of you. There's a a floating lid, for instance, volume adjustment straps throughout and then big stretch mesh pockets on the front and sides too.
Its back system uses a suspended mesh keeping the contents of the pack away from your back and providing lots of airflow. The lumbar is padded, as are the shoulder straps and the hipbelt fins, and a 3D mesh helps to prevent sweat building up across the shoulders. This mesh is treated with Polygiene's permanent anti-odour control which is designed to stop smell-causing bacteria from multiplying. From our experience testing Polygiene in everything from t-shirts, trousers to socks and buffs, we can confirm it does actually work well.
The Focal 48 has zippered hipbelt pockets, an internal hydration sleeve, trekking pole or ice axe loops and a lightweight leather flap that can serve in place of the top lid if you want to remove it to make the pack a little lighter.
The back length isn't adjustable but the pack is available in different lengths. It's also available in different capacities too.
Available at: gregorypacks.com
SQUIRREL_BUTTON_12941879
Arc'teryx Aerios 45
The main fabric here is a super tough Cordura that's toughened up even further with the addition of a ripstop made from Liquid Crystal Polymers – that's a class of polymers that are known for their high strength and stiffness. 
Its harness design resembles that of a running vest or pack. It's close fitting and has wide but thin shoulder straps and two stretchy sternum straps. The foam back panel has holes cut into it to save weight and to also help to create a bit of extra airflow too. 
The roll-top design and bungee volume adjustments makes this a useful pack for those trips where the load might vary depending on the availability of supplies. 
Pockets include two side pockets, each big enough for a water bottle, a small pocket inside the main compartment and a big zipped pocket at the top of the pack. There's also a front bungee for stowing things like a sleeping mat or down jacket. 
The best ultralight backpacks: Why you should trust us
This round up is brought to you by Will Renwick. Will is an experienced long-distance hiker and fastpacker. In 2013 he completed a 1034-mile walk around his home country of Wales and more recently he became the first person to complete a solo, self-supported run taking in all 189 of Wales' mountains. Will tested the majority of the ultralight backpacks included here on trips in the far north of Scotland and on multi-day hikes in the likes of the Bannau Brycheiniog and Eryri national parks in Wales.
Chris Townsend, our long-standing gear expert, has also contributed to the testing for this article. Chris is a prolific long-distance hiker and author of over 20 books on backpacking and the outdoors. He tested the backpacks on this list in the Scottish Highlands on a number of multi-day hikes. Further contributions have come from Francesca Donovan, Content Producer at The Great Outdoors and a member of the gear review team. 
How to choose one of the best ultralight backpacks for you
Weight isn't absolutely everything when it comes to choosing a ultralight backpack. Focus too much on weight and you might end up with something that's flimsy, uncomfortable or bad at managing loads. As such, it's important to look for light backpacks that are also designed for the demands of the trail. Things to consider include:
Capacity
Choosing the right capacity is important to ensure you have enough space for all your essential items without carrying unnecessary weight. When choosing a backpack and its capacity take into account the duration and type of trip you plan to embark on. The capacity you choose also depends on your mindset. Are you the type of person who likes a minimalist, light-footed approach or do you prefer to have plenty of things to make life on the trail comfortable?

It's important to bear in mind that on long backpacking trips, your load can grow or shrink depending on the availability of supplies on the trail ahead – that's where backpacks with plenty of volume adjustment can be very handy.
Frame 
Frames in backpacks help distribute the weight of the load evenly across the wearer's body. By providing structure and rigidity, the frame helps transfer some of the weight from the shoulders to the hips, which are better equipped to handle heavy loads. Aluminum frames are popular in lightweight backpacks due to their excellent strength-to-weight ratio. Carbon fiber frames are even lighter than aluminum frames while maintaining high strength. Then there are backpacks frames made from a combination of reinforced plastics, nylon or other synthetic materials. 
Some ultralight backpacks eliminate the traditional internal or external frame altogether to save weight. Instead, they rely on the pack's contents to provide structure and support.
Back systems
Ultralight backpacks will often have streamlined and lightweight harness systems. These can typically include lightly padded shoulder straps and hip belts and basic back panels. There are, however, many examples of lightweight backpacks that have complex back systems that bring comfort, load-bearing and ventilation via things like trampoline mesh and mesh covered foam. 
While some backpacks come with adjustable back lengths, there are many examples of packs with fixed back systems and with these  it's important to check the back length before you buy a product.
Fabrics
Common fabric choices by lightweight backpack manufacturers include Dyneema Composite Fabrics (DCF) for its exceptional strength-to-weight ratio, ripstop nylon for its tear resistance, silnylon for its water resistance, Cordura for its toughness and polyester as a versatile and cost-effective option. There's also X-Pac, a type of high-performance laminated fabric that's known for its durability, weather resistance and lightweight properties. 
If you're looking for the best lightweight backpacks, you may also like: