Rain pants are specialized garments designed to provide protection against wet weather conditions – and wind too. Usually made from tightly woven and waterproof materials such as nylon or polyester, they feature sealed seams and often incorporate technologies like waterproof coatings or laminates to prevent water from penetrating the fabric. They usually have an elasticated waistband or adjustable drawstrings to ensure a snug fit and may have zippers, poppers or Velcro fastenings at the ankles for easy wearing over footwear. 
Waterproof trousers are essential when conditions are likely to be wet. Anyone who tells you they're not have probably never had the fortune of trying out a pair that work well. The best rain pants will be breathable and they'll not only keep your legs dry and warm but they'll also prevent rain from entering into your footwear at the ankle, ultimately keeping your feet nice and dry too. 
The best rain pants
In this article we'll show you the 8 pairs of waterproof trousers, all currently on the market, that we rate the highest. We've assessed them first and foremost based on the protection they provide, but also on their weight, packability, durability, breathability, comfort and convenience. The majority of options here, which are a mix of waterproof overtrousers and wear-all-days, are designed for three-season use but we've also included some bulkier options suited to winter use and a couple of very lightweight pairs that are ideal for ultralight summer backpacking or fastpacking. 
Cimalp Storm Pro Pant 2H – Best rain pants tested
Keela Munro Salopettes
66 North Snaefell NeoShell Pants
Patagonia Torrentshell Rain Pants
Montane Minimus Nano
Rab Phantom
Rohan Dry Requisite
Páramo Cascada II
How we tested them
These were tested in a range of conditions, from spring through to winter, in order to gauge their balance of protection and breathability. The conditions we tested them in were generally mild and wet – ideal conditions for testing out rain pants! Will Renwick was the main tester. He's 5 foot 10 and has a 32 inch waist. Most of the wear-all-day trousers were in his usual size but he sized up for the waterproof overtrousers.
CimAlp Storm Pro Pant 2H
Price: $120 | £120
Weight: 8.46 oz | 240g
Pros: lightweight, very packable
Cons: narrow fit
Best for: trail running and fastpacking
These weigh just 215g which is very light. They're also very packable; in tests, it was possible to scrunch them up to about the size of a beer can. They don't fit over a pair of trousers – at least not comfortably – but they'll go over a pair of baselayers, running tights or lightweight trail running shorts.

The material is a little on the fragile side and you wouldn't want to push its limits over rough rock or through thorny bushes. On the flipside however, the breathability did prove to be good in our tests, with the meshed vents at the knee certainly helping there.
The zips at the ankles made putting these on and taking them off possible while wearing trail shoes. Other notable details include a zipped pocket on the backside, drawcord adjustment at the hem and reflective details. 
These trousers are also bluesign approved, employing organic dyes and a PFC-free DWR Teflon EcoElite treatment that's derived from renewable resources. 
Overall, these are well made, protective, light and packable, and are best suited to high tempo outdoor pursuits like trail running and fastpacking.
Available at: cimalp.com
Keela Munro Salopettes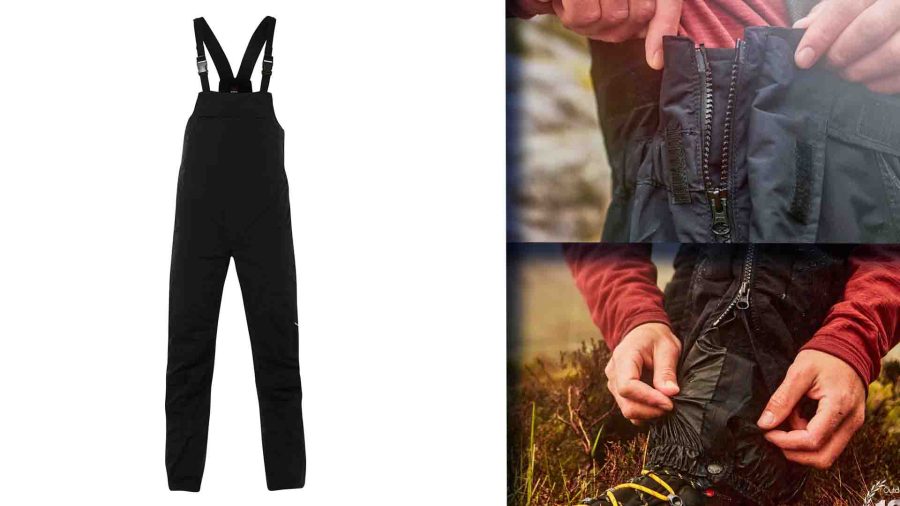 Price: £160 | U.S. shipping available
Weight: 33.8 oz | 960g
Pros: very durable and protective
Cons: heavy
Best for: winter hillwalking and mountaineering
The Keela Munro Salopettes are a durable pair of highly waterproof and windproof trousers that can help you through some of the worst conditions out there.
Perhaps too warm for summer conditions, they're the kind of trousers that you throw on in the morning and leave them on throughout a full day when the conditions are set to be brutal. 
In our tests, there was enough space for them to be worn over a pair of light trousers, but the best way to wear them would be just with a pair of baselayer leggings underneath.
The Munro Salopettes are waterproofed using a unique two-layer fabric system, featuring a waterproof outer fabric and then a laminated inner fabric. A hydrophilic liner fabric draws moisture away from the body to help push it out into the atmosphere. This two-layer system results in an air gap that creates a natural thermal barrier which helps to insulate your body (ideal for those brutal winter days out). It's a technology that has quickly gone on to be widely adopted by tactical forces and emergency services.
They have a bibbed salopette design to help keep snow out when you're climbing and the bib has a handy zippered chest pocket complete with a storm flap to keep essential items safely kept safe. There are mini ankle cuffs, hooks that fasten the trousers onto your boots and zip venting right up the legs. 
Available at: keelaoutdoors.com
66° North Snaefell NeoShell Pants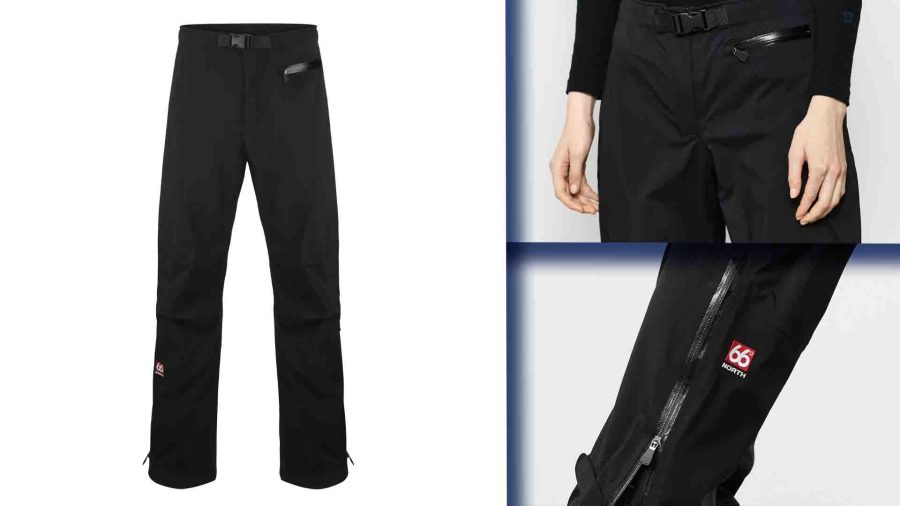 Price: $395 | £325
Weight: 17.1 oz | 485g
Pros: protective, breathable, comfortable
Cons: quite heavy, not very packable, short zips
Best for: hiking, mountaineering, ski touring
These might come with an eye-watering price tag but they are an excellent pair of rain pants. They're made using Polartec's NeoShell fabric, a waterproof membrane that you don't see too often anymore, even despite the fact that it's much-loved by those who've experienced it. Lauded for its breathability and comfort, Polartec NeoShell is a good fabric to go for if you hate that clammy feeling that's often experienced when wearing waterproof garments. It's also stretchy and less rustly. And these trousers bring all of those benefits of Polartec NeoShell to the table, plus more. In tests, they felt durable and protective, the cut was big enough to cater for a pair of lightweight softshell trousers underneath (but they were at their most comfortable when worn just over a pair of baselayer tights). They have useful details, including an integrated hipbelt and a small zipped waterproof pocket on the thigh. 
There's a quarter length zip at the base. You can just about get these on and off without taking trail shoes off but it's not possible with chunky walking boots. There's a popper at the base of the zip which allows you to open the ankles up for ventilation while still retaining a degree of protection from the elements. 
Available at: 66north.com
Patagonia Torrentshell Waterproof Trousers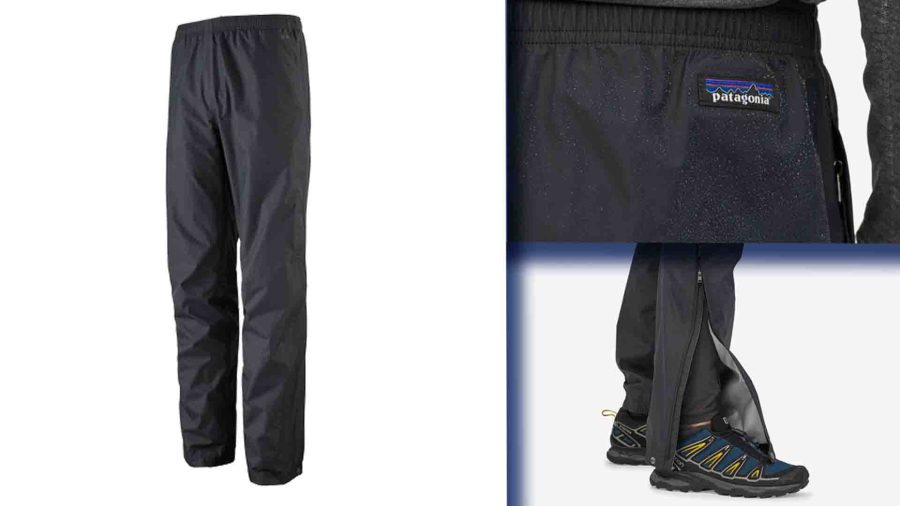 Price: $129 | £84
Weight: 11.8 oz | 335g
Pros: long zips, protective, useful handwarmer pockets
Cons: nothing
Best for: hiking, backpacking
These proved durable and protective in our tests and the long ¾ length zips made them really easy to throw on and off when at the mercy of changeable conditions. The zips are also two-way, which means you can vent at the top or at the bottom of the pants. 
They use a three-layer fabric that bears Patagonia's H2No label. This isn't actually the name of their specific fabric, but instead the brand's stamp to show it meets their H2No standard of protection, durability and breathability. No breathability or waterproof ratings are given here but the Torrentshell pants proved notably protective and relatively breathable – particularly with the vents opened up. They were also voluminous enough to be worn over reasonably thick hiking pants, making them a good option for year-round use. 
The two handwarmer pockets have mesh linings. This means they can double up as vents when necessary. The waist is elasticated and there's a drawcord too. They pack up into a small stretchy stuff sack which, in tests, was small enough to fit into the top lid of a backpacking backpack.
Available at: patagonia.com
Montane Minimus Nano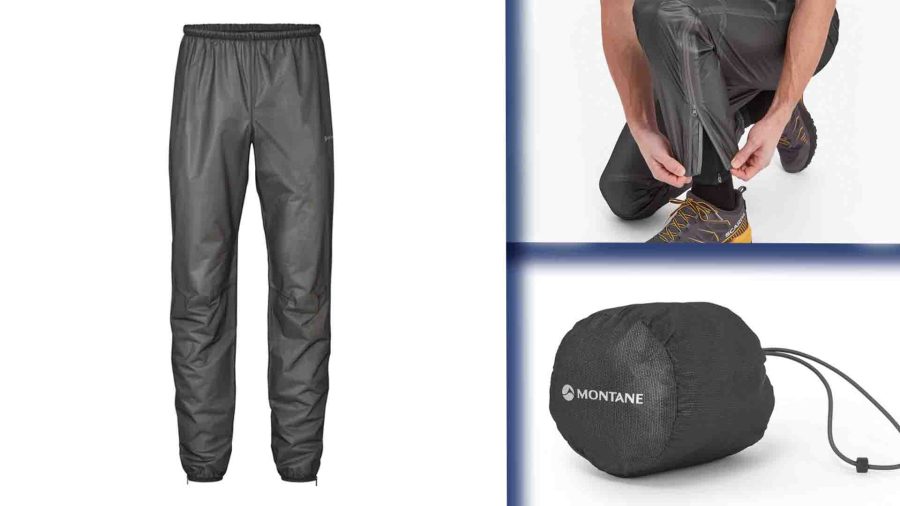 Price: $119 | £90
Weight: 3.5 oz | 100g
Pros: very light, very packable
Cons: thin, fragile fabrics, no pockets
Best for: trail running, fastpacking, lightweight backpacking
These are very light at just 100g. They're also very packable – so packable that, in our tests, they proved to be very easy to lose inside a backpack! 
They're primarily designed for mountain running and ultras, meeting standard race requirements due to their taped seams. For hiking, they've served well in tests as an option to keep in a backpack during summer trips as a just-in-case option – something that you don't expect to wear often or at all, but feel you should have with you. Our impression is that they're a little too thin to rely on for long stints over terrain that might involve rough rock or overgrown foliage. 
The ¼-length zips means they can be pulled on and off over trail shoes quite easily. They're designed to be worn over running shorts or tights and it'd be a tight squeeze if you wanted to wear them over trousers. 
Details include an elasticated hem and reflective details. There's also a little stuff sack that you can scrunch the trousers into. All packed up, it's a bundle no bigger than an apple – very handy for the ultralighters out there then. 
Available at: montane.com

Rab Phantom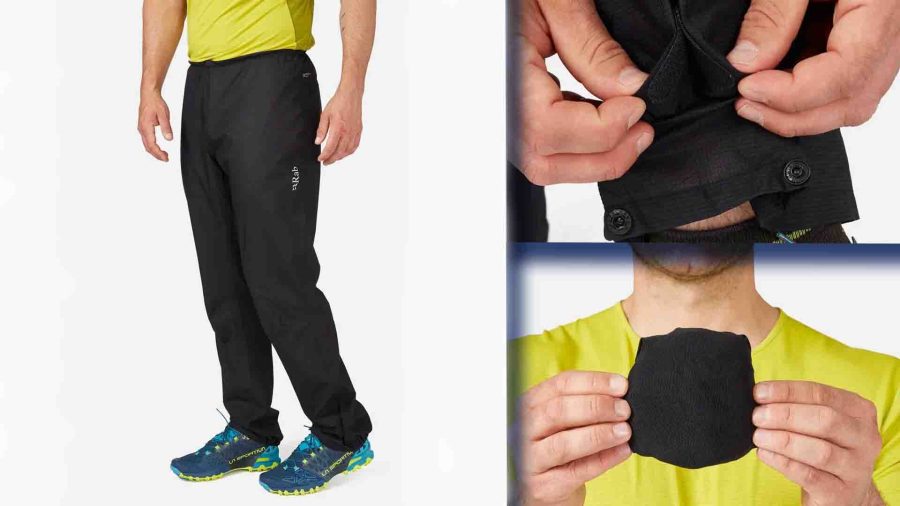 Price: $140 | £110
Weight: 2.82 oz | 80g
Cons: thin, fragile fabrics, no pockets
Best for: trail running, fastpacking, lightweight backpacking

These are very similar to the Montane Minimus Nano above, only they're even lighter at a remarkable 80g. Just like the pair from Montane, they're designed primarily for running, but can serve as an emergency option for hikers and backpackers who want a back-up, just-in-case pair for the worst of weather. The cut is tight so they'll only fit over a pair of shorts, baselayers or tights. They also don't have a zip on the ankle, just a Velcro sealed gusset. While it's possible to get these on and off without removing your trail shoes, it's a tight squeeze. 
The fabric is a 2.5 layer Pertex Shield. 2.5 layer means that there's an outer protective fabric, a membrane and then a sprayed on inner lining. In tests, this was highly breathable and protective. It was also quite stretchy. The 7D material is very thin, so you wouldn't want to challenge it too much on rough rock or overgrown trails. 
The waist has toggled adjustment, there are reflective details throughout and you get a little stuff sack to store these in. 
Available at: rab.equipment
Rohan Dry Requisite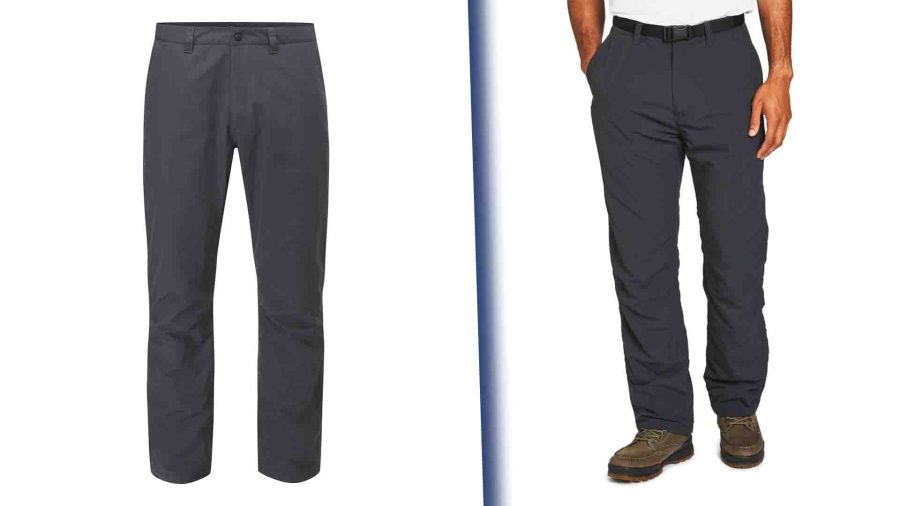 Price: £60 | No U.S. shipping
Weight: 550g
Pros: comfortable, hard wearing, versatile
Cons: heavy, quite warm
Best for: hiking
Rohan's Dry Requisite trousers are waterproof trousers that don't really look like waterproof trousers. They actually have the look of casual trousers someone might wear out and about in town. They feel like casual trousers too; soft, stretchy and comfortable. 
They are definitely waterproof though – they kept us nice and dry during our tests. They're breathable too, but the two layers of fabric do make them quite warm for summer use. On the outside is a thin and tightly woven polyamide canvas that's treated with Durable Water Repellent, and on the inside is Rohan's proprietary Barricade membrane. This membrane is thin but is adequately protected by the outer fabric, it's also very stretchy and it's comfortable on the skin – on that note, these are best worn by themselves or over baselayers. 
There's not much else to say about these as the details are simple: just two handwarmer pockets, loose ankle cuffs and an integrated webbing belt held by belt loops.

Read Will Renwick's full Rohan Dry Requisite review.
Available at: rohan.co.uk
Paramo Cascada II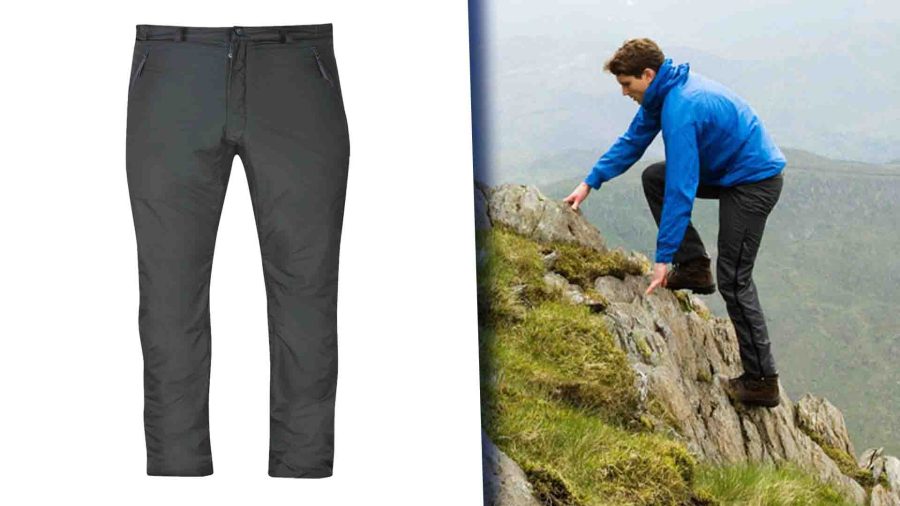 Price: $240 | £170
Weight: 16.9 oz | 481g
Pros: good details, breathable, protective, comfortable
Cons:heavy, warm
Best for: hiking, winter hillwalking
If you hate that clammy feeling that you can often get in waterproof trousers, this is the pair for you. They employ a clever wet weather system that doesn't involve a waterproof membrane. Instead, there are water resistant fabrics and mesh liners that are treated with Nikwax's hydrophobic solution and this means moisture is both repelled and actively pushed out from the fabrics and into the atmosphere. The result is a pair of trousers that are truly breathable, highly water resistant (though not waterproof) and very fast drying. The main downside, however, is that they are heavy and quite warm – even despite the long side zip vents down the legs. In tests, they also proved to be quite bulky in a backpack – unlike most other waterproof trousers options out there. 
If wet and miserable conditions are predicted for your whole day, these will be great for summer hiking. Otherwise, they're better suited to winter use, worn over some comfortable baselayers. 
Available at: paramo-clothing.com
How to choose rain pants 
In the simplest sense, waterproof trousers come in two different forms: those that are pulled over your trousers – known as waterproof overtrousers – and those that are worn by themselves. Overtrousers tend to be lightweight and packable as the intention is that they are stored in your pack ready to be pulled on if and when rain arrives. Waterproof trousers that are worn by themselves tend to be comfier, heavier and often warmer as they'll be worn in place of normal hiking pants. 
Generally, waterproof overtrousers tend to be the most popular option. This is because waterproof trousers aren't normally as breathable as normal hiking pants and therefore people tend to want to wear them for as little time as possible – so options that you can take on and off depending on the conditions are therefore preferred by many. That said, if you live in a very wet and cold part of the world, like the Faroe Islands or Iceland, or if you have a job or partake in activities that require you to stand in the rain for long periods, a pair of wear-all-day waterproof pants would be a better option for you. 
Materials
Most waterproof trousers or rain pants, particularly overtrousers, are made from 2.5 or 3-layer waterproof fabrics, with Gore-Tex and Pertex being two notable examples. Some involve polyester or nylon fabrics that are constructed with a polyurethane coating applied to the fabric. This coating adds a waterproof layer to the trousers, enhancing their water resistance. PU-coated trousers are lightweight, flexible, and affordable, making them suitable for activities that involve occasional exposure to rain or wet conditions. Páramo offer a different form of wet weather protection involving dual layers that work to actively push moisture away. These do not involve a waterproof membrane.

Zips
If you're opting for waterproof overtrousers, it really helps to have a pair that you can put on and take off without having to remove your footwear. Some will have side zips to allow this. Those designed for winter use will tend to have 3/4 length zips while those made for trail running might just have ¼-length zips that will just about get round trail running shoes. It's worth checking how these zips are protected from the elements. Often they'll have a water resistant coating over the zippers while other pants might have a storm flap on the inside, outside or on both sides.
Ventilation
Zippers on rain pants often double as vents. These are very important to have on waterproof trousers as the fabrics can tend to trap hot, moist air. The best rain pants will have two-way zips that allow you to vent at the top, bottom or all the way down the trouser leg. Some waterproof pants will also come with handwarmer pockets that are lined internally with mesh and these can also double up as vents. 
Adjustment and fit
Overtrousers for hiking should have a large volume so that they can be worn over a pair of hiking pants. You do also get waterproof overtrousers that are specifically designed for running and these will have smaller volumes that will only accommodate running tights or shorts. When buying overtrousers, it's often a good idea to buy a waist size up from your usual size so that they don't feel too tight when worn over another pair. 
The fit should be relaxed to allow for that extra pair of trousers and to allow complete range of movement, but they should also not be so baggy that they become flappy and annoying in high winds. 
Most waterproof trousers will simply have elasticated waistlines. These tend to be adequate but trousers with an integrated hipbelt, or belt loops that allow you to use your own belt, are generally more convenient. 
You will also find some that have adjustment at the ankle cuffs – sometimes in the form of a popper or Velcro. This allow you to refine the ankle volume around different footwear – whether that's chunky high ankled mountaineering boots or low cut hiking shoes.