James Roddie and Francesca Donovan – with additional testing from Chris Townsend – get to grips with the staple of all outdoor wardrobes, the humble base layer. This time, they are in non-wintry mode…
The ever-changing weather found in the British hills can sometimes make it feel tricky to maintain a comfortable temperature whilst out walking. Experiencing 'four seasons in a day' is quite commonplace, and conditions can vary wildly in the course of even a few hours. To stay comfortable, you need an effective clothing layering system, and it all starts with the humble base layer.
A base layer is the foundation layer, worn next to your skin. Its main job is moisture management – wicking away sweat from your skin as you perspire. In rapidly fluctuating temperatures and changeable weather it is crucial that your clothes aren't becoming damp and clammy from sweat. It will make it far more difficult to stay a comfortable temperature and can even be dangerous when things turn chilly.
It's easy to fixate on which insulated jacket or waterproof shell to choose for the hills, but it's worth considering your choice of base layer just as carefully. Even the most expensive insulated jacket will not keep you warm if the layer closest to your skin is not effective.
Base layers are generally quite low on features, so consider the details in order to inform your purchase – price, fit, stretch, comfort and moisture management. Base layers are normally made from merino wool or synthetic fibres. Merino is warm with natural odour control, whereas base layers made from synthetic fibres tend to be cheaper and faster to dry. For backpacking in particular, a base layer made from a blend of merino and synthetic fibres can be useful, as you should get the best of both worlds. Unsurprisingly, a vast range of base layers are available on the market, and we have aimed to cover a range for most tastes and budgets here.
Our pick of the best base layers
Features to look for in base layer
Temperature control
Your base layer is primarily designed to help regulate your body temperature. Some come with handy temperature ratings. A winter base layer may focus on warmth, a three-season layer will benefit from maximum breathability. All, however, must be made from good moisture-wicking materials so your sweat doesn't cool and chill you on rest stops.
Fabric
Temperature control is primarily driven by fabric choice and thickness. Merino wool is naturally antimicrobial, and soft while polyester is lightweight, fast-drying and durable and generally cheaper. Merino wool can be produced sustainably (check the brand), but advances in odour control and recycling mean synthetics have their advantages also. The fabric should also feel good against skin on long days of wear, and you'll benefit from built-in sun protection should you wear your base layer alone. Cotton is still generally avoided in our more temperate climate but can be better suited for drier climates.
Fit
Fit varies according to need and taste: those designed for cooler conditions might be closer fitting with a stretch with others focusing on summer breathability and a looser fit. Women's garments are often tailored to fit at the shoulders, waist and hips. Consider whether you need short or long sleeves and if long sleeves are stretchy enough to allow you to pull up and dump heat. On a multiday backpack, a mix of tighter and looser, short and long sleeves can be useful in order to increase your layering options.
Seams
Your base layer will sit next to your skin so seams that eliminate chafing are a must. Look for 'flatlock' or 'seamless' designs.
Design
Additional features are often a case of personal preference. A high collar or thumb loops can protect against the sun and offer additional warmth. A half zip or panels of thinner material or mesh can be useful for ventilation and moisture management. A longer back length can prevent the fabric riding up when bending over.
How we tested the best base layers
James is on the smaller side of size Medium with a long back. He tested the base layers in a variety of conditions over winter and spring in the Scottish Highlands, both hillwalking and gentle hill running. Weather conditions ranged from light snowfall and heavy rain, to warm sunshine up to 19°c.
Francesca tested these base layers from January through to May in full winter conditions to unseasonably warm days on mountainous multi-day backpacks across the Lakes and Eryri (Snowdonia) and long, low-level rambles at home in the Peak. Francesca wears a size Medium to Large (women's 10-14), depending on the brand. She runs hot. All weights are from the author's own digital scales.
BAM Origin Air Bamboo T-shirt – Recommended by Chris Townsend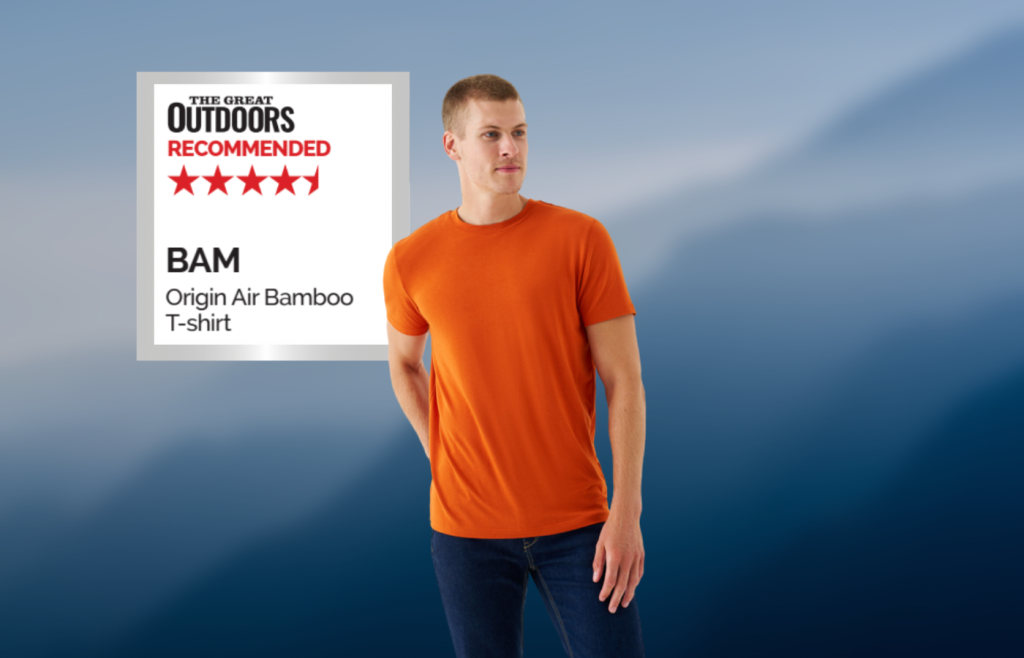 Rating: 4.5/5
Price: £29
Weight: 175 grams (size L)
Pros: soft fabric, very comfortable, low cost
Cons: slow drying compared to synthetics
---
Fabric: 68% bamboo viscose/28% organic cotton/4% elastane | Sizes: men S-XXXL, women 8-18
---
I had previously worn this T-shirt in hot weather and found it excellent. On this trip I wore it under a shirt, and often a waterproof as well, as there was little warm weather. As a base layer it worked really well, which surprised me as I thought it might not be breathable enough under other layers.
I wore it every day for the two weeks without washing it and it stayed comfortable and didn't smell. On strenuous climbs it did get a little damp but didn't feel cold and soon dried despite the cotton content. The fabric is very soft and feels good next to the skin.
On a few occasions I would have liked long sleeves as my arms felt chilly but never for long enough for it to be unpleasant. BAM does make a long-sleeved version, the Origin Air Bamboo Long Sleeved Top, with the same fabric mix. My T-shirt has a print design on it. These cost £3 more than the plain ones.
Read Chris' full trip report from the Rough Bounds, including the BAM Origin Air gear tests
Páramo Women's Cambia Zip Neck
Price: £60 | International Shipping
Weight: 184g (women's size L)
Pros: reversible, Fair Trade
Cons: no odour control
---
Materials: 100% polyester | Features: Nikwax directional Parameta T+ technology, UV protection | Sizes: XS – XL | Men's version: Yes | Web: paramo-clothing.com
---
The Cambia is a reversible, two-in-one base layer with Nikwax directional Parameta T+ technology, designed to keep water close to the skin for maximum cooling. It is lightweight and feels like a second skin, with smooth material on both sides. The Cambia is ideal for winter and mild low-level days, and can be switched between the top and base layer for a cooler experience. The Páramo logo appears on both sides. Although it lacks odour control, it is effective as a base layer and mid-layer with a thin tee underneath. The Cambia is ethically made in Columbia and complies with the World Fair Trade Standard, making it a suitable choice for those looking for a versatile and comfortable base layer.
Read Fran's full review Páramo Women's Cambia Zip Neck
BAM Women's Novea Crew Neck Base Layer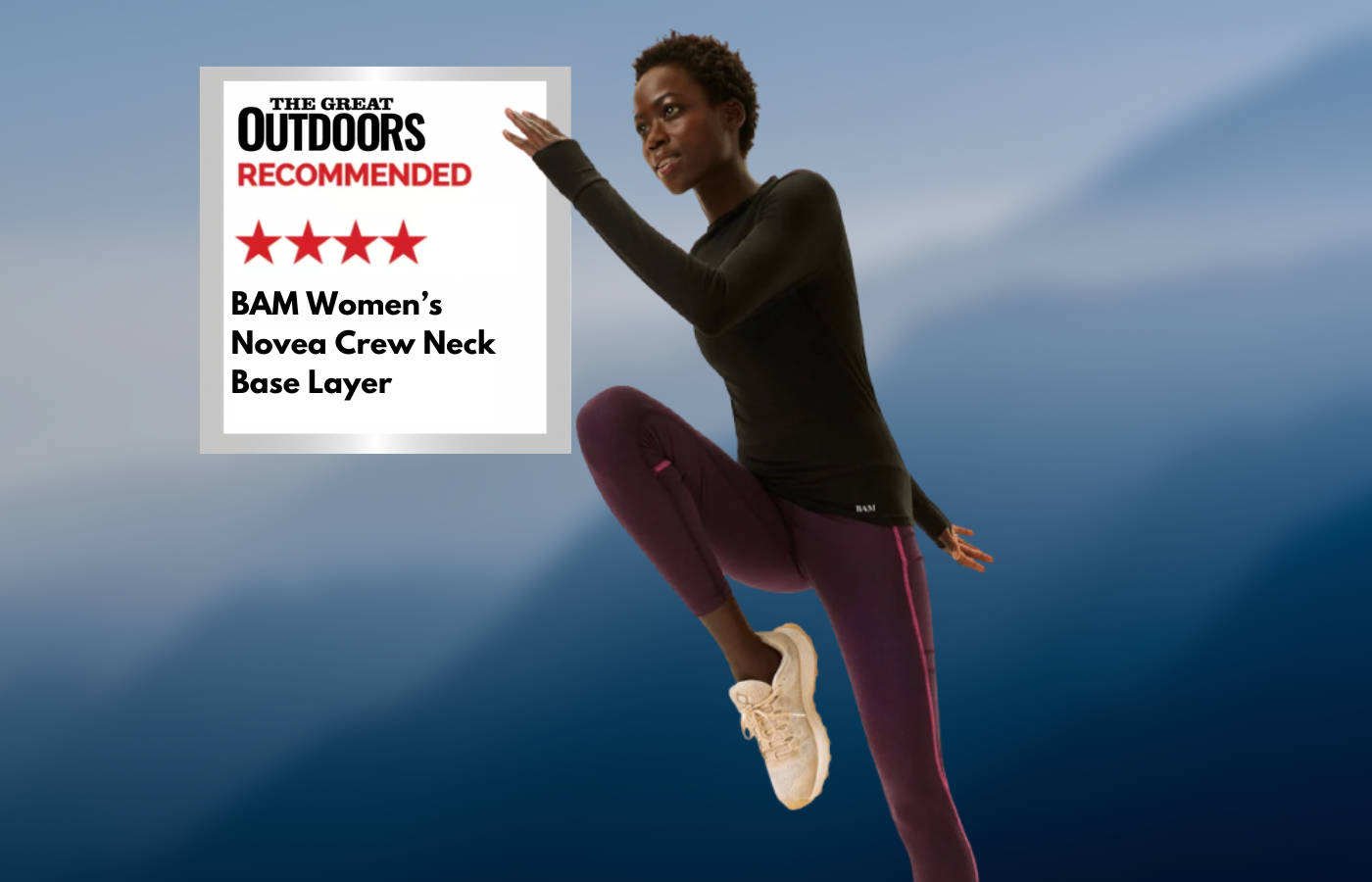 Price: £55 | International Shipping
Weight: 204g (women's size 12)
Pros: thumb loops, comfort, odour control
Cons: weight, drying time, limited sizing
---
Materials: 59% Bamboo Viscose, 32% Acetate, 9% Elastane | Features: supersoft natural fabric | Sizes: 8 – 16 | Men's version: Yes | Web: bambooclothing.co.uk
---
BAM's latest fabric, NOVEA, is a blend of bamboo and Naia™, claimed to be faster to dry than previous base layers. Although heavier, it remained comfortable and regulated core temperature from winter to late spring. The soft, tailored fabric is breathable and moisture-wicking, making it suitable for multi-day hikes. The natural fabric effectively controls odour, and thumb loops are the best-fitting feature in any base layer. The fabric is also breathable and moisture-wicking, making it suitable for multi-day hikes.
Read Fran's full review BAM Women's Novea Crew Neck Base Layer
Craft of Scandinavia Active Extreme X Crew Neck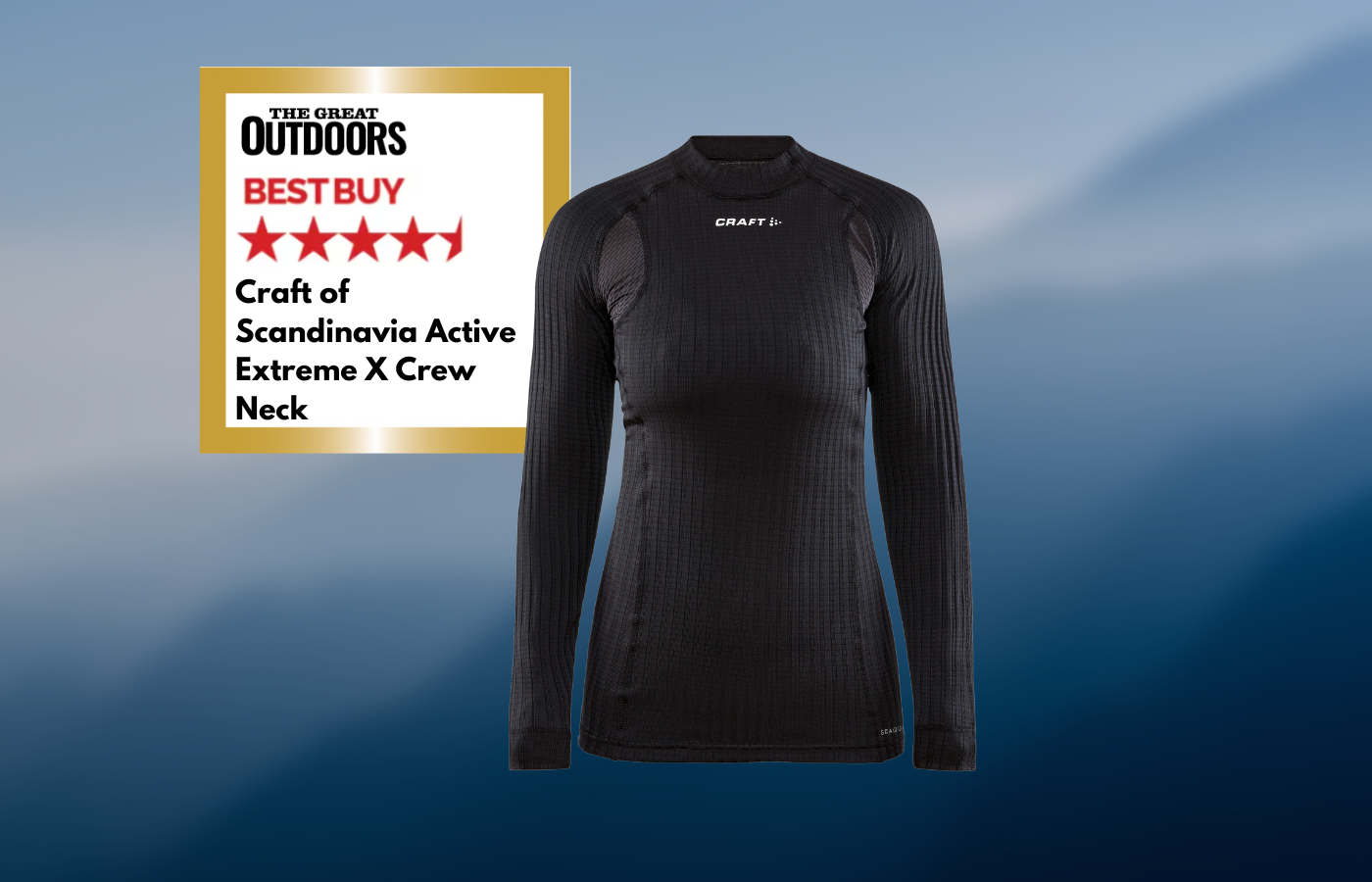 Price: £50 | International Shipping
Weight: 98g (women's size M)
Pros: mesh armpit panels, moisture transport, warmth-to-weight ratio
Cons: best in winter conditions
---
Materials: 40% polyester, 39% SeaQual, 21% 'Coolmax' recycled | Features: athletic fit, Coolmax-Air fibre | Sizes: XS – XXL | Men's version: Yes | Web: craftofscandinavia.se
---
The Craft Active Extreme X Crew Neck is an excellent active base layer for fast outdoor activities. Its supertight fit and Coolmax-Air fiber make it feel like a second skin, with flatlock seams preventing rubbing. The crew neck fits high and tight, with enough stretch to prevent rubbing. Although it is designed for temperatures ranging from -5 to 10 degrees, the mesh inserts at the armpits provide comfort and well-ventilation. Craft gives the base layer a 5 out of 5 moisture transport rating, and it is made from SeaQual, a recycled material from fishing nets and ocean plastic.
Read Fran's full review of the Craft of Scandinavia Active Extreme X Crew Neck
Jack Wolfskin Kammweg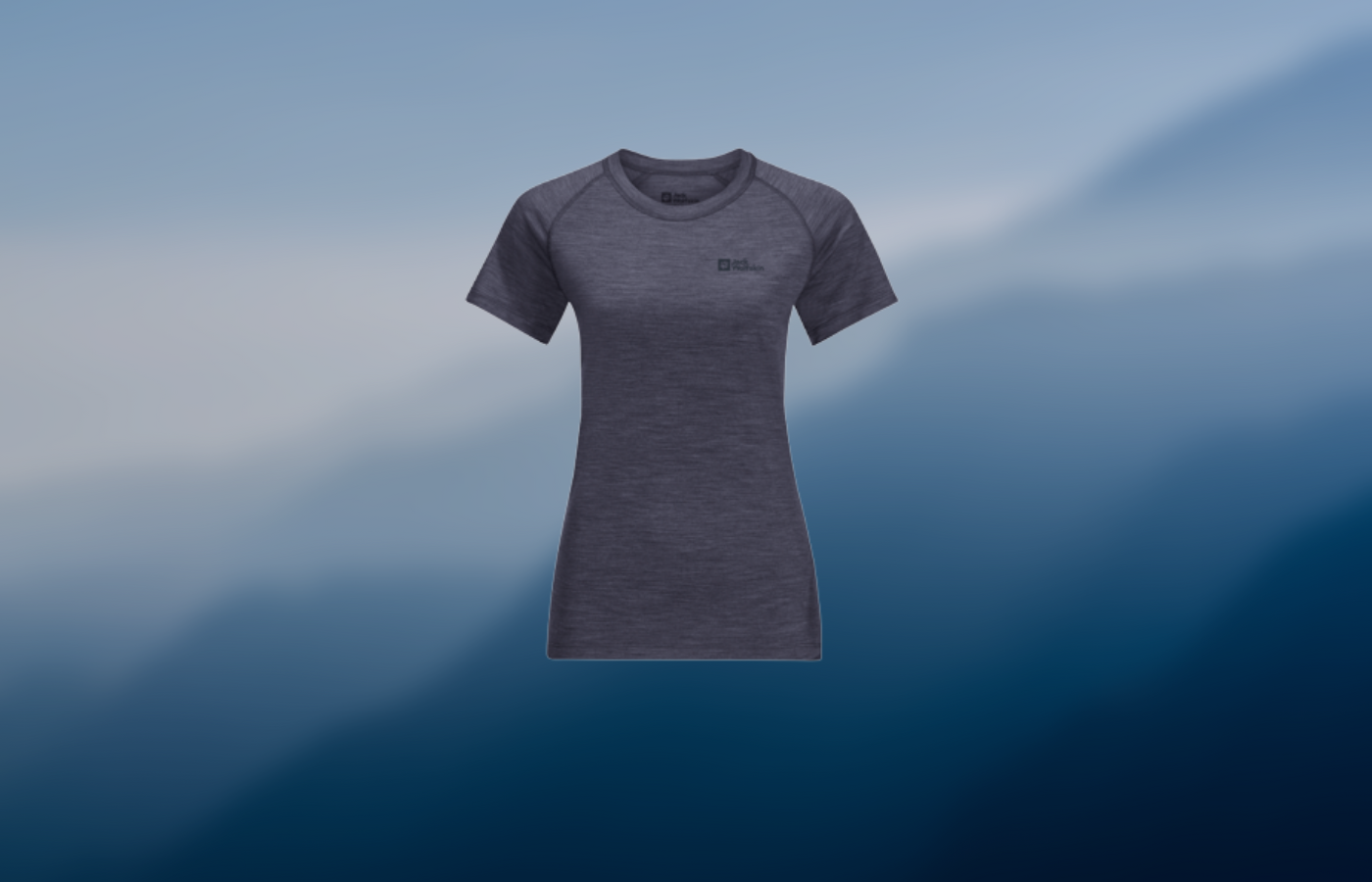 Price: £60 | International Shipping
Weight: 102g (women's size UK10/12)
Pros: lightweight, odour inhibiting
Cons: fit, price
---
Materials: 50% wool (merino), 50% polyester | Features: long back length | Sizes: XS – XXL | Men's version: Yes | Web: jack-wolfskin.co.uk
---
The KAMMWEG base layer is a lightweight, durable combination of polyester and merino wool, ideal for multi-day trekking trips. It is breathable due to its loose fit and long back length, and lightweight. However, it does crease poorly, making it slightly colder than other base layers in this test. The KAMMWEG is the only short-sleeved base layer in the test, and some sweat pooling occurs, but the fabric drys quickly. Although made of 50% merino wool, it is not as soft or comfortable as others, but it offers excellent odour control. It is also more expensive than other base layers due to its natural fiber content.
Read Fran's full review of the Jack Wolfskin Kammweg base layer
Smartwool Classic All-Season Merino baselayer



Price: $95 | £79.99
Weight: (Size small) 165g
Pros: Environmentally conscious dye, durable, comfortable.
Cons: Price
---
Materials: 88% Merino 150 wool, 12% Nylon  | Features: Slim fit, Merino 150 fabric with nylon core, plant-based dye. | Sizes: S – XXL | Women's version: Yes | Web: smartwool.co.uk

---

Smartwool's Classic All-Season Merino baselayer is a durable and comfortable option for various activities. Made from 88% Merino 150 and wrapped around a nylon core, the baselayer is resistant to abrasion and over-stretching. The seams are flatlock construction, and the fabric feels soft on the skin. The baselayer is slim and contours nicely to the body, making it comfortable for various activities. However, it has a long back-length, which may be less suitable for shorter backs. Breathability and temperature regulation are excellent in various weather conditions, with no issues with overheating when walking uphill fast in sunshine and 19°C. The layer is quick-drying and has better odor control than other baselayers. The wool is ZQ certified, making it environmentally friendly. At £79.99, it is an expensive but durable and comfortable baselayer suitable for various conditions and activities.
Read James' full review of the Smartwool Classic All-Season Merino baselayer
Craghoppers Merino Crew Neck baselayer II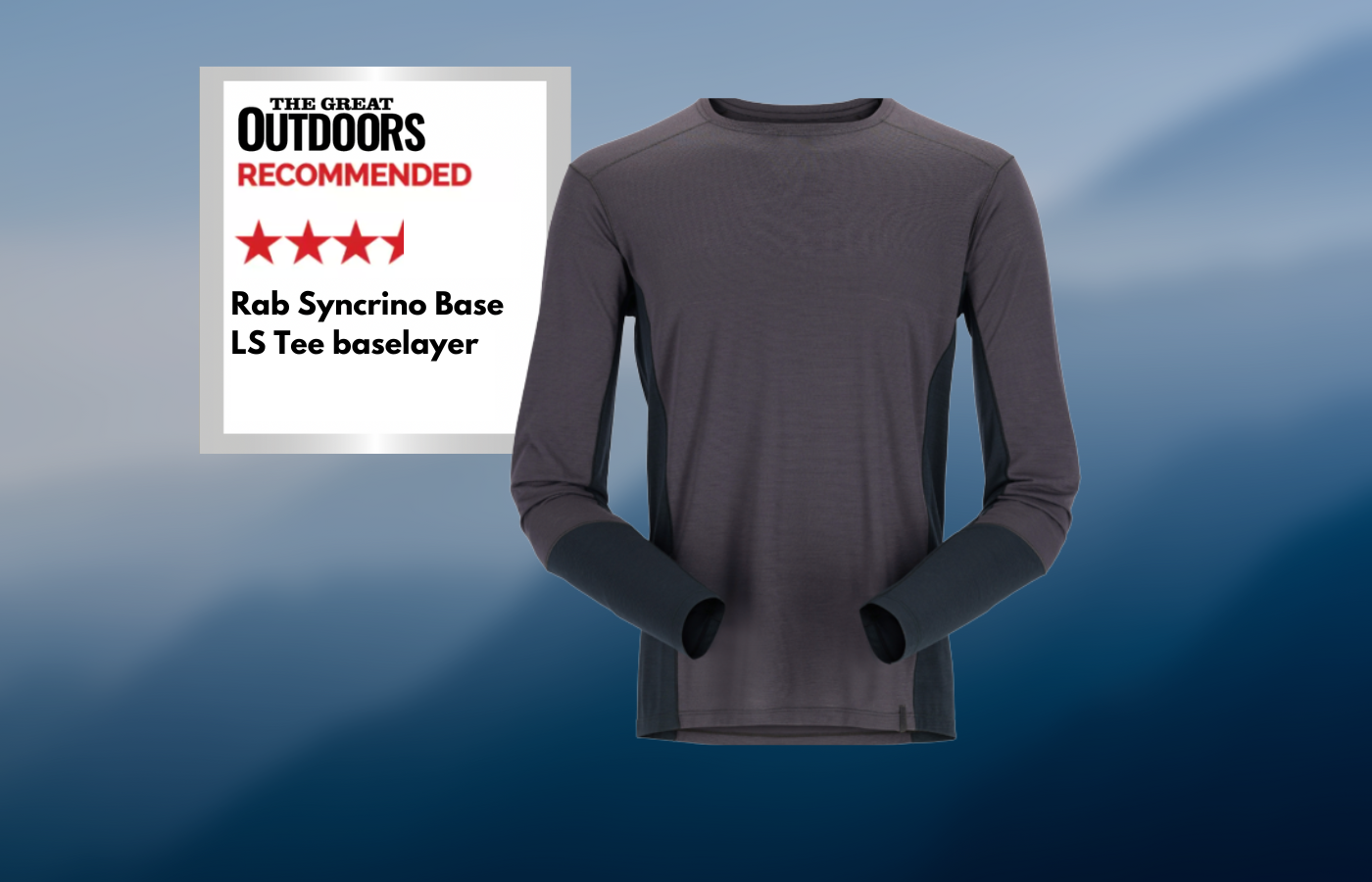 Price: £70 | International Shipping
Weight: (Size medium) 210g        
Pros: Durable, warm.
Cons: Expensive
---
Materials: 80% merino, 20% polyester | Features: Part made from recycled plastic bottles. Blended merino and synthetic fibres. | Sizes: S – XXL | Women's version: Yes | Web: craghoppers.com
---
Craghoppers is a sustainable brand that produces a baselayer made from 80% merino wool and 20% recycled polyester. The product is guaranteed for life and is the warmest baselayer tested in this round-up. It is the heaviest men's baselayer in the round-up, weighing 210g. The comfort is good, with a flatter fit and a perfect length of sleeves and shoulders. However, the neckline is low at the back and the material around the neck is scratchy. Odor control is good, but not as effective as some other baselayers tested. The durability is impressive, and there are no issues with abrasion on rock while scrambling. At £70, this baselayer is a good all-rounder for three-season usage, especially in colder weather.
Read James' full review on the Craghoppers Merino Crew Neck baselayer II

Helly Hansen LIFA Stripe Crew baselayer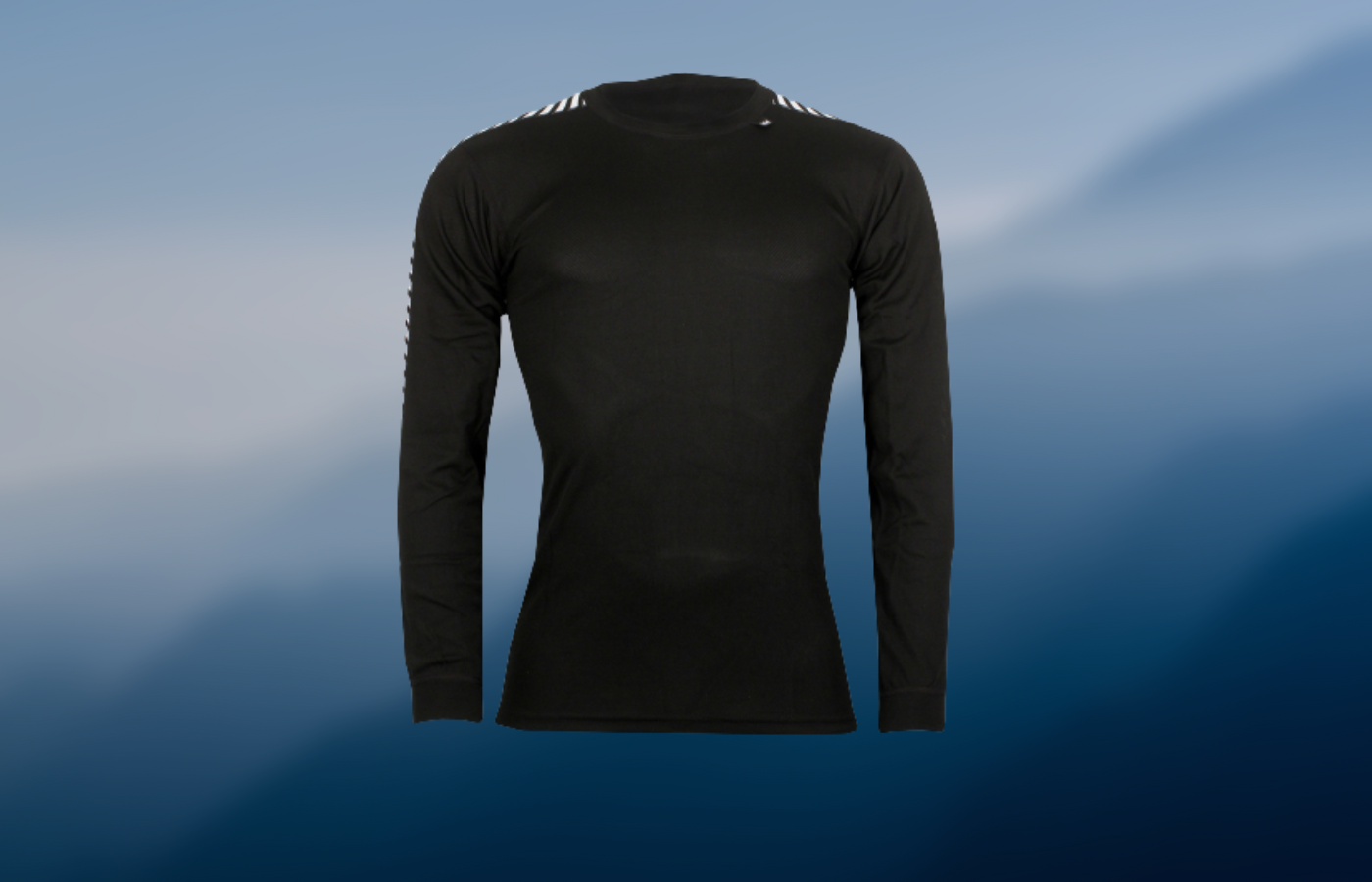 Price: £35 | International Shipping
Weight: (Size medium) 135g.       
Pros: Very lightweight, highly breathable.
Cons: Delicate material, fit feels tight for the size.
---
Materials: 100% LIFA Polypropylene | Features: Slim fit, solution dyed. LIFA fabric. | Sizes: S/M/L/XL/XXL | Women version: Yes | Web: hellyhansen.com

---
This baselayer, weighing 135g, is the lightest Men's garment in this round-up and is lightweight. However, it feels small and tight for a Medium size, so it's recommended to sizing up. The top is comfortable with shoulder movement and a stretchy band around the wrists, keeping arms warm. The 100% LIFA Polypropylene material effectively manages moisture, but it may not be suitable for cooler conditions. The seam stitching is delicate, and thread-pulls may occur after only two days. Odour control is adequate, but after moderately intense exercise, the garment starts to smell. At £35, this affordable option is suitable for people who prefer higher-intensity activities or are prone to sweating. However, it's less durable than other synthetic baselayers.

Read James' full review on the Helly Hansen LIFA Stripe Crew baselayer
Rab Syncrino Base LS Tee baselayer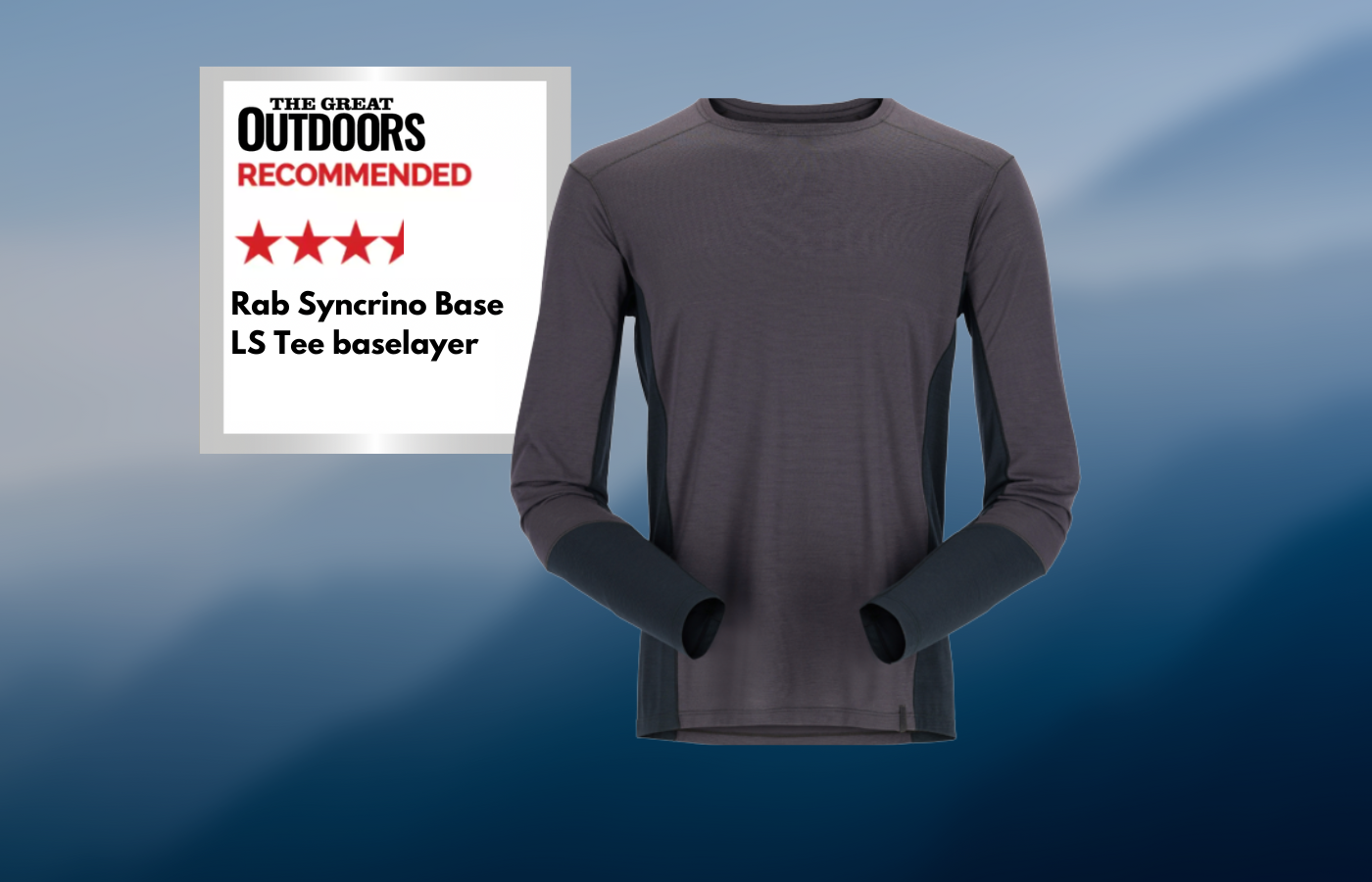 Price: £65 | International Shipping
Weight: (Size medium) 160g        
Pros: Stretchy, durable, extremely comfortable
Cons: Slowest to dry in test
---
Materials: 53% Polyester (32% recycled), 47% Merino 125 wool | Features: Slim fit, single jersey fabric construction, stretchy seams. | Sizes: S-XXL | Women version: Yes | Web: rab.equipment/uk

---
The Syncrino is a 53% polyester and 47% merino 125 wool baselayer that is the stretchiest in the round-up. Its looser fit around the middle and waist area may be appreciated in warm conditions, but may be missed in colder conditions due to body shape. The fabric is soft to the touch, comfortable, and durable, with densely stitched seams. The neckline has a clear plastic tab, and the sleeves could benefit from thumb loops. Breathability and odour control are excellent, and the top is quick-drying. However, it retains some moisture patches, making it the slowest Men's baselayer to dry. The Syncrino comes in minimal packaging, with a small, fully recyclable brown paper envelope and 32% of the polyester component recycled. Overall, the Syncrino is a durable and comfortable baselayer, particularly suitable for technical activities in mountains that benefit from stretchy tops.
Read James' full review on the Rab Syncrino Base LS Tee baselayer