The Knoydart Peninsula and surrounding area has some of the most spectacular mountain landscapes in the Scottish Highlands. Notoriously it also has some of the most rugged terrain, hence the old name "the Rough Bounds of Knoydart". This two-week walk through this tough country began at the head of Loch Arkaig with a short evening walk up Glen Pean in the company of Tony Hobbs, who was with me for the first five days. The next day we continued through the dramatic heart of this magnificent glen, clambering through the boulder field at its head, and down to Loch Morar and a good camp site. The weather was wet, the clouds low over the hills, but it did clear up briefly during the evening.
A route through the Rough Bounds
A steep climb on very rough ground led to the long ridge of Carn Mor, a Corbett, which we followed back towards Loch Arkaig with one high camp along the way, sheltered from the strong winds in a slight hollow. Careful navigation in the mist – there's no path and the terrain is rocky and complex – took us over the summit and onto easier ground that led down to Glen Dessary and our last camp together, which was in welcome sunshine.
The good weather didn't last as I set off alone up Glen Dessary for a nine-day circular walk that took me over six passes and back to Loch Arkaig, visiting Inverie and Barrisdale en route. The weather was mostly wet, except for the day I spent at Inverie, with the clouds down on the tops and the highest passes. After Carn Mor I had no desire for more navigation in the mist over rocky hills. I preferred to see something. I did climb one hill, an out and back from a camp, on a day when the clouds were above the summits. This was Ben Aden, another Corbett. It's a superb rocky hill and I was really glad to have a view as my only previous ascent, many decades ago, had been in mist and rain.
Despite the weather this was a superb trip, with dramatic scenery every day and some fine camp sites. The going was pretty tough most of the time. There's little easy walking in Knoydart. The rain turned many of the paths into quagmires too. This is one of the wettest places in Britain.
Planning and preparation
This was a late spring trip, and the forecast was for cool, wet, and windy weather so I wanted a tent that would stand up to storms, and a warmer sleeping bag and more substantial clothing. Of course, it can be warm and sunny at this time of year, but I prefer to err on the side of caution with gear. I'd rather carry a little more than needed than be cold or wet. As it was, I needed the storm gear, but a lighter sleeping bag and less warm clothing would have been fine as it wasn't very cold.
Realising I could swap them over after the first five days when I returned to the start with Tony Hobbs this was a good opportunity to compare items, so I took two tents, two sleeping bags, and two mats.
I only made a sketchy outline route as I planned on adapting our route to the weather. If it was clear and not too windy, we'd go over the summits. If not, which was how it turned out, I'd stick to the glens and passes. I wanted to visit Inverie and Barrisdale. How I got to them was open to decisions at the time.
I did think about camp sites as I knew that the rugged terrain meant they were not always easy to find. This would especially be the case if I went over the summits.
For the first five days with Tony, who hadn't experienced the roughness and steepness of Knoydart before, I planned a route that could easily be cut short or reversed.
The gear Chris chose for the Rough Bounds
Built To Send X3 Alpine Pack – Best Buy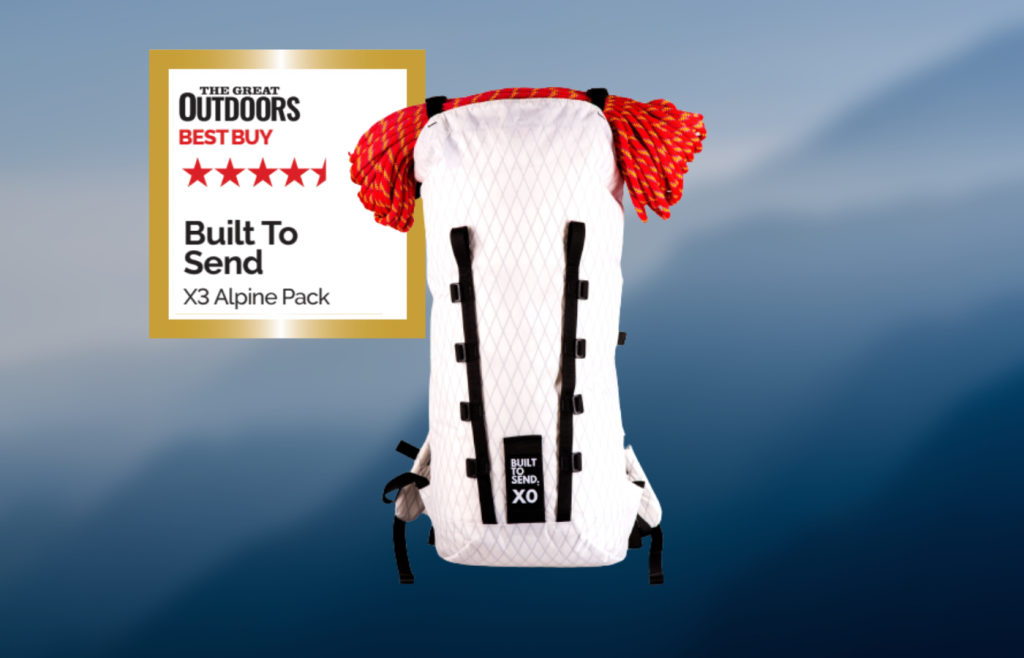 Rating: 4.5/5
Price: £329
Weight: 1.23kg
Pros: comfort, stability, durability, water-resistance.
Cons: only one back length
Capacity: 50 – 65 litres | Materials: expedition-grade VX42 X-Pac composite fabric | Closure: folding top with twin straps | Back System: 10 mm thick physically cross-linked polyethylene foam pad | Hipbelt: slightly shaped, padded | Pockets: 1 internal zipped | Features: detachable side compression straps, shockcord and ice axe loops | Sizes: 1
This pack was a revelation. In a first look for The Great Outdoors, I gave it a Best Buy earlier in the year, after using it as a winter daypack. This was the first time I'd used it for backpacking and I was surprised at how comfortable it was with a load averaging around 15kg and how much I liked it. A mountaineering rather than backpacking pack in design it has no external pockets, just side straps and front shockcord. The back system is simple too. Just a padded back, padded shoulder straps, and padded hip fins. There's no frame, no load lifter straps, and no lumbar pad. It's not adjustable and there's only one length. Yet it still carries a load well. Unsurprisingly it's very stable on rough ground as it fits closely to the back.
Packing does require some changes from a pack with many pockets. Having gear that might be needed during the day in a zip-round packing cube at the top of the pack worked well. When wet waterproofs were stuffed down the front shockcord and the tent strapped to one side. The 50-65 litre capacity was ample for all my gear plus five days food.
The pack is made from an extremely tough waterproof composite fabric. The smaller components and construction are far stronger than on most packs too. This pack is built to last. Built To Send says the X3 is "extremely weather resistant in rain and snow". This was really tested in heavy rain over several days and there was a little leakage in places but far less than I'd have expected with other packs.
Read more: Built To Send X3 Alpine Pack first look (first published February 2023)
Bach Wickiup 3 with Half-size Inner Tent – Recommended
Rating: 4/5
Price: £950
Weight: 1.62kg
Pros: roomy, stable
Cons: expensive, not available without full-size inner
Flysheet: siliconized ripstop nylon | Inner: 15D knitted mesh, 40D air permeable ripstop nylon | Floor: 40D ripstop nylon with TPU laminate | Pole: TRX Eco Duralumin Jumbo 6 19.5 | Dimensions: 275cm x 220cm, 155cm high point
The Bach Wickiup 3 (formerly branded Nigor) is a pyramid tent that I like very much as it's very roomy with excellent headroom and stable in storms.
As it was the start of the midge season – and there were some around at times – I took the optional half-size inner tent. This keeps the bugs out but does reduce the versatility and space a little – the walls sag – as well as adding to the weight. When there are no bugs, I prefer to just use a groundsheet that can be moved around in the inner.
This tent performed well. The Wickiup with just a groundsheet would be more spacious and a similar weight but not midgeproof.
Hilleberg Anaris – Best Buy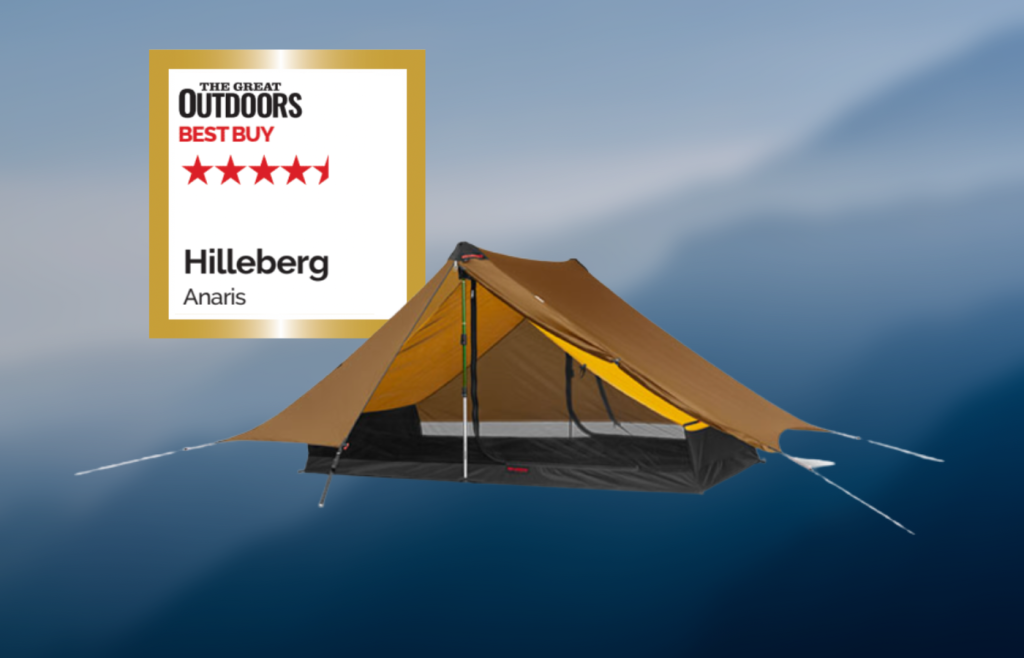 SQUIRREL_BUTTON_12950528
Rating: 4.5/5
Price: £705
Weight: 1.4kg
Pros: roomy, stable
Cons: expensive
Design: transverse ridge | Flysheet: Kerlon 1000 20D silicone Ripstop Nylon 5000mm hydrostatic head | Inner: mesh doors, 10D nylon roof | Floor: PU 50D nylon, 12000mm hydrostatic head | Poles: uses trekking poles | Porches: 2 | Inner Dimensions: 220 x 120 cm, 105cm high in centre
The Hilleberg Anaris is a two-person tent with two large vestibules and so luxurious for one. It's not heavy, 225g lighter than the Wickup 3 with half-inner in fact. It does move a bit more in strong winds than the Wickiup due to the large unsupported sides but it's not noisy and I was never concerned about stability. I much preferred the spaciousness of the inner compared with the Wickiup 3, especially in bad weather.
The Anaris pitches with trekking poles, which helps keep the weight down. This does mean there aren't available for excursions from camp, so I didn't have my Pacerpoles for the steep rocky ascent of Ben Aden. It probably did me good not to rely on them!
This tent performed well. Overall, I preferred the Anaris to the Wickiup for the spacious inner and the lower weight.
Read more: Hilleberg Anaris full review (first published 2021)
PHD K Hispar 400 – Recommended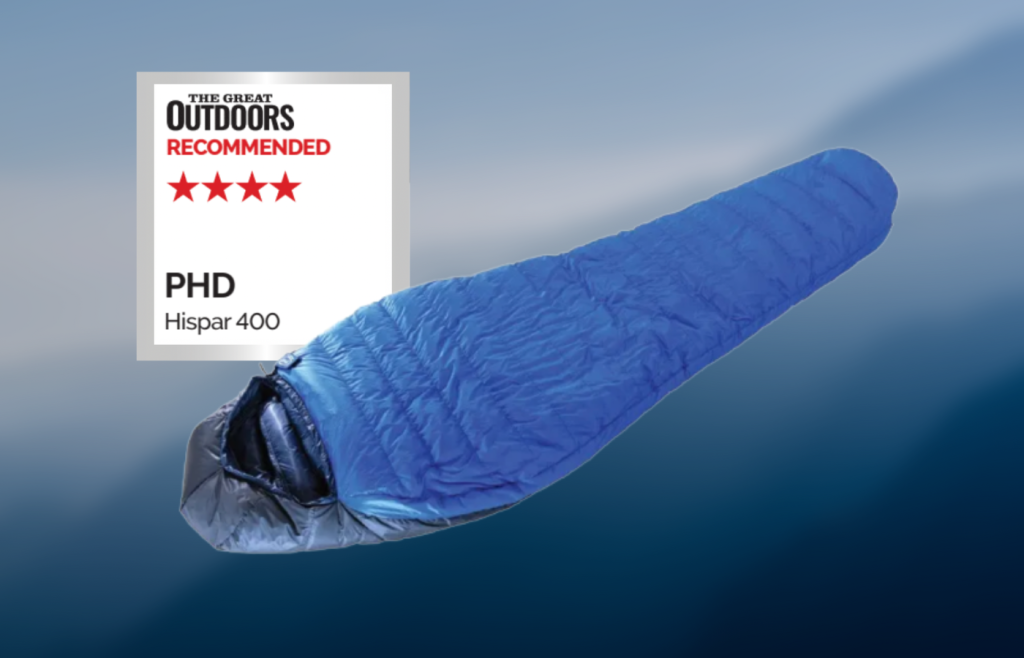 Rating: 4/5
Price: £957
Weight: 725 gm (Standard)
Pros: ultralight, amazing warmth for the weight, length & width options
Cons: very expensive, short zip, only available from PHD
Fill: 400 grams 1000FP down | Shell: Ultrashell ripstop nylon | Construction: box wall | Zip: half-length | Sizes: four lengths, four widths | Rating: -9°C
Given that the lowest overnight temperature was 7° and that was only on two nights both the sleeping bags I took were warmer than necessary. One however was much more versatile than the other and so more comfortable. I expected colder nights, at least at the start.
The PHD Hispar 400 is an astonishingly warm bag for the weight and very comfortable if it's cold enough. However, it only has a half-length zip on one side. With this undone that side of me sometimes felt chilly, even though the rest of my body and my feet were hot. Zipped up all of me was hot.
Now, I did sleep well in the bag, which I used for the first four nights, and I would probably have managed for the warmer second part of the trip.
The Hispar is available with a full-length zip, which would have been more versatile as then it could be used as a quilt. For me, the Hispar 400 is a winter bag.
Read more: PHD K Hispar 400 full review (first published 2016)
Sierra Designs Cloud 800 – Best Buy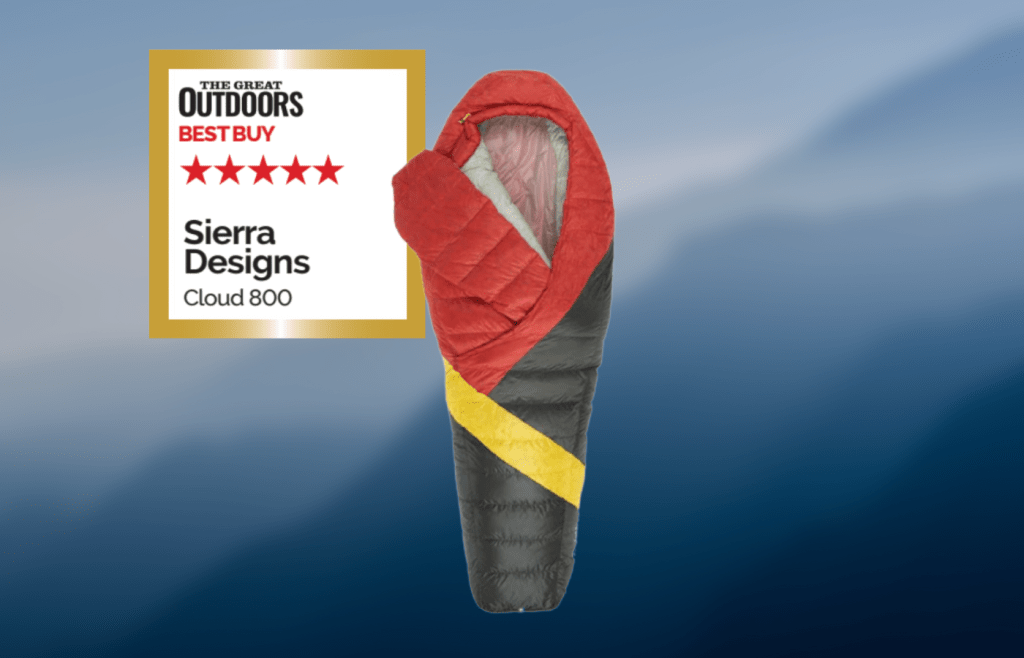 SQUIRREL_BUTTON_12950529
Rating: 5/5
Price: £300
Weight: 875g (Reg)
Pros: lightweight, comforter design, foot vent
Cons: expensive
Fill: 419g grams 800fp DriDown Shell 15D nylon ripstop | Construction: box wall | Zip: no | Length: regular 198cm, long 213cm | Rating: comfort -3C, comfort limit -10C
Given that the lowest overnight temperature was 7° and that was only on two nights both the sleeping bags I took were warmer than necessary. One however was much more versatile than the other and so more comfortable. I expected colder nights, at least at the start.
The Sierra Designs Cloud 800 proved ideal for the conditions, because it is so easily vented.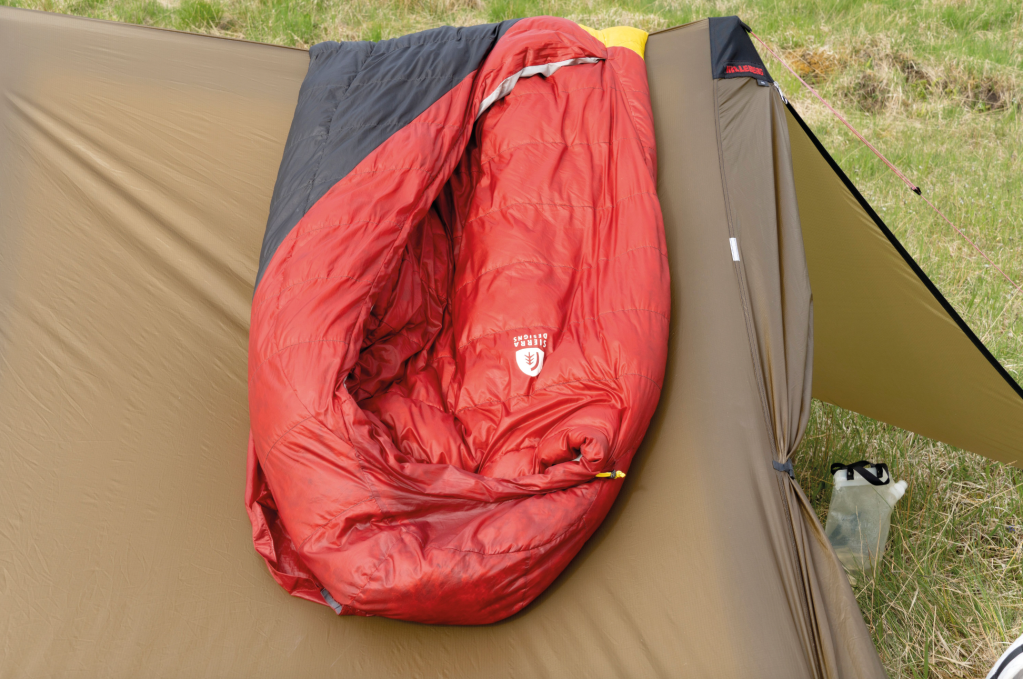 Instead of a zip there's a large wraparound comforter which can easily be adjusted to cool you down plus a slot near the foot for sticking your feet out. On the bottom there's an uninsulated sleeve for a sleeping mat.
I don't use this as it restricts movement. I find it stays underneath me anyway. Having the comforter rather than a zip means you can just fling it aside and sit up – no fumbling for a zip or drawcord. I love this bag!
Therm-A-Rest NeoAir XLite NXT – Best Buy & TGO Gear Awards Winner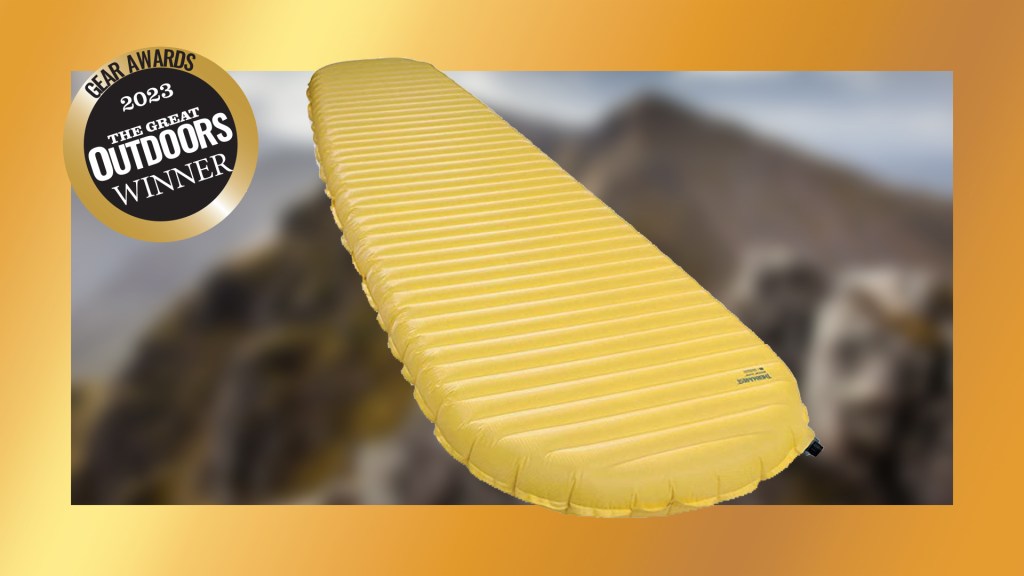 Rating: 4.5/5
Price: £210
Weight: 390g (Reg)
Pros: lightweight, very compact, very comfortable
Cons: expensive
Type: air bed | Materials: nylon with reflective inner coating | Dimensions: 183 x 51cms | Thickness: 7.6 cms | R-Value: 4.5 | Sizes: 4
The winner of The Great Outdoors' Gear Awards 2023 in the camping tech category, the NeoAir XLite has been updated, making it warmer at no extra weight. The mat weighs offers an R-rating of 4.5 (the previous version was 4.2), making it something that can potentially be used all year round. What's more, Therm-a-Rest appears to have listened to complaints from backpackers about the previous model and its rustling issue.
The mat features Therm-a-Rest's glove-friendly WingLock valve and can be inflated using a pump sack that comes with it. It's available in four sizes and there's also a rectangular version.
Read more: Therm-A-Rest NeoAir XLite NXT full review as tested by Peter Macfarlane (first published 2023)
Therm-A-Rest NeoAir UberLite – Recommended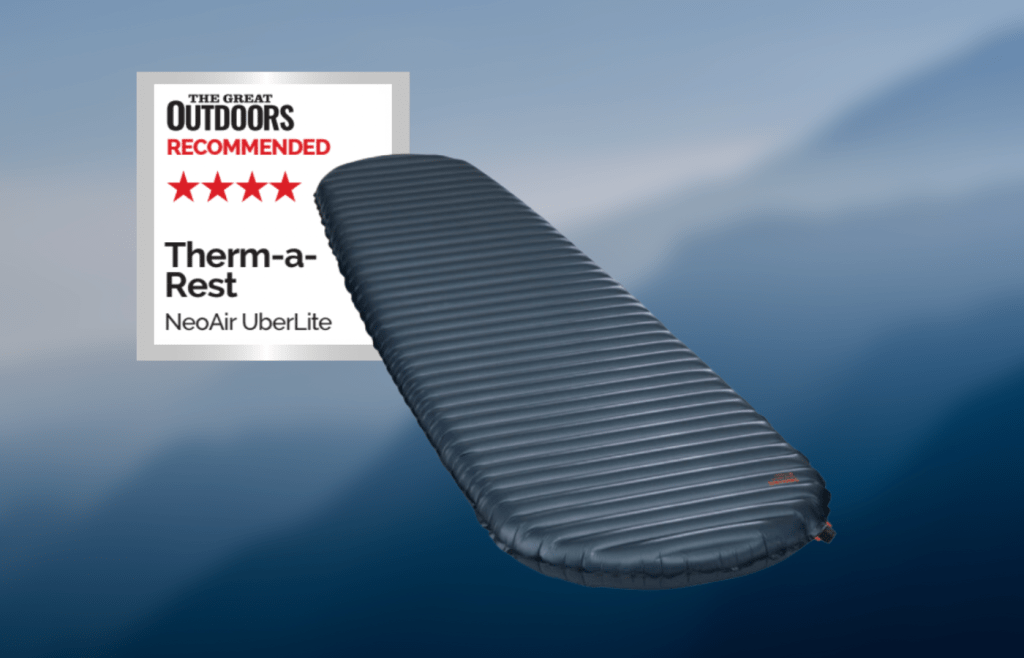 SQUIRREL_BUTTON_12950530
Rating: 4/5
Price: £235
Weight: 250g (Reg)
Pros: ultralight, warmth, tiny packed size
Cons: expensive
Type: airbed | Materials: 15D nylon | Dimensions: 183 x 51cm | Thickness: 6.4cm | Rating R-value: 2.3 | Sizes: 4
With a forecast that suggested nights could be frosty the first week (they were nowhere near that in fact) I started out with the NeoAir XLite NXT mat, which easily copes with cold ground. It's very comfortable, especially if not fully inflated, lightweight and packs fairly small. I reckon it's excellent for year-round use in Britain. The new NXT version doesn't crackle much when you move on it too, which is an improvement.
The NeoAir UberLite really is ultralight. It packs down to a tiny bundle too. However I didn't find it as comfortable as the XLite. Put much pressure on any point, say with your elbow, and it touches the ground. I found it harder to adjust the pressure for comfort too. To keep the weight down the shell is thin and feels unsubstantial compared to the XLite. The UberLite does weigh 140 grams less but I'd rather have the XLite.
I also carried a Multimat Superlite 8 closed cell foam mat weighing 171 grams in case one of the NeoAir mats failed and to use at rest stops and outside the tent. Being bulky it was carried on the outside of the pack.
Trail Designs Classic Ti-Tri – Best Buy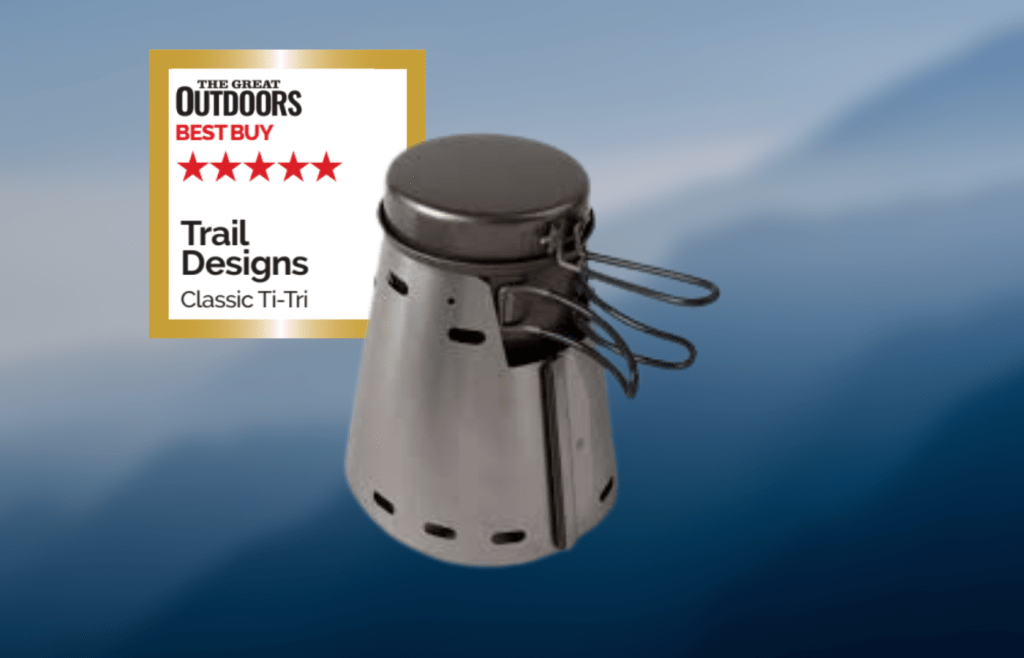 Rating: 5/5
Weight: 156 grams
Price: $80
Pros: ultralight, windproof, simple
Cons: minimal flame control
Cone material: titanium | Burner: aluminium with inner batting and screw-top lids | Fuels: meths, alcohol
As I was in no hurry on this trip, I didn't need a stove that boiled water fast so I took my favourite Classic Ti-Tri stove system with the original 12-20 aluminium drinks can burner. I used Fire Dragon Gel Fuel and topped up my fuel bottle when I returned to my car with Tony. Boiling around a litre of water a day (depending on how much coffee I made) I used around 700ml of fuel in total over the ten days I used the stove (I ate in cafes in Inverie).
The stove worked well as always, its wind resistance being a boon when the wind swept through the porch, as did in the Anaris where the outer doors don't come down to the ground. It fits my Evernew 0.9 litre titanium pot, now well over twenty years old, and the two have been on so many trips with me they are old friends.
Read more: Trail Designs Classic Ti-Tri full review (first published 2015)
Inov-8 Rocfly G390 – Best Buy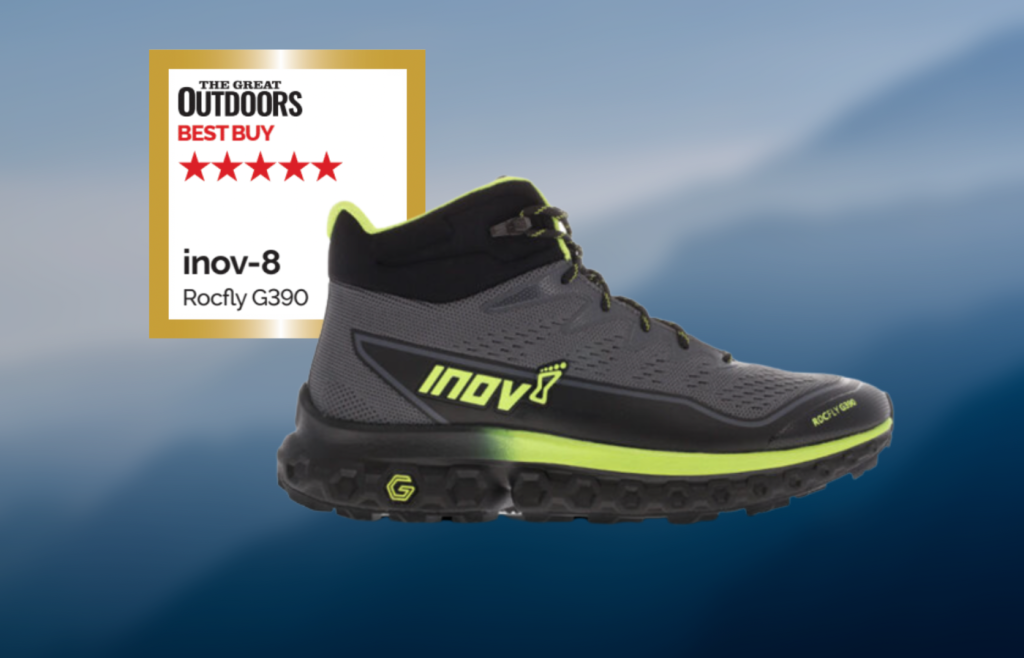 SQUIRREL_BUTTON_6502088
Rating: 5/5
Price: £160
Weight: 818g (size 9)
Pros: lightweight, durable, good grip, wide fit
Cons: nothing
Uppers: mesh with overlays | Sole: Graphene-Grip | Sizes: men 6-14, women 3-8.5
Having used them with success on a two-night trip in Glen Affric earlier in the year, I decided to wear these very breathable lightweight Inov-8 boots. Actually, although called boots they're more like a trail shoe with a higher than usual ankle. They have a wide fit that's just right for me.
With mesh uppers and no waterproof inner they don't keep out rain or even a splash from a puddle. They were soaked the first day and only dried out a couple of times for short periods for the rest of the trip. I soon got used to wet feet. The mild temperatures meant my feet were never cold and the boots never rubbed or caused blisters.
I wore Falke TK1 socks inside the boots.
From the Affric trip I knew the boots had good grip and an excellent cushioning midsole. They coped with the rough Knoydart terrain without problems.
Outdoor Research Helium AscentShell – Best Buy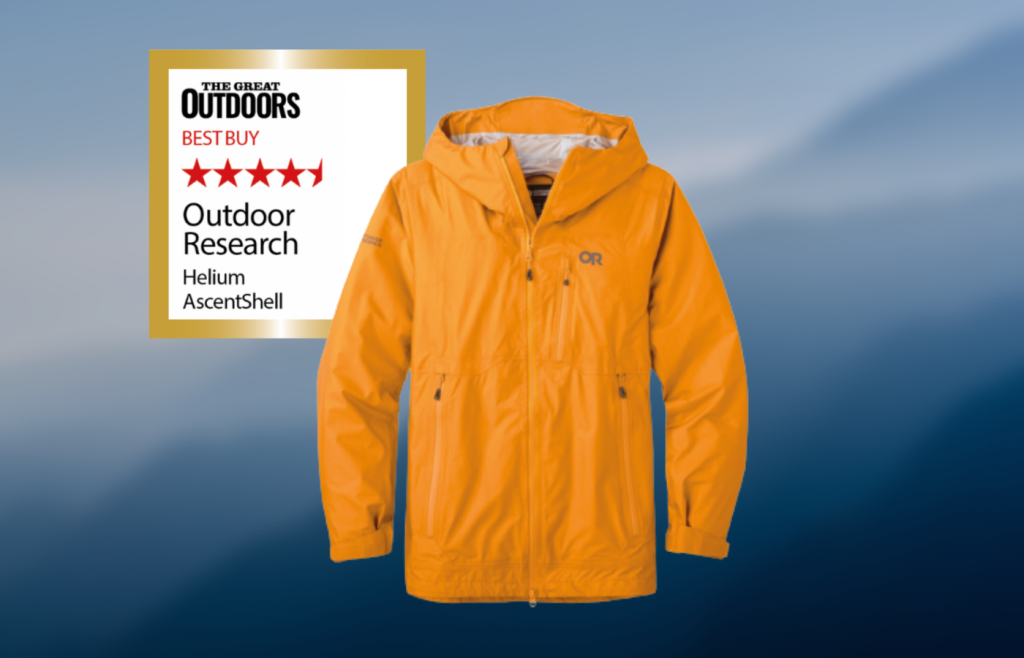 SQUIRREL_BUTTON_12942629
Rating: 4.5/5
Price: £321
Weight: 330g (size L)
Pros: low weight, breathability
Cons: expensive, front hood adjustment
Materials: bluesign® approved AscentShell™ and Pertex® Shield Air Diamond Fuse 30D ripstop nylon | Hood: helmet compatible, front, and rear adjustment, stiffened and wired peak | Front Closure: YKK AquaGuard zip with internal flap | Underarm/Side Zips: no | Pockets: 2 handwarmer, external & internal chest, 2 inner stretch mesh | Hem: adjustable drawcord | Cuffs: Velcro | Sizes: men S-XXL, women XS-L
I debated taking an ultralight waterproof but the forecast for the first week persuaded me against that and I took this lightweight one instead as I reckoned it would be better in prolonged rain and strong winds. It was excellent. I stayed dry and felt protected in the worst storms. Breathability was good and the jacket comfortable to wear. The outer feels quite tough despite being light too.
The design is functional though the front hood drawcords would be easier to use if outside the jacket. Having to open the jacket to adjust them in a storm isn't something I want to do. As it was, I just used the rear volume adjuster when I wanted to loosen or tighten the hood, which did mean it sometimes flopped over my eyes or pulled back round my ears. This wasn't a big problem though.
I carried my smartphone in the chest pocket, and it stayed dry (the phone is waterproof anyway). As I didn't need to wear a warm layer under the jacket, just a t-shirt and thin long-sleeved shirt, the fit was a little loose, but this didn't affect the breathability. I think this is a great waterproof jacket for backpacking trips. It's lightweight, breathable, and protective.
Read more: Outdoor Research Helium AscentShell full review (first published 2023)
BAM Origin Air Bamboo T-shirt – Recommended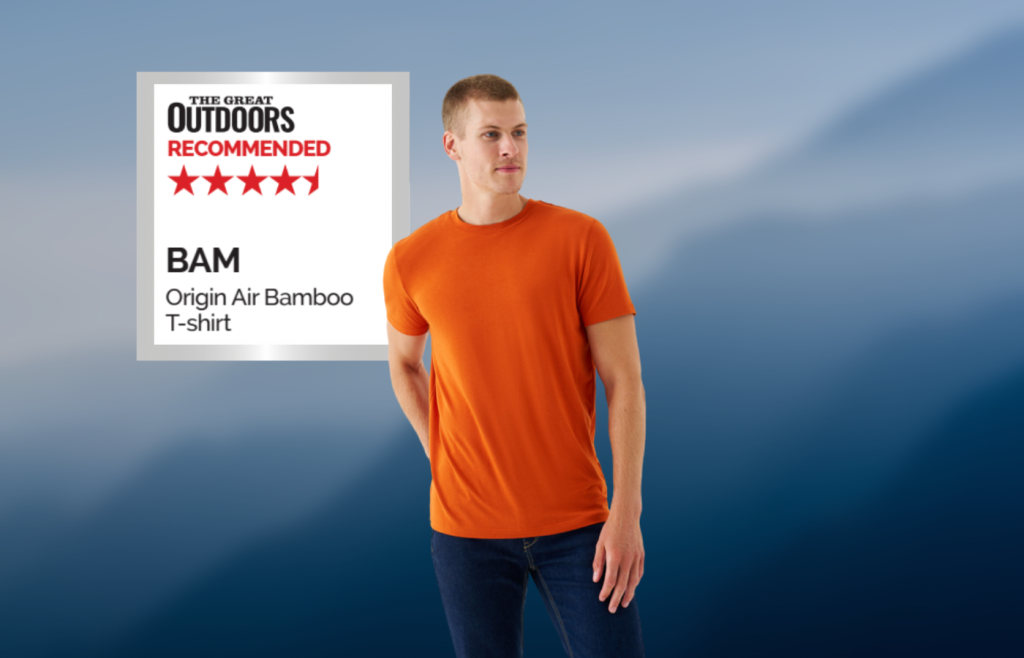 Rating: 4.5/5
Price: £29
Weight: 175 grams (size L)
Pros: soft fabric, very comfortable, low cost
Cons: slow drying compared to synthetics
Fabric: 68% bamboo viscose/28% organic cotton/4% elastane | Sizes: men S-XXXL, women 8-18
I had previously worn this T-shirt in hot weather and found it excellent. On this trip I wore it under a shirt, and often a waterproof as well, as there was little warm weather. As a base layer it worked really well, which surprised me as I thought it might not be breathable enough under other layers.
I wore it every day for the two weeks without washing it and it stayed comfortable and didn't smell. On strenuous climbs it did get a little damp but didn't feel cold and soon dried despite the cotton content. The fabric is very soft and feels good next to the skin.
On a few occasions I would have liked long sleeves as my arms felt chilly but never for long enough for it to be unpleasant. BAM does make a long-sleeved version, the Origin Air Bamboo Long Sleeved Top, with the same fabric mix.
My T-shirt has a print design on it. These cost £3 more than the plain ones.
Paramo Katmai Light – Best Buy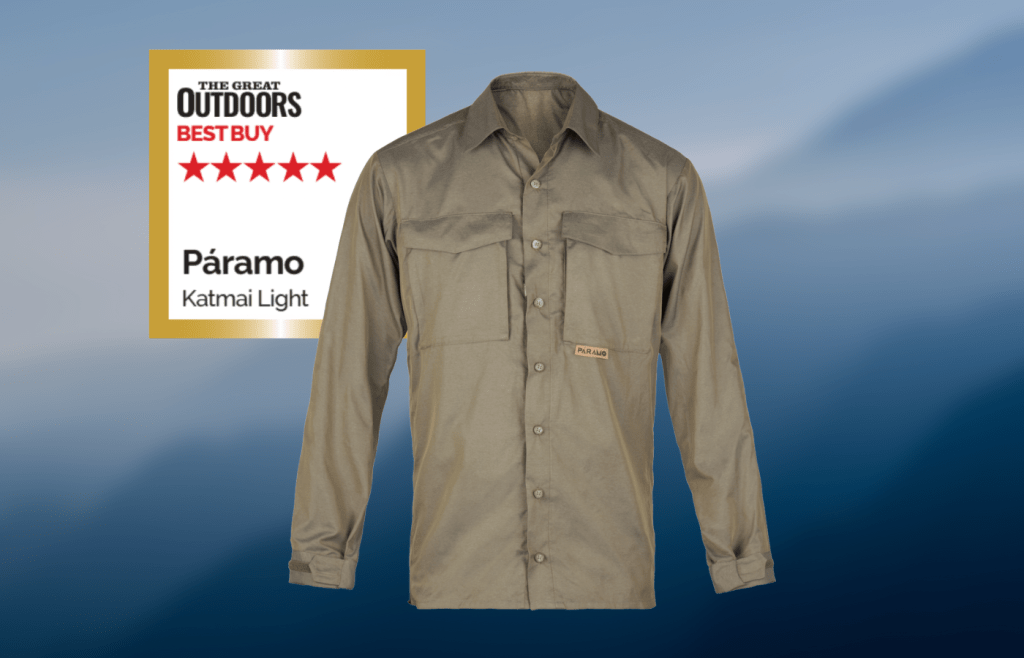 Rating: 5/5
Price: £80
Weight: 210 grams (size M)
Pros: silky fabric, roomy pockets, wide cuffs, quite light
Cons: nothing
Fabric: Parameta A polyester | Front closure: buttons | Pockets: 2 Velcro-closed, 1 zipped security, 1 zipped map | Cuffs: Velcro | Vents: none | Sizes: men: S-XXL, women: XS-XL (Socorro Shirt – no Velcro pockets)
The Katmai Light has been my favourite warm weather hiking shirt for many years. I usually only wear it when I expect it to be my outer layer most of the time. I hoped that would be so on this trip, but it wasn't to be and the shirt was worn under a waterproof jacket most of the time and a windproof jacket much of the rest. It still worked well, though I don't think it would have been as comfortable without the BAM t-shirt under it as my arms sometimes felt a little damp and chilly. It does dry fast though.
The polyester fabric is soft and comfortable and was still like that after two weeks wear. I love the big bellows chest pockets that easily hold smartphone and notebook and the wide Velcro-closed cuffs with no slits to let midges in and which allow great ventilation when open. The sleeves can easily be rolled up too (not a feature I needed on this trip).
Other clothing
Throughout the trip I wore Mammut Runbold trousers. In the rain I wore Montane Minimus overtrousers over them. For warmwear I had the long discontinued Berghaus VapourLight HyperTherm jacket (it's worth noting that the new Berghaus Extrem Arete synthetic hoody is very similar) which I wore in the tent occasionally and the Patagonia Micro Puff Hoody, which I never wore and didn't need (but I might have done). When it was windy but not wet, as on the ascent of Ben Aden, I wore a Patagonia Houdini windproof jacket and a Paramo Cap.