Will Renwick heads into the rain to test out seven pairs of waterproof trousers – more specifically overtrousers – and offers his advice on what to consider when looking for the perfect pair
---
I started out my hiking in a pair of ultra-low budget, bin bag-style waterproof overtrousers and will admit that I immediately developed a prejudice, believing that they'd all make me so clammy that I'd be as wet and uncomfortable wearing them in the rain as I would be without them. On my early long-distance walks I'd often completely shun bringing any leg waterproofing whatsoever. Of course I hadn't realised back then that if you find a good pair then they can be a highly valuable piece of kit.
Firstly, and crucially, good waterproof trousers should also be breathable (a balance I clearly hadn't struck with my first pair). Waterproofing can either come in the form of a coating or as a membrane.  Most companies have their own form of coating and these are usually very similar to each other. Membranes are usually considered to offer more breathability than coatings though they will more often than not be more expensive. Some membrane examples include Gore-Tex, eVent and Neoshell. An interesting new one to keep an eye out for in 2016 is Columbia's OutDry Extreme.
The second factor to consider, particularly when it comes to backpacking, is the balance between durability and weight. Overtrousers should have a good resistance to abrasion – any nick in the fabric can essentially render them useless – but if (as we all hope) you end up carrying them more often than wearing them then you don't want them to weigh too much.
The final balance to be struck is that they should be quick and easy to take on and off while wearing boots but shouldn't be so spacious that they are baggy and flap in the wind thus impeding walking.
Overtrousers are typically worn over a pair of walking trousers. Wearing them over just a pair of long johns is also a feasible option if you expect rain throughout the day and temperatures aren't particularly cold or exceedingly high. If you do plan to wear them over walking trousers then it's important that you test them out to check they won't restrict your stride at all.
The trousers on test range from the entry-level and basic to the highly technical and as such my ratings will reflect what should be expected from them at the price they are offered at. I've chosen only to review overtrousers rather than the 'wear-all-day' type of waterproofs that are worn in a singlelayer system. There are a number of brands that offer these.
What to check for when buying waterproof trousers
1. Waist
For semi- elasticated trousers that don't have an extra means of adjustment it's important to bear in mind that by the end of a backpacking trip or in some cases even after a long day of walking the waist will feel a lot looser so make sure that the trousers you purchase are not too loose fitting when you first try them on.
2. Fabric
Trousers with thicker fabrics will give extra warmth, but they can also be bulky and heavy. These types of overtrousers tend to be used for mountaineering or for generally rough conditions – the kind that are worn for most of the day. If your trousers are likely to spend most of the time in your pack then it might be best to choose a pair that use light and thin fabrics.
3. Pockets
I prefer overtrousers without pockets as they can increase the risk of water entry. If pockets are used then consider how they are protected. If there is only a flap for protection is there a risk of this blowing open in high winds? And does your jacket cover the pocket or conversely will your jacket channel water into it? If zipped pockets are not covered by a flap you should expect them to be waterproofed; this usually comes in the form of a YKKAquaGuard (or equivalent) seal.
4. Leg Zips
Most trousers will have zips up the leg so the trousers can be pulled on over a pair of boots. Some trousers have full-length zips and some ¾ or knee-length. Those with two-way zip pulls can be unzipped at the top for ventilation and to access pockets. For obvious reasons, full-zipped trousers are useful when wearing crampons, and they can also make life easier with muddy boots. Bear in mind that zips, even when closed, can be a point of entry for water.
5. Fit
Overtrousers should be easy to pull on over boots, but not so baggy that both trouser legs rustle against each other and catch the wind. Make sure to try them on over your walking trousers. Can you take a big stride? Can you bend your knees freely?
---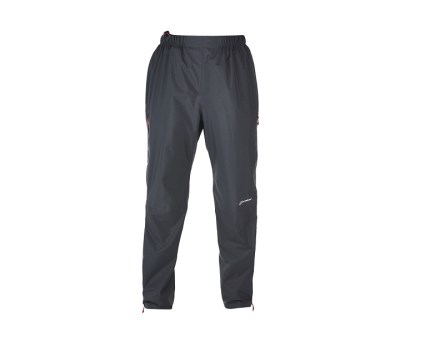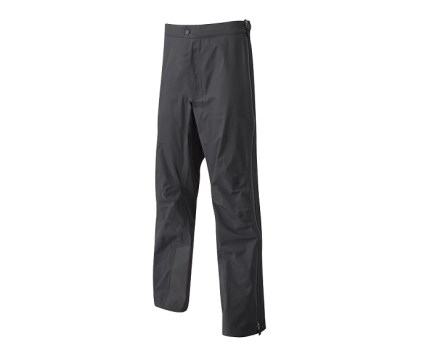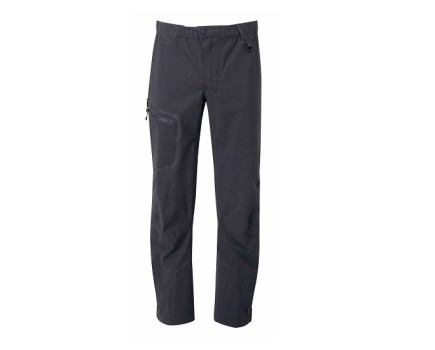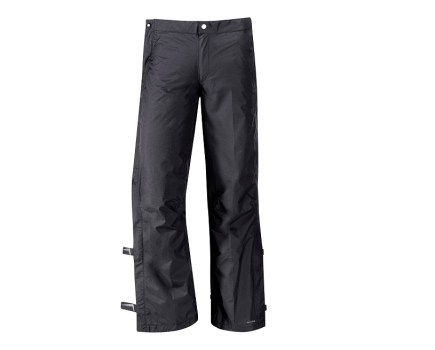 "The Yaras are actually designed with cycling in mind, with an extra patch on the backside and Velcro straps up each calf…"
3/5
Click here for the full review.