A backpack sized for daytime use will probably see more use than almost any other item of your kit. Mountain Leader Lucy Wallace walks us through some of the best hiking backpacks for women on the market right now. 
After well-fitting footwear, hiking backpacks for women in the 15-35L range – the right sort of size for single-day trips – could be your most important big money purchase for the hills. A good choice will see you taking that one backpack through your whole year outdoors, from low level summer trail excursions to fully loaded big winter mountain days.
With careful kit choice and packing, the same hiking backpacks can even be used for a lightweight overnighter too.
Your backpack is something that you'll be carrying all day, so before thinking about features, weight or brands, the first and most important box to tick is that it needs to fit your body size and shape. 
In the summer, hiking backpacks might have very little inside, but if it's fully loaded a badly fitting pack will soon be uncomfortable. A badly fitting pack may also prove unstable when tackling steeper ground.
To help you make a decision on what hiking backpack is best for you, we've tested and reviewed 5 of the best in the hills and mountains and picked out the best. These options were all selected as they are women's-specific. That means the brands haven't simply followed the outdated 'shrink it and pink it' method but have designed these backpacks specifically to suit female bodies, paying particular attention to back lengths and hipbelt and harness designs.
---
If you're in the market for something else, take a look at these guides:
---
Our picks of the best women's hiking backpacks
Lowe Alpine Women's AirZone Trek 26L – $175 | £130 | Best Buy
Haglöfs Women's L.I.M 35 – £140 (Buy now from alpinetrek.co.uk) Recommended
Mystery Ranch Women's Coulee 30 – $189 | £190 (Buy now from mysteryranch.com US only)
Montane – Women's Azote 30 – $179 | £110 (Buy now from montane.com)
Alpkit – Presta 25 – $96 | £49.99 (Buy now from alpkit.com)
Salewa – MTN Trainer 22Ws –  £115
Lowe – Alpine Airzone Active 22 – $110 | £70 (Buy now from millets.co.uk)
Berghaus – W Remote Hike 35 –   £85 | International shipping available (Buy now from berghaus.com)
---
Features to look for
Capacity
Daypacks vary in volume from sub twenty to over thirty-five litres. Choosing the right volume for your activity depends on how much equipment you plan to carry on your day out. In winter or poor weather, a larger volume is useful for the additional kit needed.  
Pockets
External stash pockets add volume to a small pack and are handy for stowing items in a hurry. Zipped pockets are great for safely storing snacks and small essentials. 
Lid
Smaller packs may not have a top lid, but in larger hiking backpacks they are useful for keeping rain out of the main compartment and providing storage space for one or two zipped pockets. Extendable lids enable an occasional larger load to be carried. 
Compression straps
Useful for cinching down a half-empty pack or securing poles, bottles and other loose items.
Hip belt
Provides stability and comfort. For heavier loads, a wide hip belt that sits on the hips is comfortable, to transfer the load away from the shoulders. Smaller daypacks may have a simple waist strap that helps hold the pack steady.
Back system
Often in partnership with a frame, this provides stability, ventilation and in some packs, adjustability to accommodate a range of back lengths. Some systems hold the pack away from the body for maximum ventilation, others help the pack hug close for increased stability (good for scrambling or biking). 
Shoulder straps
Shape, padding, and profile make a difference to comfort, especially for curvier body shapes. Make sure they are adjustable and there are no big gaps.
Raincover
Some rucksacks have a water resistant (not waterproof!) cover that can be extended over hiking backpacks to help protect contents in wet weather. 
Attachment points
Ice axe loops, and other points of attachment for poles, etc.
---
Test conditions
Lucy tested her five hiking backpacks over the course of a very wet and windy winter. Packs were carried on lowland walks and mountain scrambles in the west of Scotland and north of England. We've also updated this guide with reviews from Fiona Russell who has tested the Lowe Alpine Women's AirZone Trek 26L, Haglöfs Women's L.I.M 35 and Mystery Ranch Women's Coulee 30
---
Lowe Alpine Women's AirZone Trek 26L daypack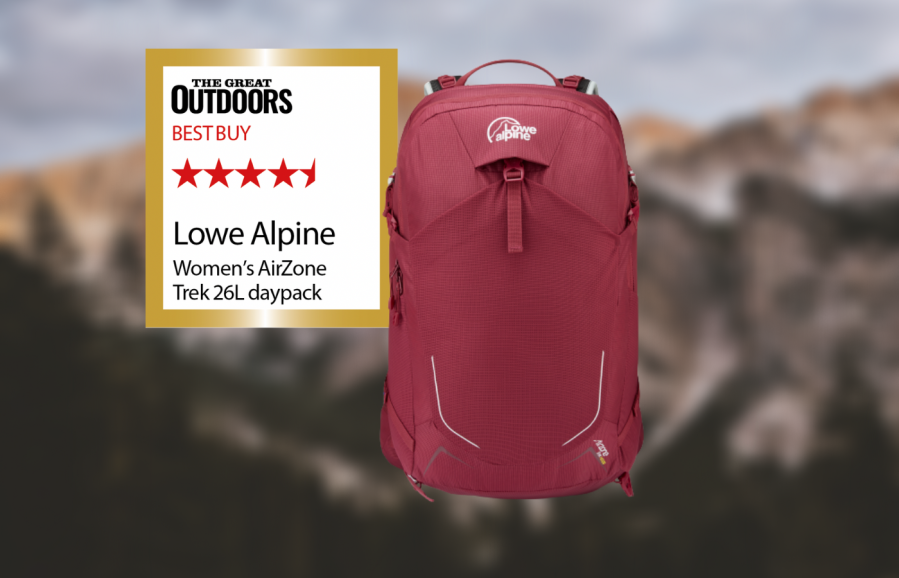 Pros: Comfortable, waterproof, mesh back
Cons: Small clips
RRP: $175 | £130
Weight: 815g
Rating: 4.5/5
Capacity: 26 litres | Materials: 210D 6.6 Mini Ripstop / HydroShield nylon with PFC-free DWR | Closure: large zip top | Back system: AirZone + back system with FormKnit technology foam | Back length: 43-48cm | Hipbelt: padded | Pockets: 2 side mesh, 2 zipped hipbelt, zipped top, zipped internal, internal hydration sleeve  | Features: forward pull hip-belt, axe attachment, walking pole attachments, sternum strap with whistle, hydration bladder compatible, upper and lower side compression straps, detachable raincover | Sizes: one
During my test of the Airzone Trek I found it to be a comfortable pack with light padding in the hipbelt and shoulder straps, with a suspended back system. There is 5cm of torso adjustment and sternum strap adjustment for different size chests. With plenty of useful pockets, including a main compartment with a two-way zip and drop-down front panel and internal bladder pocket. There's a hanger and single feeder hole for the drinking tube, and a smaller internal packet with zipped access from the top of the pack. There are zipped pockets on the hipbelt, but they are a squeeze for my mobile phone when testing. Small reflective details, four compression straps and attachments for walking poles and ice axe add to the attention to detail. The fastening clips are small and fiddly to operate with gloves.
Read more: Lowe Alpine Women's AirZone Trek 26L review
Haglöfs Women's L.I.M 35 hiking pack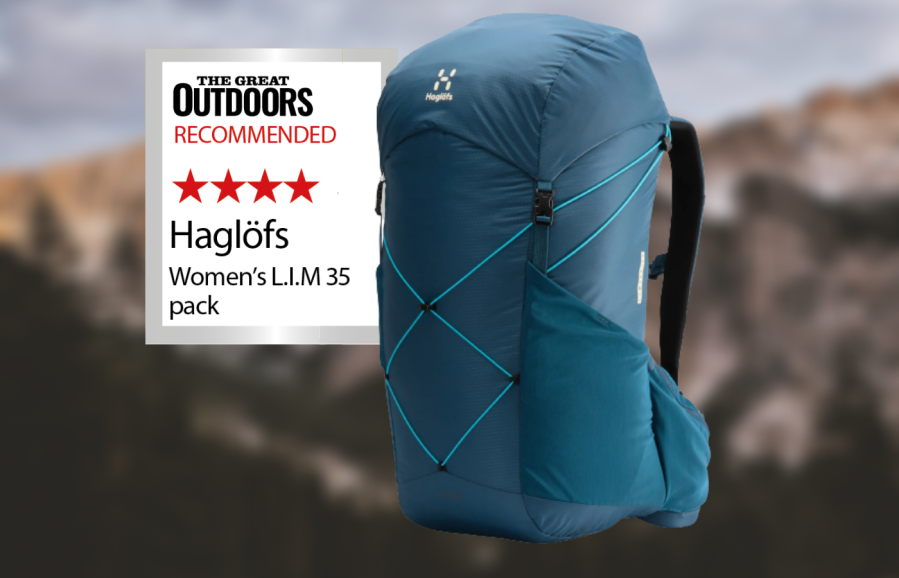 Pros: Comfortable, lightweight, ventilated back
Cons: No torso adjuster, small clips, one size
RRP: £140 (Buy now from alpinetrek.co.uk)
Weight: 929g
Rating: 4/5
Capacity: 34 litres | Materials: bluesign-approved 70D*140D diamond rip-stop polyamide | Closure: 2 clipped top lid | Back system: airback suspension system | Back length: 49cm | Hipbelt: padded | Pockets: 2 side mesh, 2 zipped hipbelt, zipped top, internal hydration sleeve | Features: compression system, gear attachment, adjustable sternum strap, load lifters | Sizes: one
The Haglöfs L.I.M 35 pack is a lightweight and pared-down pack with a well-designed mesh back for good ventilation and comfort levels. It has a traditional top opening with lid and a sophisticated cinch system, and a main compartment and hydration pocket and hanger, plus a zipped external top lid pocket and two roomy zipped hip pockets. However, during testing I realised that there is no torso length adjustment, and it is quite a long pack so it may not suit shorter women. The zip pulls are minimalist and clips at the hip-belt, sternum and for the top lid are fiddly especially with gloves on. It is worth considering if you are looking for a lightweight pack that is comfortable to carry and has a simple design.
Read more: Haglöfs L.I.M 35 pack review
Mystery Ranch Women's Coulee 30 daypack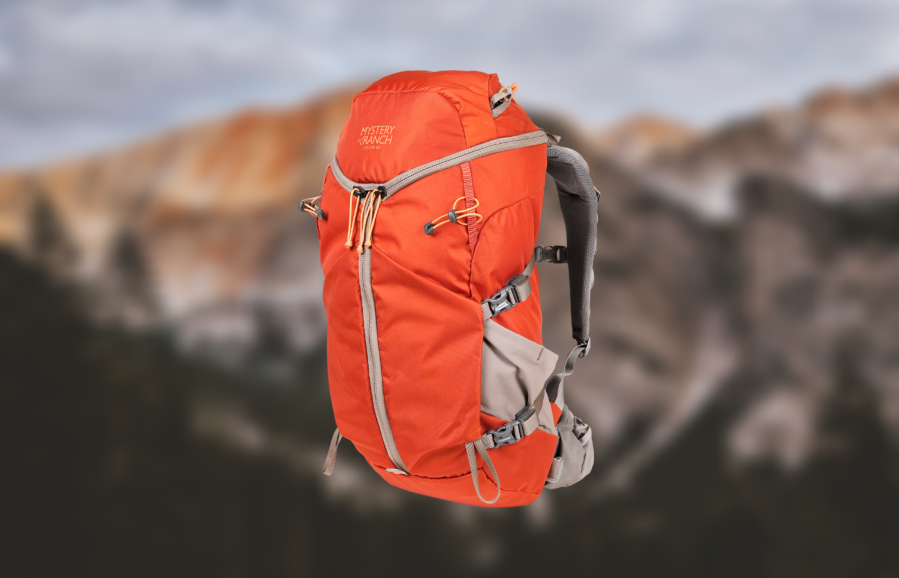 Pros: Two sizes, adjustability
Cons: Poor zip design, complicated zipping, pricy
RRP: $189 | £190 (Buy now from mysteryranch.com US only)
Weight: 1158g
Rating: 3.5/5
Capacity: 30 litres | Materials: 100% recycled nylon 210D Robic nylon, external DWR, internal PU coating, both PFC-free | Closure: three-zip lid and front access | Back system: padded | Back length: XS/S: 33-46cm; M/L: 41-46cm | Hipbelt: padded | Pockets: 2 back fabric, 2 side mesh, 2 zipped hipbelt, zipped top, internal hydration sleeve | Features: YKK zips with DWR finish, interior attach loops, torso length adjustment, double-layer base, side compression, tool attach points | Sizes: XS/S, M/L
This hiking pack is designed to fit a wide range of females, with two sizes, torso length adjustment, and a moveable sternum strap. The three-zip access is inventive, but there is a gap where the zips meet. During testing I found that the main compartment has a rear pocket for a hydration bladder with two feeder holes for the drinking tube, and two stretchy open-top side pockets. There were also two zipped waistbelt pockets that sit far back and are not easy to unzip and took a couple of attempts when on test. There is plenty of padding in the hipbelt and shoulder straps, but the rear of the pack is padded, causing a sweaty back.
Read more: Mystery Ranch Women's Coulee 30 daypack review
Montane Women's Azote 30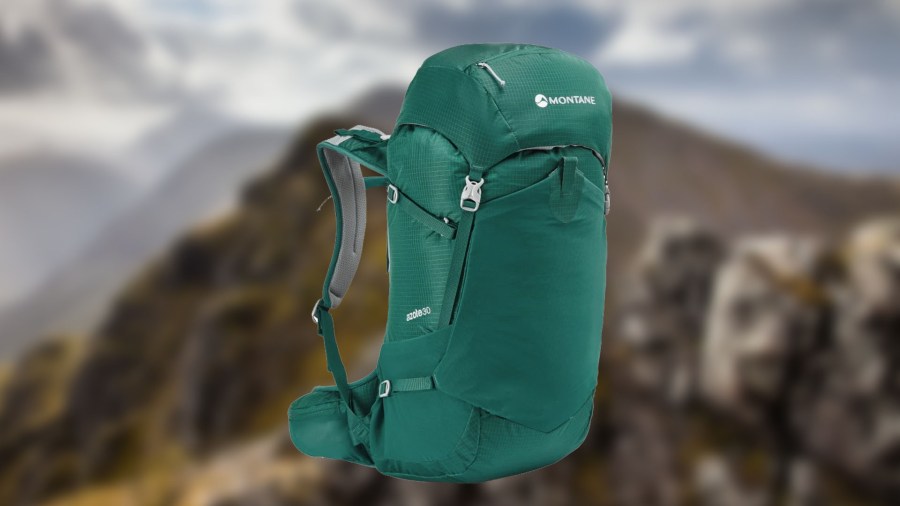 Pros: Lots of useful features for year round walking
Cons: no rain cover
Rating: 5/5
Price: £110
Weight: 930g
Materials: main = 78% recycled Raptor Eco 100D Robic Nylon 
Features: floating lid, mesh front pocket, hip belt pockets, side compression straps adjustable back length. 
Sizes: one size
Mens Version: Azote 32
This backpack from Montane does the basics very well, with no skimping on useful features, and without being heavy or over engineered. At 30 litres, it's roomy enough to carry plenty of spare gear, layers, waterproofs, emergency shelter and even crampons. The floating lid extends the volume even more and there is decent hip support to facilitate bigger loads. I like the mesh pockets on the hip belt, (I stash my compass here), the huge mesh pocket on the front and decent volume side pockets.
The lid has an inner pocket for precious items, and the main compartment has a zip entry point cunningly positioned on top to prevent essential gear from tumbling out (otherwise, my personal bugbear).There's no rain cover, but I find them useless in strong winds anyway. The back system is simple, comfy, and secured with a hook and loop flap for easy adjustability. There is a pouch for a hydration system tucked between this and the main compartment- meaning the bag doesn't need to be unpacked to refill a water bladder.
It's the epitome of a great mountain-walking rucksack and I couldn't ask for more (or less).
---
Alpkit Presta 25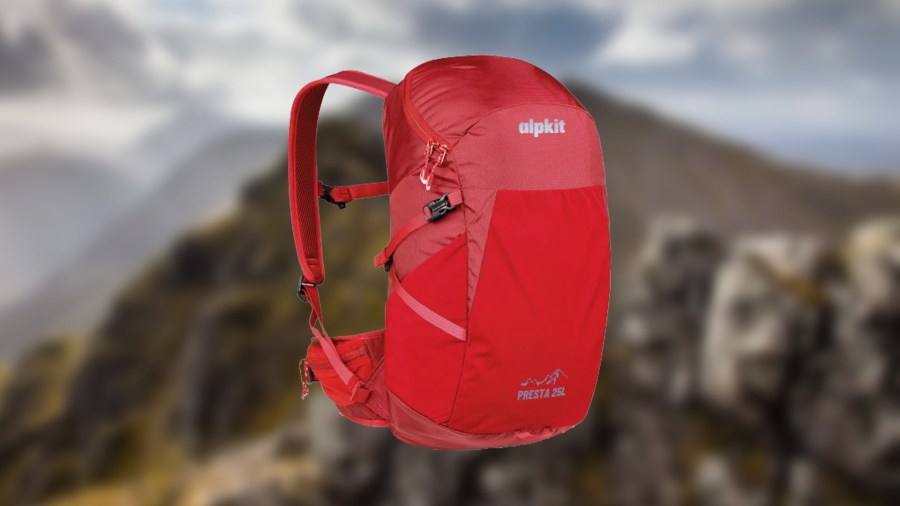 Pros: bargain price
Cons: basic design, broad should straps may not fit everyone
Rating: 3/5
Price: £49.99
Weight: 629g
Materials: main = 210D mini ripstop nylon with PU coating. 
Features: Mesh front and side pockets, zipped hip pockets and top pocket, hydration pouch, side compression straps. 
Sizes: one size
Mens version: unisex. 
Impressively priced, the Presta 25 is functional and well thought out. The materials and build quality are good; it's inexpensive rather than cheaply made. At 25 litres, it's best suited to three-season use, with space for some lightweight spare gear, food and waterproofs.
The top pocket is a bit on the small side, but it's roomy enough for a compass, keys and wallet. The stretchy mesh pockets on the back and sides are very useful and extend the volume of the pack a little.
I really like the large, zipped pockets on the hip fins. The back system is simple but does the job, with mesh covered ridges of foam and a channel running down the middle for air flow.
It's a unisex pack, but the length is fairly short, so this won't be a problem for smaller folk. My only gripe is that the shoulder straps are a bit too broad for me to be comfortable, digging in at the sides in places I don't like to be dug at!
For the budget conscious and if the fit works for you, this pack is worth considering.
---
Salewa MTN Trainer 22Ws
Pros: good venting, comfortable carry.
Cons: price
Rating: 4/5
Price: £115
Weight: 772g
Materials: 100D Nylon
Features:  Mesh side pockets, zipped top and hip pocket, raincover, split straps and hip belt, internal hydration pouch. 
Sizes: one size
Men's version: MTN Trainer 25
My first impression is the price tag, as it's twice the price of some packs in its class. However, the MTN trainer compares favourably for comfort and user friendliness.
The most noticeable features are the split shoulder straps and hip belt, designed for extra ventilation.
These are perfectly contoured so as not to interfere with natural body shape and although the pack was tested in cool weather, they feel like they would be great in warmer weather.
The pack sits close to the back – best for scrambling, climbing or biking – and is very stable to carry. There's a wide channel and mesh covered foam pads designed to allow airflow.
For 22 litres it feels roomy, and the external mesh side pockets add volume. The stash pocket in the top and the single hip pocket are also generously sized.
Instead of side compression straps, there's a "twin compression system" drawcord that pulls everything in tight to a central point, if the pack is heavy.
---
Lowe Alpine Airzone Active 22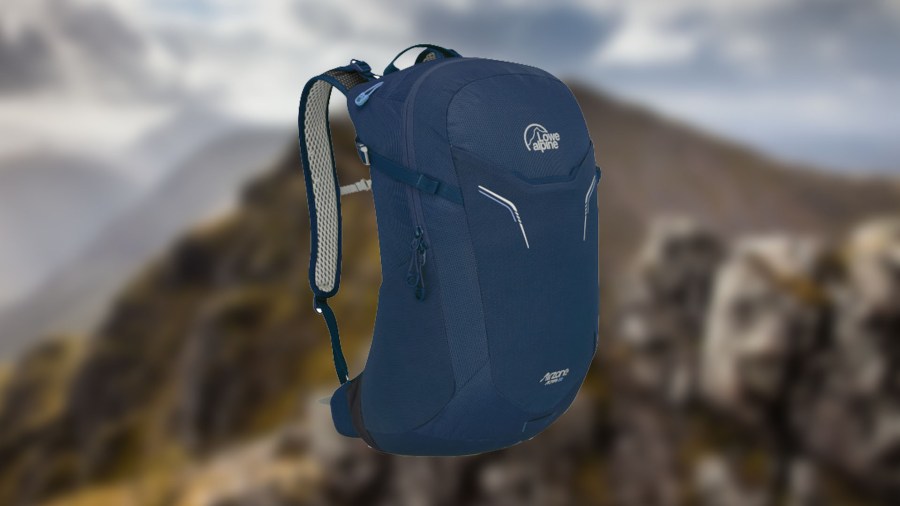 Pros: Good value, lots of features
Cons: Not as comfortable as some
Rating: 3/5
Price: £70
Weight: 780g
Materials: Ripstop Nylon
Features: front and side mesh pockets, zipped internal pocket and top pocket, Airzone LT back system, rain cover, walking pole attachments, side compression straps. 
Sizes: one size
Men's version: unisex
My test of this hiking backpack comes with a proviso. I generally don't get on with this style of backsystem, where the pack is arched over a frame, with a mesh back that is bowstring tight, to create a huge ventilation space.
I find that the frame digs into the soft area above my hipbones and found that the simple waist strap on this version offered little in the way of stability. Some people like this system, and those that do, may love this pack. 
Aside from this, the Airzone Active 22 has plenty of nice features. There are huge mesh pockets on the side and back, and a handy mesh zipped pocket inside as well as the zipped top pocket.
TipGripper walking pole attachments are an effective way of holding poles securely in place. It feels roomy for a 22-litre pack and is easy to pack and access the gear inside, once out and about.
It's a unisex design with low profile shoulder straps that work for curves and a relatively short back. It's also great value for what is a really.
---
Berghaus W Remote Hike 35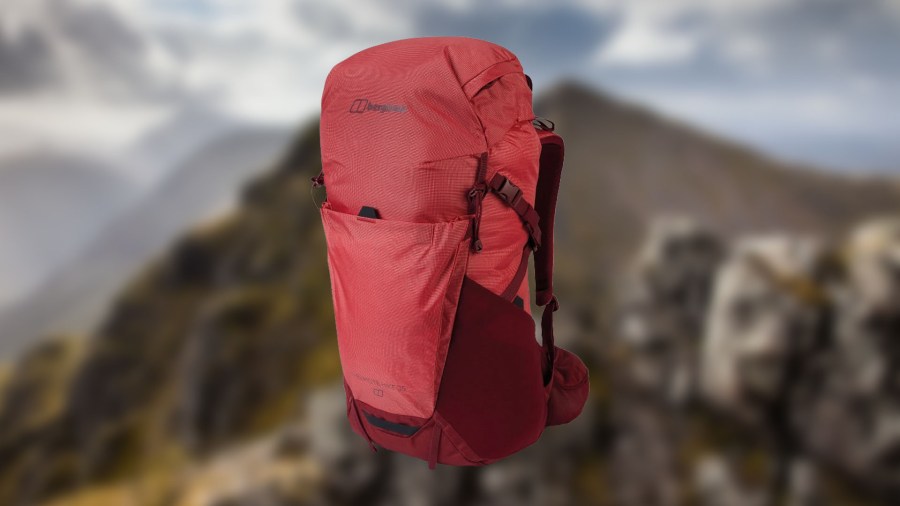 Pros: Adjustable back, huge front pocket
Cons: Reversed entry point for main compartment
Rating: 3/5
Price: £85
Weight: 1030g
Materials: PFC free nylon and polyester with a water resistant PU membrane.
Features: external and internal lid pockets, side mesh pockets and large front pocket, zipped mesh hip pockets, size access zip, ice axe loops, side compression straps. 
Sizes: one size
Men's version: yes
Last on our list for the best hiking backpacks for women is this all-round mountain pack, suitable for winter or summer walking. A lot of thought has been put into the design. I can sing the praises of the sturdy reinforced base, and especially the hook and loop adjustable back system, which is easy to adjust.
The pack is very stable to carry and the enormous stash pocket on the front is supremely useful and tougher than the usual mesh pouch.
I confess I struggled with the reversed entry to the main compartment, with buckles and lid flap facing the opposite way of every other pack I've ever used.
Despite hoping I'd get used to it, I didn't. If filled to capacity, it wasn't possible to pull the lid over the top without a gap between the lid and the main compartment.
In all other respects, it's a comfortable and versatile mountain-walking rucksack, secure and well-balanced on steep ground, and comfy all day long.
If this pack had a floating lid that would allow for more adjustment, it would be awesome.
---