Hiking backpacks for day use will probably see more action than most of your kit. Park ranger Peter Macfarlane and Outdoor expert Chris Townsend take us through the latest and greatest in the 15-35L range. 
In this article we are going to be looking at the best backpacks for men. One of the first things you need to consider when you're in the market for a new backpack (we're talking here about hiking backpacks or day packs in the 15 – 35 litre range) is back length. Many products now have two or more options of fixed back lengths to try on the same model.
Main image credit: David Lintern
Some of the best backpacks for men, have adjustable back systems, which are worth trying in store; some are straightforward, while others can be a faff. It is easy to overlook this feature as unnecessary or something to set and forget, but it can allow you to tune the fit of your pack between summer use – over just a base layer – and pulling it on over winter layers. 
There are often capacity differences in hiking backpacks, with the women's version often having a smaller volume. It's a frustrating difference, given we all carry a similar range and amount of kit, and can force women into considering a larger and usually more expensive pack to match capacity.
Load the pack with weight to test the fit. Adjust the shoulder straps and the waist belt. The hip fins should catch the top of your hip bones to transfer weight from your back to your hips. The shoulder straps should follow the curve of your shoulders from your chest to your back. Large gaps indicate a pack that is too long for your back.
Next, put your arms above your head, to check freedom of movement when scrambling. Can you reach a water bottle stashed in the side pockets? If the store has stairs, use them to test the stability of hiking backpacks. Does it move around, or is it secure? You and your hiking backpack are going to spend many hours together. Choose wisely and it will become part of your daily life, a partner on the hill as well as the daily commute to work or the park.
---
---
Our picks of the best hiking backpacks for men
We've put together a list of the best backpacks for men, these packs have been tested by our team of outdoor experts, with the likes of Chris Townsend putting these backpacks through their paces. In this article you will see hiking backpacks from outdoor brands such as Berghaus, Montane, Haglofs and more.
---
Features to look for backpacks
Capacity
Daypacks vary in volume from sub twenty to over thirty-five litres. Choosing the right volume for your activity depends on how much equipment you plan to carry on your day out. In winter or poor weather, a larger volume is useful for the additional kit needed.  
Pockets
External stash pockets add volume to a small pack and are handy for stowing items in a hurry. Zipped pockets are great for safely storing snacks and small essentials. 
Lid
Smaller hiking backpacks may not have a top lid, but in larger rucksacks they are useful for keeping rain out of the main compartment and providing storage space for one or two zipped pockets. Extendable lids enable an occasional larger load to be carried. 
Hiking backpacks compression straps
Useful for cinching down a half-empty pack or securing poles, bottles, and other loose items.
Hip belt
Provides stability and comfort. For heavier loads, a wide hip belt that sits on the hips is comfortable, to transfer the load away from the shoulders. Smaller daypacks may have a simple waist strap that helps hold the pack steady.
Back system
Often in partnership with a frame, this provides stability, ventilation and in some hiking backpacks, adjustability to accommodate a range of back lengths. Some systems hold the pack away from the body for maximum ventilation, others help the pack hug close for increased stability (good for scrambling or biking). 
Shoulder straps
Shape, padding, and profile make a difference to comfort especially for curvier body shapes. Make sure they are adjustable and there are no big gaps.
Raincover
Some rucksacks have a water resistant (not waterproof!) cover that can be extended over the rucksack to help protect contents in wet weather. 
Hiking backpacks attachment points
Ice axe loops, and other points of attachment for poles, etc.
---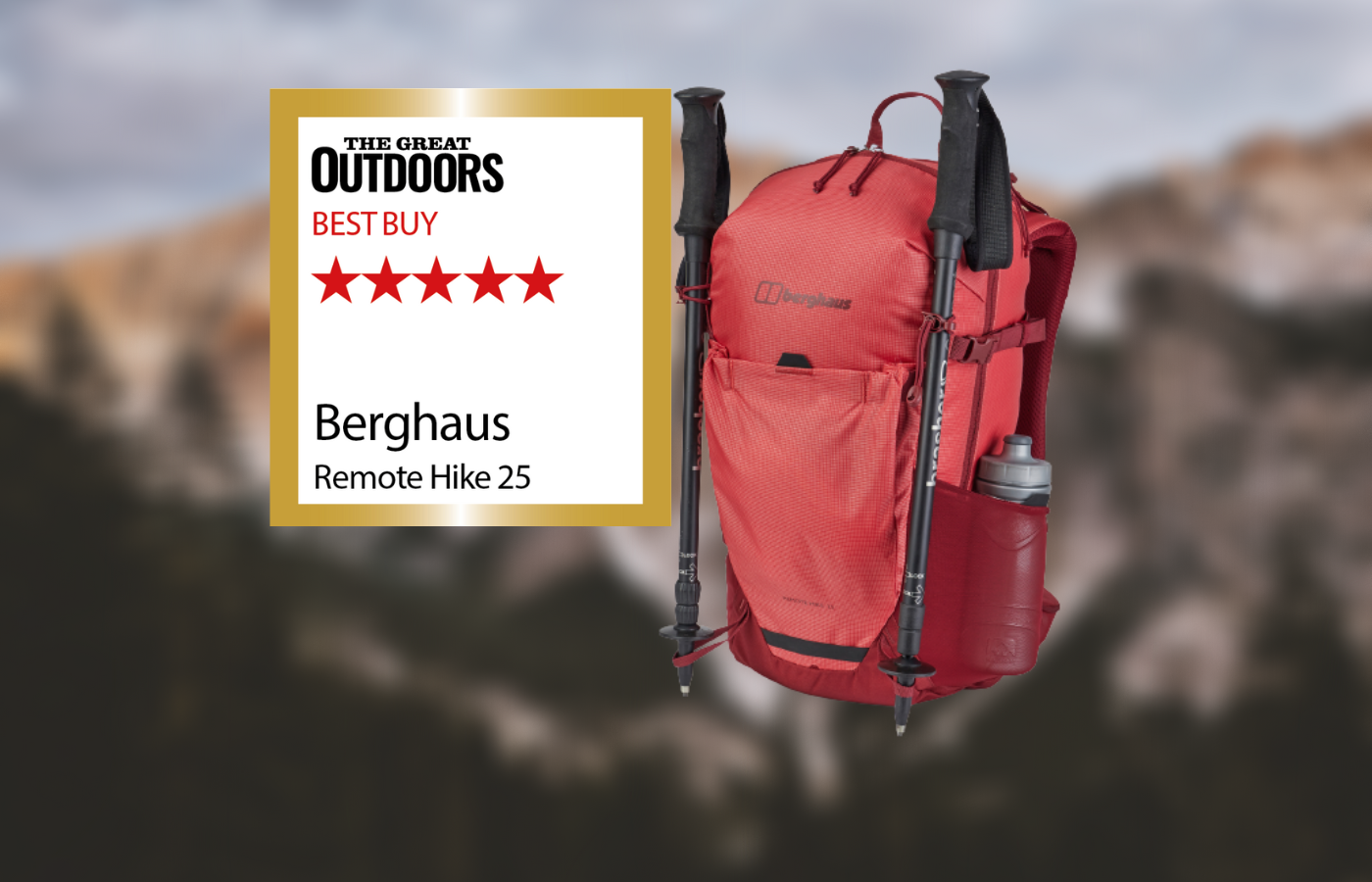 Pros: Large pockets, easy access, lightweight, low cost
Cons: None
RRP: £75 | International shipping available – Buy Now
Weight: 770g
Rating: 5/5
Capacity: 25 litres | Materials: PFC-free nylon 200D ripstop | Closure: zip-round panel | Back system: framesheet with mesh-covered foam panels | Back length: 49cm | Hipbelt: padded | Pockets: elasticated front stash, 2 side mesh, 2 mesh hipbelt, top zipped security | Features: Side compression straps, ice axe/trekking pole loops, external hydration sleeve | Sizes: one 
First on our list of the best backpacks for men is the Berghaus Remote Hike 25 is comfortable to carry and has a functional design, with a thick mesh-covered dual-density shoulder straps, hipbelt and back padding. The main compartment zip runs over halfway down each side, and the pockets are roomy and expandable. It is lightweight and low cost, making it a great choice for 3-season hillwalking.
Read more: Berghaus Remote Hike 25 review
Osprey Talon Earth 22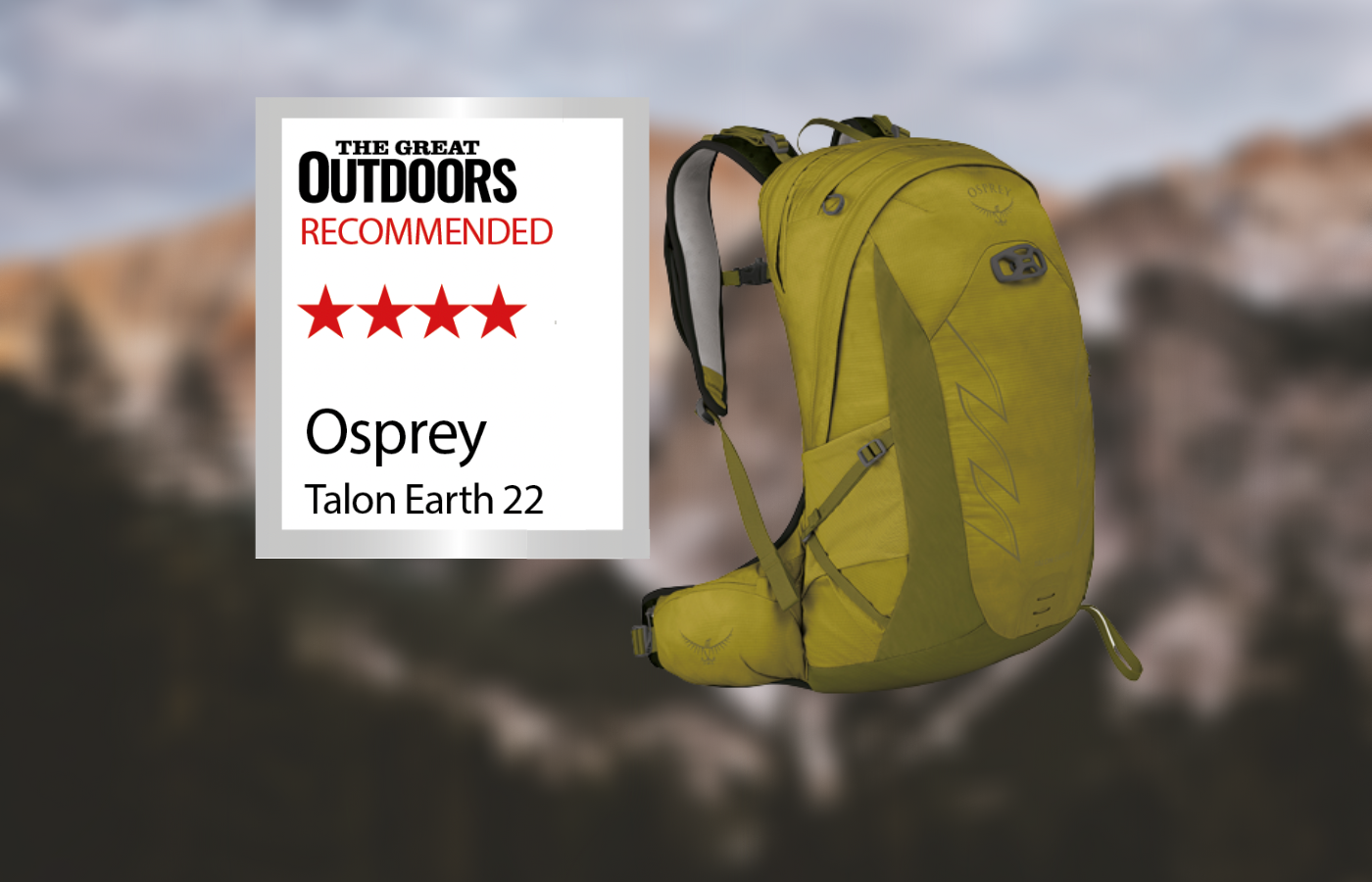 Pros: Recycled materials, easy access
Cons: Expensive, quite heavy
RRP: $195 | £160
Weight: 1060g
Rating: 4/5
Capacity: 22 litres | Materials: bluesign-approved recycled 100D x 210D high-tenacity nylon with PFC/PFAS-free DWR | Closure: zip-round panel | Back system: recycled framesheet, 50% recycled mesh-covered cut-out EVA foam | Back length: adjustable, 49-56cm | Hipbelt: padded | Pockets: 2 side mesh, 2 zipped hipbelt, zipped top, internal zipped security, padded laptop sleeve | Features: side compression straps, bike helmet attachment, tuckaway ice axe loop, external hydration sleeve | Sizes: one
Osprey's Osprey Talon Earth 22 is second on our list of the best backpacks for men. This sustainable and durable pack with well-padded shoulder straps, back and hipbelt, adjustable back, and good storage features. However, it lacks a front pocket and laptop padding, making it heavy for a pack this size.
Read more: Osprey Talon Earth 22 review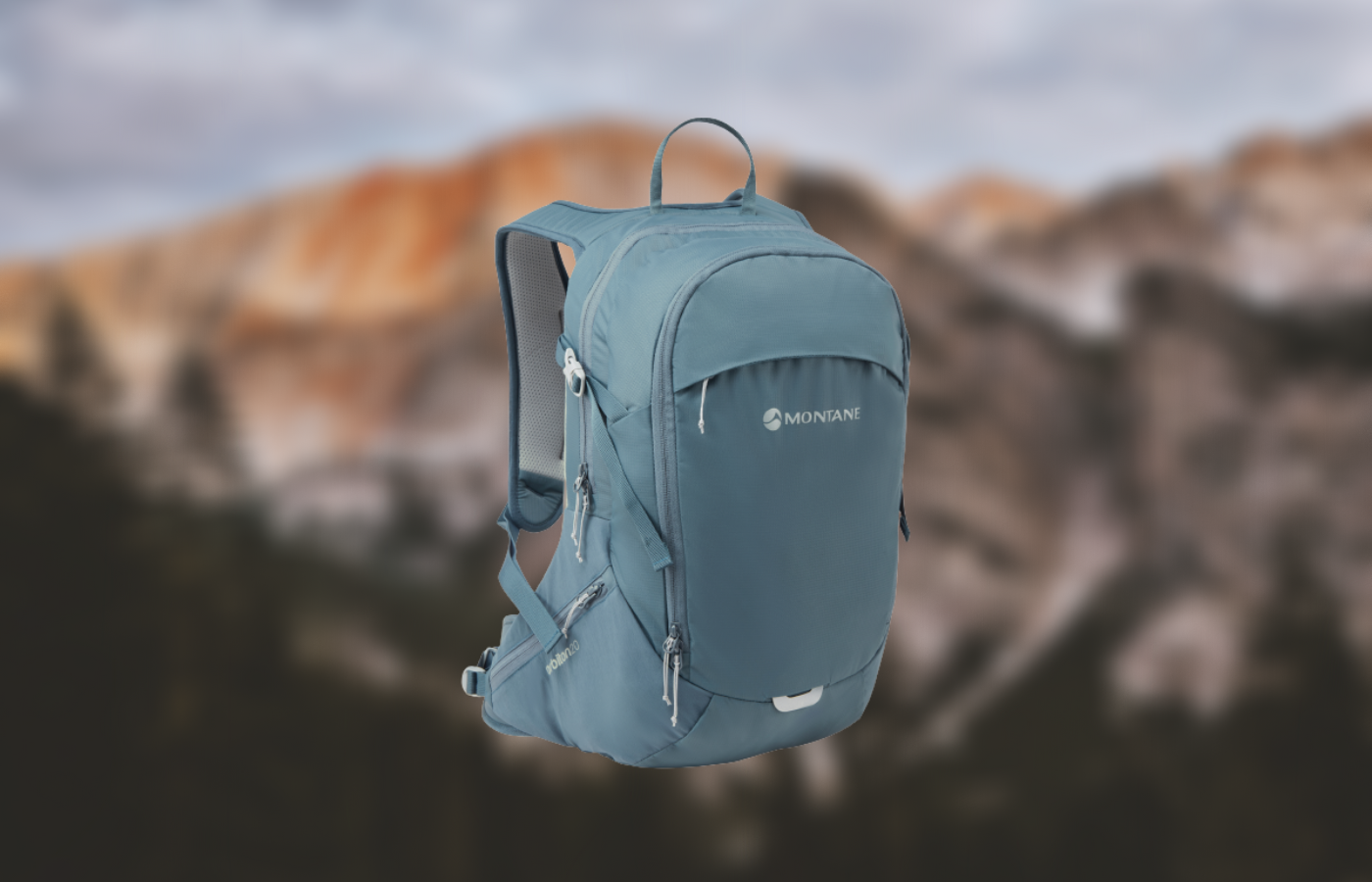 Pros: Weight, cost, access
Cons: Small pockets
RRP: $129 | £90 | Buy Now
Weight: 815g
Rating: 3.5/5
Capacity: 20 litres | Materials: 210D grid nylon | Closure: 2 zip-round panels | Back system: framesheet, padded panels | Back length: 47cm | Hipbelt: padded, adjustable for walk, run or bike | Pockets: zipped front, 2 stretch mesh side, 2 stretch mesh shoulder strap, zipped inner, inner organiser, padded laptop/tablet/phone sleeves | Features: side compression straps | Sizes: one
The Montane Orbiton 20 is an unusual pack designed for walking, running and biking, and for both outdoor and urban activities. It features a hipbelt with a removable hipbelt, shoulder straps and back, and a padded laptop sleeve and tablet/phone sleeve. The foam is mesh-covered and there is an airflow channel down the back to reduce sweat build-up. It has two compartments, each easily accessed via a long zip, and the side pockets angle round the hipbelt for access. It is not very big, but some people may find it useful.+
Read more: Montane Orbiton 20 review
---
TrekMates – DryPack RS 30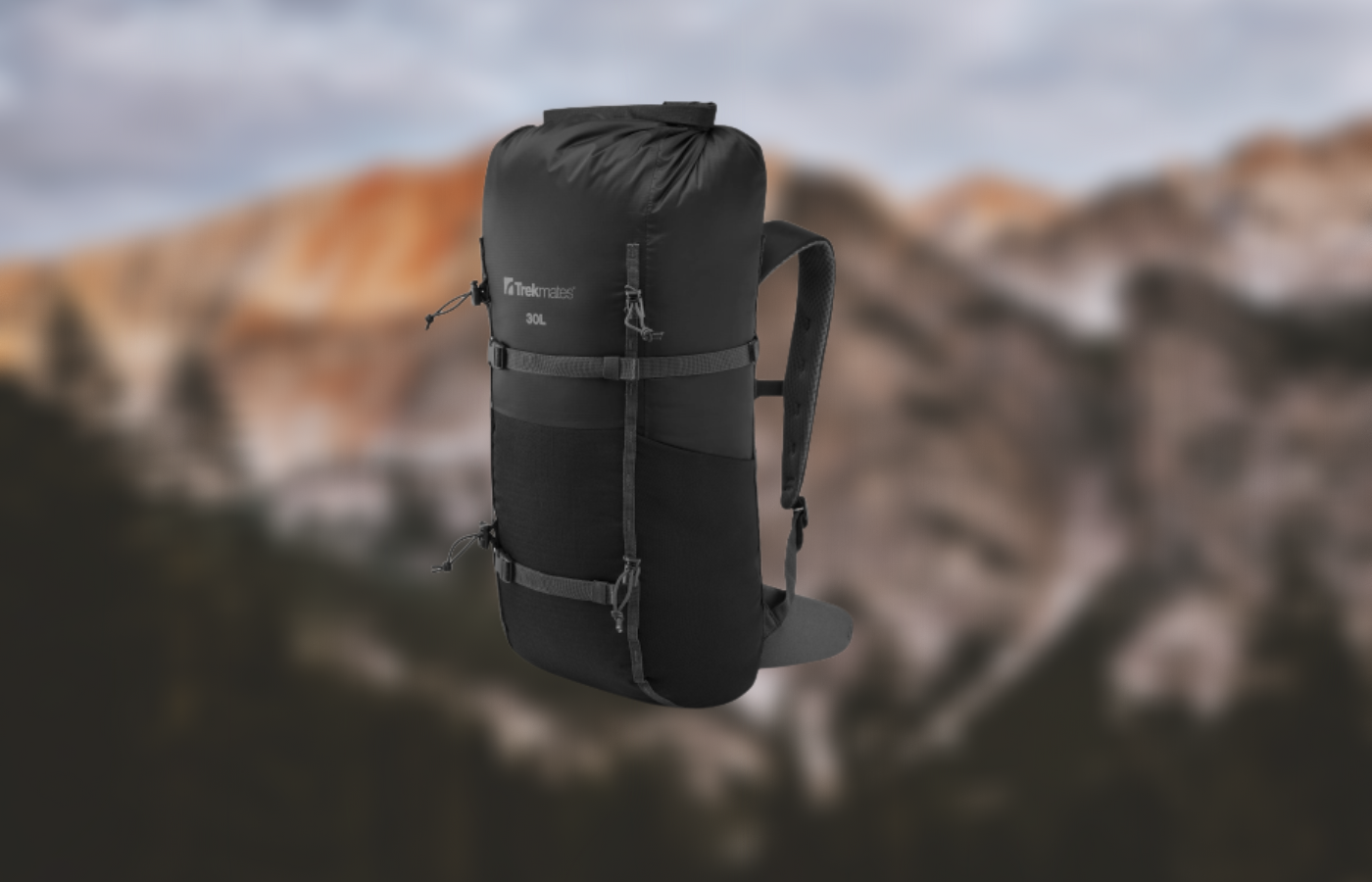 Pros: Comfortable, light, waterproof.
Cons: Stability when fully loaded.
Rating: 4/5
RRP: £55
Weight: 512g
Materials: 210D ripstop polyamide with 600D reinforcing panel waterproof taped construction. | Features: roll top closure, white lining, stretch side pockets, pole loops, compression straps, daisy chain webbing. | Sizes: one size | Mens version: unisex
The Drypack isn't a standard daypack. Instead, the brand has essentially taken a 30L rolltop waterproof container and attached a back system and harness to make it into a useful and practical rucksack. To really test waterproofness, I filled the Drypack full of water from the bathtap and held it up to look for drips. The pack is indeed waterproof, and strong given the weight of water it was holding.
The shoulder straps and hip fins are lightly padded, and mesh lined. They're both comfortable enough, and while the hip fins are too small to transfer a full load properly, they do add a little stability. The back is unlined foam with a channel to allow some air circulation and it's now starting to show some wear and tear, with several creases and deep marks.
There are two large side mesh pockets, big enough for a 1L bottle. A compression strap runs through these but this can be repositioned outside the pocket or removed completely. Daisy chain webbing runs vertically up the front with pole attachments points and it allows you to attach other kit by adding your own bungee cord or straps.
---
Mystery Ranch – Scree 32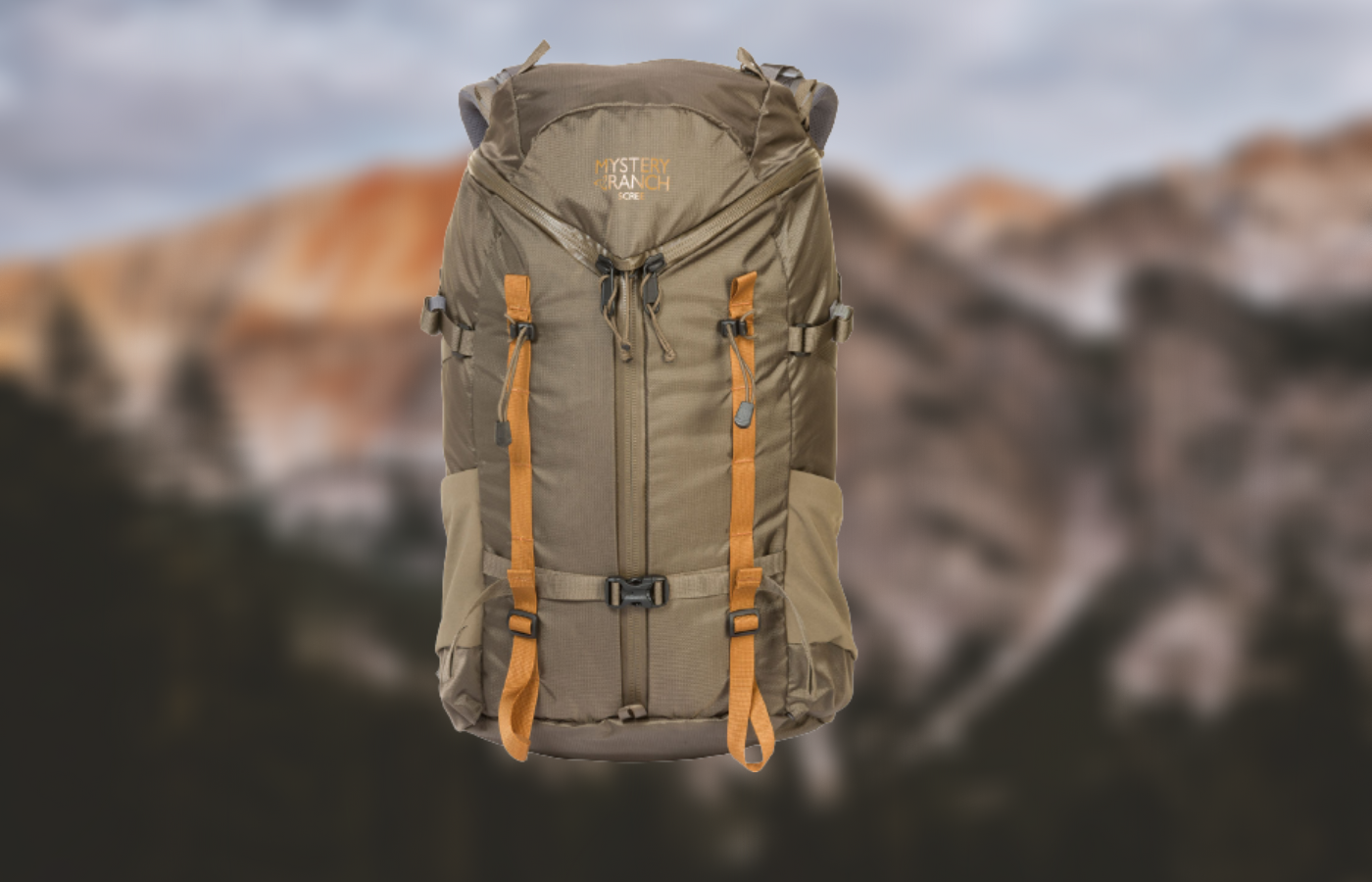 Pros: Comfort, adjustability, internal and external storage options
Cons: Weight, price
Rating: 4/5
Price: £210
Weight: 1320g
Materials: 210D robic nylon, YKK zippers | Features: three way zipped access, ice axe and pole loops, hip fin pockets, stretch side pockets, two lid flap pockets, adjustable back, removable hip belt, hydration sleeve, internal pockets | Sizes: two sizes and adjustable | Women's version: yes
The Scree 32 mixes new and traditional design ideas. The main compartment access is via three chunky zips, two for the lid flap and one runs down the centre of the main compartment. Initially I was skeptical, but repeated use in rain or snow, where one partially open zip would let me access my kit wherever it was inside the pack, won me over.
All the zips have webbing tabs to pull against for opening and closing to minimize strain on the zip. The shoulder straps are wide and well-padded which is comfortable and stable. They are attached to a sliding velcro patch for easy back length adjustment. The back system is padded mesh which has a little flex and is comfortable and stable.
The hipbelt is removable with two zipped pockets which are on the small side. There are two zipped lid pockets, one small, one large and there user accessible side pockets big enough for bottles. Inside there are also two long side pockets for load separation. Compression is via webbing straps which don't interfere with the side pockets and can be reconfigured to attach bulky gear externally.
This is the only pack in the review I could easily attach a 60cm ice axe to as it has webbing loops and bungee clips far enough part and sturdy enough to do so. The Scree 32 is stable, comfortable and usable, with very few niggles, but it is a little heavy and very expensive indeed.
---
Vaude – Brenta 30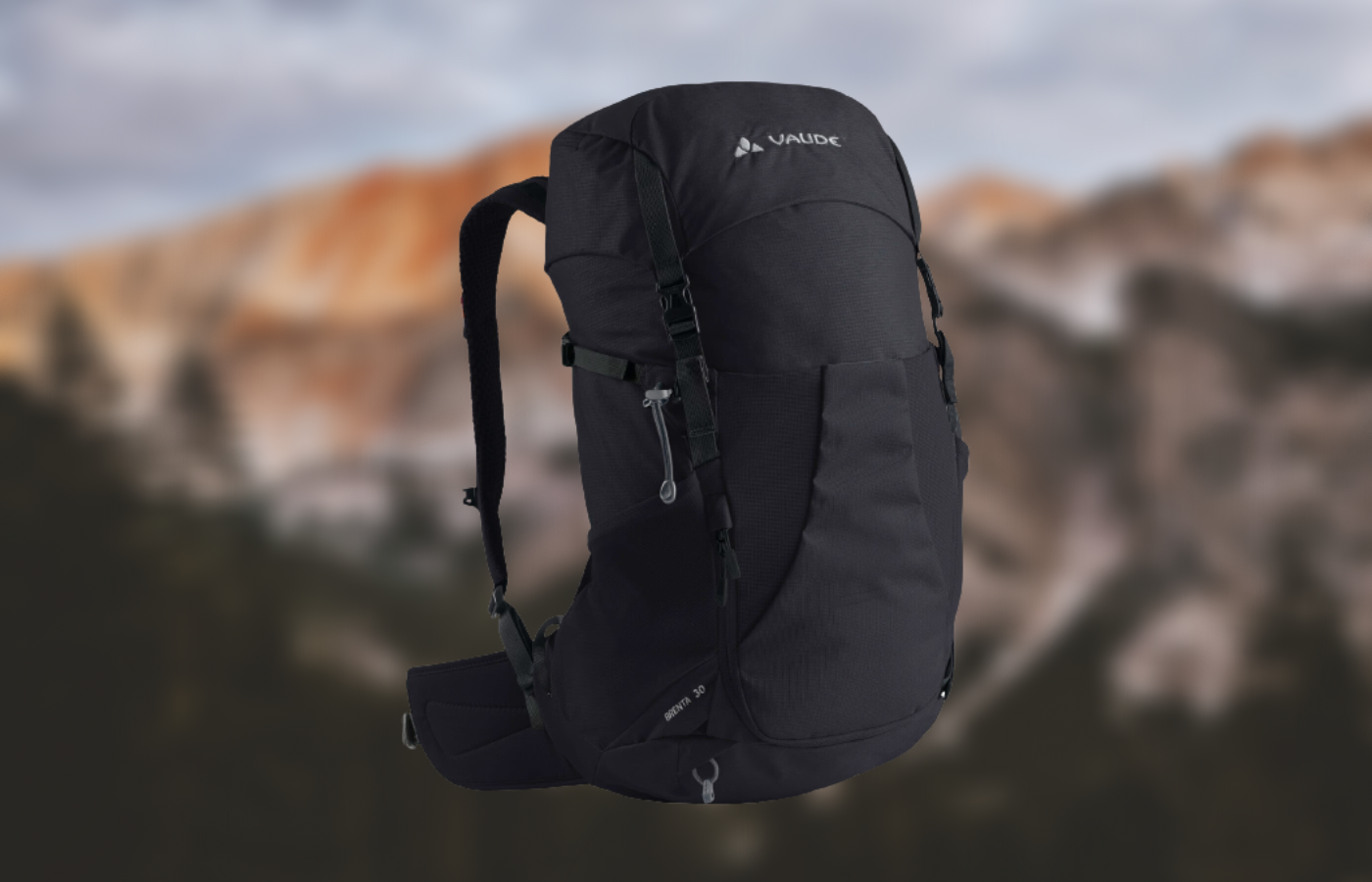 Pros: Storage options, comfort
Cons: Weight
Rating: 3/5
Price: £120
Weights: 1220g
Materials: 71% polyamide 29% polyester 300 D PU coated | Features: double buckle main closure, mesh air gap back, one hip fin pocket, two side stretch pockets, pole attachment, hydration sleeve, front part mesh pocket, partial front zipped access adjustable back length, raincover | Sizes: adjustable | Womens version: unisex
The Brenta has a very eclectic array of features. There's a double buckled lid as the main access, as well as a U-shaped zip around the edge of the front stretch pocket which gives very useful access to the middle and bottom of the pack. The shoulder straps are quite narrow and lightweight, but padded and comfortable in use, while the hips fins are large and wide, similar to those found on a larger capacity backpacking rucksack.
It has clever side and top mesh pockets on the side panels, which are sadly almost impossible to access while wearing the pack, due to poorly positioned compression straps and buckles. The adjustable back system is tricky to adjust, but does have a little more flex that other air back systems which makes it comfortable in use.
The lid has a very useful large pocket which has an insulated phone sleeve, an extra internal zipped pocket and a large key loop. The quality of the construction on the Brenta is excellent, and I was pleased to see the use of recycled materials. It's also a very comfortable and stable carry, but I found enough niggles in the design to persuade me to reach for the other models in the test for the bigger days out.
---
Gregory – Zulu 30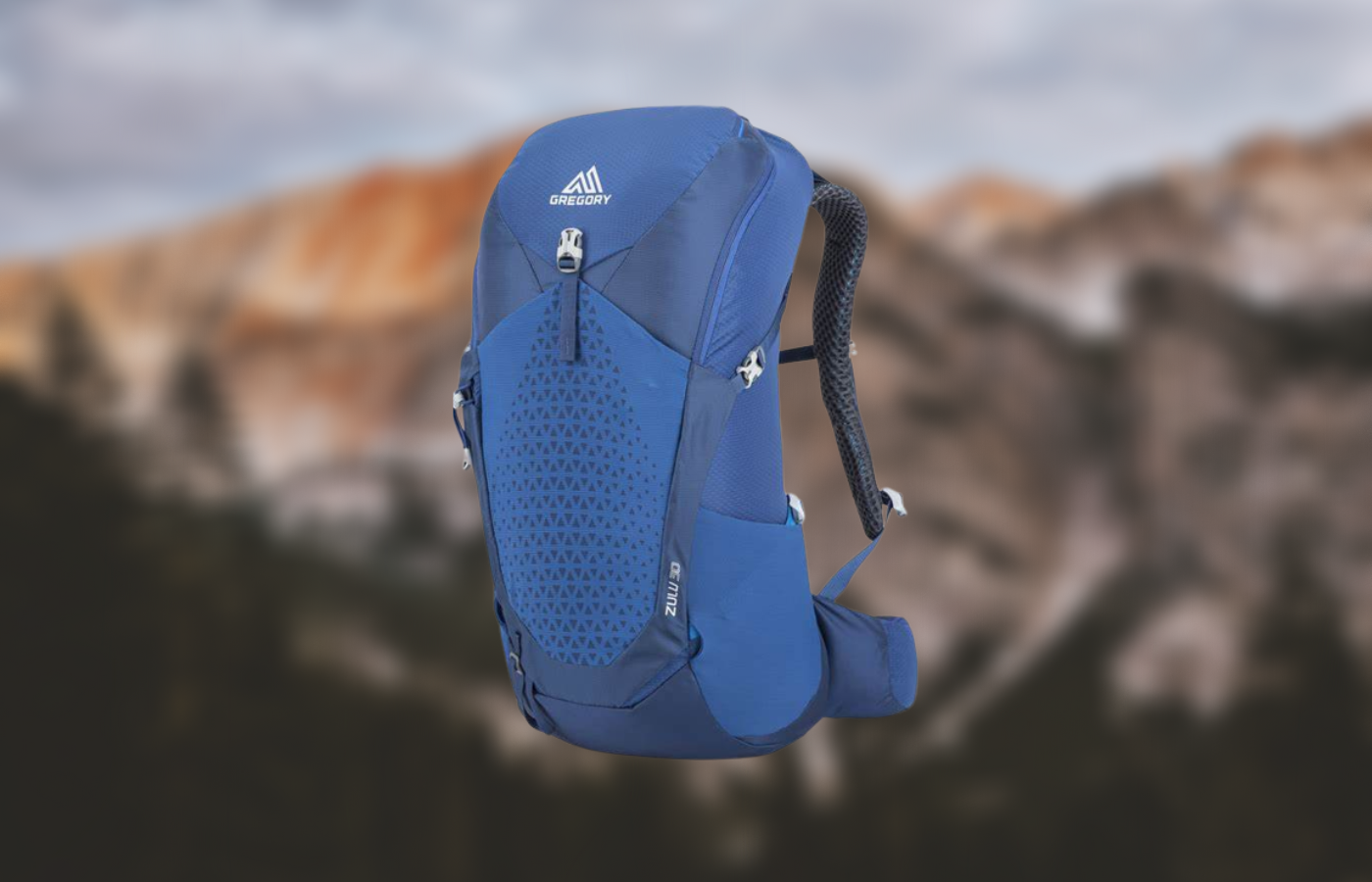 Pros: Accessible storage, comfort, adjustable back
Cons: Weight, price
Rating: 3/5
Price: £145
Weight: 1315g
Materials: 210D honeycomb cryptorip HD nylon & 210D high tenacity nylon | Features: zipped main access, raincover, zipped hip fin pockets, stretch side pockets stretch front pocket, pole loop, hydration sleeve, lid flap pockets, adjustable back length, mesh air gap back. | Sizes: two sizes, adjustable | Women's version: Jade 28
The Zulu 30 has an easily adjustable back. The shoulder straps attached via a large Velcro plate which can be moved up and down to tune the fit. The straps and hip belt were initially very stiff but soon softened and settled into my shape after which the Zulu became very comfortable and very stable.
Wearer accessible storage is good with large, zipped hip fin pockets and side pockets which I can reach while wearing the pack. These pockets suffer from a common design flaw. The side compression straps run through the pocket meaning sliding in a bottle back while wearing the pack can be difficult.
There's a big front stretch pocket which will even take a wet one person tent, so the 30 litre capacity here is certainly enough to get overnight kit into. The lid pockets are quite small but the main compartment access through the zipped lid for packing and rummaging is excellent.
The air back system works as intended by allowing your back to dry faster, but it adds weight and a little too much rigidity for me. It also makes the main compartment curve inwards, which can make packing a little trickier. That is down to personal taste, and I haven't judged the pack on that basis. Overall, the Zulu is a comfortable carry with plenty usable practical features.
---
Haglofs – LIM 25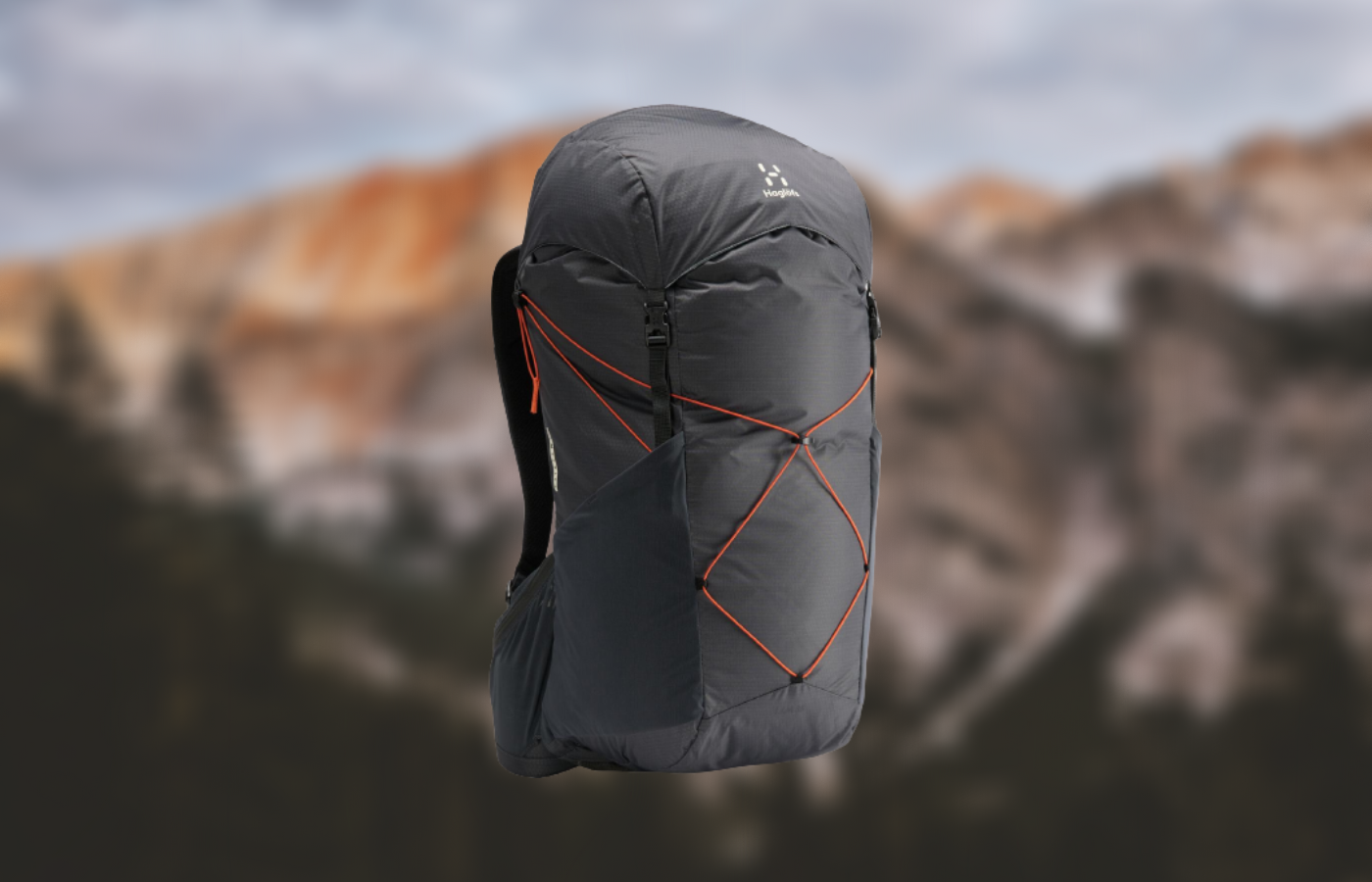 Pros: Weight, comfort, accessible storage
Cons: Lacks pole or ice axe loops
Rating: 4/5
RRP: £110
Weight: 794g
Materials: 70D and 140D diamond rip-stop polyamide, bluesign® approved | Features: double buckle main closure, zipped stretch hip fin pockets, stretch side pockets, front bungee web, hydration sleeve, lid pocket, mesh air gap back | Sizes: one size | Women's version: unisex
Lastly on our list of the best backpacks for men is the LIM 25 comes with a fixed back length which I found fitted me perfectly and this proved to be the best fitting, most comfortable and stable pack in the review. It has an air back system but there is a little welcome flexibility to it, although that internal curve remains. The harness is light but adequately padded and seems to have quickly molded to my shoulders.
The hip fins have large, zipped stretch mesh pockets which angle upwards into the body of the pack maximizing their volume. The pockets are attached in such a way that they are able to be stuffed full without interfering with the fit and comfort of the hipbelt.
There are two large side mesh pockets that are wearer accessible for water bottles and a smallish, zipped lid pocket.Compression and addition gear storage comes from the bungee cord which wraps around the outside of the pack.
There are several cord locks that split the compression from the single bungee cord between external gear stashing, internal compression or both. Poles can be attached using this feature, but I was never happy with the security unless I added my own extra attachments.
The LIM is a fantastic pack to wear and comes with blue sign fabric which ensures some element of sustainable manufacture. However, perhaps a few extra grams would be worth adding to make this pack more user-friendly.
That wraps up our list of the best backpacks for men, if you'd like to see more hiking backpacks then take a look at The best hiking backpacks