Do you know your daypacks from your 55l? How big does a good hydration pack need to be? How lightweight is lightweight enough? We answer your burning pack questions.
Choosing a hiking backpack can feel like an uphill struggle with solutions for every outdoor activity to navigate. Let The Great Outdoors lighten the load with this ultimate guide to the different types of backpack, by size and function.
Main image credit: Francesca Donovan
Understanding the different types of backpack for hiking
Your backpack is likely to see just as much action out on the hills as your trusty hiking boots and, while there are some excellent budget backpacks for hiking on the market, they still constitute a big investment in your outdoor gear. So, it is vital that your pack fits your body and contains your equipment comfortably. If selected correctly, your backpack – and all it carries – will allow you to stay safe in high places and make the journey easier and more enjoyable.
Before you can select your perfect fit, first, you must settle on a type of backpack, in accordance with your needs.
Here are the different types of backpack to consider for outdoor activities.
Hydration Packs
With very limited capacity, most hydration packs are designed to carry around 2 litres of water, (depending on the model) and not much else. While hydration packs might offer a sleek solution for long-distance runners who need to keep weight low, they don't provide ample capacity for a full first aid kit, map and compass, or the extra layers of clothing that The Great Outdoors recommends all hillwalkers carry with them on hikes.
Ultra-light daypacks
Popularised by runners, ultralight backpacks have made their way into some walkers' repertoires. Designed for compact and lightweight carrying of the essentials, it's no surprise these can be seen on shorter hiking trails during days out in good conditions, especially as they often come with built-in hydration solutions so you can drink on the go. However, more vest than backpack, these are best placed in your outdoor gear arsenal as an optional (and seasonal) extra as most running packs don't provide enough space for all you'll need for more than an hour or two on the hills, nor do many boast the added benefits of water resistance or durable materials.
Ultra-light packs can also be taken on longer expeditions and used as a food sack or a summit pack should you be leaving the bulk of your belongings at a lower-altitude base camp in order to reach a peak.
Daypacks
If you're adventuring one day at a time, and enjoying walks of more than a few miles, this is the type of hiking backpack for you. Daypacks are generally adjustable and have a capacity of between 15 and 35 litres. This should hold everything you'll need for a big mountain day. A good daypack will have specialist internal and external compartments and pockets to store gear and keep the essentials easily accessible. With smart packing, some can even accommodate overnight fastpacking expeditions.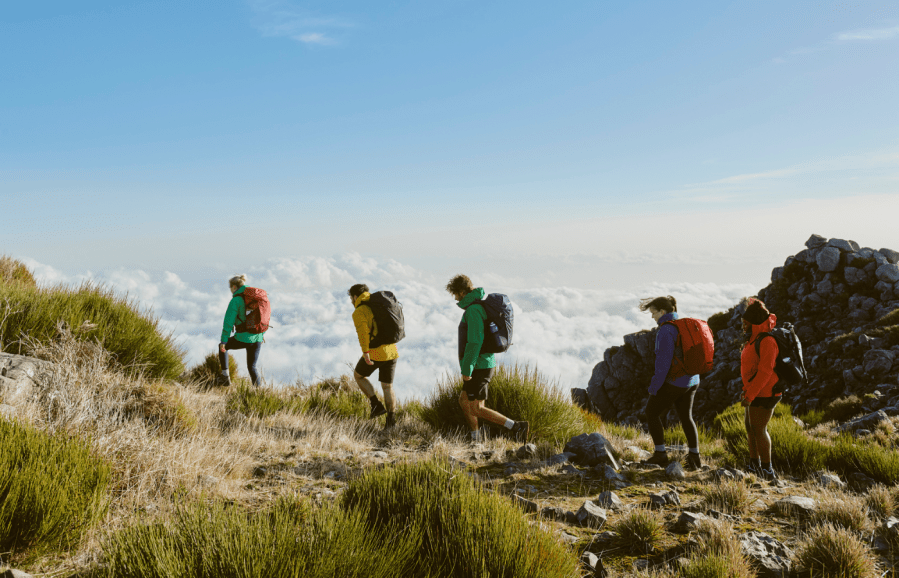 But, there are a great many options on the market. So what should I look for in a backpack? A comfortable fit and padding are important, as is adequate support and weight distribution across the back and shoulders with either a chest or waist strap. Water resistance and durable outer materials will also help ensure its longevity in the outdoors. Added benefits can include built-in attachment points, whistles, carabiners, external webbing, compression straps, and an extra rain cover.
Testing Notes: These daypacks were rigorously tested by Fiona Russell and Chris Townsend.
Mid-range backpacks
If you're enjoying a shorter summer trip away, or a winter hill day when you may need to take extra layers, a helmet, crampons and an ice axe with you into the mountains, mid-range backpacks are a fantastic halfway house which will cover you in all seasons. Between 35 and 60 litres, the spectrum is wide for these types of backpack.
You will find the larger packs in this category allow space for lightweight wild camping equipment or bivvying solutions to spend a more minimalist night in the hills during warmer seasons. Likewise, some of the larger mid-range backpacks may feature a lid. This is handy for extra storage and keeping rain out of the main compartment.
Seek out all the features required of a good daypack, as well as a frame alongside a back system and hip belt to ease shoulder strain.
Multi-day backpacks
Planning winter wild camps or long thru-hikes on multi-day trail adventures? You'll need something large and sturdy enough to carry a four-season camping set up and the kitchen sink. Your pack will need many of the attributes of a good daypack and mid-range pack – such as durability and comfort – but amplified.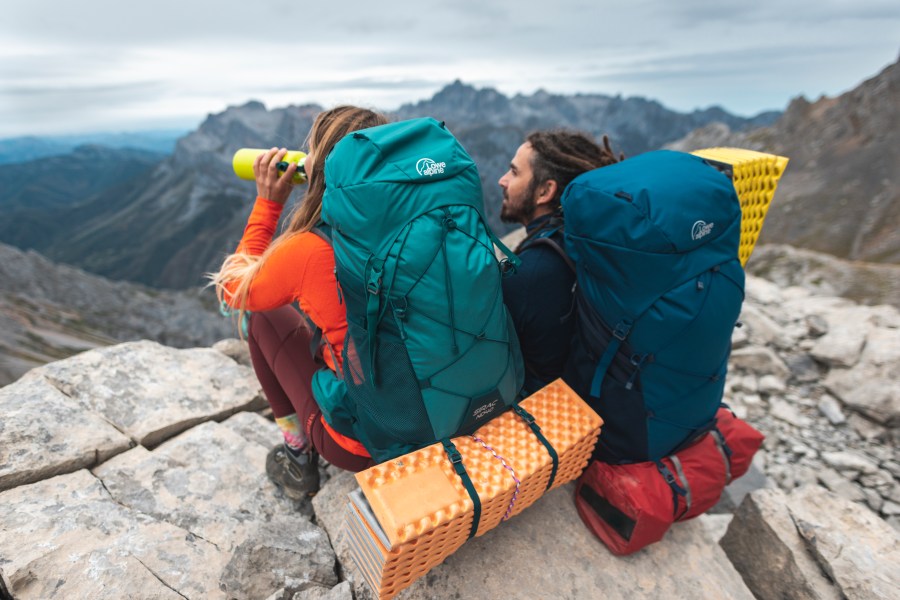 When carrying a heavier load, it's vital that your backpack fits comfortably to prevent strain and injury. Some multi-day backpacks have an adjustable external frame which keeps the sweat from pooling on your back. They are also generally cheaper. However, these frames are rigid and don't flex with your body so could throw your balance on trickier trails. If your multi-day hike includes spicier scrambles, you should select a backpack with an internal frame. This will hug the body with a fully adjustable yet stable fit that isn't as bulky.
The Great Outdoors' experts have reviewed backpacks in the 60+ litre range. Read their verdicts here:
Testing Notes: These 60+ litres backpacks were rigorously tested by Mountain Leader Lucy Wallace and contributing editor David Lintern.
For those wondering if they can use a regular backpack for hiking, we have a guide on that, too. Whatever your style of adventure, the different types of backpack offer a solution (option paralysis aside) to suit everyone. When you have decided to invest in your backpack, whether it's a light daypack or a 90l beast, this advice will make your outdoor gear go further.