How long does outdoor gear last? Often, a lot longer than you think – as long as you take care of it properly. Here are our top tips to make your kit go further, in collaboration with our friends at Nikwax.
This advertising feature is sponsored by Nikwax.
"I'LL JUST BUY A NEW ONE." In our materialistic, throwaway society, that is often the default response when an item of outdoor kit or clothing shows signs of wear and tear. But such an approach can be destructive – not only to your bank balance, but also to the health of our planet.
The good news? There is a better way. By using a myriad of little tactics – everything from reproofing waterproofs and cleaning boots to storing gear correctly and using professional repair services – you can easily extend the lifespan of your outdoor gear, reduce your environmental impact and save a few pennies whilst you're at it. Here are seven of our top tips for doing so…
1. Reinvigorate your waterproofs
If your waterproof jacket is 'wetting out' quickly, it probably means the DWR (durable water-repellent) coating has degraded over time. But don't panic. It's a natural process, amplified by sunlight and frequent use, and remedying it is super-simple.
You can safely reproof your kit at home in your washing machine. Use Nikwax Tech Wash to first clean your garments; quite often your waterproofs may just need a clean as dirt attracts water, which can lead to your jacket wetting out, even when the DWR is still OK underneath the dirt. Then use Nikwax TX.Direct Wash-In to re-apply their durable water repellency – and that's it. Next time you're out in the rainy hills, your jacket will be magically beading water droplets as if it's brand new.
Members of The Great Outdoors team can personally attest to the effectiveness of reproofing as a way of prolonging the life of products. "My Berghaus waterproof celebrated its 12th birthday this year", says outdoor journalist Hanna Lindon. "It's kept me dry on waterlogged multi-day Lake District wild camps, snowy Scottish winter days and changeable Snowdonian scrambles. I must have washed and reproofed it dozens of times, but only recently has it begun to show a few signs of wear and tear."
Equipment editor Chris Townsend has a similar story to tell about his Paramo Aspira jacket. "The Aspira has been my favourite jacket for extreme conditions for almost 13 years", he says. "I keep the jacket that way by reproofing it once a year.
2. Clean your boots after every walk
It's the chore every hillwalker hates, but it needs to be done –dirt can dry out leather, corrode fibres and ruin your boots' performance. But with Nikwax's footwear products, cleaning your boots is hassle-free. The Nikwax Footwear Cleaning Gel helps wash off caked-on mud with a deep clean, before the Nikwax Fabric & Leather Proof reproofer maintains breathability and restores waterproofing. All Nikwax footwear proofers should be applied to wet boots, meaning it really is quick and easy. Let your boots air-dry away from direct heat sources, as putting them on a radiator, for example, can damage the structure of the boot. Do this after every hike and your boots will last far, far longer than if you idly discard them in the utility room.
3. Repair, don't replace
Don't buy a new pair of B2 boots; see if the footwear brand that made them will re-sole them. Don't ditch that ripped backpack; get your sewing machine out and stitch it back up. And don't dispose of your leaky sleeping mat; use sealer and patches to make it airtight again. The opportunities are endless with a little skill and creativity – or, if you're not up to the task, why not send your damaged kit off to a professional repair service? Páramo, for example, has a dedicated workshop for repairing damaged or ripped items, whilst specialist outdoor repair services like LSR (lancashiresportsrepairs.co.uk) can fix a huge range of different types of gear.
4. Become a storage guru
Believe it or not, the way you store gear can massively affect its shelf life. The classic error is to store a sleeping bag for months on end stuffed tightly inside a compression sack. Over time, this will crush the down or synthetic insulation, and damage its long-term 'loft' (fluffiness). To avoid this pitfall, instead store your sleeping bag uncompressed in a larger, looser mesh bag. Generally speaking, sleeping mats should be stored flat and deflated with the valve open, rather than rolled up and stuffed in a carry bag, whilst most other hiking gear should be kept in dry, cool and well- ventilated conditions (i.e. not in a dank corner of a garage).
5. Wash and dry your clothing carefully
Be gentle. That's the overall principle to follow when washing your outdoor gear and clothing. Failing to do so may ruin the breathability, water repellency, fibre integrity and technical performance of your garments. To get things right, you should always follow the label instructions, keep the temperature to 30C or below, minimise the spin speed, clean build-up from the detergent dispenser, and never use normal washing powders or fabric softeners.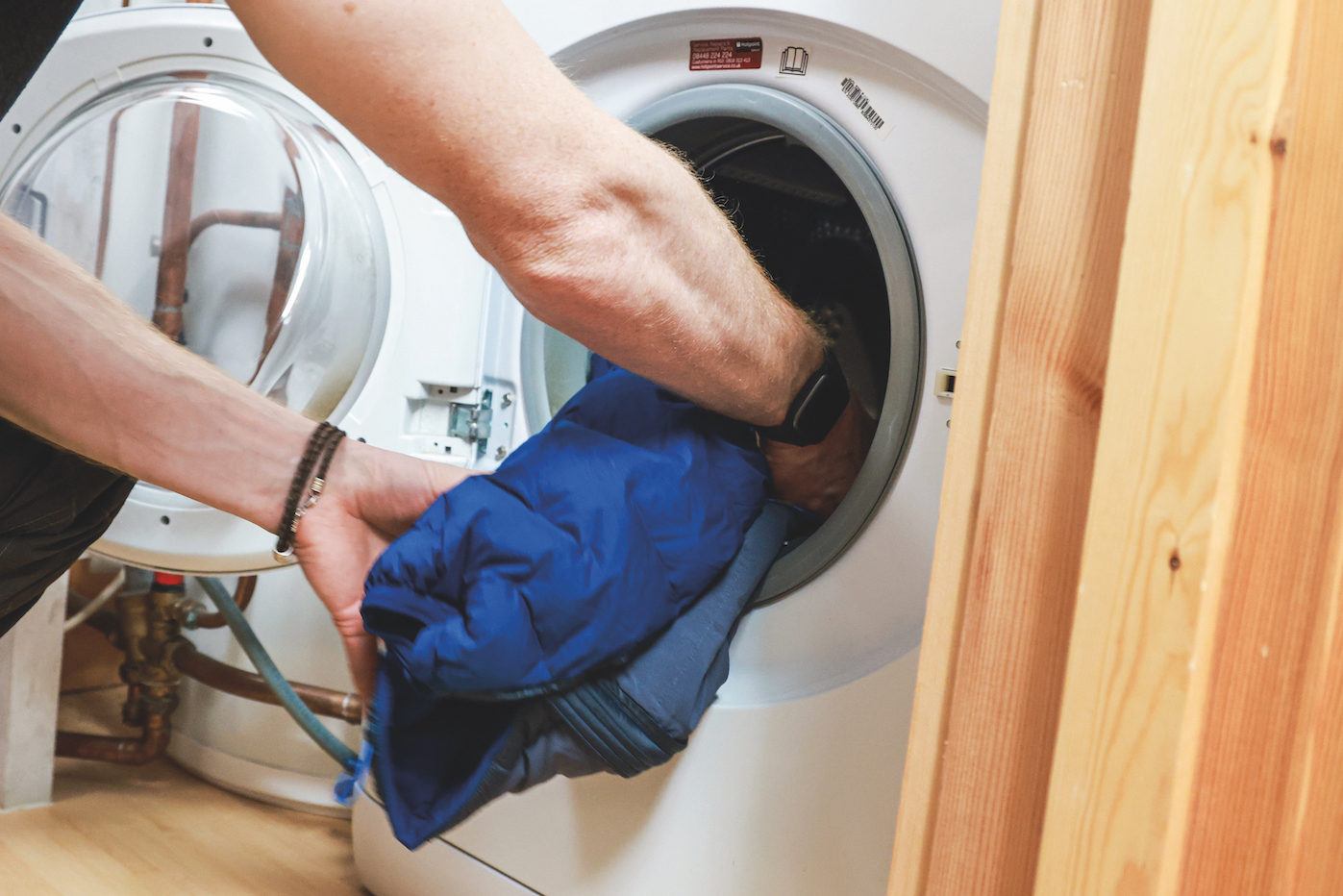 Instead, for best results, use a specialist product such as Nikwax Tech Wash, Down Wash Direct, Wool Wash or Base Wash. Doing so will deliver 'stitch in time saves nine' benefits: looking after your kit, week in week out, in a proactive manner will help to prolong its long-term usability.
Mountain filmmaker Alex Nail has kept his PHD Yukon Down Jacket going strong for 7 years using this method. "Although the hood has been wet a few too many times and the cuffs and collar are showing signs of wear, the jacket remains in remarkably good condition", he says.  "Every couple of years I bring it back to life with a bit of Nikwax Down Wash Direct and judicious use of a tumble-dryer!
6. Buy a part, not a whole
Just because one component of your item of kit is damaged or faulty, that doesn't necessarily render the whole thing redundant – you might be able to get a spare part. If a section of a tent pole has snapped, for example, the manufacturer will probably sell a replacement segment, and that'll be far cheaper than buying a brand new shelter. Or, if the bottom strap of your gaiters has torn and become frayed, perhaps you can simply replace the Velcro- attached strap rather than being forced to invest in a new pair. This actually happened to me recently. I very nearly spent £50 on a brand new pair of gaiters before realising – after a simple bit of Googling – that a replacement strap was 90% cheaper at just a fiver. What a saving!
7. Be a savvy (and sustainability-conscious) shopper
Not all kit is created equal. A robust full-leather boot will always last longer than an ultra-light, super-flimsy hiking shoe; and a bombproof Páramo jacket will never fail to outlive a gossamer- thin running waterproof. If longer-term durability is important to you, think about this when you're shopping – and prioritise kit that is robust and well-made. One good way to get an indication of an item's proposed lifespan is to check the length of the manufacturer's warranty – Darn Tough socks come with a lifetime guarantee, for example. But if your kit has definitely reached the end of its life, don't simply throw it in the bin. You could donate it to charity (or a friend), recycle it via a scheme such as Finisterre's Lived & Loved project, or even sell it on the Outdoor Gear Exchange UK page on Facebook.
Caring for your gear with Nikwax is a sustainable choice. This British company has always had care for the environment at its heart, and has carbon-balanced its operational emissions since it was founded in 1977. Nikwax products are water-based and PFC- and solvent-free and the bottles are made from 100% recycled plastic.