The secret to a great day out in the hills isn't how fit you are, how pricy your gear is, or even how experienced you are. It's all about planning for success: having a Great Plan (and a Great Plan B) that is tailored to you and your group.  Mountain Leader Lucy Wallace reveals her tried-and-tested ways to plan a walking route…
Knowledge is power
If you are new to walking, planning your first few walking route forays can be intimidating and full of 'unknown unknowns' that can become genuine barriers to getting out there.  
However, it doesn't matter how experienced you are; planning well for a day in the hills is the best way to have a great time and stay out of trouble.  
Solid research is not only important; it's an enjoyable part of preparation. Choose information sources carefully, for although it's tempting to head straight to the online 'hive mind', there are loads of armchair experts ready to dish out poor advice. Try to keep social media for inspiration, and use trusted sources for hard facts. 
Look for info about things like about boggy terrain, steep ground, potential river crossings, navigational difficulties, and public transport and car parking facilities. 
Always have a Plan B and even a Plan C on standby in case the weather is poor, or (as often happens in honeypot areas) if the car park is full when you get there. Identify escape routes and key places where you can decide to turn back if slower than expected. 
Plan a walking route using the right information:
Walkers' maps (Ordnance Survey, Harvey Maps) are a good starting point, but they don't easily give up subjective information like car parking and bogginess.  
Guidebooks bring a lot of joy, especially for longer trips. I love to thumb through pages of carefully selected routes. It's worth noting when the book was published, though,  as access and conditions underfoot can change. 
Websites and apps are improving their offering all the time with granular information about routes, with difficulty grades, ascent profiles, terrain, public transport access and parking. Some are editor-curated, for example Walkhighlands or the TGO Magazine website, whilst others are based around either user-generated data, such Ramblers Scotland's Scottish Paths Map, or Komoot, which has a built-in route planning tool. 
Don't know what app is best to use? Don't worry as we've got you covered with our great guide to the best hiking apps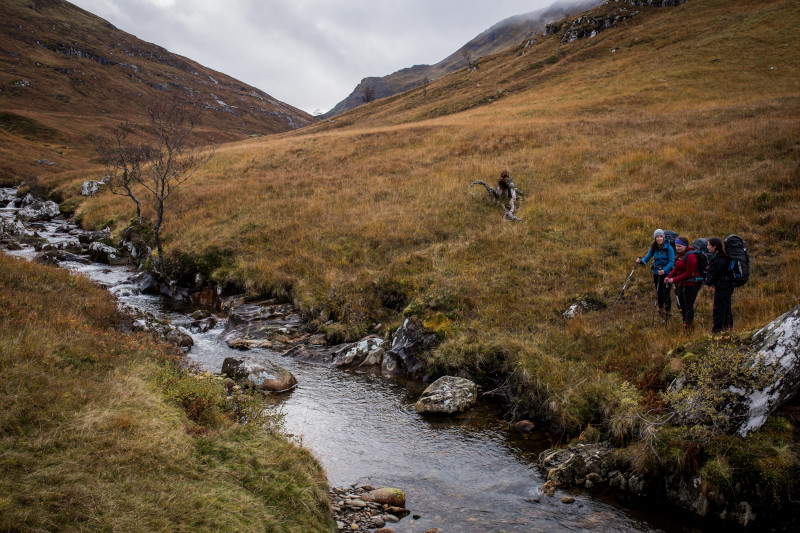 How long will it take?
'Benightments' – when you run out of daylight whilst still on the hill – are a common theme in mountain rescue callout logs at this time of year.  Likewise, it can be equally rubbish at any time to run out of food or miss the last bus home. 
If using traditional maps to plan, rather than an online or app-based planning tool, it's worth knowing that one grid square on OS or Harvey maps is 1km across. Paths, of course are wiggly, so measuring distance in this way is very basic. The contour lines denote height gain (10m apart on OS maps of upland areas, 15m apart on Harvey maps). A rule of thumb often applied is 4km per hour and 1 minute for every 10m of height gained, but this doesn't take into account rests, looking at the view or simply adopting a leisurely pace. Don't forget to build this into your plan. 
Think about what time you want to be back, and when darkness falls. In autumn and winter, especially for longer routes, be prepared to be caught out after dark, and start early to minimise the impact of this. Allow lots of extra time, especially if there is a group of you, and ensure you have plenty of food and drink to fuel your day, plus a bit more, just in case. 
Know Thyself (and Thy Mates)
Before you plan a walking route, it's useful to ask some questions about yourself, your aspirations, and those of your group. Consider the following, and be honest in your appraisal:
How experienced am I/are we? 
Are we equipped for what we want to do?
Do we need any additional skills that we haven't yet mastered – for example navigation, scrambling or winter skills?  
Pushing your limits can be fun and rewarding, but if you answered yes to the last question, consider whether this is the best choice of route right now. Dialling back the difficulty a bit, and building up slowly, is a good way to ensure you are ready to tackle whatever comes your way. 
Some of these skills can be quickest to learn with some outside assistance; and if you are in a hurry to progress, there are loads of excellent courses available for hill walkers. 
Be a gear guru
Have you got the appropriate gear for this route? The weather up high is often very different from in the valleys.  Be prepared for it to be colder and wetter, and for conditions to change quickly – and pack accordingly. 
Ensure you also have some spare gear for emergencies so you can look after yourself and your group if you find yourself waiting for assistance in bad weather.  The following is a fairly standard kit list for the hills: 
Waterproof jacket and trousers
Warm layer 
Warm hat and gloves
Sunscreen
Head torch 
Paper map and compass
Survival bag and/or emergency shelter
Food, drink and emergency rations
Small first aid kit. 
You may wish to take extra items, such as spare layers, trekking poles, or even ice axe and crampons, depending on the weather and terrain. 
Plan a walking route with the weather in mind
Read the long-range weather forecast early in your planning. Avoid ridges and high summits in strong winds, and consider whether a river crossing will be an issue on your route if there is heavy rain both before and during your adventure. Look for key bits of information that include summit wind speeds, temperature and precipitation.  A low cloud base and poor visibility can also lead to problems if you are not an experienced navigator. 
There are plenty of specialist sources of mountain forecasts, and it's good to check more than one as they do vary. Hoping for the best and preparing for the worst is the best approach! 
Check the forecast again just before setting out, it's never too late for Plan B. 
Good sources of summit-level forecasts include the following: 
The Mountain Weather Information Service (MWIS): produces detailed forecasts up to three days ahead for walkers in all the mountain regions of the UK.
mwis.org.uk
The Met Office: produces similar forecasts up to five days ahead, as well as individual summit-level forecasts in graphic form, for popular peaks. metoffice.gov.uk/weather/specialist-forecasts/mountain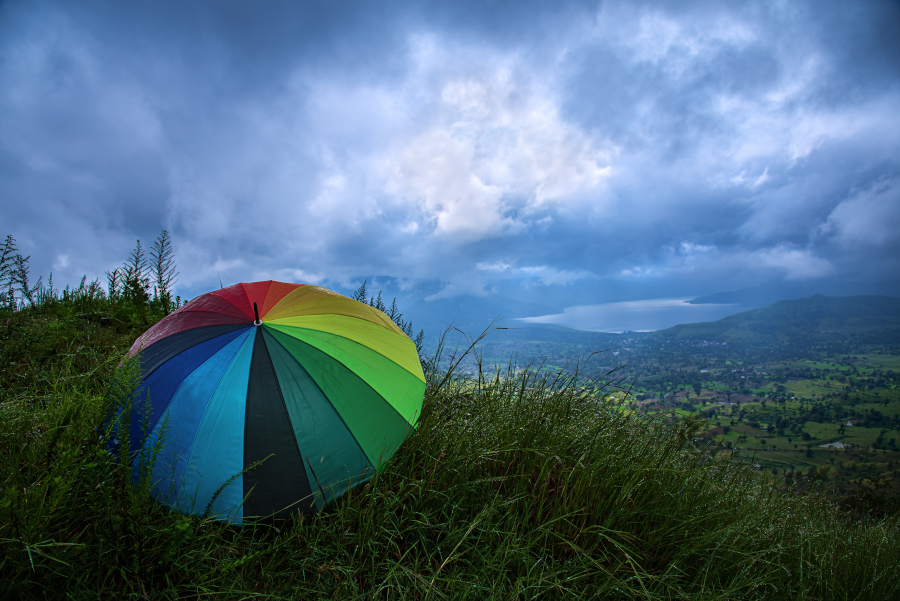 In Case of Emergency
Tell someone where you are going and what time you plan to be back, and include any contingency plans in this information. And don't forget to let them know when you are safely back. 
Download the OS Locate app, which will provide you with a quick grid reference of your location. You can register your mobile phone for the 999 text emergency service, which is handy in areas of patchy service. Simply text 'register' to 999. 
You will get a reply, with instructions to complete your registration. Make sure that you have plenty of battery on your mobile phone and consider carrying a battery power pack if you are using it for photos and navigation. 
Mountain Rescue can take a while to get to remote locations, so be sure you have sufficient warm gear to take care of yourself and your group in the meantime.