Backpacking food is essential fuel in the mountains, and never more so than on a long-distance walk – but it can be far more than just fuel. If the meal I'm carrying for the end of the day is unpalatable or doesn't give me the energy, I need to recover for upcoming exertions, I could be facing a miserable night and poor performance the next day. Put simply, the food you carry in your back pack is mission-critical – as is choosing the best backpacking meals for you.
There are a few objective constraints to backpacking that make wise food choice all the more important. Cost, weight and calories are going to be priorities for most people.
It may be easy to find cheap, lightweight and highly calorific alternatives, but nutritional value and the quality of ingredients can suffer. Convenience also ranks highly and helps newcomers to backpacking develop good fuelling habits at the start and end of the day.
Specialist meals are really easy and quick to prepare, and are often eaten from the bag, so whilst there may be additional packaging to carry out, there is less washing up to do at camp! This is where specialist dehydrated meals find their niche – fast, nutritious and tasty.
Ultimately, it comes down to your personal tastes, and this is a far more subjective category of product to test than many others. In other words, you may not like what I like. The good news is that there has never been a better range of high-quality options than there is today.
Want to learn more about nutrition when hiking? Or perhaps you're interested in some of the best best vegan and vegetarian backpacking meals.
The best backpacking meals on test 2023
LYO Expedition Vegan Barley and Lentil Risotto – Best buy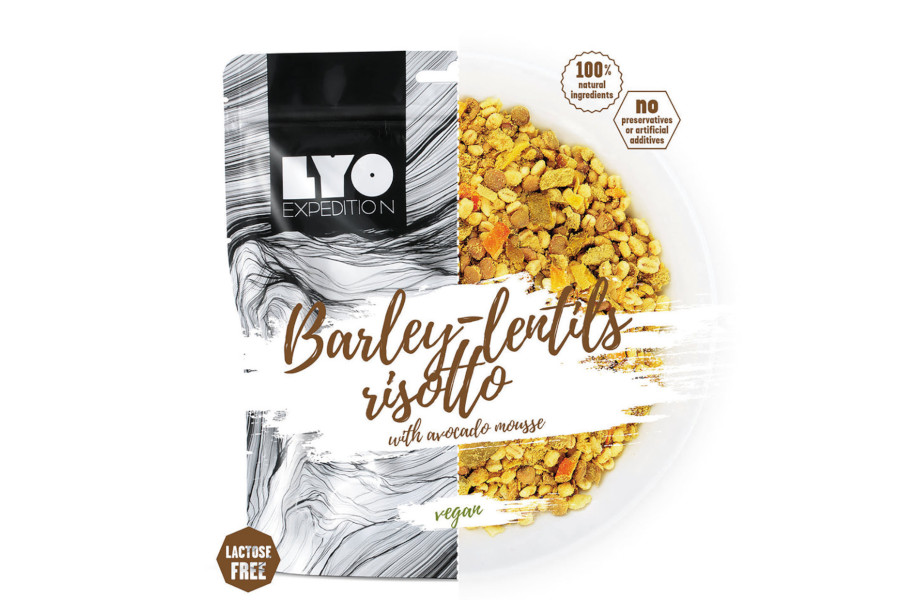 Price: £8.99
Weight: 128g
Pros: Excellent flavour and texture, top-quality ingredients
Cons: Poor calorie-to-weight ratio
Rating: 4.5/5
---
Calories: 504 | Calories/100g: 394 | Calories/£1: 56.06 | Time to hydrate: 9 minutes | Vegetarian/vegan: vegan | Allergens: none listed
---
One of the best backpacking meals I've tried in recent years is LYO Expedition's nettle curry, and this brand has a reputation for coming out with unusual recipes that make a real change from the norm when it comes to dehydrated meals, so I was intrigued to try its vegan barley and lentil risotto with avocado mousse.
First impressions were very positive. The packaging is intelligently designed, with two sets of tear points (one at a lower level for ease of eating) and clear pictorial instructions for preparation. I found the 9-minute stated rehydration time to be conservative; it was adequately hydrated after only about 6 minutes.
Read the full review of the LYO Expedition Vegan Barley and Lentil Risotto.
Blå Band Couscous with Chilli Spiced Vegetables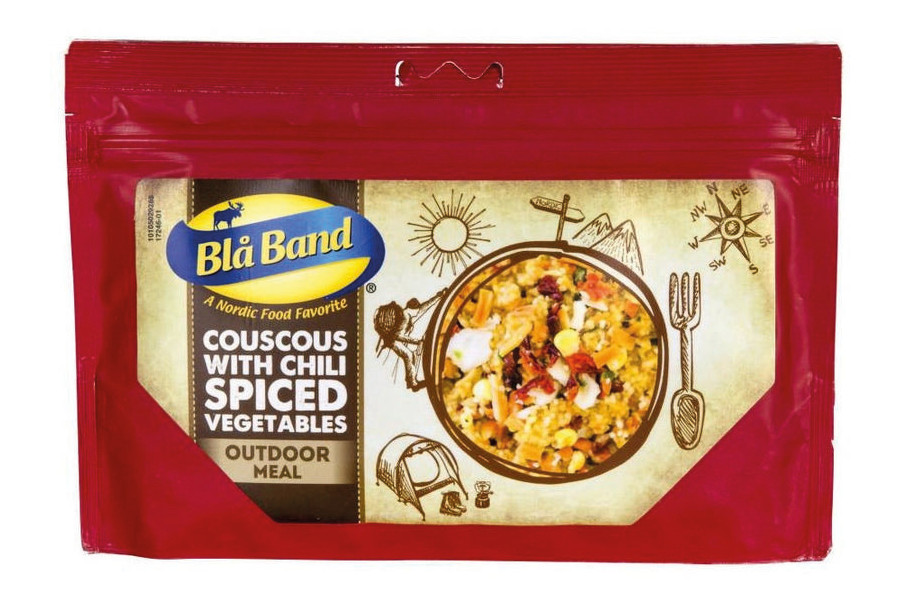 Price: £7.65
Weight: 151g
Pros: Delicious, convenient pack to eat from, good value
Cons: Contains palm oil, calorie-to-weight ratio not the best
Rating: 4/5
---
Calories: 647 | Calories/100g: 428 | Calories/£: 84.58 | Time to hydrate: 10 minutes | Vegetarian/vegan: vegetarian | Allergens: durum wheat flour, celery
---
Blå Band is a stalwart Scandinavian brand that has been offering dehydrated backpacking meals for many years. One quirk – some might call it the brand's trademark – is that the packs are wider than they are tall, unlike the more typical vertical format used by almost every other brand.
This doesn't make much difference when it comes to packing meals inside your rucksack, but it does make a big difference when preparing and eating the food. It's easier to thoroughly mix the food with hot water (fewer hidden crunchy spots left in the corners!) and much easier to eat without resorting to a long-handled spoon.
This is a simple vegetarian meal made with couscous, vegetables (carrot, red pepper, cabbage, leek, sweetcorn), and spices. I found that it rehydrated quickly, more quickly than the stated 10 minutes, and tasted really good.
Read the full review of the Blå Band Couscous with Chilli Spiced Vegetables.
Expedition Foods Vegan Mushroom Risotto
Price: £8.99
Weight: 150g
Pros: High energy for weight and cost, quick to rehydrate
Cons: Flavour and texture not the best
Rating: 4/5
---
Calories: 800 | Calories/100g: 534 | Calories/£1: 88.99 | Time to hydrate: 5 minutes | Vegetarian/vegan: vegan | Allergens: none listed
---
Expedition Foods has every base covered: a wide variety of breakfasts and main meals, and in many cases a choice of 450, 800 or 1000kcal packs. You can also buy its meals in bulk, making them a good option for extended trips or multi-person expeditions.
Expedition Foods tends to offer an extremely high energy-to-weight ratio, and its vegan mushroom risotto (I tested the 800g version) is no exception, with an unmatched 534kcal/100g. This is a long way above the next best meal tested – a clear choice for energy-intensive stuff such as high-altitude trekking or Scottish winter mountaineering. Rehydration is incredibly fast too.
Read the full review of the Expedition Foods Vegan Mushroom Risotto.
REAL Turmat Pulled Pork with Rice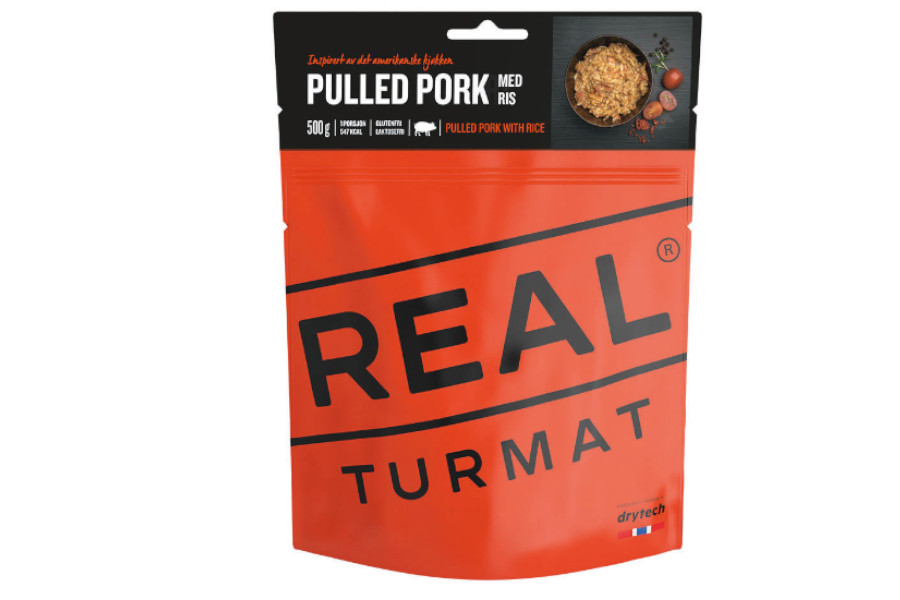 Price: £9.99
Weight: 155g
Pros: High energy, superb flavour and texture
Cons: High cost
Rating: 4/5
---
Calories: 700 | Calories/100g: 452 | Calories/£1: 70.07 | Time to hydrate: 8 minutes | Vegetarian/vegan: no | Allergens: soy sauce
---
Another Scandinavian brand, REAL Turmat is known for hearty meals with a bit more chunkiness than you'll find from other brands (I'm particularly fond of its reindeer stew). This is achieved thanks to its Drytech freeze-drying technology – another method of preservation that aims to retain the food's original characteristics.
REAL Turmat meals are also vacuum-packed. All the air is removed from the packaging, reducing its bulk, although this can actually make them slightly more awkward to pack in your rucksack as the packets are hard rather than pliable, and don't stack together as easily.
It was a very satisfying meal, although I note that the ingredients list is quite long compared to some other meals tested and contains a few (natural) additives such as rapeseed oil and ascorbic acid. The cost is high, but if you like a meaty meal after a big hike then this is a fine choice.
Read the full review of the REAL Turmat Pulled Pork with Rice.
Firepot Spicy Pork Noodles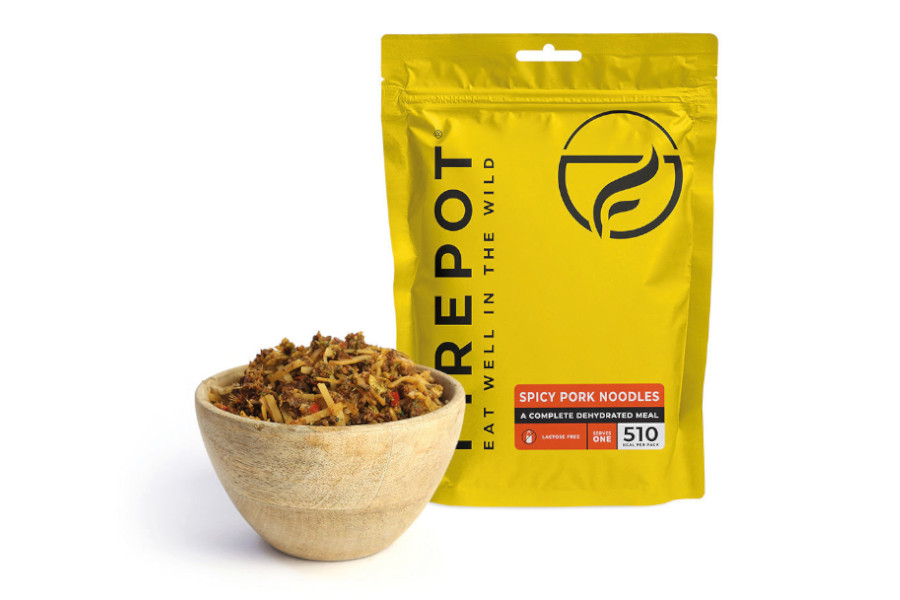 Price: £7.45
Weight: 105g
Pros: No palm oil or artificial additives, quality ingredients
Cons: Difficult to open pack, standard size low in calories, extremely spicy
Rating: 3.5/5
---
Calories: 510 | Calories/100g: 486 | Calories/£1: 68.46 | Time to hydrate: 15 minutes | Vegetarian/vegan: no | Allergens: soya beans, wheat flour, sesame oil, anchovy extract
---
Firepot specialises in a small range of meals hand-made from high-quality ingredients, cooked and then dehydrated after cooking. Like many of their meals, the spicy pork noodles I tasted are available in both standard and extra-large portions – 105g / 510kcal and 160g / 765kcal respectively, in this case. The extra-large version costs £9.45, giving 80.95kcal/£1 – this is better value, and a more realistic pack size for hungry adventurers.
The noodles themselves are very good, and it had decent texture, although I found it simply too spicy overall – the heat overpowered all other flavours for me, making me wish I had a glass of milk to hand. This is subjective, of course! Another downside is that I found the pack impossible to open without a blade. The tear line failed to tear correctly from either side.
Read the full review of the Firepot Spicy Pork Noodles.
Adventure Food Pasta Bolognese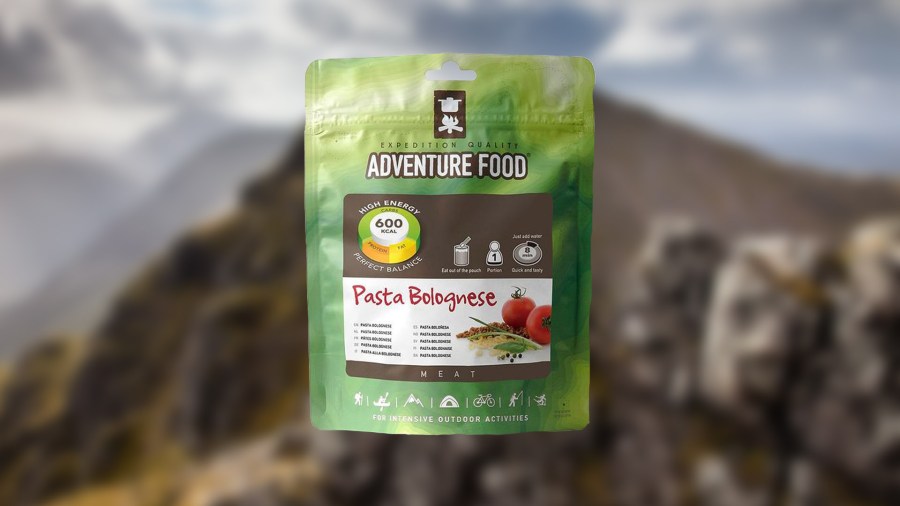 Price: £6.50
Weight: 151g
Pros: tasty, good portion, good value
Cons: not a great calorie-to-weight ratio
Rating: 3.5/5
Tested by: Will Renwick
---
Calories: 595 | Calories/100g: 397 | Calories/£1: 91.61 | Time to hydrate: 15 minutes | Vegetarian/vegan: no | Allergens: egg, gluten, milk, traces of nuts.
---
Adventure Food was founded by Hans van der Meulen, a Dutch explorer who's trekked to the North Pole and climbed Everest. As tends to be the case with these things, he realised that what he needed for his trips wasn't readily available to him, so he decided to make it himself.
This is a really tasty recipe that's quick and easy to prepare. Unfortunately, while I like the taste, the downside is that the calorie-to-weight ratio isn't great. In fact, this is one of the heaviest meals in this round up and also one of the lowest in calorie count.
The packaging is easy to open and can conveniently be sealed up to keep heat in while its rehydrating or to stop any leftovers from dribbling into your pack. However, like many of the meals in this round up, it's a tall pack and that means you ideally want a long utensil that'll save your hands or gloves from touching the inside of the pack and getting pasta sauce on them.
Available at: gooutdoors.co.uk
Other meals worth checking out but we haven't tested yet…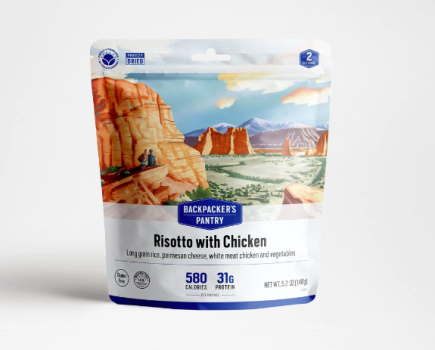 Backpackers Pantry: Rissotto Chicken
Who doesn't love a good creamy chicken risotto? This Risotto chicken from Backpackers Pantry contains:
Long-grain white rice and tender chicken in a creamy blend of parmesan cheese and veggies.
Gluten-free
10-year shelf life (exact expiration date found on product packaging)
570 calories per pouch
32g of protein per pouch
2 servings per pouch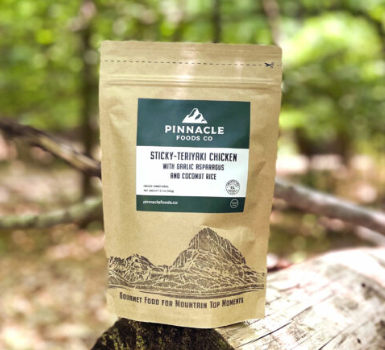 Pinnacle foods: Sticky-Teriyaki Chicken with Garlic Asparagus and Coconut Rice
The Coconut braised chicken thighs have been tossed in a tangy teriyaki-red pepper glaze which helps create the chickens sticky texture, mixed with roasted asparagus and fresh garlic, basmati rice cooked with sauteed onions and ginger in coconut milk, and finished with fresh scallions.
This meal is based on a recipe from a close family friend and is always referred to by us as "Kay's Sticky Chicken"
Best backpacking meals: test conditions
Alex tasted all of these meals out in the mountains whilst backpacking or fastpacking. Although trail hunger is the best sauce, he also finds that real-world testing is essential for checking out whether meals agree with him after a big hill day – as well as for testing details such as how glove-friendly the pack opening is. These backpacking meal reviews were originally conducted in July 2022.
What to look for in backpacking meals
How much does backpacking food cost?
Cost varies from around £5.99/pack for the cheapest meals to roughly £9.99 for premium options. This quickly adds up, so when provisioning for a long trip it's worth looking at a mix of brands. More expensive meals are often made from higher-quality ingredients and have fewer additives.
Calories
You could be burning 2–3000 more calories on a long hill day than you would in everyday life, making high-energy food essential. Look for at least 500kcal in a meal – ideally more. In winter I prefer at least 800kcal. Some brands offer 1000kcal+ options.
Weight
Lighter is better, but only if the food gives you enough energy. This is why it's useful to know how many Calories/100g the food offers.
Taste and texture
Variety is a spice of backpacking life – old favourites can become tiresome if you have no options. Better-quality grub tend to have more flavour and texture, meaning it's more like
a real meal.
Ingredients
Some products will contain palm oil or artificial additives and preservatives; other brands make a point of avoiding these, focusing on nutrition and quality natural ingredients.
Dietary requirements
Many vegan, vegetarian, lactose-free and gluten-free meals are available. This is usually clearly marked on the packet, along with any allergens.
Method of preservation
Meals are either freeze-dried or dehydrated after cooking. Opinions vary on which leads to better preservation of texture and flavour, but both will remove 100% of the water, reducing bulk and weight.
Ease of preparation
You'll need to add boiling water and leave the meal to hydrate. A good product will tell you how much water to add, and a shorter rehydration time means less time waiting hungry. A well-designed pack is easy to open and easy to reseal whilst you wait.
Related Content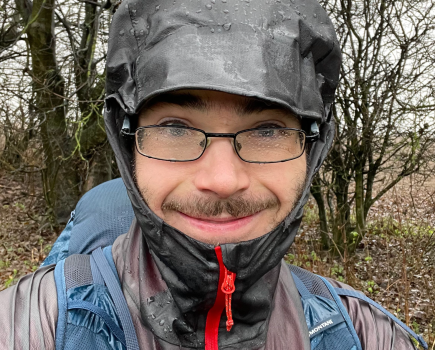 Written and tested by Alex Roddie.
Alex has been an active backpacker, mountaineer and hillwalker for over 20 years. Since 2015 he has been a passionate long-distance walker and has completed many classic trails, including the Cape Wrath Trail, Tour of Monte Rosa, Haute Route Pyrenees, and a fastpacking traverse of the Alps.
As a speaker, Alex has delivered talks to audiences including the BMC, Sidetracked Creators Tour, and the Kendal Mountain Festival. He is a member of the Outdoor Writers and Photographers Guild.