Sandals have long been worn by those needing ventilation and sole protection for their feet – since the dawn of shoemaking, in fact, when wealthy folk living in ancient civilisations crafted them from papyrus, leather and wood. But what about their modern equivalents? Can this lightweight footwear which leaves a lot of your foot exposed to the elements ever compare to more substantial hiking footwear?
Main image credit: Lizard Footwear
Hiking sandals are are sometimes maligned by traditionalists who prefer the fuller upper and ankle protection of a hiking boot or trail shoe – but as with most outdoor gear, the shoe must fit both you and the purpose. When you find the right hiking sandal and the conditions are right for wear – as well as learn how to manage their downsides – you'll never look back.
The sandal got a redesign specifically for hiking in the 1960s arguably with the dawn of the Birkenstock and the increase in popularity of outdoor recreation. Nowadays, there are specialist hiking sandal crafters such as Teva, Lizard and Chacos and their expertise allow their hiking sandals to keep going as long as you can with arch support and hard-wearing lugs. Many hikers have worn sandals to complete some of the most internationally-renowned trails. Likewise, hiking sandals have developed for different purposes from long days on the trails to use at base camp and short summertime rambles.
Are sandals good for hiking? The pros and cons.
The pros
Weight
Hiking sandals offer walkers the most lightweight solution in footwear offering the best connectedness with the ground – perhaps with the exception of barefoot style shoes.
Weight is an important consideration over long mileage when a heavy boot of leather can lead to leg fatigue more quickly. Furthermore, the weight and packability of many hiking sandals mean they could be added to your pack for use at camp on multi-day trips without much deliberation and agonising over the extra grams.
You'll be grateful for the chance to let your feet breath after a long day in boots.
Breathability
This leads us nicely onto one of the primary benefits of a hiking sandal, particularly in hot weather, when hiking sandals really come into their own. There is nothing quite like the feeling of a breeze on your toes when you've been on your feet all day. While trail runners and hiking boots have evolved to become more breathable, most models – alongside your hiking socks – will still make your feet sweat in hot weather.
Blisters
In turn, sweat and swelling makes hotspots quicker to develop and blisters more likely. In a boot or shoe, blisters are also harder to manage. Hidden away, it's easy to forget about footcare on the trail. With many hiking sandals, comparatively, straps can be adjusted easily when discomfort begins to arise. It's also easier to access hotspots to add tape or blister plasters.
Versatility
Easy access to your feet is beneficial for more than one reason. Hiking sandals can offer good support and deep lugs to cope with various terrains these days – but the further off-road you tread the more likely you are to kick up debris. That feeling of having a stone at the bottom of your boot, laces double knotted and stretched across eight eyelets, knowing you'll have to stop and sit for five minutes to remove it? Annoying, isn't it? With a sandal, debris admittedly gets in easier but also can be removed with a flick of your wrist.
Water resistance
We arrive at a river crossing – and another instance of versatilely in hiking sandals. No need to plunge straight through, gritting your teeth against the feeling as water seeps through gaiters and into your boot, drowning your socks. No need to remove the boots at great length and hoist them above your head with your pack. Some sturdy and grippier hiking sandals are well-placed to cope with river crossings – don't forget the trekking poles for extra stability, though – and are made with quick drying materials which won't rub as much when wet.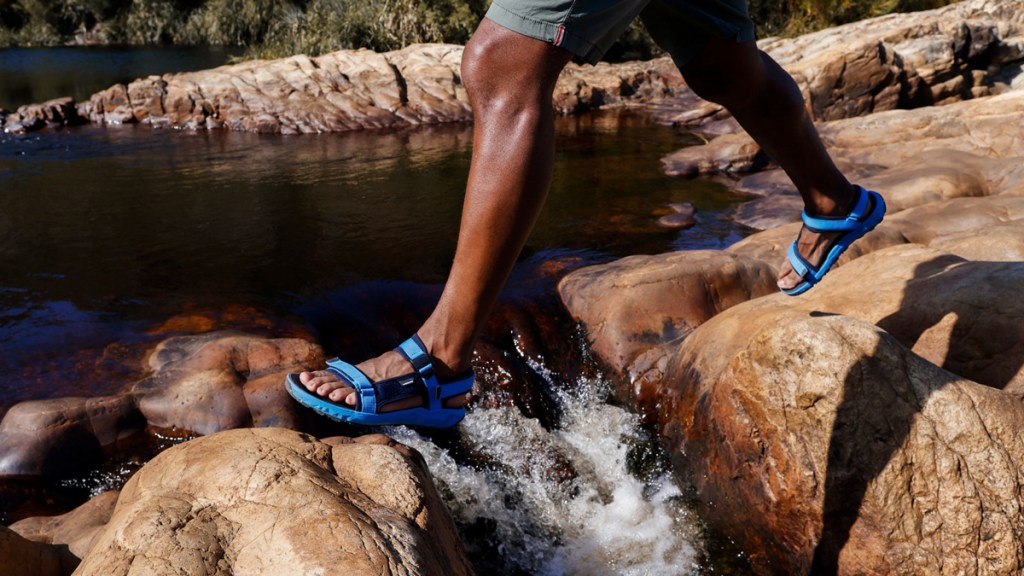 The cons
Exposure
All these pros do come at a cost. Simply put, on some terrain, hiking sandals simply don't offer enough protection against the elements. This is the argument traditionalists who prefer full coverage often put forward. While accidents do happen regardless of the footwear you choose, you should always make the sensible choice given the conditions you're walking into.
The same applies to weather conditions. Hiking sandals are generally best thought of as warm and hot weather footwear and are not usually the best option if you're likely to be encountering cold, wind chill or adverse weather.
This cost also extends to the wildlife you'll share the trail with. Sandals leave a lot more skin on show and there's no way to mitigate the extra dangers of this when it comes to snake and spider bites. Of course, socks are an option to give some peace of mind but they are not designed to protect feet in this way.
Durability
While boots and trail shoes can become leaky and develop rips and cracks in the upper, or even suffer a frayed lace or two, these problems can be mitigated with the right boot care. They also develop slowly allowing you time to mend and make do and there are plenty of ways to reproof your boots after heavy usage.
Generally speaking, the simplicity and minimalism of a hiking sandal gives less room for wear and tear and requires less upkeep. But should a strap, for example, snap on the trail they are not easy to repair on the go and could leave you with a proverbial paddle. This could mean you find yourself replacing a hiking sandal more often than a sturdier shoe or boot.
If you're thinking about trialling a hiking sandal, check out our advice on what to look for and some of our recommended makes and models in our Buyer's Guide to the best hiking sandals.