Sandals have been worn for virtually all of human history, but it's only as recently as the 1960s when this form of footwear became designed for the specific act of hiking. Nowadays, specialist boot and shoemakers have developed technology and fit innovations to bring you the best hiking sandals fit for purpose.
The modern hiking sandal as we know it can arguably be attributed to the German brand Birkenstock. In 1964, they released a sandal which featured a contoured footbed designed to provide better support and comfort to the wearer and, although it was initially popularized as casual footwear, many outdoor enthusiasts started using this for hiking and camping due to its comfort and functionality over uneven terrain.
In the following decades, other footwear companies also began to produce specialised hiking sandals, most notably Teva and Chacos and as outdoor recreation gained popularity, hiking sandals became more mainstream. 
Today, numerous brands offer hiking sandals with advanced features, catering to different types of terrain and outdoor pursuits and you can find sandals designed for anything from light trail hiking or basecamp use through to long-distance trekking. 
Hiking sandals aren't universally appreciated, however. Some people prefer the support, stability and protection of a trail shoe or hiking boot. I personally am a big fan of hiking sandals and I've worn a lot of different models and hiked hundreds of miles in them. I won't wear them for every hike but on hikes that I know that they'll be the most comfortable option for me; so any trips where I'm going to benefit from the maximum breathability and ventilation sandals can provide.
The hiking sandals you'll find here are the ones that have impressed me the most over the years (and that are still on the market). They're the options that I rate for their comfort, performance, versatility, reliability and all-round suitability for hiking. 
Best hiking sandals 2023

There are six pairs of sandals reviewed here in this round up.
Lizard Super Trek – Best hiking sandals in test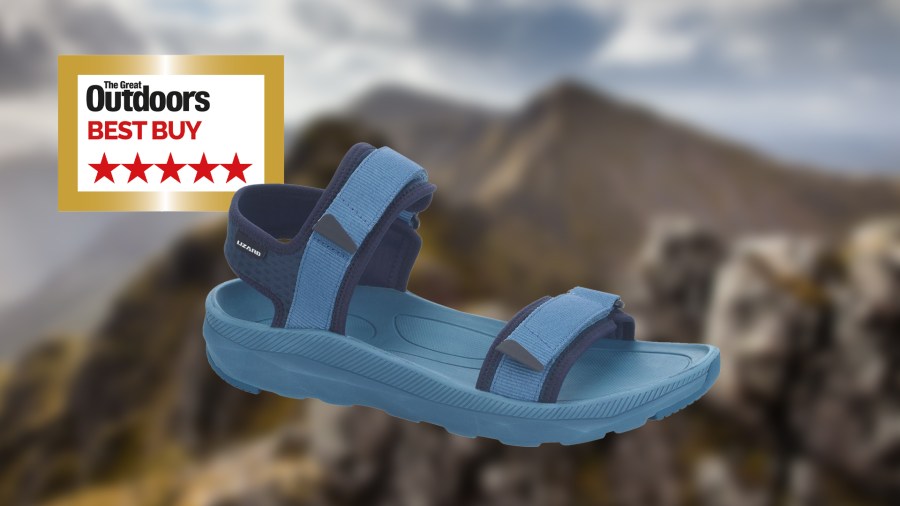 SQUIRREL_BUTTON_12944129
Price: £105 (not available in the U.S)
Weight: 7.93 oz / 225g (per shoe)
Best for: trekking
Rating: 5/5
Pros: grippy, cushioned, quick-drying, recycled rubber
Cons: quite expensive, shame no recycled plastic in the webbing
I've used the Super Trek extensively now and I've been really impressed by it. From my experience, it's very well-suited to long-distance treks over varied terrain, mainly thanks to its comfortable, shock absorbing mid sole which feels like the kind of sole you'd get on a pair of trail shoes. The outsole performs well too; I found it to be grippy on muddy surfaces and even on wet rocks – though like almost all shoes, it has its limitations there.
The two Velcro straps and buckled one across the front let you really dial in the fit and my feet felt very secure in these with no backwards-forwards or side-to-side movement. Usefully, the top of the sole has a material and pattern that holds your foot in place, even in wet conditions – so there's no slipping in rain, rivers or when you just get sweaty. 
Another thing I liked about the Super Trek during my tests was the neoprene-like lining on the straps. It feels really comfortable, even when wet. 
The only downside is the weight. At 225g per shoe, it's quite a heavy sandal so it's not the best option out there if you want a pair that you can keep in the side of your backpacking pack ready to pull on for the occasional river crossing. So I'd say these Super Trek is more of a wear-all-day option – and it fits that mould well. 
Straps: two Velcro with locking buckle | Drop: 8mm | Materials: mesh upper, moulded EVA foam footbed, Vibram rubber sole.
Available at: lizardfootwear.com
Teva Hurricane XLT 2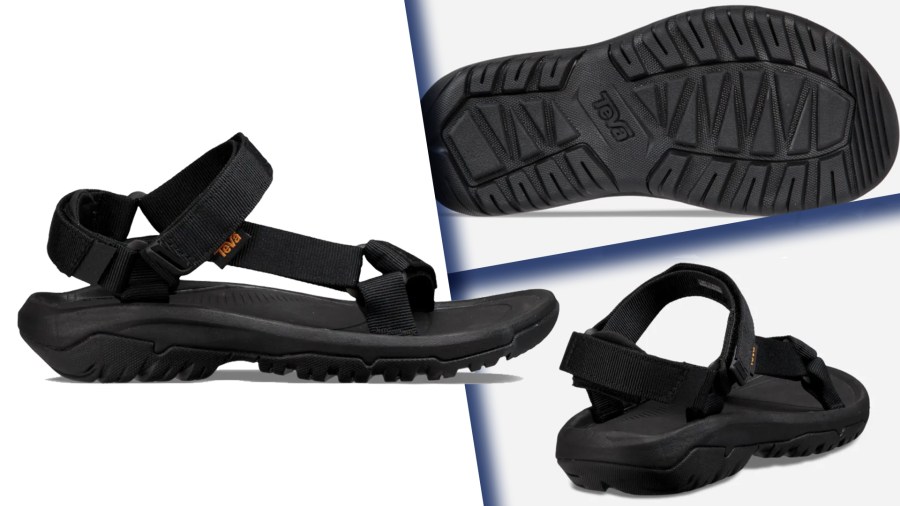 SQUIRREL_BUTTON_12944131
Price: $75 / £65
Weight: 10.26 oz / 291g
Best for: trekking and water sports
Rating: 4.5/5
Pros: comfortable and secure, eco-friendly, lots of cushioning, quick-drying
Cons: quite heavy and could be grippier

While the Lizard Super Trek might've landed the top spot as the best hiking sandal overall, the Teva Hurrcane XLT 2 is a very close second, as it's a little heavier and just a bit less grippy too. 
This is another sandal that proved to be very comfortable and shock absorbing in my tests. The three strap design really lets you fine tune the fit to suit your foot shape and the soft webbing (which is made from recycled plastic bottles) and neoprene lining give a comfortable feeling to the straps too. 
The grip gives the outsole a bit of bite. I found it to be stable on light to medium trails and on a bit of wet rock too, but the outsole isn't quite as aggressive as the one on the Lizard Super Trek, which I'd say is more suitable for hikes on very muddy or gravelly tracks. Where the Hurricane XLT 2 really comes into its own, however, is in wet stuff – so any hikes that involve multiple river crossings, or for things like kayaking, sailing or stand up paddle boarding, that's thanks to the quick-drying straps and the non-slip rubber on the footbed. 
Straps: three Velcro | Drop: moderate | Materials: Repreve polyester straps, EVA foam midsole, nylon shank, Durabrasion rubber outsole.
Bedrock Cairn Pro II Adventure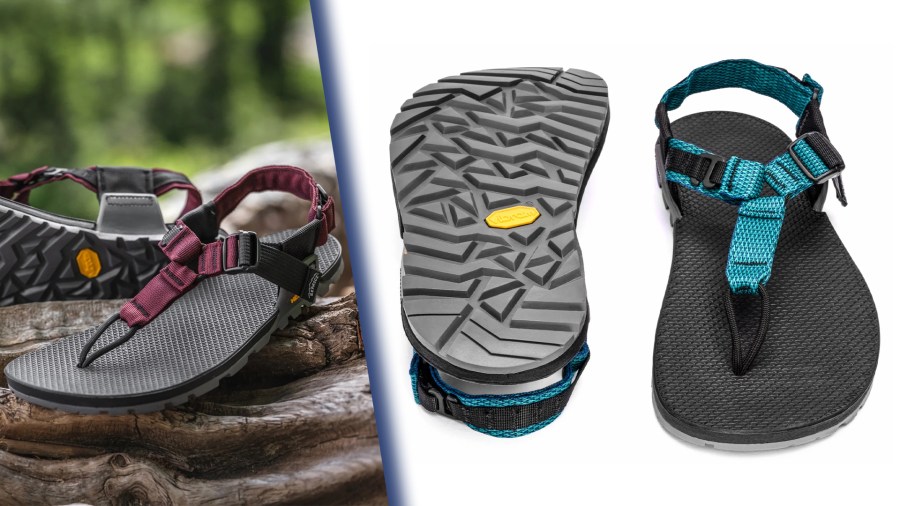 Price: $130 / £105
Weight: 7.8 oz / 221g
Best for: hiking
Rating: 4/5
Pros: grippy, good adjustment and secure fit, good eco credentials
Cons: 'barefoot' feel is not for everyone
The Cairn Pro II Adventure has a bit of a cult following and it seems to be that whoever owns a pair swears by them. I've tested the Cairn Pro a fair bit now and I think it's excellent but for me personally it just don't have the kind of cushioning I want when I'm hiking. 
I'm not too used to barefoot shoes though and the Cairn Pro, with its zero-drop and thin platform does fall into the barefoot category.
Still, it's comfortable to wear (if you don't mind the flip-flop-style strap in-between your toes) and it's really grippy on all manner of surfaces thanks to its Vibram Megagrip outsole. The three-point adjustment and front strap all work together to lock the foot in well – not quite as well as the Lizard Super Trek and Teva Hurricane though – and the footbed sticks well even when it's a bit wet. 
Shoutout to Bedcrock for making sure this can be resoled when the rubber's worn through – and for donating 1% of the return from each sale to environmental organisations. It'd be good to see Bedrock take their eco efforts even further at some point by using recycled webbing.
Straps: three adjustable straps | Drop: neutral | Materials: webbing straps, Vibram Megagrip outsole.
Available at: bedrocksandals.com
Lizard Super Hike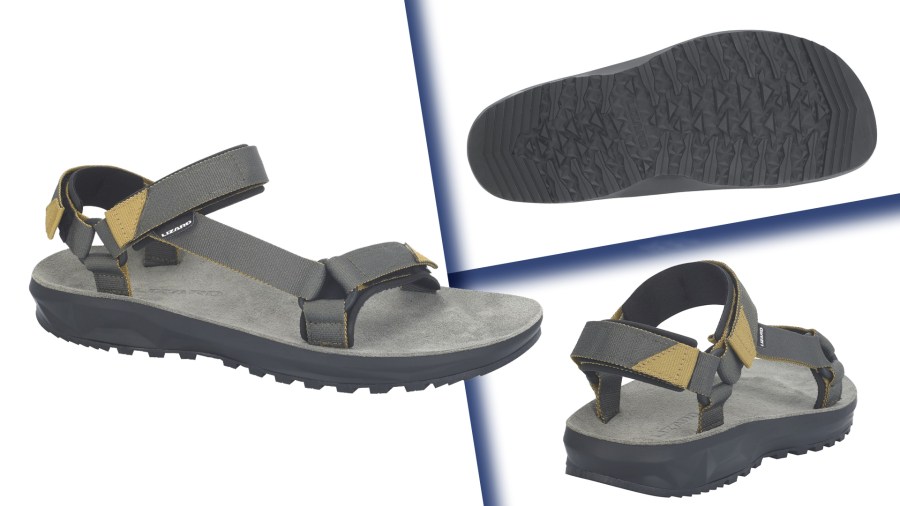 SQUIRREL_BUTTON_12944150
Price: £100 (not currently available in the U.S.)
Weight: 9.87 oz / 280g (per shoe)
Best for: hiking
Rating: 3.5/5
Pros: comfortable, good adjustment
Cons: slippery footbed when wet, quite expensive
In a previous review of the Lizard Super Hike, I've stated it continues to grip well even when wet. However, after further testing, I've discovered that it does have its limitations there. On one kayaking trip, it was actually quite frustrating how slippy the footbed became. I think the suede footbed must've started out with a bit of texture and then eventually got a bit of a slippery sheen with use. So, with that in mind, if you're looking for a pair of sandals for water use, I'd definitely look to Lizard's Super Trek instead – they perform much better when wet. 
These were very comfortable to hike in when dry though. There's cushioning, the footbed is ergonomically shaped to hold the foot in place and to support your arch and the three-point adjustment allows you to get a nice, supportive fit. 
It's a zero-drop sole which might appeal to those who like a more natural stride. Those who like a barefoot style sandal might find that the thick sole unit and the curved footbed negate that natural feel a bit. 
I found the grip to be good, though it's not quite as grippy as the Lizard Super Trek. Still, I found it was good on wet rock, roots and dusty trails. 
Straps: three Velcro | Drop: neutral | Materials: suede footbed, rubber outsole, webbing straps.
Available at: sportsshoes.com
Keen Newport H2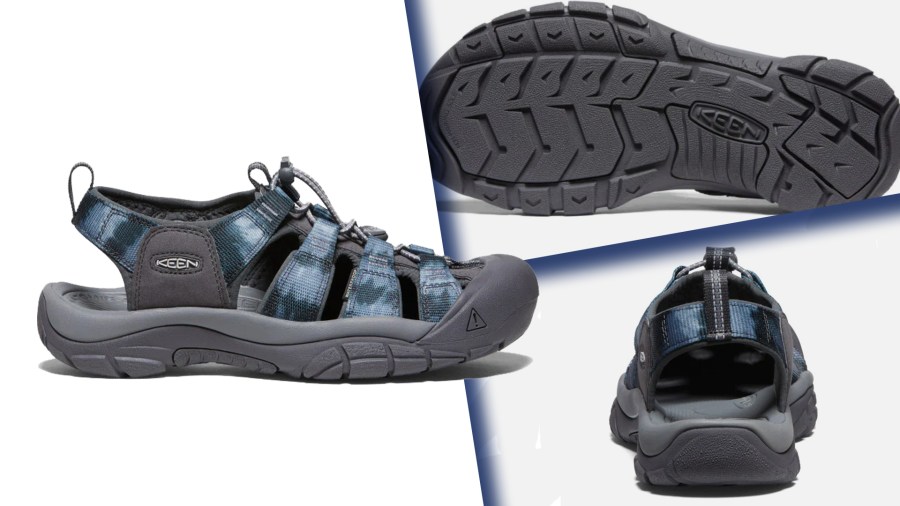 SQUIRREL_BUTTON_12942787
Price: $120 / £120
Weight: 14.1 oz / 401g
Best for: trekking and water sports
Rating: 4/5
Pros: protective, durable, good bungee closure, good water performance
Cons: heavy, quite expensive
I once had a pair of these under my desk which I'd received for testing. One day, after cycling into the office, I thought I'd slip them on as it was a hot day. I was charmed instantly and a love affair began. I wore those sandals non-stop and gained myself a bit of a reputation for it – they were a garish yellow after all. 
The thing I loved about them is that they just felt so comfy but then they were also really practical too, mainly thanks to that unique toe bumper. Your can hike over rocky ground in these and feel well protected and well ventilated and the bungee lacing ensures you get a nice refined fit from them too. They're great in water too as they hold your foot in place well and don't become all heavy once they get wet. Because they're made from polyester, they'll dry out quickly too. 
The grip is great on hard surfaces – whether that's on a big boulder or a paddleboard – as it's got a real stickiness to it. The lugs are pretty minimal though so it's not great on loose ground. I found these great to hike in so long as the ground underfoot is stable enough. 
The Newport, like a few of the sandals in this round up, is a little too heavy to carry on your pack as an option for wearing around camp at night. It's definitely more of a wear-all-day offering. 
Straps: none, bungee cord closure | Drop: moderate | Materials: webbing, EVA footbed, rubber outsole.
Available at: alpinetrek.co.uk
Merrell Kahuna 4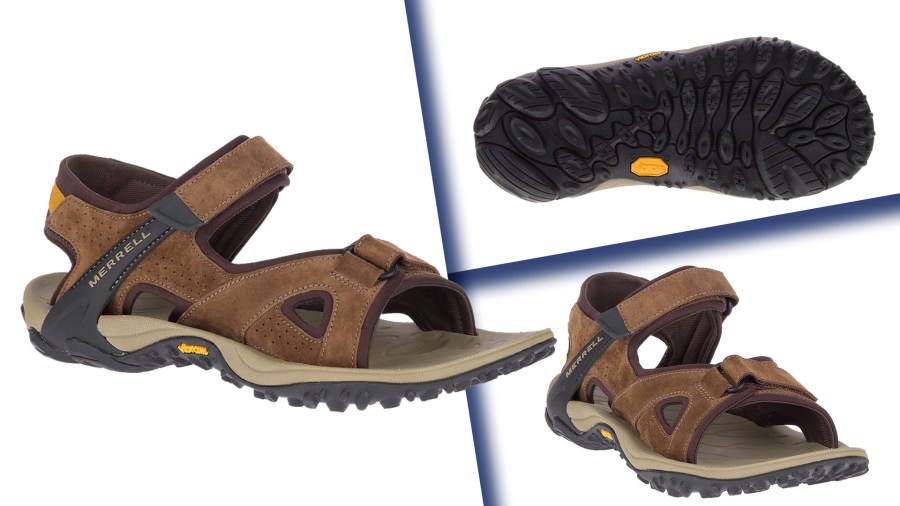 SQUIRREL_BUTTON_12942788
Price: $110 / £90
Weight: 20 oz / 568g
Best for: trekking
Rating: 4/5
Pros: good grip, comfortable leather upper, handles rocky terrain well
Cons: quite expensive, heavy
This blends an open toe with support and comfort. It has a smart suede upper with a comfortable neoprene lining. While the toe is open, the footbed is shaped and slightly tipped up to offer a small amount of front protection. The side protection and foot security was excellent, with the suede strapping sitting inside the edge of the footbed.
The footbed is grippy when wet and dry, with a hint of instep support. The Velcro straps at the ankle and at the forefoot are secure and positive. The sole unit has small lugs with a 3mm depth. This worked well on all types of terrain and offered cushioning on rough ground, although I find rounded lugs do slip on wet rock.
Straps: two Velcro | Drop: moderate | Materials: suede leather and mesh upper, EVA foam footbed, Neoprene lining, Vibram outsole.
Available at: merrell.com
Are hiking sandals a good idea?
I've had good and bad days in sandals. Generally the bad days are the ones that are wet; when I've misjudged the conditions and ended up with mud squelching through my toes and a soiled backside after slipping over on a hill. The good days are the ones that have been hot, dry and dusty, when I've been glad to have the ventilation, the light footedness and also the ability to cool my feet off in water without having to stop to undo my laces and remove my socks. 
So, if the weather is looking set to be hot and dry, sandals can be a very good option for hiking. That is, however, on the condition that the terrain will be suitable enough for the sandals you have. If you're taking on a hike that involves rocky scrambles then sandals aren't going to be a good idea. But if most of the hike is on defined trails, a good pair of hiking sandals will normally be ideal for the job. 
For long-distance trekking, sandals can sometimes be suitable, though you do need to be certain that the conditions will be warm and dry for the duration of your trek. My sister once asked me for advice on what footwear she should hike in on the Camino de Santiago pilgrimage through Spain. As she was hiking in July I suggested that sandals would be the best bet in the hot conditions she could expect. She ended up slating me for that advice because on her first day of hiking in the mountains it rained heavily, her feet were sliding all over the place and she had to purchase a pair of replacement trail shoes at the first available opportunity. 
One solution if you want to have hiking sandals with you for any hot days on a long distance trek is to have a pair that are light enough to store in your pack, ready to be called upon when the right conditions come along. 
What to look for when choosing hiking sandals

When choosing hiking sandals, I find that it's essential to first and foremost consider factors that will ensure comfort, support when taking on varied terrain. Specifically, pay attention to the straps and adjustment mechanisms, as they play a crucial role in providing a secure and comfortable fit. Here are some things to look out for:
Material
It's a good idea to look for hiking sandals with straps that are made from durable and quick-drying materials like nylon, polyester, or webbing. These materials should be resistant to wear and tear, as well as capable of handling exposure to water and rough terrain.
Leather can be a good material for sandals due to its comfort, durability, breathability, and classic style, making it a versatile option for various occasions. However, leather sandals may not be entirely waterproof and require proper maintenance. They are generally more expensive than synthetic options too and are not suitable for individuals with vegan preferences.
Straps
Look for hiking sandals with multiple adjustable straps that will allow you to customize the fit according to the shape of your foot.  Most hiking sandals have straps around the forefoot, instep, and ankle.
I like velcro closures as they are quick and convenient. Buckles tend to be a bit more secure but a bit more fiddly. Some sandals use a combination of both for a customizable fit. You also find some sandals, particularly those from Keen, that use a bungee cord. I like these as they can give a shoe-lacing style fit. 
Hiking sandals with support, protection and comfort
Adequate padding around the straps can help prevent chafing and blisters. Additionally, a soft lining on the inner part of the straps can enhance comfort, especially during long hikes. I particular like sandals that have a neoprene lining as I find this prevents the straps from starting to niggle and feeling sore. 
I personally like to look for hiking sandals with some level of arch support as it helps reduce foot fatigue and provides better stability during hikes. That said, I know there are people who prefer a more natural 'barefoot' feel. 
Some hiking sandals come with toe guards or reinforced rubber at the front to protect your toes from rocks and debris. This is particularly beneficial on rugged trails. The downside to these types of sandals is that they tend to be quite heavy and your toes can feel a bit clammier in them than they obviously would in open toe sandals. 
Water-Friendly Features
If you plan to hike in wet environments or encounter water crossings or you want a pair of sandals that you can also use for water sports like kayaking and paddleboarding, choose sandals that dry quickly and have water-friendly properties. Avoid materials that retain water for an extended period, as this can cause discomfort and blisters.
Grip
Grip is so important when it comes to choosing a pair of sandals and not just the outsole grip but the grip to the footbed. I always opt for sandals that have a footbed that my feet will stick to in dry and wet conditions. EVA foam tends to be a good, reliable material for a footbed and if it's patterned then all-the-better. 
As for the grip underfoot, look for sandals that have lugs that are nice and deep – ideally around about 3mm or a little bit more. The rubber compound used is important too – a nice sticky compound will grab to hard and slippery surfaces well. The downside to sticky compounds is that they can mark some surfaces – like hard wood flooring. Who cares about that though. We're outdoorsy types – we don't give a hoot about footwear for the indoors!