Our guide to the best pop-up tents on the market this year. There's a mix of types here from options that spring open from the bag, to more technical options that are raised in rather ingenious ways.
Pop-up tents initially appeared in the early 2000s. Since then, the designs have evolved swiftly, progressing from simple, fragile designs to some pretty remarkable constructions, and there is now a variety of solutions to meet various budgets and purposes.
Instant, easy-pitch tents are great for things like festivals, trips to the beach and campouts in the garden, but at the higher end of the scale there are now also options that will suit extended stays where something that's durable and reliable but also light enough to carry. In this round up of the best pop-up tents, we'll identify the options out there that we rate and we'll highlight what they're best suited to so you can find the right one to match your needs. 
The main things to think about when you're in the market for a new pop-up tent include design, ease of pitching, waterproofness, space, weight and price, but there are also numerous other factors worth thinking about. Venting options are good to have as they'll help to manage condensation in the tent. Porch space, multiple doors and storage options will make a tent that's more comfortable to stay in for extended periods, especially with other people. It's also worth looking at how many guylines and pegging points there are – the more there are, the more reliable the tent will be. Then, of course, there's the packing up. Pop-up tents can be notoriously tricky to pack away, if you don't know the method. Jump to the bottom of this article for our guide to folding a pop-up tent.

However, if you're wondering whether a pop-up tent is waterproof then head over to our explainer Are Pop-up tents waterproof? We've also looked at Are Pop-Up Tents Good For Wild Camping?
The 8 best pop-up tents
The following list shows our experts' selection of the 8 best pop-up tents for quick, convenient car camps, festival trips, for sheltering on the beach or for camping out in the garden. Some of these will be OK for use on hiking trips, though they will not be as reliable as a classic two-person tent for backpacking. 
---
Quechua 2 Seconds Easy Fresh & Black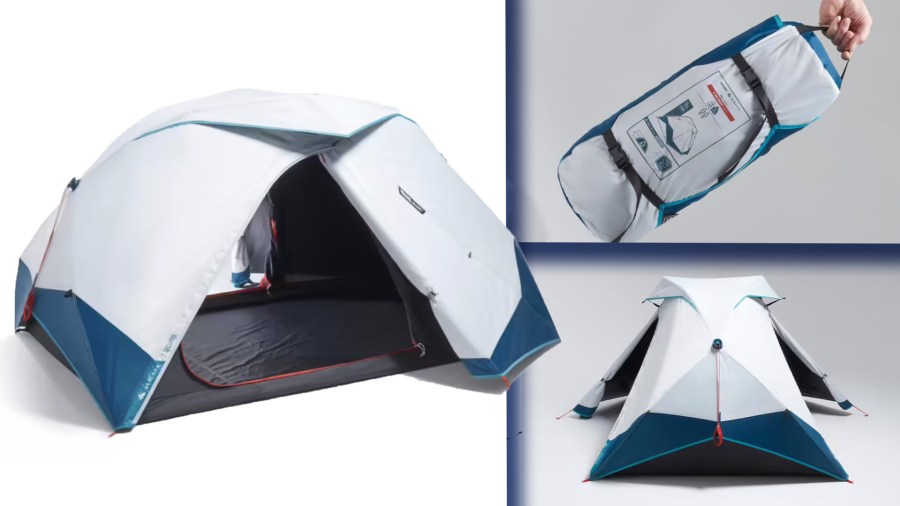 SQUIRREL_BUTTON_6186587
Price: $229 | £130
Weight: 10.8 lb | 4.9kg
Sleeps: 2
Type: Quick-pitch
This tent by Decathlon's own-brand Quechua is one of the most technical and impressive structures in this gear guide. Its design resembles a manually assembled backpacking tent, with rigid crossing poles, an aerodynamic profile, porch space and ventilation. The hydrostatic head rating for the flysheet is 2,000mm, so you can expect it to keep rain out reliably.

This tent isn't like the pop-up tents that most people will be familiar with – the ones that will spring open as soon as they're taken out of the bag. Instead, there are two drawcords that, when pulled, will gradually bring the structure into shape. It's a technology that's exclusively patented by Decathlon. It also has a darkened interior to help to keep sunlight out in the morning and to keep the interior slightly cooler. 
According to Decathlon, specific efforts have been made to reduce this tent's environmental impact by using a less water-intensive process called dope dyeing in certain parts of the fabric. The tent also comes with a two-year warranty.
Outer materials: Main fabric 100% Polyester  | Hydrostatic head ratings: 2000mm (flysheet), 5000mm (groundsheet) | Pole materials: Metallic structure 50% Polyoxymethylene, 50% Glass Fiber | Dimensions (bedroom): 145 x 205 x 110cm.
Available at: decathlon.com
Olpro Pop Up Tent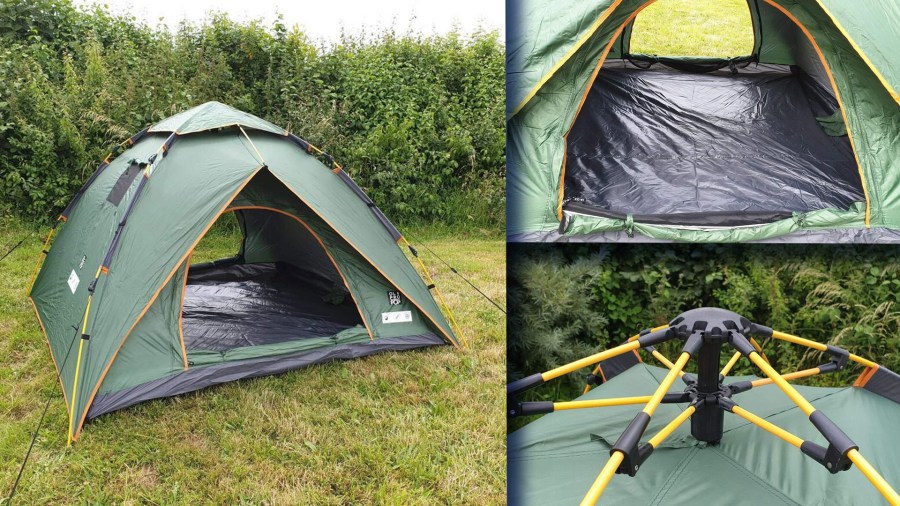 Price: £109

Weight: 9.92 lb | 4.5kg

Sleeps: 2

Type: Quick-pitch

This tent is similar to the Quechua 2 Seconds tent in that it's more of a quick pitch tent than a pop-up one. Still, once you're familiar with pitching it, it should only take a minute or two to have it ready for climbing into. 
While its 3,000mm hydrostatic head and taped seams make this reliable for wet weather protection, its structure won't be able to cope with the strong winds you can get on the side of a mountain, so this is a tent that you'd only really want to use for festivals or for summer car camping. 
It's a great size for camping as a pair, with loads of space for sleeping mats and kit and room to sit up comfortably. There's no porch cover though, so wet and muddy kit will need to come in with you or go in the car – a basic tarp would complement the design, so that's an option too. 
One aspect of this tent that sets it apart from most other pop-up or instant tents is the fact it's double walled. This means you have an inner tent to keep you and your kit away from any damp condensation that forms on the flysheet. The downside, however, is that that extra layer of fabric, along with the intricate pole structure, makes for a somewhat heavy tent at 4.5kg – so not a tent you'd want to have to carry too far. 
Outer materials: 100% polyester | Hydrostatic head ratings: 3000mm | Pole materials: fiberglass | Dimensions: 140 x 210 x 210cm
Available at: olproshop.com
Coleman Galiano 2 Fastpitch Pop-Up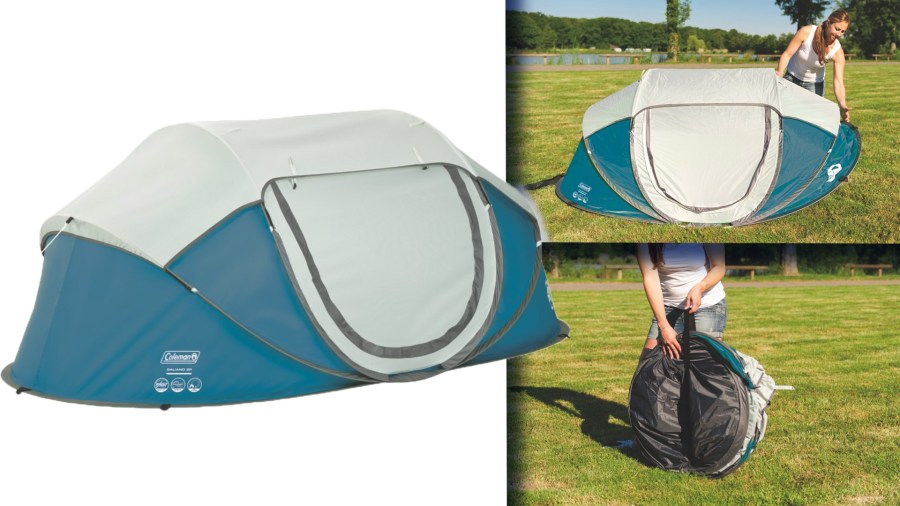 SQUIRREL_BUTTON_6600599
Price: $128 | £80

Weight: 5.73 lb | 2.6kg

Sleeps:  2 (also available as a 4P)

Type: pop-up

Coleman states that this is specifically designed for festivals, multi-stop holidays and weekend trips. It follows the classic pop-up tent design where the tent will spring open once it's out of the bag giving you an instantaneous structure. To complete the pitching you just need to peg the tent down. There is also a canopy that creates covered ventilation and this can be removed if you want to stargaze at night or if you want to create extra airflow when the weather is dry. 
Inside it's spacious for two people to lie down with all their equipment and there's space to sit up thanks to the high ceiling. There's no porch space, however, so wet and muddy kit will either need to come inside with you or stored elsewhere. 
The tent fabric has a hydrostatic head of 2,000mm so it'll be waterproof enough to keep foul weather out. As it's single skinned, the walls will get slightly damp from condensation on the inside when conditions are damp and mild to warm, even despite the ventilation at the top of the tent.
The weight is 2.5kg, which isn't the lightest, but there are heavier pop-up tents out there with less space. 
Outer materials: PU-coated polyester | Hydrostatic head ratings: 2000mm | Pole materials: fiber glass poles | Dimensions: 140 x 230 x 90 cm
Available at: colemanuk.co.uk

Teton Sports Vista Quick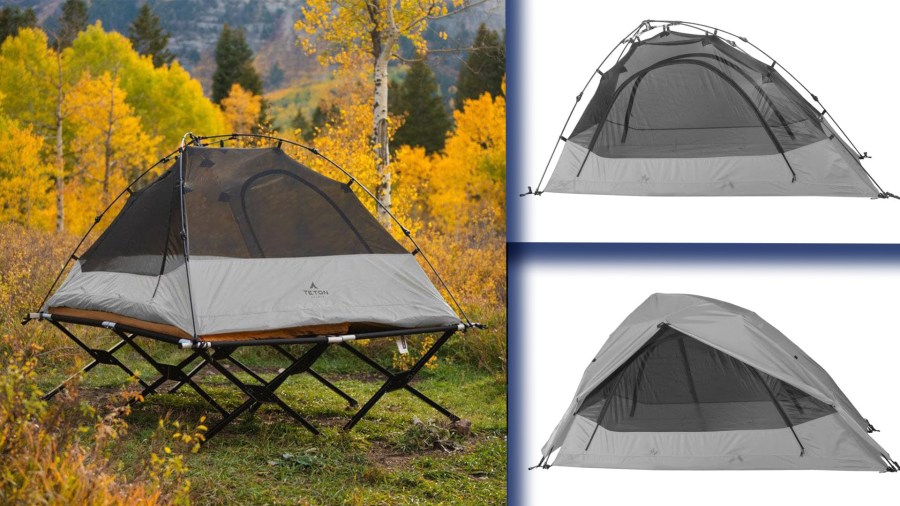 SQUIRREL_BUTTON_12950264
Price: $130 | £100

Weight: 6.3 lb | 2.85kg

Sleeps: 2 (also available as a one-person tent)

Type: Quick-pitch
This is another tent in this list that's a quick-pitch rather than pop up. This stands out from the other quick-pitch tents however, due to its fairly impressive low weight – especially given the fact it's double-walled and has two porches. We should point out, however, that it's still not light enough to suit backpacking trips, it's more of a car camping tent, and its fibreglass poles and plastic hubs make it a little risky to use in strong winds. 
Interestingly, both the one-person and two-person versions of this tent are designed so that they can be perched on top of a camping cot. They also have special flysheets (that can be purchased separately) that extend around the base of a cot to create a windbreak and sheltered spot for gear storage. 
There's a door and porch on either side of the two-person model, so that helps it to rank well in terms of liveability. The organiser pockets and gear loft help there too. Finally, you get a lifetime warranty on Teton tents, so if something goes wrong when it shouldn't you'll be within your rights to receive a replacement. 
Outer materials: 75D 190T Taffeta | Hydrostatic head ratings: Unknown | Pole materials: fiber glass 8.5 mm | Dimensions: 208.28 x 152.4 x 104.14cm
Available at: tetonsports.com
Eurohike Pop 400 DS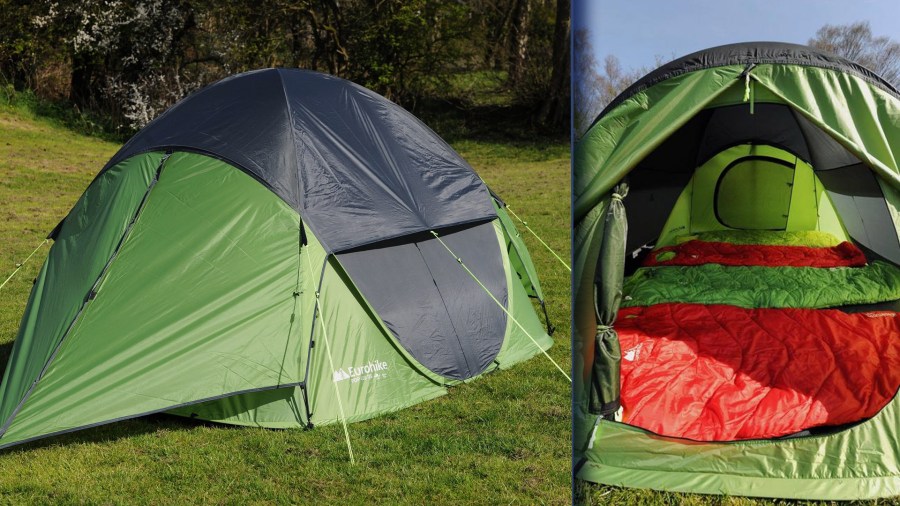 SQUIRREL_BUTTON_12950265
Price: £180

Weight: 5.2kg

Sleeps: 4

Type: pop-up

This is a huge pop-up tent that pitches in seconds and accommodates four people. It involves an inner tent that's pitched first and then a small flysheet/canopy that's draped and fastened over it. This second layer creates fairly large porches on either side of the tent and facilitates ventilation to help prevent condensation build up on the inside.
There are plenty of guying points to create stability. Still, the fibreglass poles, structure and quite lofty height make it a tent that can only really be relied upon when conditions aren't too wild. 
It's worth checking out the packing up advice for this before using it as there's a knack to it, as is the case with all pop-up tents, and most of the tents in this article. 
Outer materials: 100% polyester | Hydrostatic head rating: 2000mm | Pole materials: fiber glass | Dimensions: 390 x 215 x 160cm.
Available at: gooutdoors.co.uk
Regatta Malawi 2 Pop Up Tent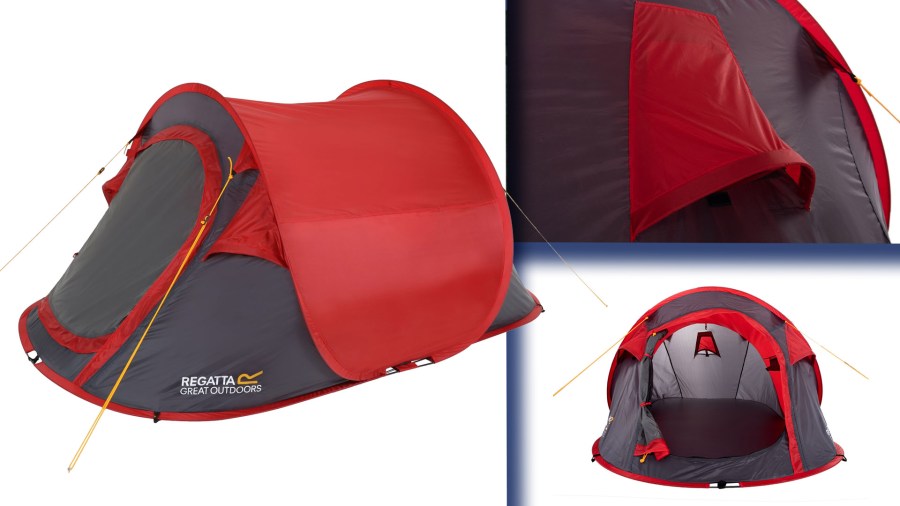 SQUIRREL_BUTTON_12950266
Price: £150

Weight: 2.5kg

Sleeps: 2

Type: pop-up
This is perhaps the most basic of pop-up tents in this guide. You could call it the quintessential pop-up too as this follows the same design of the first pop-up tents to hit the market. 
With its large disc shape, fairly heavy weight and limited vents to manage condensation, this is a basic option that you'll want to only use for things like festival camping or as a sun and wind shelter on the beach. Nights inside it, unless the weather is on your side, generally will be tolerated instead of enjoyed!
Its fabric has a good hydrostatic head and there are useful pockets and lantern hanging hooks inside. Apart from those details, what you see is what you get; a classic pop up tent that requires the minimum level of effort to erect and minimum effort to pack up (if you know the pop-up tent method!)

Outer materials: 100% polyester | Hydrostatic head ratings: 3000mm | Pole materials: fiber glass | Dimensions: 230 x 140 x 100cm
Available at: regatta.com
Ayamaya Pop Up Tent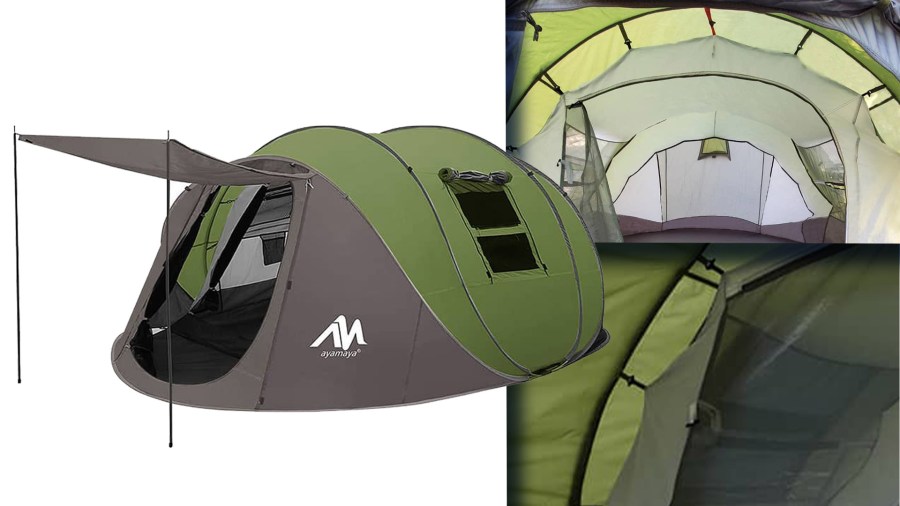 SQUIRREL_BUTTON_12950267
Price: $149 | £99

Weight: 8.6 lb | 3.9kg

Sleeps: 4-6

Type:pop-up

This is a gigantic pop-up family camping tent that's designed to accommodate as many as six adults. Just bear in mind that four adults would be comfortable in it, but it'll be a sardine can situation if you do decide to squeeze six people in. 
There are some nice touches here. The tent door can be raised to form a canopy, for instance, and there are mesh windows on either side. There's also a mesh inner that can be hung inside to keep you and your belonging from getting wet through condensation that's formed on the walls.

The ventilation is limited. It might be double-walled but there's no air gap along the base of the tent to allow airflow and while there might be windows, you won't want to be using these when it's raining. 
As is the case with all pop-up tents, there's a knack to packing this thing up, but once you know it it's very quick and easy to do. In its bag, it forms a big disc that can be carried on your back, though you wouldn't want to carry it too far – especially if it's windy.
Outer materials: PU-coated polyester | Hydrostatic head ratings: 3000mm (flysheet), 4000mm (groundsheet) | Pole materials: | Dimensions: 381 x 260 x 136cm
Available at: ayamaya.com
Quechua 2 Person Blackout Pop Up Tent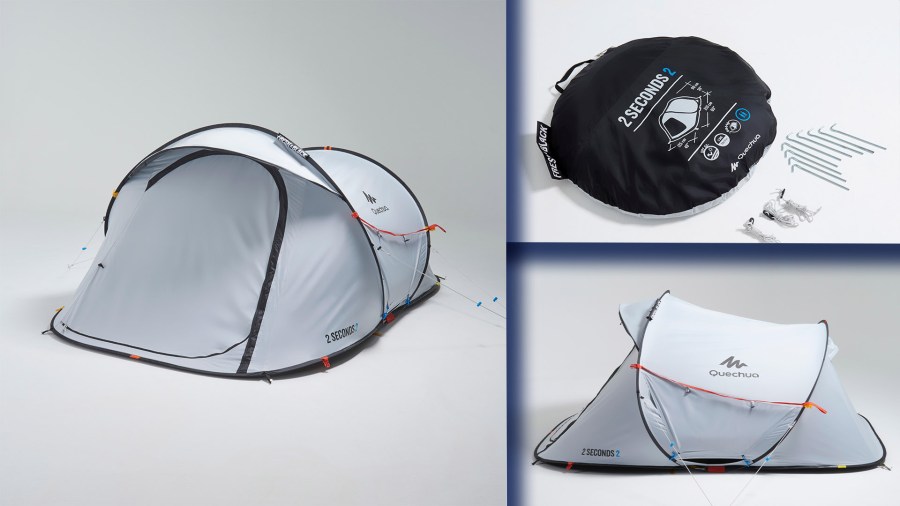 Price: $149 | £99

Weight: 7.27 lb | 3.3kg

Sleeps: 2 (also available as a 3P)

Type: pop-up

This, you could say, is a specced-up take on the classic pop-up tent with loads of nice touches to make this slightly more comfortable to sleep in. 
First of all, there are big side vents on each side that can be opened and propped up from the inside to create airflow. The interior is also blackened to prevent early morning light seeping through and to keep the overall temperature inside cooler throughout the day. A layer of mesh with a zipped opening that's set back from the main door into the tent creates a nice porch space to keep wet and muddy kit and there are plenty of storage options within the sleeping area too.
At 4.3kg and with a large packed size, this, like most pop-up tents, isn't something you'd want to carry on your back very far. But it'll serve well as an option for quick car camping during the summer months. 
Outer materials: main fabric Schmerber PU-coated polyester, groundsheet: 120g/m² polyethylene | Hydrostatic head ratings: 2000mm (fly), groundsheet: 2400mm | Dimensions: 210 x 140 x 103cm.
Available at: decathlon.com
---
What is a pop-up tent?
The first thing to know about pop-up tents is that they're, in most cases, not your best option if you're looking for a tent to take on backpacking trips. It might be true that some pop-up or quick-pitch tents are light enough (for some people) to strap to a backpack and be carried, but the designs generally are not sturdy or indeed flexible enough to handle strong winds. If you're using a pop-up tent in a designated campsite or festival, normally you'll have the reassurance that if the wind picks up and happens to break your tent, you'll at least have your car or a building to seek refuge in. Out on a hiking trail, this will often not be the case however. 
Pop-up tents also tend to come at more affordable price points compared to standard backpacking tents and, as such, some people have been known to treat these type of shelters as disposable. You, dear reader, would of course never dream of leaving your tent behind, essentially as litter, for someone else to clear up, but we just thought it's worth mentioning here that the environmental impact of such an action is substantial. After all, the tent (if someone is able to clear it up) will probably go to landfill and then take hundreds if not thousands of years to biodegrade completely. 
How long does it take to set up a pop-up tent?
The tents in this review can be divided into two different types of tent. There are pop-ups of the classic variety and there are tents that could be better defined as quick-pitch tents.

Pop-up tents generally will take around a minute to pitch. In most cases, you'll just need to take them out of their pack, let them spring open and then peg down the corners and guylines.
Quick pitch tents, on the other hand, tend to require a bit more manual effort to erect. Many on this page, including the ones by Quechua and Teton Sports, have drawcords that, when pulled, will raise the tent and fix the poles into place. You'll then just need to peg the tent down. These tents take slightly longer to pitch than pop-up tents.
The durability of pop-up tents
The longevity of pop-up tents depends on numerous factors. It's mainly the quality of the materials used and the overall construction. Some pop-up tents are made with high-quality materials and are designed to last for many years, others may be more prone to wear and tear or may have a much shorter lifespan.
By and large, pop-up tents are made for convenience and ease of use, rather than longevity, but with proper care and maintenance, a pop-up tent can last for several years. Follow the manufacturer's instructions for care and storage, avoid exposing the tent to harsh weather conditions and your tent might last some time. Some pop-up tents, including most of those on this page, will come with warranties or guarantees of durability, so it's a good idea to check the manufacturer's information before making a purchase.
How to clean and maintain a pop-up tent
The golden rule with all tents, pop-up, quick-pitch or standard tents is to make sure they're completely dry when stored away. That's because moisture will often turn into smelly and unhealthy mildew when it's not allowed to escape into the atmosphere. If you do need to take your tent down when it's wet, that's fine, but just remember to hang it up to dry when you get home.
Another thing to consider is the damage that UV rays can cause to a tent's fabric and its tear strength with prolonged or regular exposure. Fortunately, you can protect against this with various aftercare products. We'd recommend looking into those the likes of Grangers, Nikwax and Storm. 
How to pack away a pop-up tent
Ah yes. Lots of people will have found themselves in this situation before. Trying to get a pop-up tent back into its bag can be an infuriating thing and, in many cases, the tent can end up broken in anger – which is never good.
The main thing to bear in mind when packing up a pop-up tent is that if the tent feels like it doesn't want to fold, then it's going to break if you go any further. If it's not folding up easily, you're using the wrong technique.
And what is that technique? Pop up tents come in all different shapes and sizes, but generally the knack is as follows:
With the tent on the floor, pick up the base of the furthest end and bring this up and over to the base of the other side of the tent while keeping one hand clasped on both of the poles. You'll then have something that resembles a burrito that's closed in the middle.
With the one hand still clasping the poles, use your other hand to bring one end of the burrito towards the other end, turning it slightly as you do so and bringing the tent down to the floor. It should, at this point, have formed into two small circles.
Slide these two circles together and it should be job done!