It's sometimes said that there is no such thing as winter mountain 'walking', because in heavy winter conditions – even on built paths – the presence of ice or deep snow means that some element of mountaineering skill will be required.
A single ice axe helps to manage these hazards – it provides a third point of contact on ice, or with the shaft plunged into deep snow for anchoring and stability, whilst the adze can be used to cut steps into firm snow or ice. With these skills, the ice axe also allows you to journey into steeper terrain and can even be deployed as an emergency brake to prevent or halt a slide. Part walking stick, part handy cutting tool, part life-saving emergency device, the trusty walking axe is a key piece of equipment for winter walking.
Main image: Black Diamond Swift and Grivel Air Tech climbing out of Coire an t-Sneachda | Credit: David Lintern
Choosing a walking axe may seem daunting at first, but it's relatively simple. Most, if not all, will do the job. However, it is good to be aware of the different types and their optimum uses. The shape and length of the shaft will have an impact on an ice axe's effectiveness in walking stick mode. Weight and durability are also a consideration. There's no point in carrying something heavier than necessary, so it's a good idea to reflect on the type of usage and terrain that it will see.
Learn more about choosing the right length and the features to look out for in the best ice axes from our gear experts below.
TESTED: The best ice axes
Testing conditions
David is 5 foot 8'', medium build but probably could have better upper body strength (these things are relevant to testing winter metalwork). He tested these axes while hillwalking and on easier graded mountaineering routes during the winter of 2022/3, from Ben Wyvis to Creag Meagaidh. He was often in the Cairngorms with two (or more!) of the review samples to allow comparison of weight, balance and performance, side by side. In this test, David chose axes with a gently curved shaft. Why? Hardware evolves slowly, is relatively expensive to purchase and is environmentally impactful. He looks for an axe that will do winter hillwalking as well as allow some progression to steeper ground. He also wants something that will be useful should he accidentally venture out onto steeper ground. Pretending this might not happen at some point is to be in denial and he'd rather be ready. A moderately curved shaft means a far more efficient swing in axe mode and a slight curve doesn't compromise the tool in walking mode. All axes were weighed on David's digital scales.
Lucy Wallace reviewed axes with picks in the 'Alpine' style – gently curved and well suited to walking terrain and ice axe arrest. They are designed to be used singly rather than as a pair. These ice axes were all tested during the winter 2020/21 season during Lucy's work as a Winter Mountain Leader and play (when she was locked down on the Isle of Arran). Weights were recorded without leashes on Lucy's digital scales.
BEST BUY: Black Diamond Swift (£160)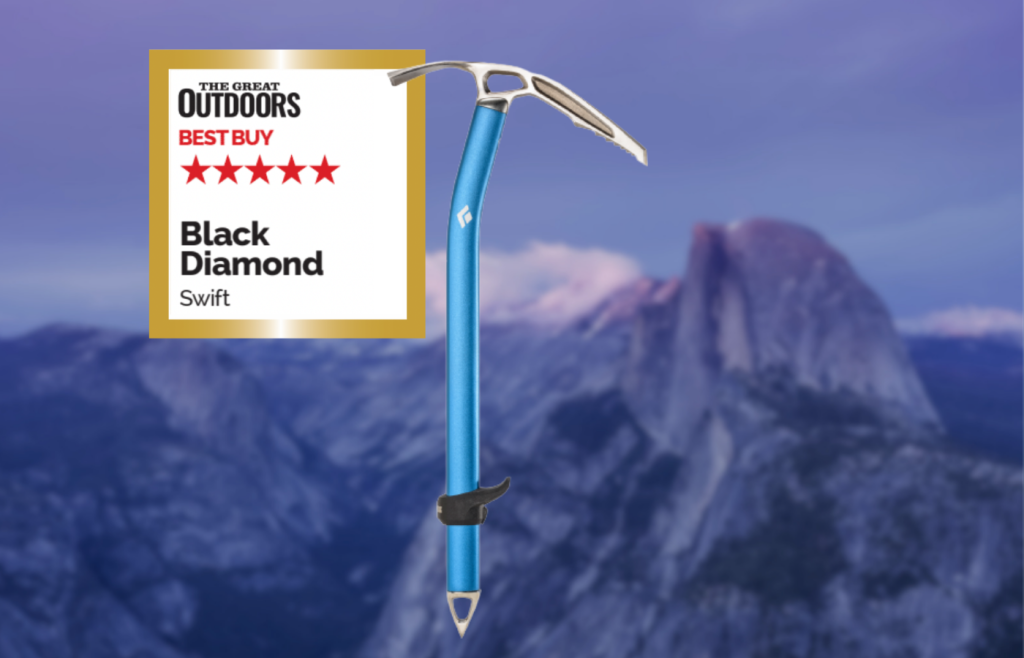 SQUIRREL_BUTTON_12987240
Rating: 5/5
Cost: £160
Weight: 536g all in (57cm)
Pros: durability, adze, heft!
Cons: weight
Materials: Steel head, pick and adze (1 piece hot forged), Aluminium shaft, steel spike | Technical rating: Technical (Type 2) | Grip: none | Leash or Pommel: adjustable pommel | Lengths available: 50, 57, 64cm
The Black Diamond Swift is one of the best ice axes on test over the past few year. David Lintern calls it a a simple, well-made, T-rated axe that will cover you from hillwalking into climbing. He goes on: The 57cm shaft is a goldilocks length for me – it's just right for wielding over my head and long enough I can comfortably use it as a walking stick. The curve in the Swift is very gentle and there's no rubber grip – as long as the pommel is pushed all the way to the top of the axe (which is entirely possible), getting the shaft into deep snow is satisfyingly frictionless. The lack of rubber grip also means much less wear and tear at the spike end. An adjustable pommel provides plenty of grip on the tool (and has the advantage over a rubberised handle that it can be replaced when worn). The spike is steel, huge and will take a leash or sling. It offers masses of security when used in walking mode.
Read more: David Lintern's full Black Diamond Swift review
RECOMMENDED: DMM Spire Tech (£89.99)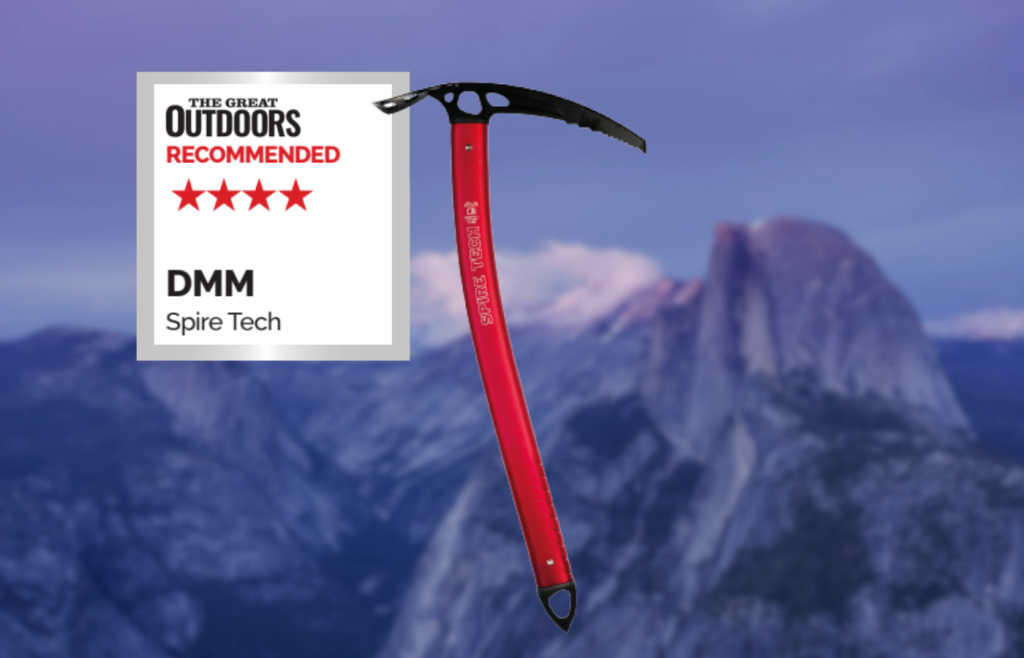 SQUIRREL_BUTTON_12987254
Rating: 4/5
Cost: £89.99
Weight: 357g (55cm)
Pros: lightweight in walking mode
Cons: less capable on more technical ground, grip
Materials: Steel alloy pick, adze and spike, aluminium shaft | Technical rating: Basic (type 1) | Grip: bevelled metal | Leash or Pommel: none provided, grip can be purchased separately | Lengths available: 45, 50, 55cm
The DMM Spire Tech ice axe has garnered plenty of praise, including a previous Best Buy from Mountain Leader Lucy Wallace in tests conducted for The Great Outdoors in 2021. There's a lot to like here, especially the weight.
However, for me, the lack of weight when walking also meant a lack of heft when using the sharp end on steeper ground. I had to do much more work with the DMM Spire Tech than with a heavier tool, and was left wanting something with just a bit more 'umph'. And because I needed to swing just that bit harder, the lack of rubber grip felt really insecure in the hand. Consequently I found I gripped the handle harder than I needed to – again, fatiguing to use over a longer period. A pommel grip is available separately and I think would be very worthwhile. I also understand there's a new 'textured' surface on the 2023 model which might improve hand-tool friction, too.
Overall, the DMM Spire Tech despite being one of the best ice axes on test felt like an 'in case' axe to me.
Read more: David Lintern's full DMM Spire Tech review and Lucy Wallace's 2021 'Best Buy' verdict
RECOMMENDED: Petzl Summit Evo (£125)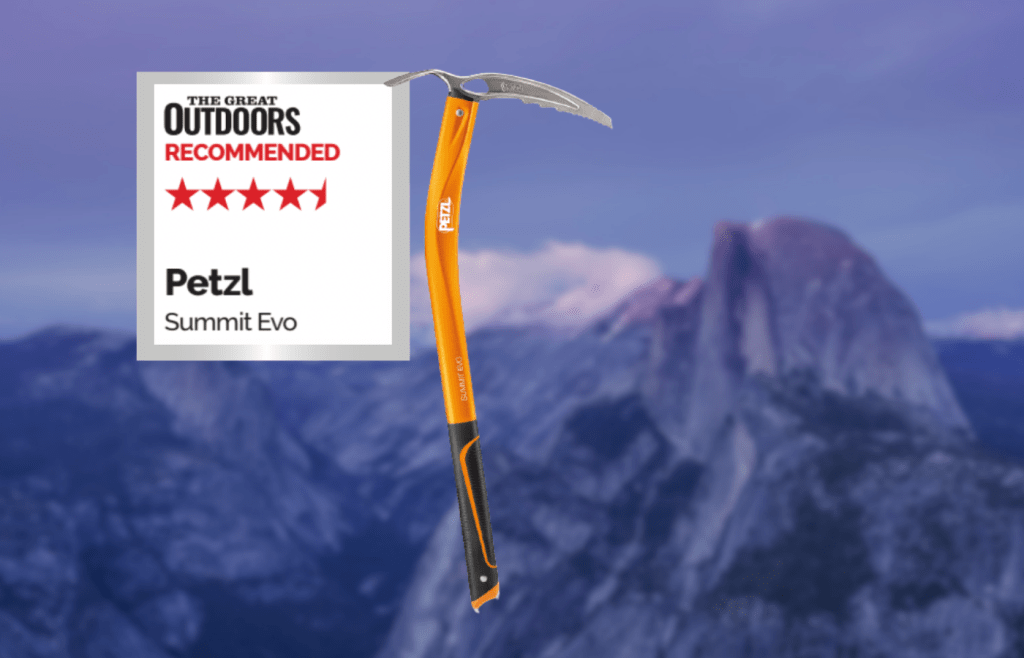 SQUIRREL_BUTTON_3333925
Rating: 4.5/5
Cost: £125
Weight: 443g (59cm)
Pros: Big adze, pleasing weight and balance
Cons: grip prone to wear in walking mode
Materials: Steel pick and adze, aluminium shaft | Technical rating: Basic (type 1) | Grip: Rubberized | Leash or Pommel: none provided, leash can be purchased separately | Lengths available: 52, 59, 66cm
The Petzl Summit Evo is a perfect ice axe for non-technical hillwalking that will also adapt for steeper or more technical ground on occasion (outside of rope use). The shaft is ergonomically designed, shaving bulk and weight at the curve which is generous, but sits high enough on the shaft that it's possible to plunge the spike and shaft into soft snow for extra purchase on a tricky step. The pick is more than sharp enough (but as long as you are careful, your jacket is safe!) and the adze is well sized to shift snow, yet rounded at the edges to protect fabrics it might otherwise snag on.
Read more: David Lintern's full Petzl Summit Evo review and Lucy Wallace's 2021 verdict
RECOMMENDED: Grivel Airtech Evo (£160)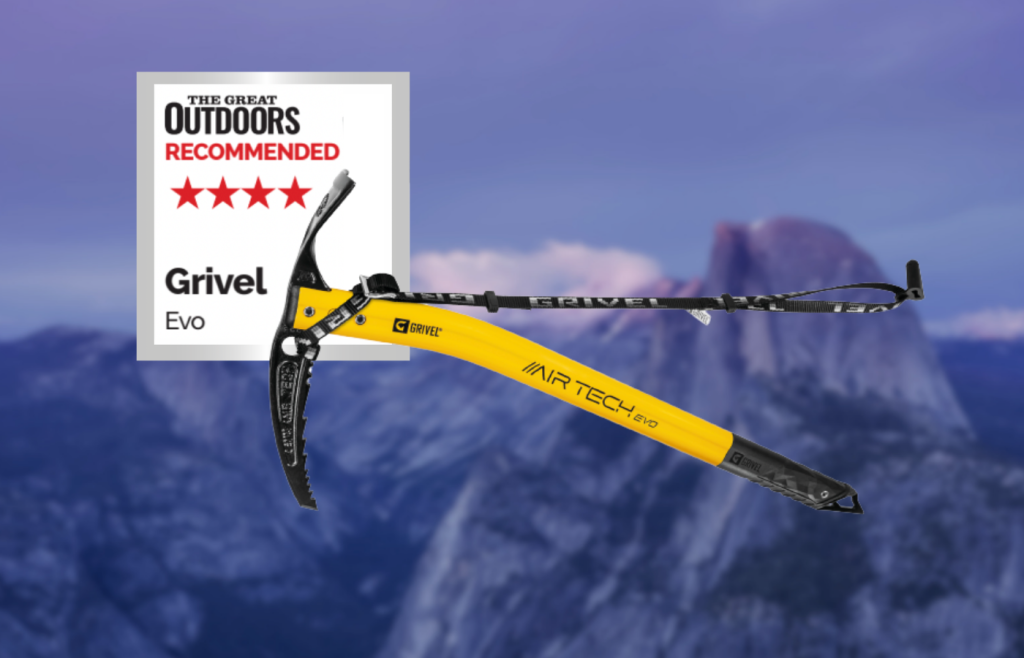 SQUIRREL_BUTTON_12987264
Rating: 4/5
Cost: £160
Weight: 552g (59cm) including leash, 504g without
Pros: secure grip, massive adze
Cons: durability of grip over long term
Materials: Steel head, pick and adze (1 piece hot forged), Aluminium shaft | Technical rating: Technical (type 2) | Grip: Rubberised | Leash or Pommel: Leash (48g) and a pommel (called the G slider) can be purchased separately | Lengths available: 48, 53, 58, 66cm
I'm very familiar with the Grivel Evo ice axe, having owned one for nearly a decade. It's a T-rated axe so can take you onto roped climbs should you wish, but although it's one of the heavier axes in this roundup, it's still light enough to backpack with (and I have, many times). The 59cm shaft is long enough to make this ice axe very useful in walking mode. It's perhaps a touch long for very steep terrain for me, but it's a great all-rounder. A very gentle curve sits high on the shaft, so plunging the Grivel Evo into soft snow is relatively easy. There is a sharp, hefty pick and a huge adze which clears snow for steps or a ledge with relative ease.
Read more: David Lintern's full Grivel Airtech Evo review and Lucy Wallace's 2021 verdict
RECOMMENDED: Climbing Technology Alpin Tour (£65)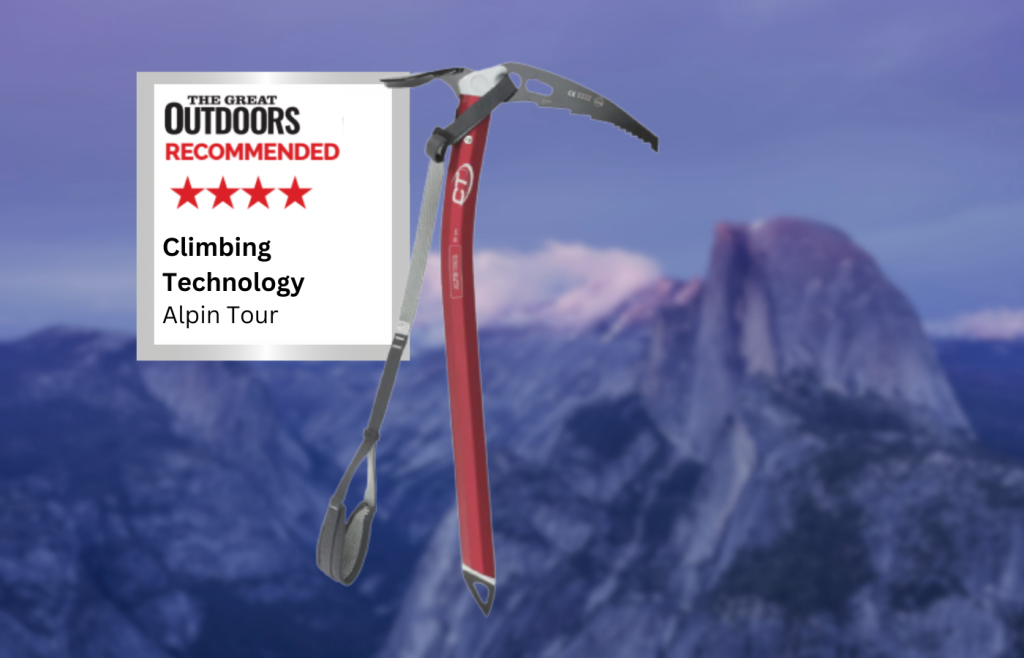 SQUIRREL_BUTTON_12987297
Rating: 4/5
Cost: £65
Weight: 434g (50cm)
Pros: Excellent value
Cons: Uncomfortable head
Materials: Anodised aluminium with steel alloy head and spike | Technical rating: T | Grip: No | Leash included? Yes | Lengths available: 50cm, 60cm, 70cm
Italy-based Climbing Technology is a brand known for no-nonsense technical gear at accessible prices and the Climbing Technology Alpin Tour is an excellent example of this. The looks are clunky, but this tool does everything it should and is available at less than half the price of some of its competitors. The steel head with a cataphoresis black coating is solid and functional. The pick is well chamfered with plenty of backward facing teeth of various sizes. The adze is broad and deep. My only gripe is that the top of the head has a pronounced bump that isn't very comfortable if you have small hands.
Read more: Lucy Wallace's full Climbing Technology Alpin Tour review
Salewa Alpine-Tec (£115)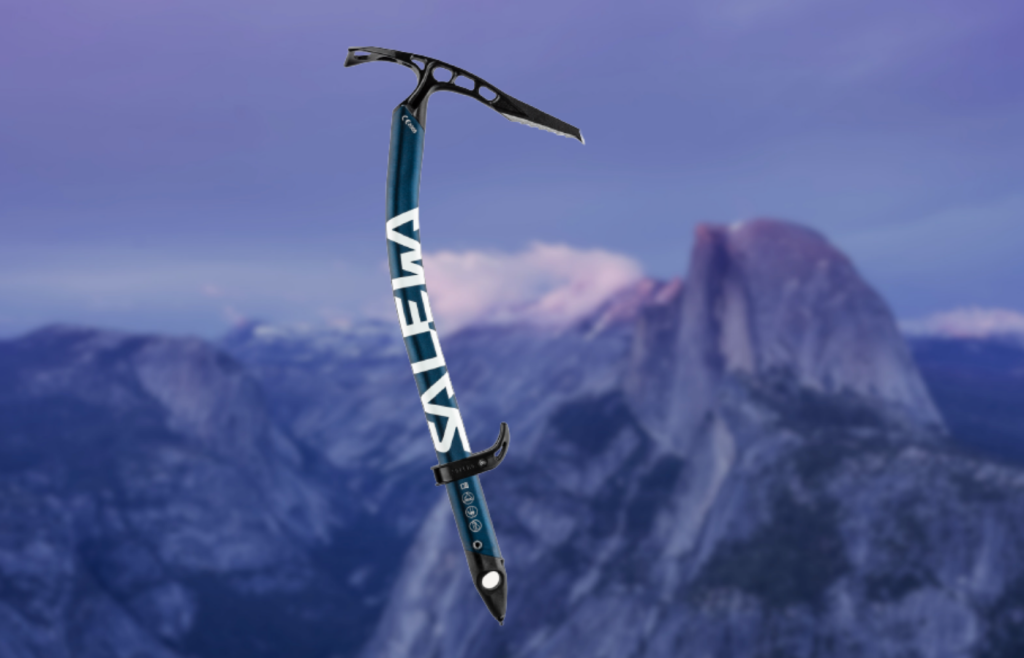 SQUIRREL_BUTTON_12987281
Rating: 3/5
Cost: £115
Weight: 369g (50cm)
Pros: very sharp pick, smaller dimensions useful on steeper ground
Cons: less useful in walking mode, carbide spike insecure
Materials: Carbon Steel pick, Aluminum shaft, carbide spike | Technical rating: B (type 1) | Grip: none | Leash or Pommel: adjustable pommel | Lengths available: 50, 58cm
The Salewa Alpine-Tec was the most mountaineering orientated axe in this selection. At 50cm long (or is that short?) it was an excellent length for a technical, steep terrain tool, but lacked the necessary length to be much use as a walking assistant. The shaft is simple and lacks a rubber grip, with the curve beginning quite low down. The included pommel did a good job of providing security in the hand, but the low curve meant that it was prevented from travelling more than halfway up the shaft. Consequently, a good plunge was hard to find!
Read more: David Lintern's full Salewa Alpine-Tec review and Lucy Wallace's 2021 verdict
Black Diamond Raven with Grip (£100)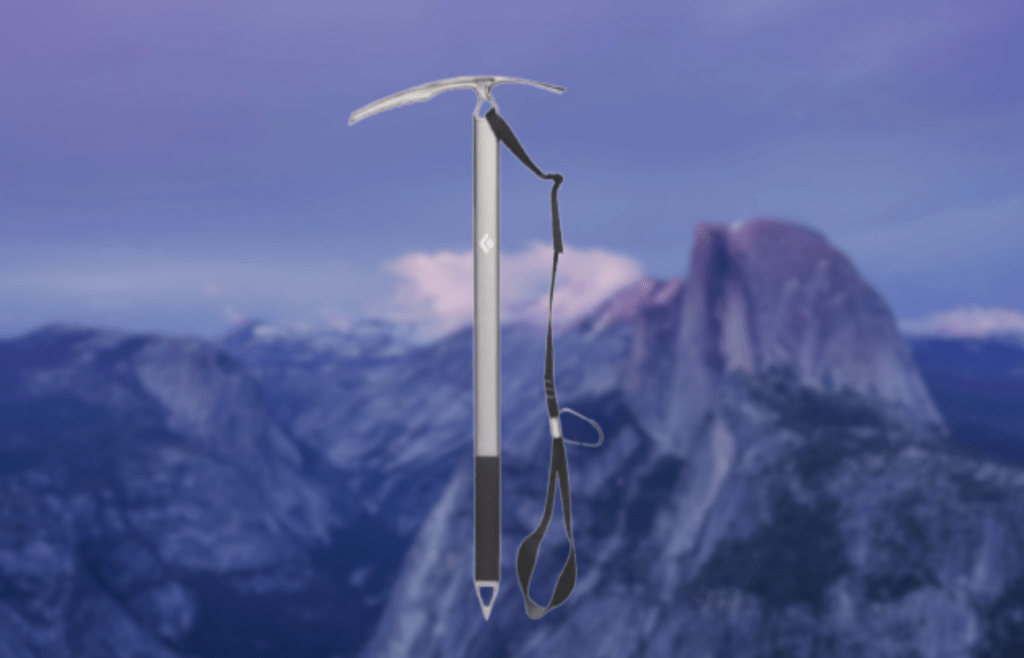 SQUIRREL_BUTTON_12987301
Rating: 3.5/5
Cost: £100
Weight: 451g (55cm)
Pros: Good value, classic design
Cons: Simple pick
Materials: Anodised aluminium with stainless steel head and spike | Technical rating: Type 1 / B | Grip: Rubber | Leash included? Yes | Lengths available: 55cm, 60cm, 65cm, 70cm, 75cm
This is a handsome-looking ice axe with a straight shaft and elegantly shaped and comfortable head, thanks to the cutaway sections for the fingers and thumb.
The stainless steel pick and adze look the part, but I would say that the pick on the Raven is the least aggressive of the tools I tested, with a subtle curve, nine gently angled teeth plus a flat top edge. This correlates with my findings when I tested it, with good performance on soft snow but less good on steeper, firmer snow or turfy rock.
Read more: Lucy Wallace's full Black Diamond Raven with Grip review
The best ice axes for you: Choosing the right length
For David Lintern, this was the most confusing aspect of choosing his first axe – everyone had different ideas. There is no 'ideal' minimum or maximum – it depends on your height. What size works for you also depends on the curve of the shaft, how much experience you have, the steepness of the ground you are on and how comfortable you are in your crampons, too.
Don't let others dictate what feels comfortable – swap around with friends for an hour or so on a day out and see what feels good to you. You'll learn loads about how you move and what different tools can offer you and you'll soon find your fit among the best ice axes.
Features to look for in the best ice axes
Shaft
The shaft or handle is usually made from aluminium. Straight shafts plunge very readily into snow, but a slight curve can be useful in cutting mode, to get around bulges of snow or rock, on steeper terrain and small steps.
Spike
Located at the base of the shaft. When used in 'walking stick' mode the spike grips rock and ice, anchoring the axe in place. It also helps plunge the shaft into deep snow.
Length
The longer the shaft is, the easier it is to use as a walking stick; the shorter it is, the better for use overhead in cutting mode, or during self-arrest. For hillwalking and easier graded winter mountaineering routes, aim for a length that leaves the spike dangling near the top of your boot when holding the axe by your side.
Grip
A textured grip on the shaft helps you keep hold of it when wearing gloves. Rubber is particularly good as it insulates against the cold metal, but beware grips very close to the spike, as they can wear very quickly in contact with snow, rock and ice while in walking mode.
Pick
This is used on steeper ground, daggered into snow or swung into ice. An 'Alpine' style gentle curve on the pick is ideal for walking or easier mountaineering situations and is the best shape for emergency self-arrest.
Adze
This is the 'scoop' at the rear of the pick, and it's surprisingly important. Use it to cut steps into hard snow and ice, and for digging a platform on a slope for a rest or a snack. Look for a broad and sharp cutting edge. The pick and adze are often made from steel alloys selected for toughness and durability.
Weight
A heavier tool can help get the pick into stubborn snow or ice, but will also be more fatiguing to use, especially if you are of smaller build. Perhaps more important is the balance between shaft and pick – a well balanced axe will swing with a controlled momentum and feel like an extension of your arm. This balance will vary according to your personal height and build.
Technical rating
Ice axes are rated B (Basic) or Type 1 and T (Technical) or Type 2. B-rated axes tend to be lighter and T-rated axes meet tougher strength tests. For walkers, a T1 rated axe is sufficient, but the additional strength of a T2 rated axe is beneficial within mountaineering situations (where it may become part of a belay). These ratings can apply to both the pick and/or the shaft.
Leash
Reassuring when a dropped axe would spell disaster, and a good idea when swinging the axe to cut steps. Adjust the length so that the hand securely grips the lower part of the shaft. A leash can get in the way, especially when swapping hands if changing direction, but is easily removed and stashed, ready to 'larks foot' (a very basic loop/knot) in place if needed. It's worth saying that a short sling can be used in place of a leash if one is not provided.
'Pinky grips' or pommels
These are most often found on technical tools for climbing, but 2 samples had them in this test. The best pommels for axes not dedicated to climbing are adjustable, usually with a flicklock. I prefer pommels over a leash for security but be aware they can impinge use of the tool in walking mode, if the grip isn't adjustable. They are great in firm snow and on steeper ground, but on easier angled slopes and gullies they can get in the way. It's also another thing to adjust on the move.
Read more: Learn how to use an ice axe