David Lintern recommends the Petzl Summit Evo for its ergonomics, well-sized adze and and generous curve.
The Petzl Summit Evo is a perfect ice axe for non-technical hillwalking that will also adapt for steeper or more technical ground on occasion (outside of rope use). The shaft is ergonomically designed, shaving bulk and weight at the curve which is generous, but sits high enough on the shaft that it's possible to plunge the spike and shaft into soft snow for extra purchase on a tricky step. The pick is more than sharp enough (but as long as you are careful, your jacket is safe!) and the adze is well sized to shift snow, yet rounded at the edges to protect fabrics it might otherwise snag on.
Rating: 4.5/5
Cost: £125
Weight: 443g (59cm)
Pros: Big adze, pleasing weight and balance
Cons: grip prone to wear in walking mode
Materials: Steel pick and adze, aluminium shaft | Technical rating: Basic (type 1) | Grip: Rubberized | Leash or Pommel: none provided, leash can be purchased separately | Lengths available: 52, 59, 66cm
The grip is rubberised and incredibly secure in the hand. The grip on this ice axe does collect snow while in walking mode, but that doesn't affect performance. The weight in my 59cm sample was perfectly balanced. This isn't too heavy to cart around but gives a very reassuring 'thwack' as the pick goes in!
The spike is metal and will take a leash or sling. It's long and sharp and gives great purchase in walking mode on icier sections, but the plastic end to the grip sits right next door and is already showing signs of wear. Winter is harsh on gear.
In use, I found this an enjoyable and reassuring tool. For winter hillwalking, especially in places where I don't know the ground, I want something that won't fall out of my hand and is sharp and heavy enough to rely on in a clinch. Aside from the plastic stopper on the end, this is it.
Compare this axe with other models in our buyer's guide to the best ice axes. Lucy Wallace also reviewed the Petzl Summit EVO in 2021 – you can read her verdict here.
SQUIRREL_BUTTON_3333925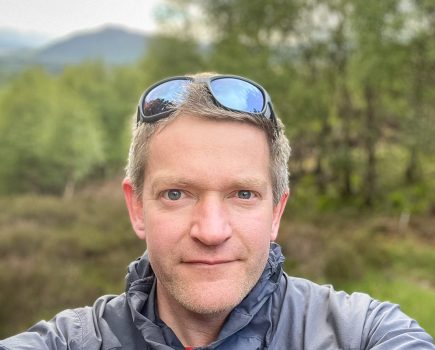 Testing conditions
David is 5 foot 8', medium build but probably could have better upper body strength (these things are relevant to testing winter metalwork). He tested these axes while hillwalking and on easier graded mountaineering routes during the winter of 2022/3, from Ben Wyvis to Creag Meagaidh. He was often in the Cairngorms with two (or more!) of the review samples to allow comparison of weight, balance and performance, side by side. All axes were weighed on David's digital scales.