Winter Mountain Leader Lucy Wallace reviews 6 of the best ice axes, an essential tool for managing risk in snowy mountains.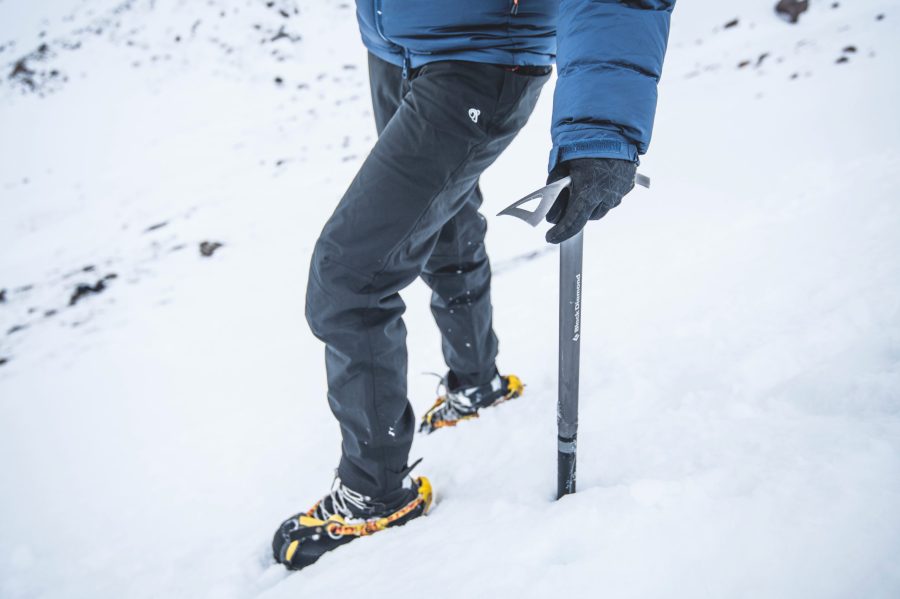 Main image: holding an ice axe in the 'uphill' hand when traversing a slope. Photo: James Roddie
It's sometimes said that there is no such thing as winter mountain 'walking', because in heavy winter conditions – even on built paths – the presence of ice or deep snow means that some element of mountaineering skill will be required.
A single ice axe helps to manage these hazards – it provides a third point of contact on ice, or with the shaft plunged into deep snow for anchoring and stability, whilst the adze can be used to cut steps into firm snow or ice. With these skills, the ice axe also allows you to journey into steeper terrain and can even be deployed as an emergency brake to prevent or halt a slide. Part walking stick, part handy cutting tool, part life-saving emergency device, the trusty walking axe is a key piece of equipment for winter walking.
Choosing a walking axe may seem daunting at first, but it's relatively simple. Most, if not all, will do the job.  However, it is good to be aware of the different types and their optimum uses. The shape and length of the shaft will have an impact on an ice axe's effectiveness in walking stick mode. Weight and durability are also a consideration. There's no point in carrying something heavier than necessary, so it's a good idea to reflect on the type of usage and terrain that it will see.
All the axes reviewed here have picks in the 'Alpine' style – gently curved and well suited to walking terrain and ice axe arrest. They are designed to be used singly rather than as a pair.
These ice axes were all tested during the winter 2020/21 season, for work (as a Winter Mountain Leader) and play (when I was locked down on the Isle of Arran).  Weights were recorded without leashes on my digital scales.
Features
Spike
When used in 'walking stick' mode the spike grips rock and ice, anchoring the axe in place. It also helps plunge the shaft into deep snow.
Shaft
Usually made from aluminium, straight shafts plunge most easily into snow. A slight curve facilitates use in 'overhead' mode, around bulges of snow or rock, on steeper terrain and small steps.
Length
The longer it is, the easier it is to use as a walking stick; the shorter it is, the better for use overhead or self arrest. Ideally, choose a length that leaves the spike dangling near the top of your boot when holding the axe by your side.
Grip
A rubber or textured grip on the shaft helps you keep hold of it when wearing gloves.  Rubber is particularly good as it insulates against the cold metal.
Pick
Used on steeper ground, daggered into snow or swung into ice. An 'Alpine' style gentle curve is ideal for walking or easier mountaineering situations, and is the best shape for emergency self-arrest.
 Adze
The adze is surprisingly important. Use it for cutting steps into hard snow and ice and for fashioning a stance in a slope for a quick snack. Look for a broad and sharp cutting edge.  The pick and adze are usually made from steel alloys selected for toughness and durability.
Technical Rating
Ice axes are rated B or Type 1 (Basic) and T or Type 2 (Technical). B-rated axes tend to be lighter and T-rated axes meet tougher strength tests. For walkers, a B-rated axe is sufficient – but the additional strength of a T-rated axe is significant if you decide to use it in mountaineering situations (where it may become part of a belay). These ratings can apply to both the pick and / or the shaft.
Leash
Reassuring when a dropped axe would spell disaster, and a good idea when swinging the axe to cut steps. Adjust the length so that the hand securely grips the lower part of the shaft. It can get in the way, especially when swapping hands if changing direction, but is easily removed and stashed, ready to larks-foot in place if needed.
---
6 walking axes for 2021 reviewed
BEST BUY: DMM Spire Tech (£89.99)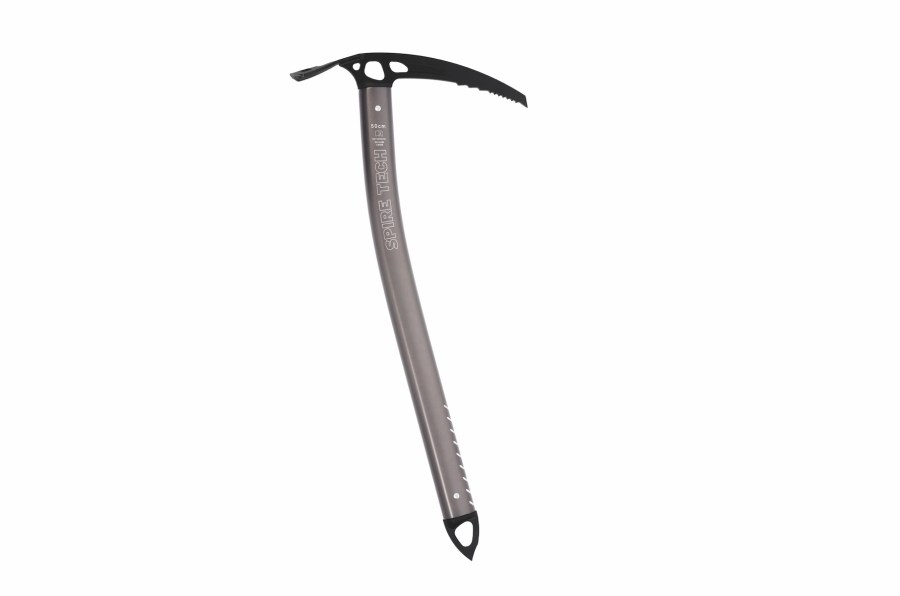 Rating: 4.5/5
Likes: Lightweight, efficient adze
Dislikes: Bare metal grip
Weight: 358g (55cm) | Materials: Anodised aluminium with steel alloy head and spike | Technical rating: Type 1 / B | Grip: Machined | Leash included? No | Lengths available: 45cm, 50cm, 55cm
The new lightweight ice axes from DMM are a bit of a departure from the heavy-duty mainstay tools that the company is renowned for. The Spire Tech, and its straight-shafted sister the Spire, are made from high-strength aluminium, light and very strong.
Read more: DMM Spire Tech review
RECOMMENDED: Petzl Summit Evo (£140)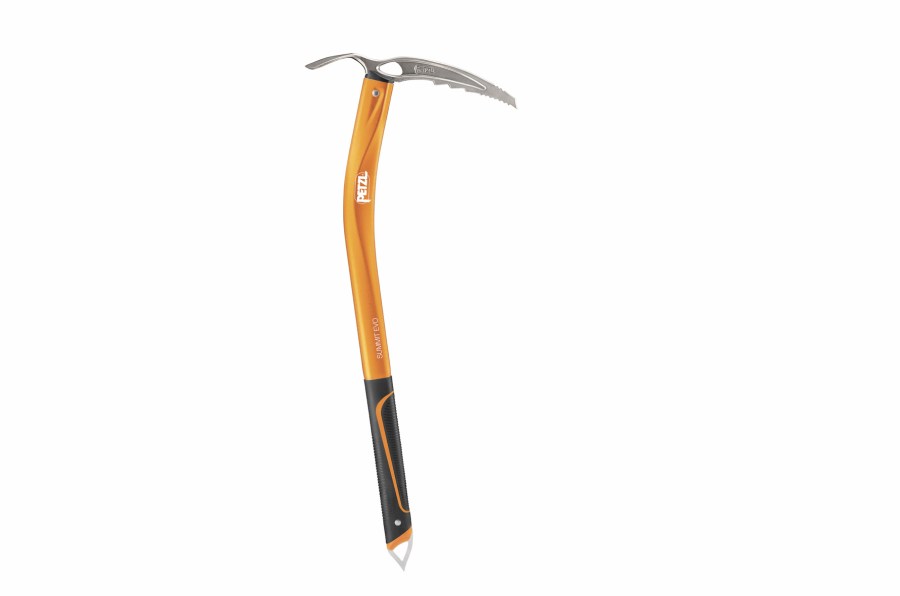 Rating: 4/5
Likes: Comfortable in the hand
Dislikes: Expensive
Weight: 415g (52cm) | Materials: Anodised aluminium with stainless steel and spike | Technical rating: Type 1 / B | Grip: Rubber and thermoplastic PU | Leash included? No | Lengths available: 52cm, 59cm, 66cm
The Summit Evo immediately felt like an old friend, because I've been using its more basic predecessor – the first-generation Summit – as my go-to axe for non-work settings for some years (I use a Technical-rated axe for work as an ML). It has a similar comfortable feel in the hand and familiar weighting to the head.
Read more: Petzl Summit Evo review
Salewa Alpine X (£105)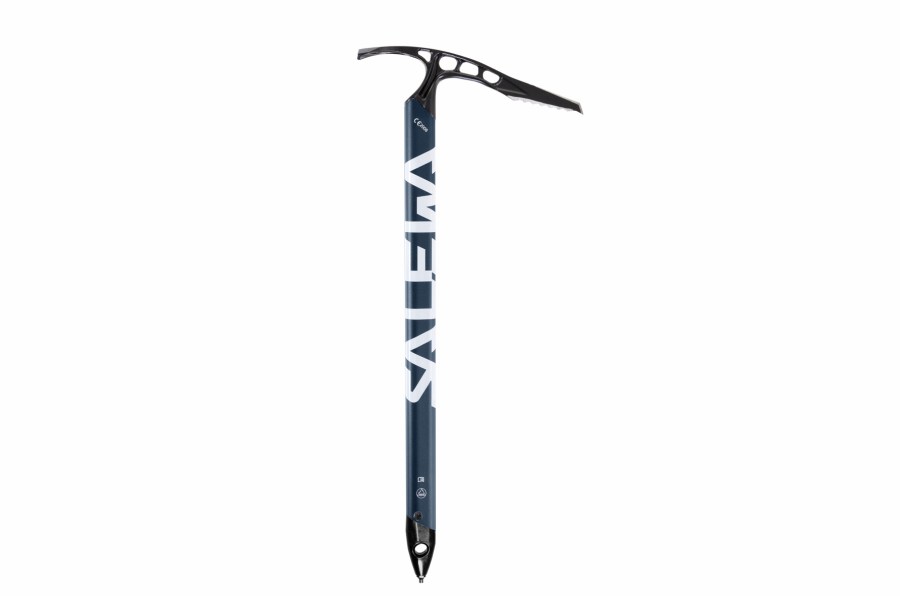 Rating: 3.5/5
Likes: Lightweight
Dislikes: Very sharp
Weight: 351g (53cm) | Materials: Anodised aluminium with carbon steel head and carbide spike | Technical rating: Type 1 / B | Grip: No | Leash included? No | Lengths available: 53cm, 65cm
I've been walking the winter hills for decades, but this ice axe made me question whether I am, after all, a complete numpty, because I cut myself on it whilst opening the box. I then went on to stab myself with the pick whilst stumbling in some deep snow, and nearly a year later I still have the scar to prove it. Perhaps I'm not made for this lark after all?
Read more: Salewa Alpine X review
RECOMMENDED: Grivel Airtech Evo (£137.95)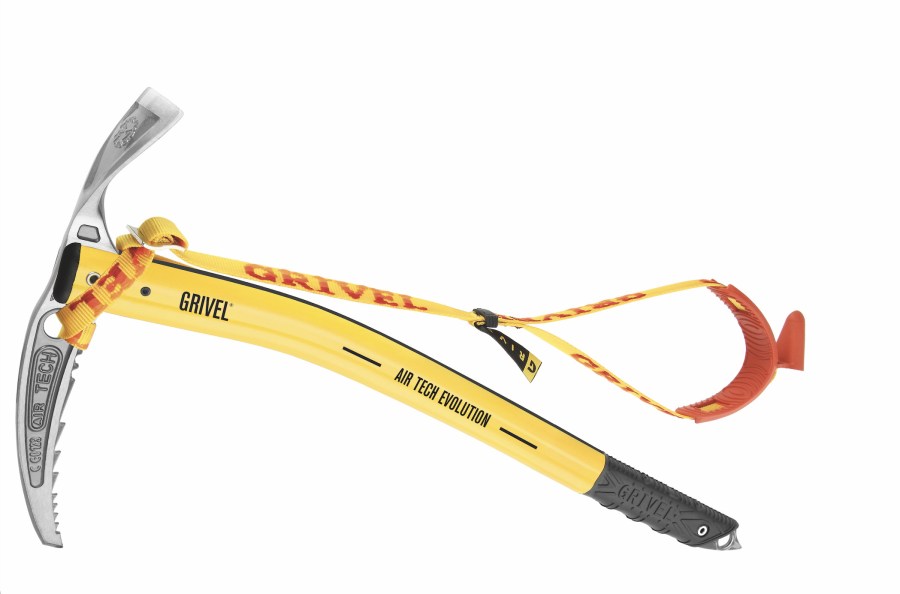 Rating: 4/5
Likes: Superb adze
Dislikes: Expensive
Weight: 485g (53cm) | Materials: Aluminum shaft with nickel-chrome-molybdeum steel alloy head | Technical rating: Type 2 / T | Grip: Rubber | Leash included? Optional extra – pictured with long leash | Lengths available: 48cm, 53cm, 58cm, 66cm
I managed to take this out on a couple of work days teaching winter walking skills just before lockdown, and was very glad I did as it's an impressive workhorse. The huge volume of the adze, which really shifts snow, was by far the best I tested – and this test has some strong contenders. That, coupled with a pleasing weight to the head, makes for easy step cutting too.
Read more: Grivel Airtech Evo review
Black Diamond Raven with Grip (£100)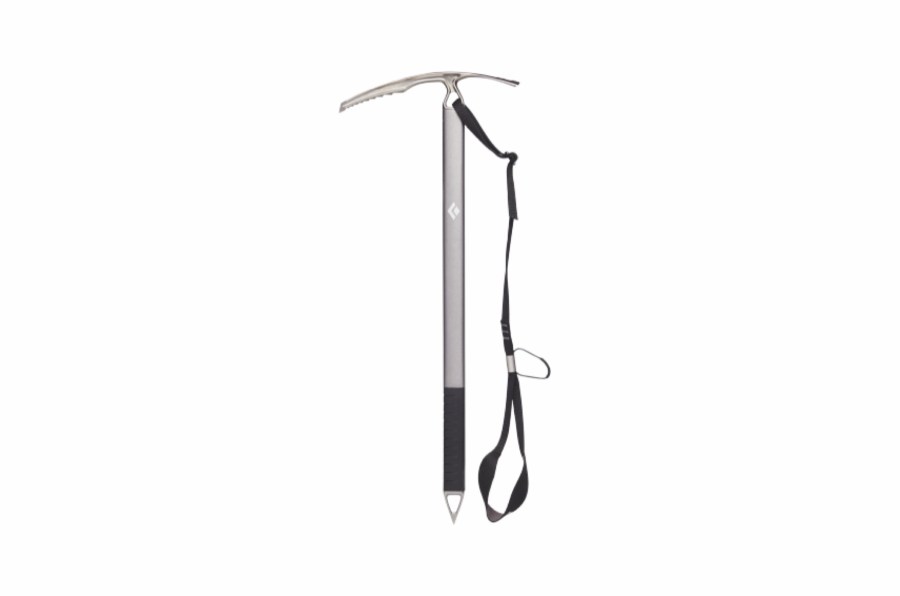 Rating: 3.5/5
Likes: Good value, classic design
Dislikes: Simple pick
Weight: 451g (55cm) | Materials: Anodised aluminium with stainless steel head and spike | Technical rating: Type 1 / B | Grip: Rubber | Leash included? Yes | Lengths available: 55cm, 60cm, 65cm, 70cm, 75cm
This is a handsome-looking ice axe with a straight shaft and elegantly shaped and comfortable head, thanks to the cutaway sections for the fingers and thumb.
The stainless steel pick and adze look the part, but I would say that the pick on the Raven is the least aggressive of the tools I tested, with a subtle curve, nine gently angled teeth plus a flat top edge. This correlates with my findings when I tested it, with good performance on soft snow but less good on steeper, firmer snow or turfy rock.
Read more: Black Diamond Raven with Grip review
RECOMMENDED: Climbing Technology Alpin Tour (£65)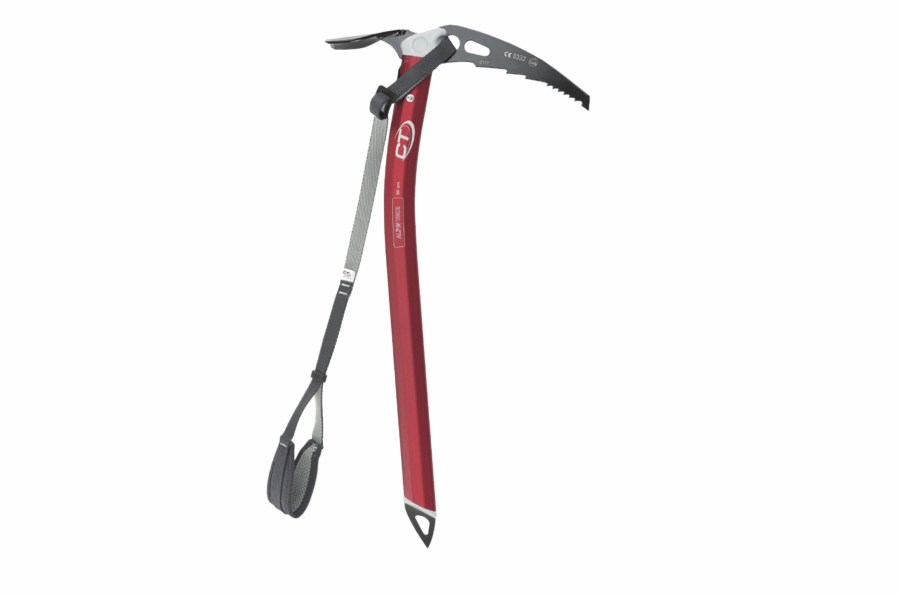 Rating: 4/5
Likes: Excellent value
Dislikes: Uncomfortable head
Weight: 434g (50cm) | Materials: Anodised aluminium with steel alloy head and spike | Technical rating: Type 2 / T | Grip: No | Leash included? Yes | Lengths available: 50cm, 60cm, 70cm
Italy-based Climbing Technology is a brand known for no-nonsense technical gear at accessible prices and the Alpin Tour is an excellent example of this.  The looks are clunky, but this tool does everything it should and is available at less than half the price of some of its competitors.
Read more: Climbing Technology Alpin Tour review