David Lintern recommends the DMM Spire Tech ice axe crediting its weight in walking mode and large spike.
The DMM Spire Tech ice axe has garnered plenty of praise, including a previous Best Buy from Mountain Leader Lucy Wallace in tests conducted for The Great Outdoors in 2021. There's a lot to like here, especially the weight.
Rating: 4/5
Cost: £89.99
Weight: 357g (55cm)
Pros: lightweight in walking mode
Cons: less capable on more technical ground, grip
Materials: Steel alloy pick, adze and spike, aluminium shaft | Technical rating: Basic (type 1) | Grip: bevelled metal | Leash or Pommel: none provided, grip can be purchased separately | Lengths available: 45, 50, 55cm
My 2022 issue, 55cm sample of the DMM Spire Tech was a touch short for me as a walking axe, but not drastically so. The shaft is kept very simple, with a gentle curve and no rubber grip – just a series of bevelled ridges about a hand span along. The pick is sharp and finds solid purchase easily, while the adze is a medium-narrow design and not very deep, so clearing steps requires a bit more effort, and cutting them more effort still. The head is very comfy to hold in walking mode, and of course, it's beautifully lightweight to carry. The spike is large, steel and offers plenty grip in walking mode too.
However, for me, the lack of weight when walking also meant a lack of heft when using the sharp end on steeper ground. I had to do much more work with the DMM Spire Tech than with a heavier tool, and was left wanting something with just a bit more 'umph'. And because I needed to swing just that bit harder, the lack of rubber grip felt really insecure in the hand. Consequently I found I gripped the handle harder than I needed to – again, fatiguing to use over a longer period. A pommel grip is available separately and I think would be very worthwhile. I also understand there's a new 'textured' surface on the 2023 model which might improve hand-tool friction, too.
Overall, the DMM Spire Tech felt like an 'in case' axe to me. It's lovely to carry and lovely to use when walking, and I'd have no issue taking it on a winter hill day where I knew the terrain was kinder, but for steeper ground it felt just a touch underpowered. Perhaps I need to do more pushups!
Compare this axe with other models in our buyer's guide to the best ice axes. Lucy Wallace also reviewed the DMM Spire Tech in 2021 – you can read her verdict here.
SQUIRREL_BUTTON_12987254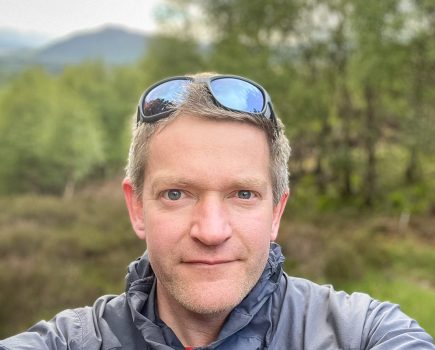 Testing conditions
David is 5 foot 8'', medium build but probably could have better upper body strength (these things are relevant to testing winter metalwork). He tested these axes while hillwalking and on easier graded mountaineering routes during the winter of 2022/3, from Ben Wyvis to Creag Meagaidh. He was often in the Cairngorms with two (or more!) of the review samples to allow comparison of weight, balance and performance, side by side. All axes were weighed on David's digital scales.